The 2007 Season saw our return to Stafford Speedway, home for us. We surprised many by coming forth with a shiny, red car, foregoing the white scheme we have had for many, many years. A lot of work was done during the winter to build, prepare and pamper this beauty.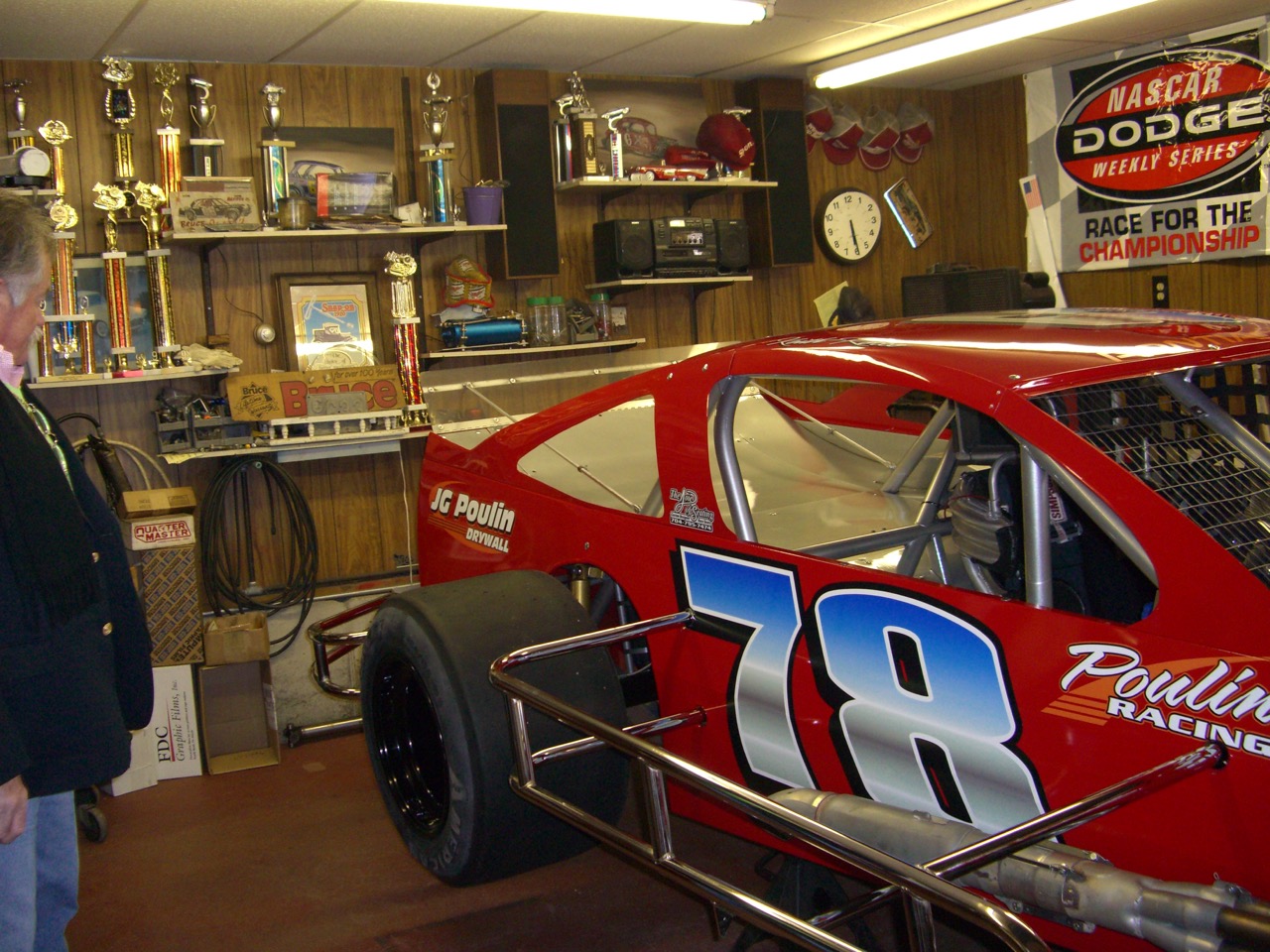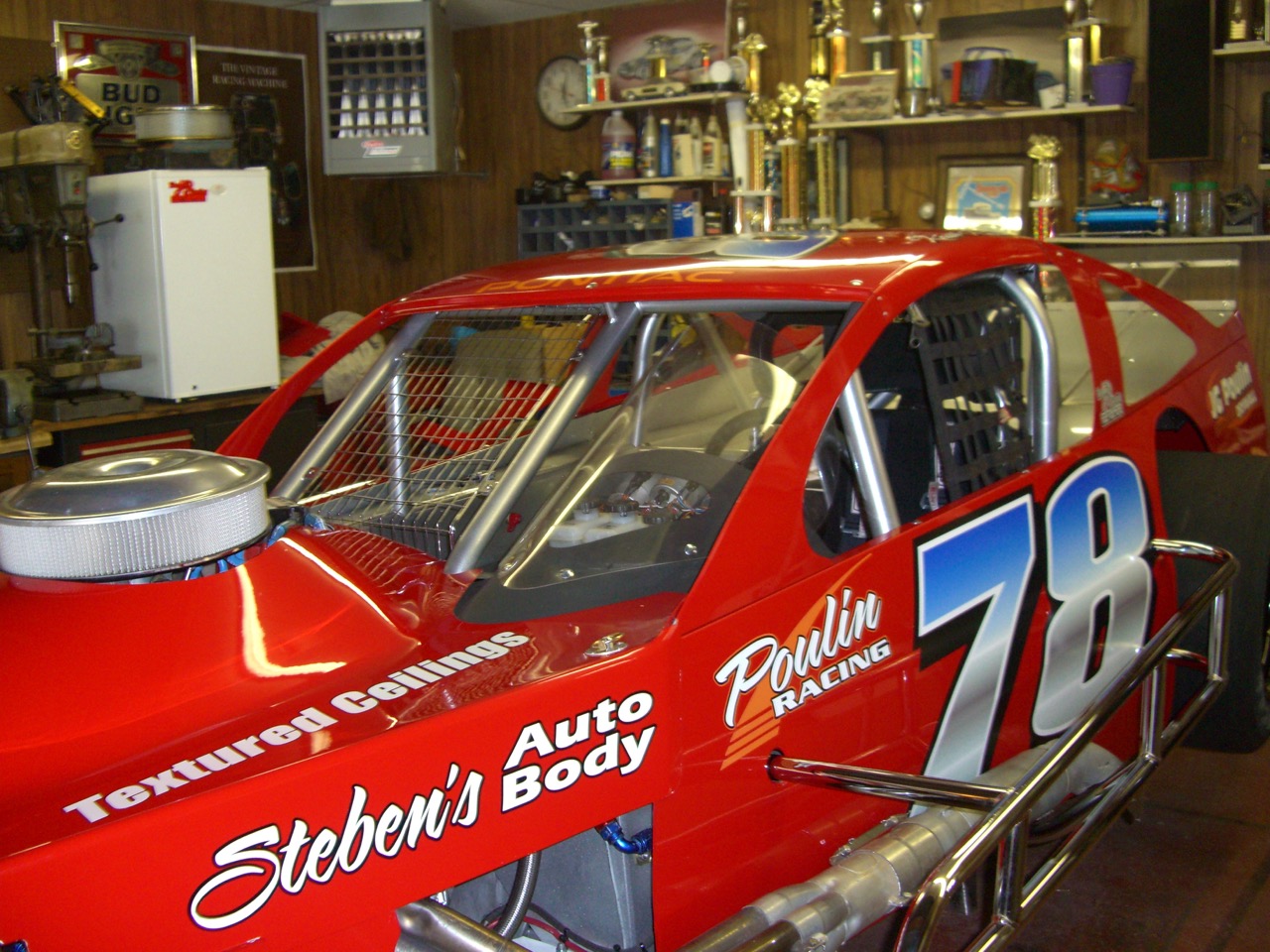 Marcel approved 100%, he loved the new scheme.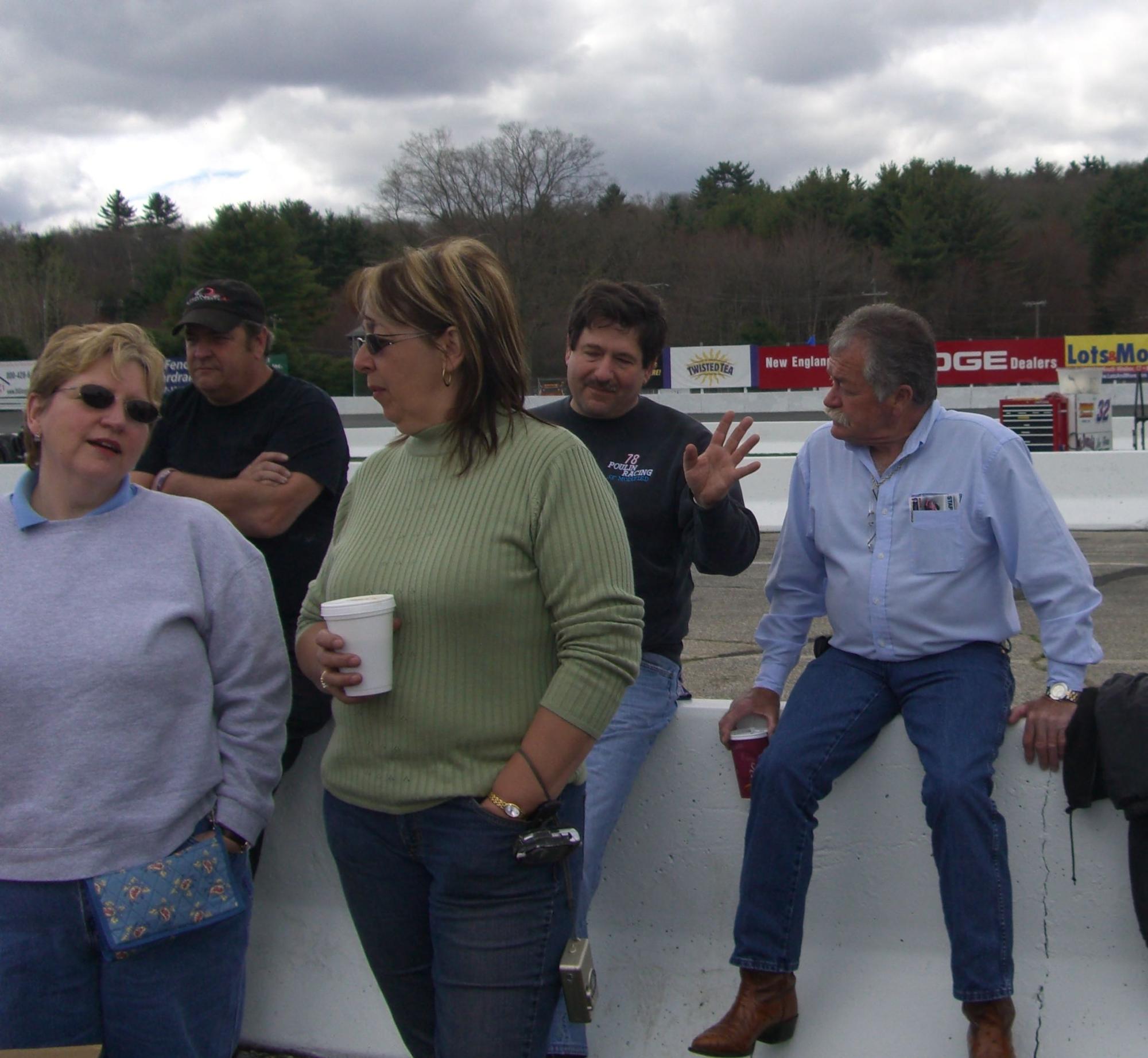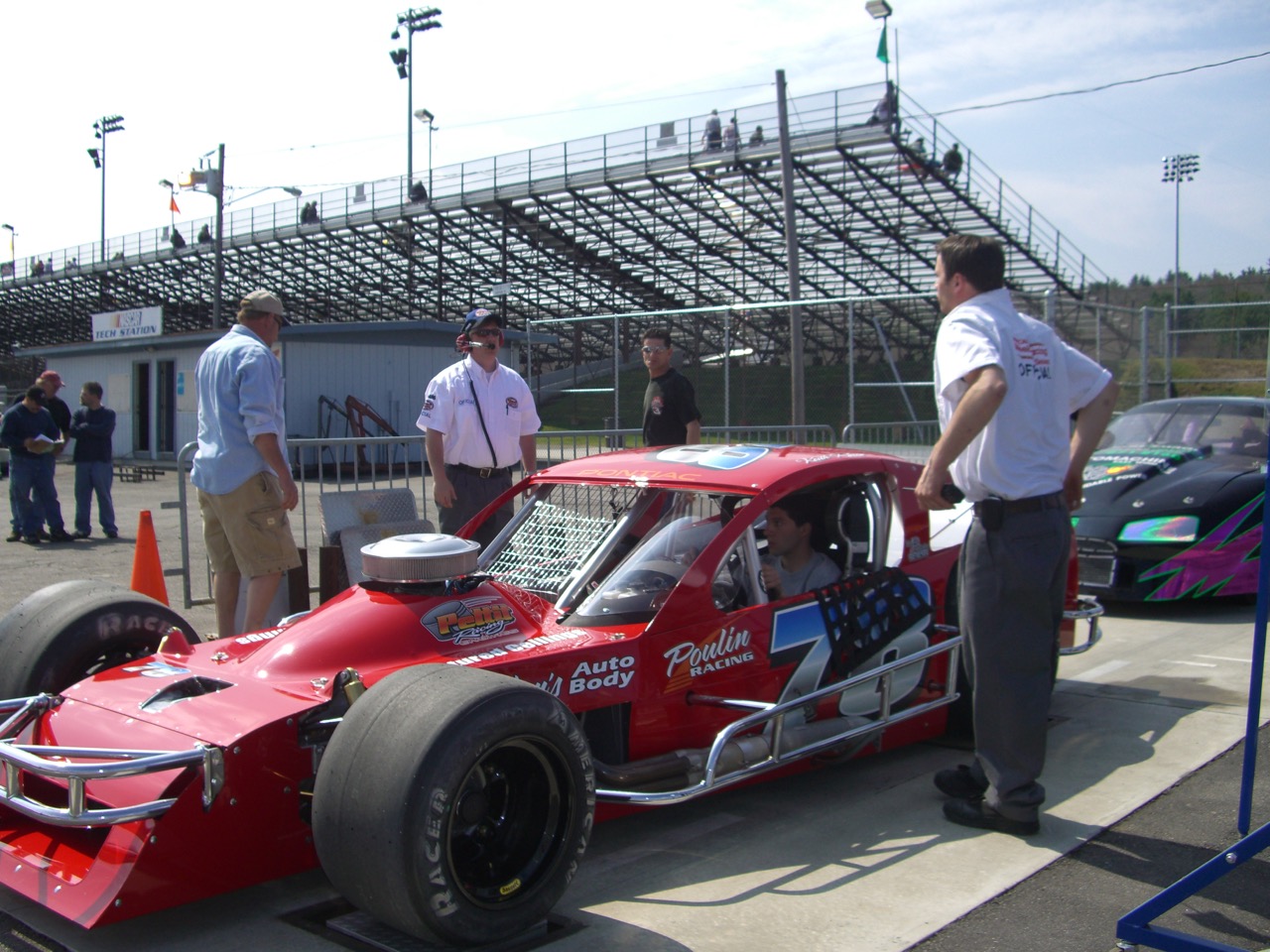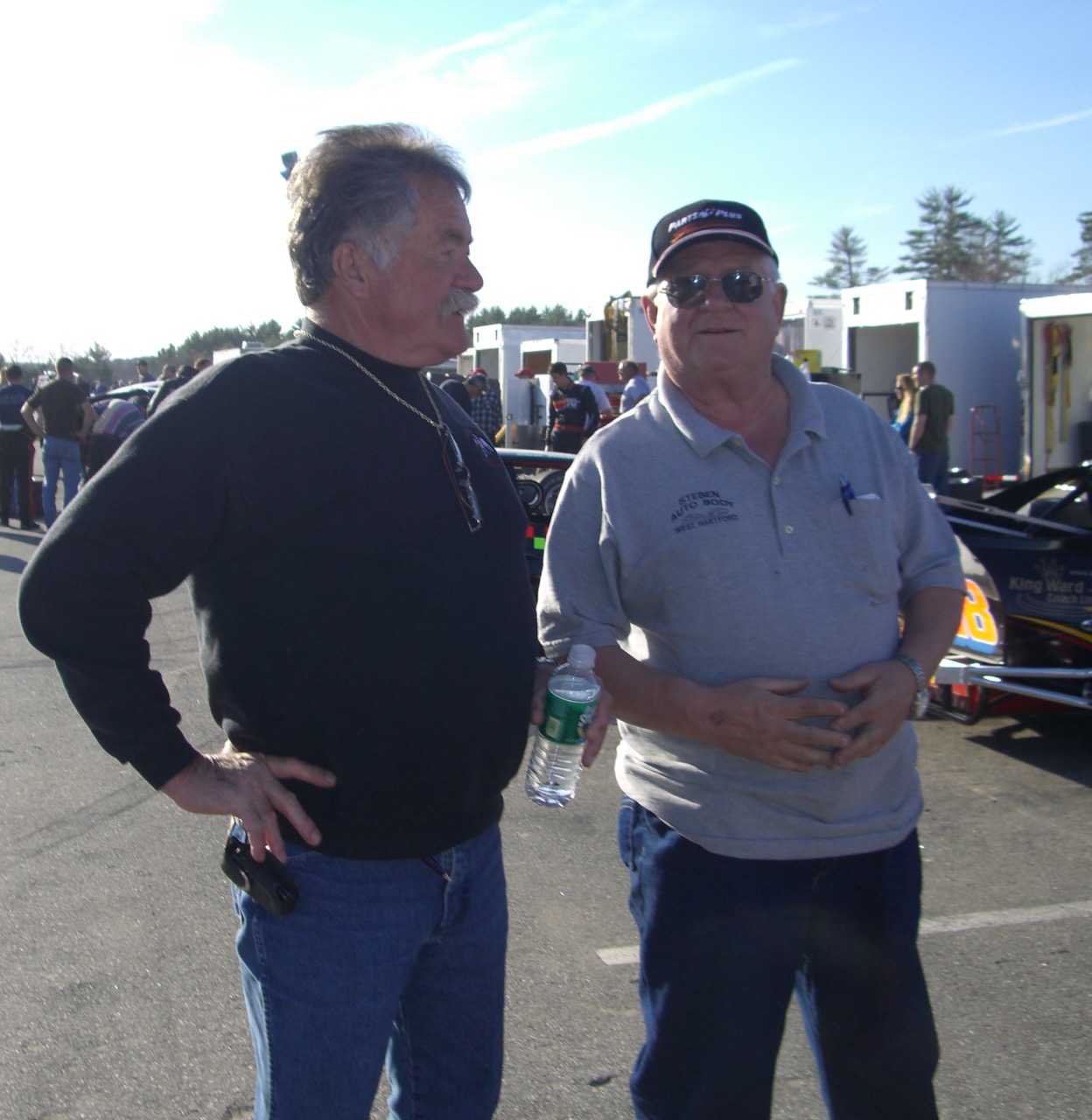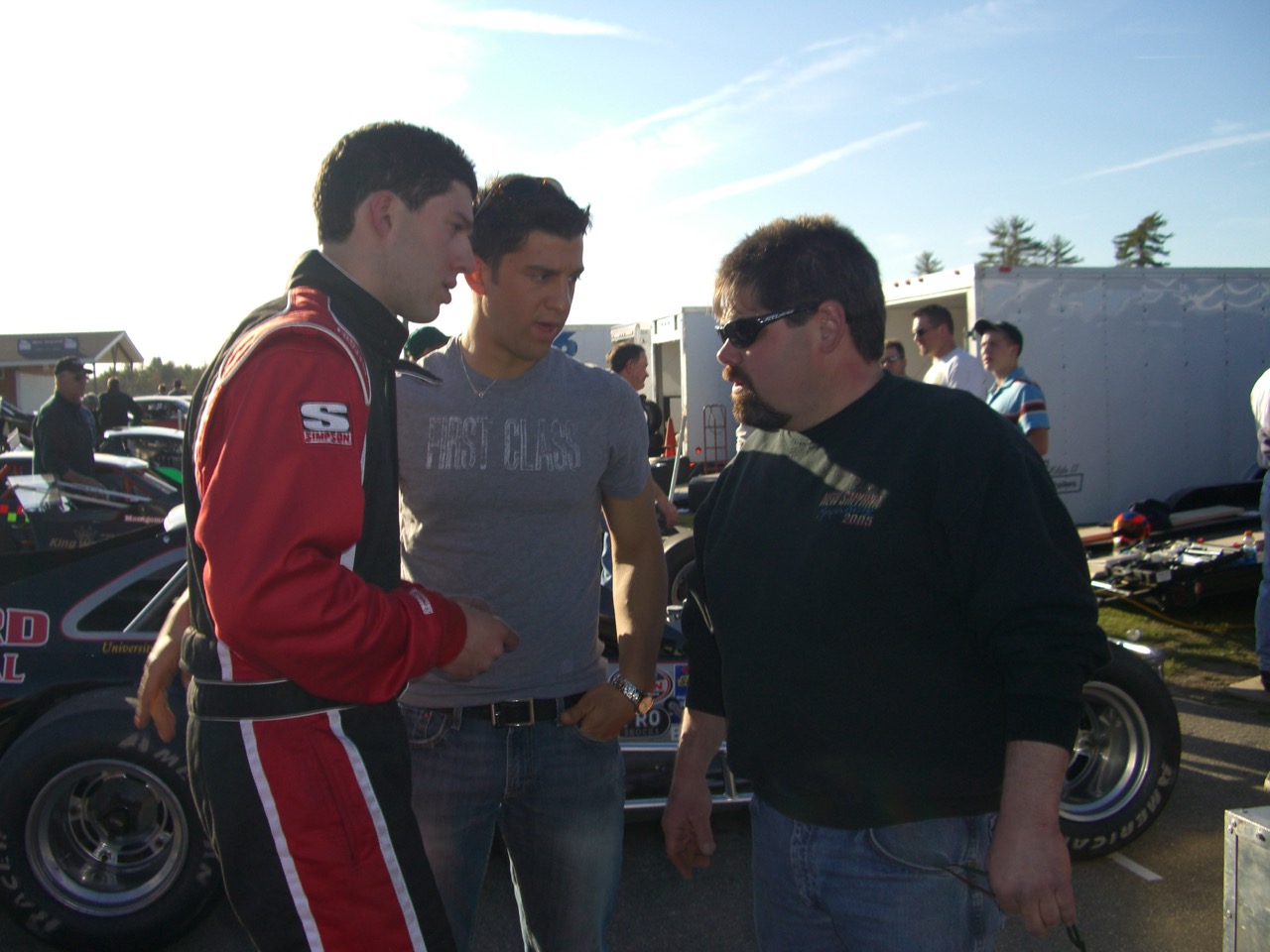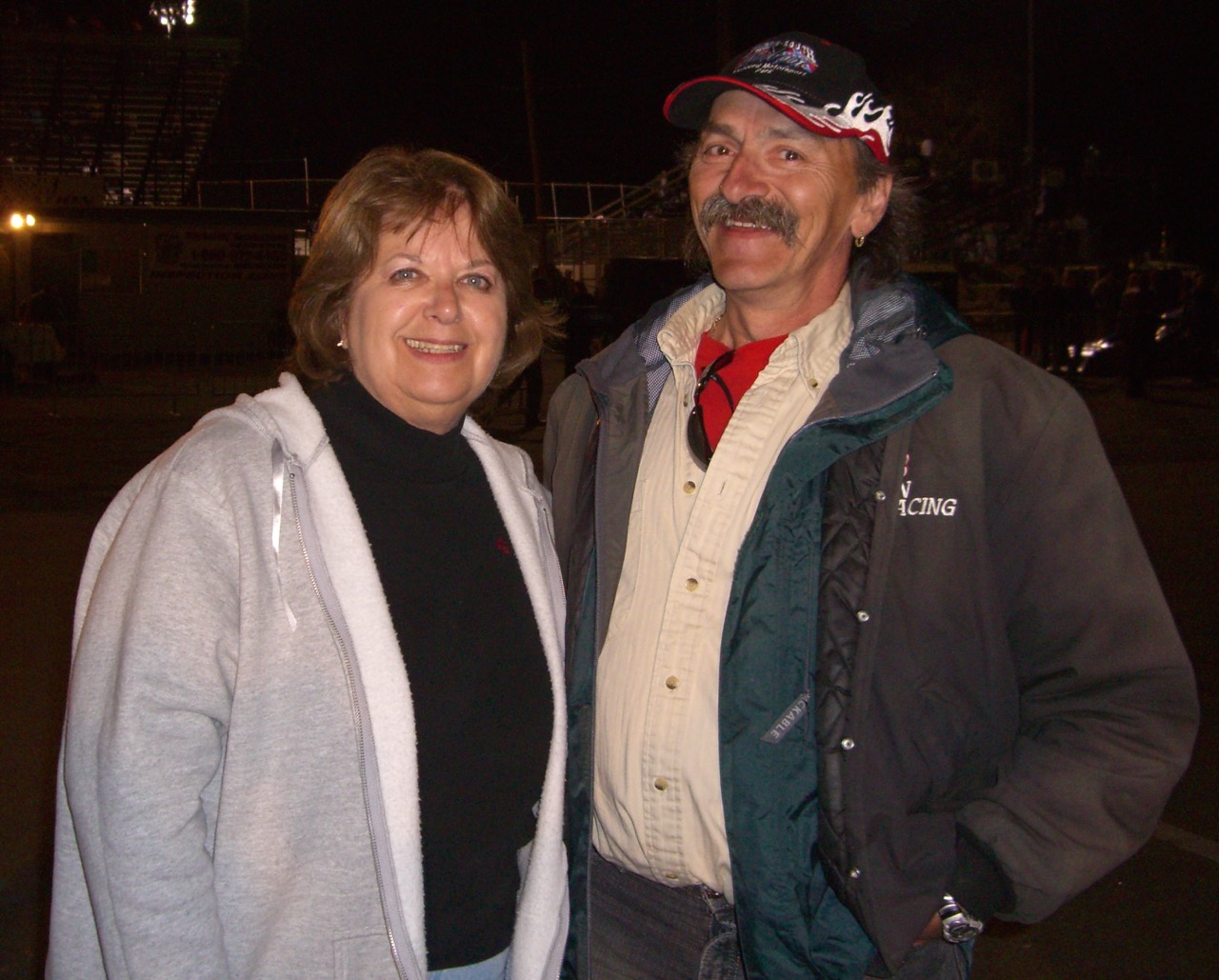 Unfortunately, this is the way our first outing ended. Painful.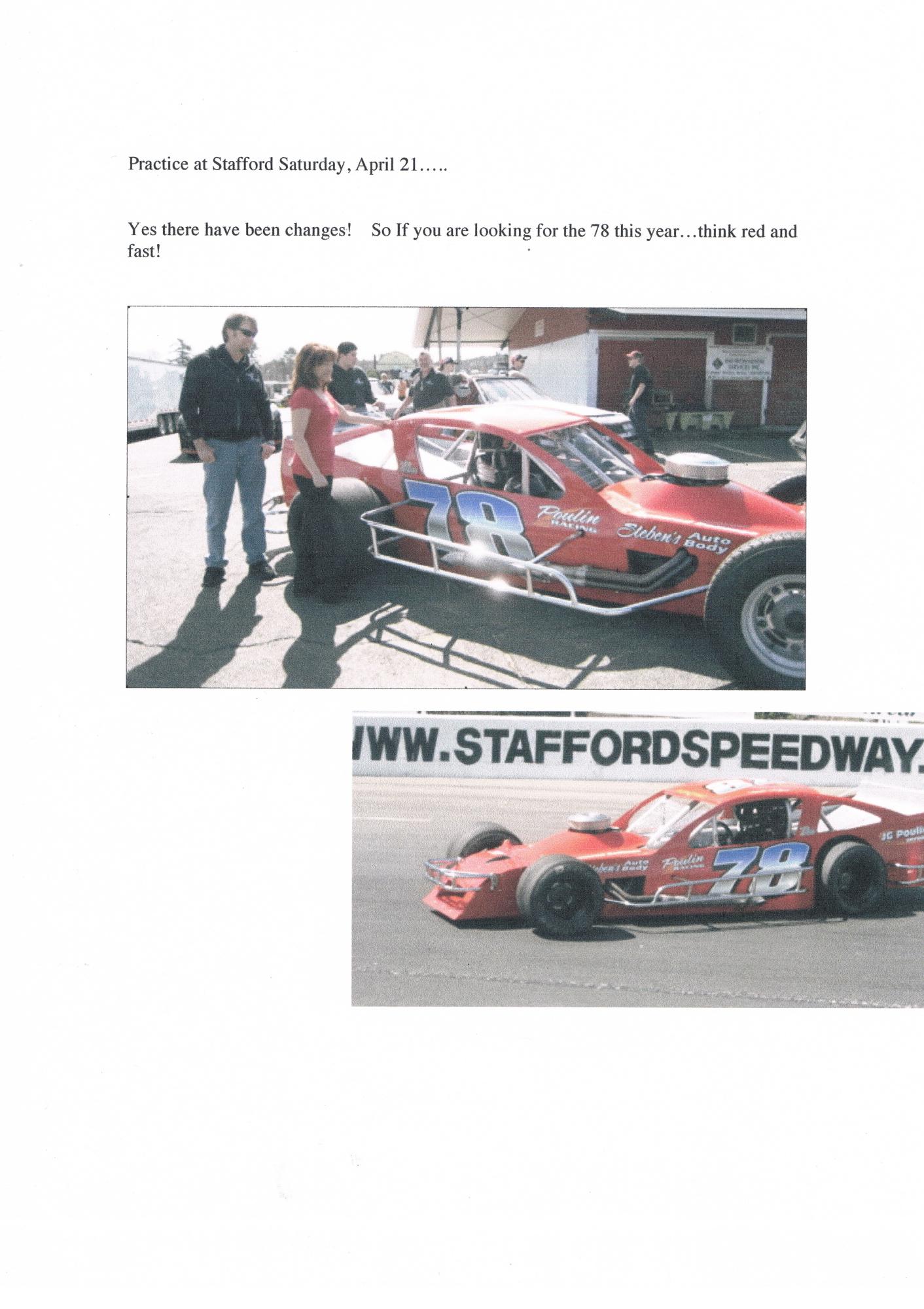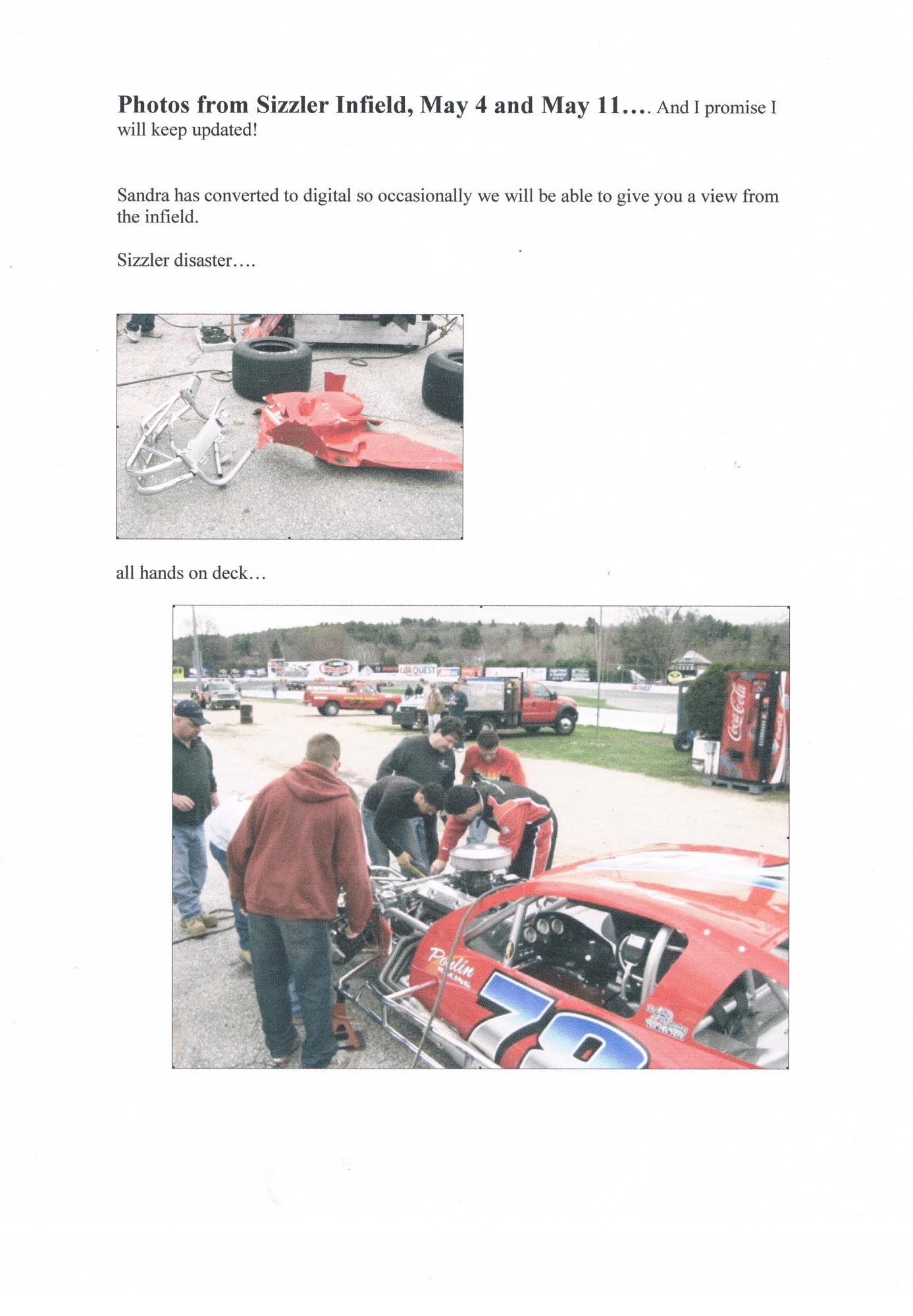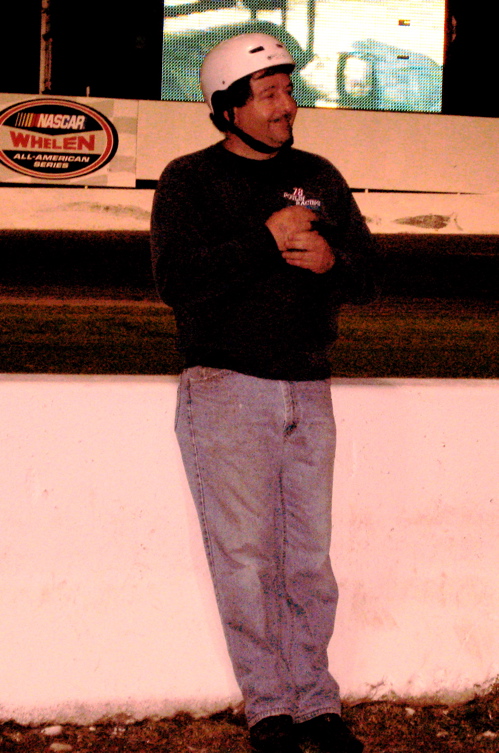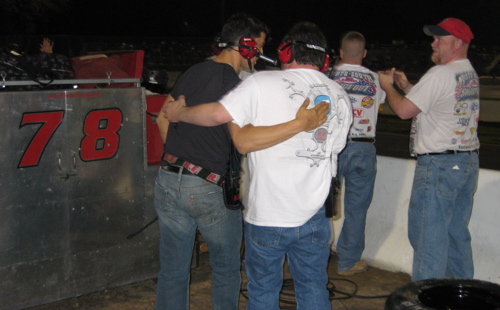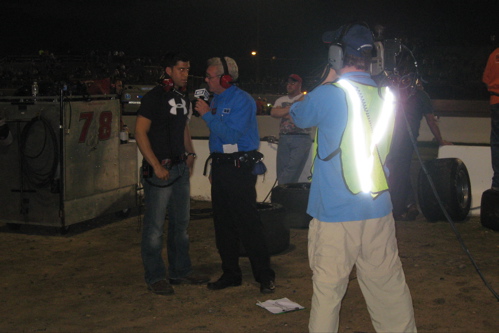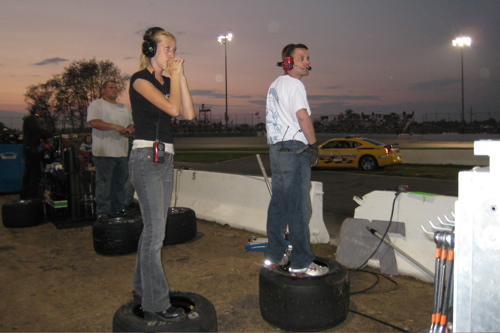 Original Photo Page for May 25, 2007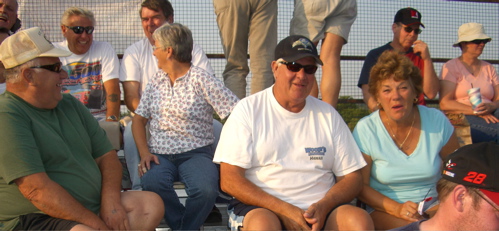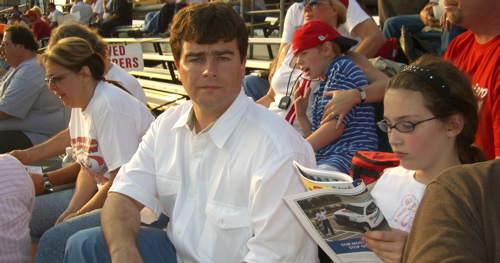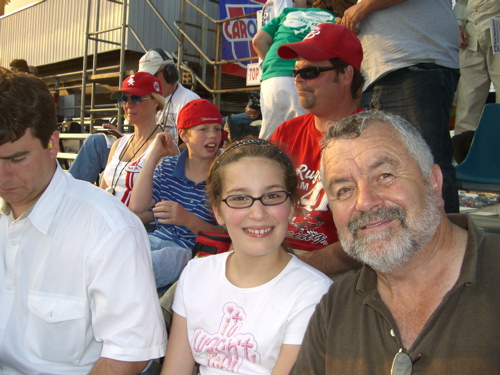 And as the sun sets...Jean and I are truly enjoying this special season.
Back in the pits after the race...we started 15 and moved up to sixth place on a very slick track. Solid run, early finish, tire checks and notes and a little discussion.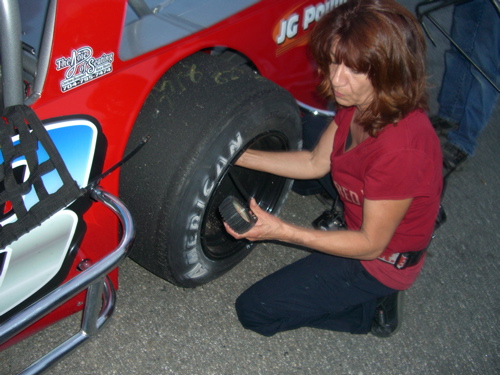 Always love it when Dave can't hide from the camera.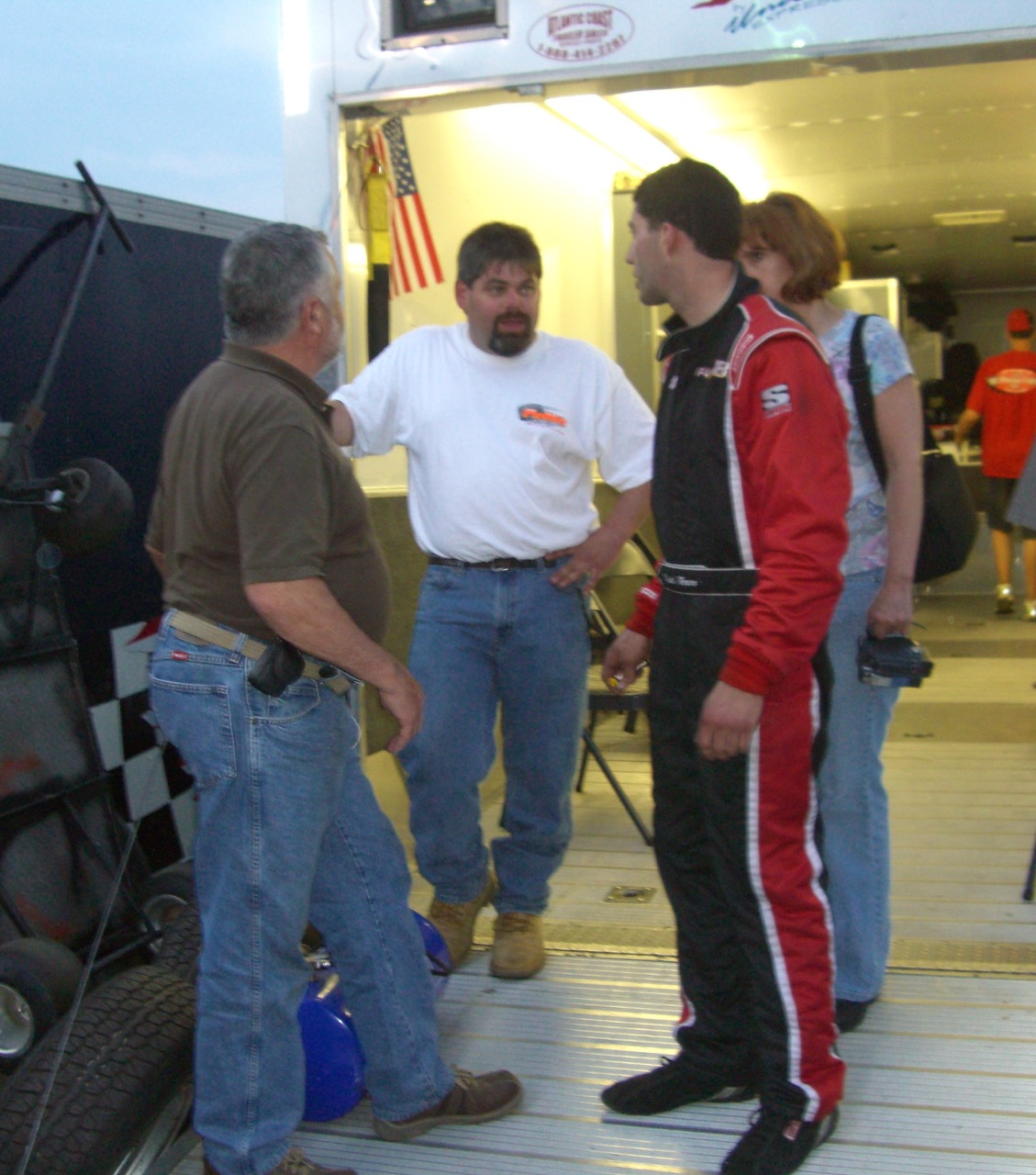 Jeff and Jessie review their notes for the night.
Discussion and loading up and we are off to Canada where Jean attended the opening night at a great track in Valley Junction Quebec. His brother is an engine builder in that area and racing is growing by leaps and bounds.
and guess where we were the week before?
Lovely city and Jean and Dave were our navigators, and yes, we had to reference the map several times.
Three great men...oh to turn back time.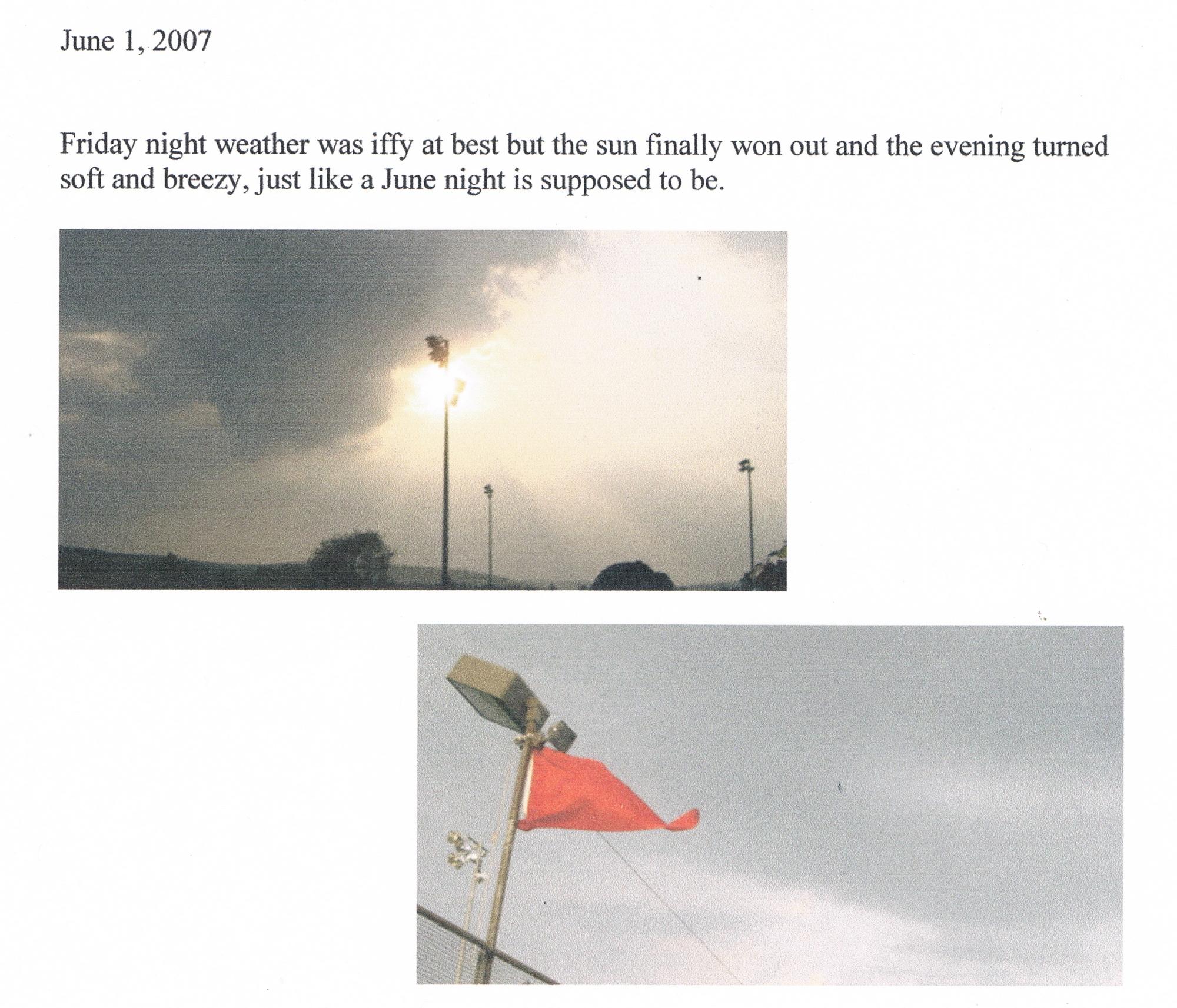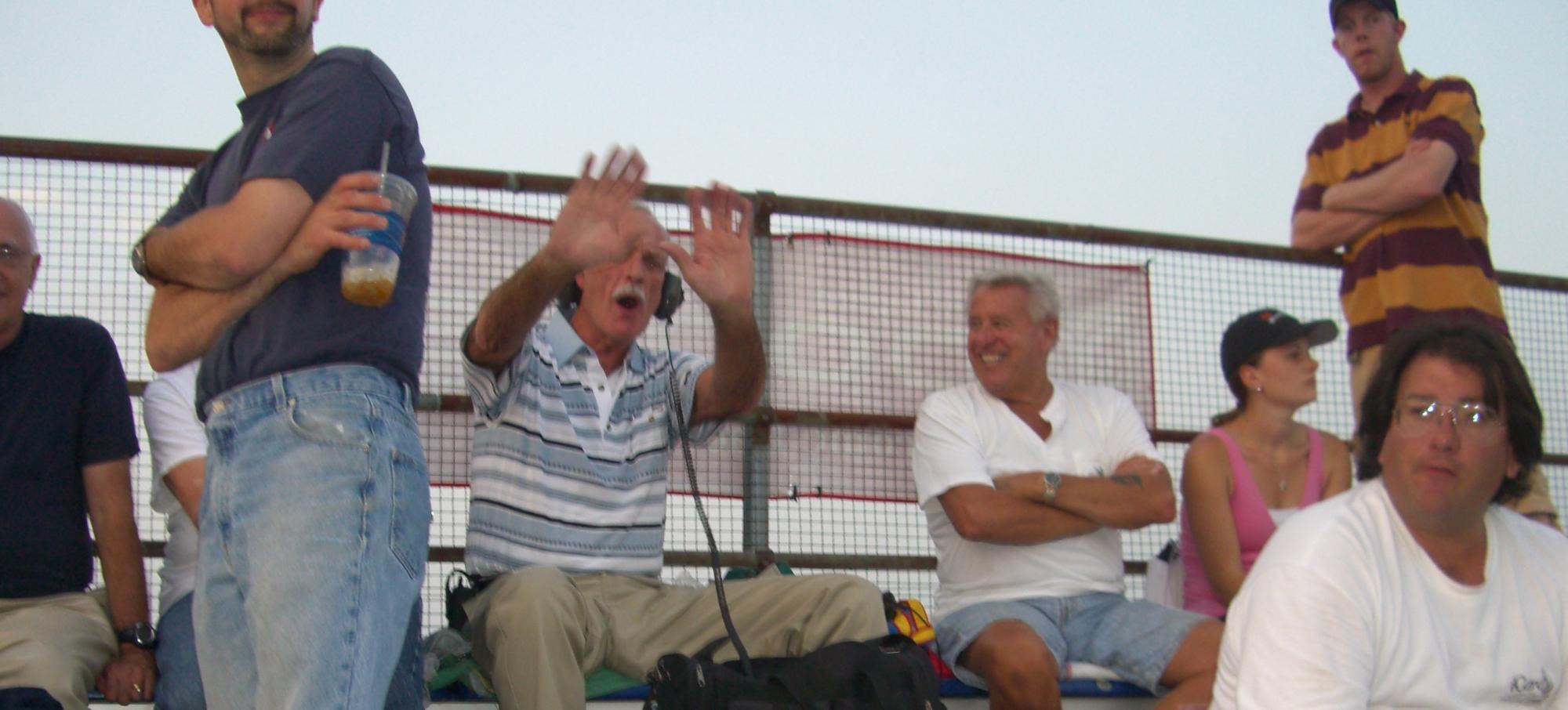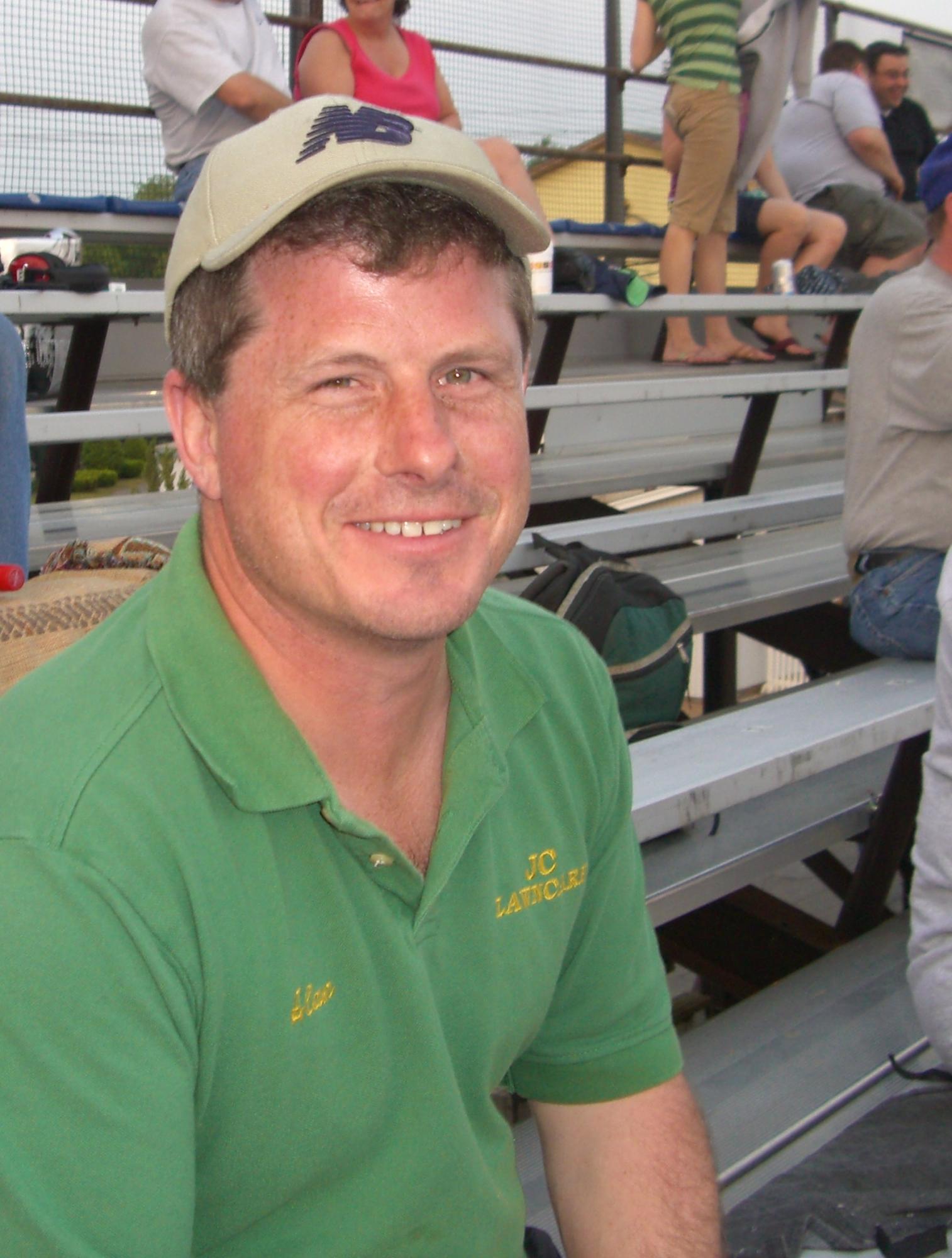 Back in the trailer, David was checking his tire numbers.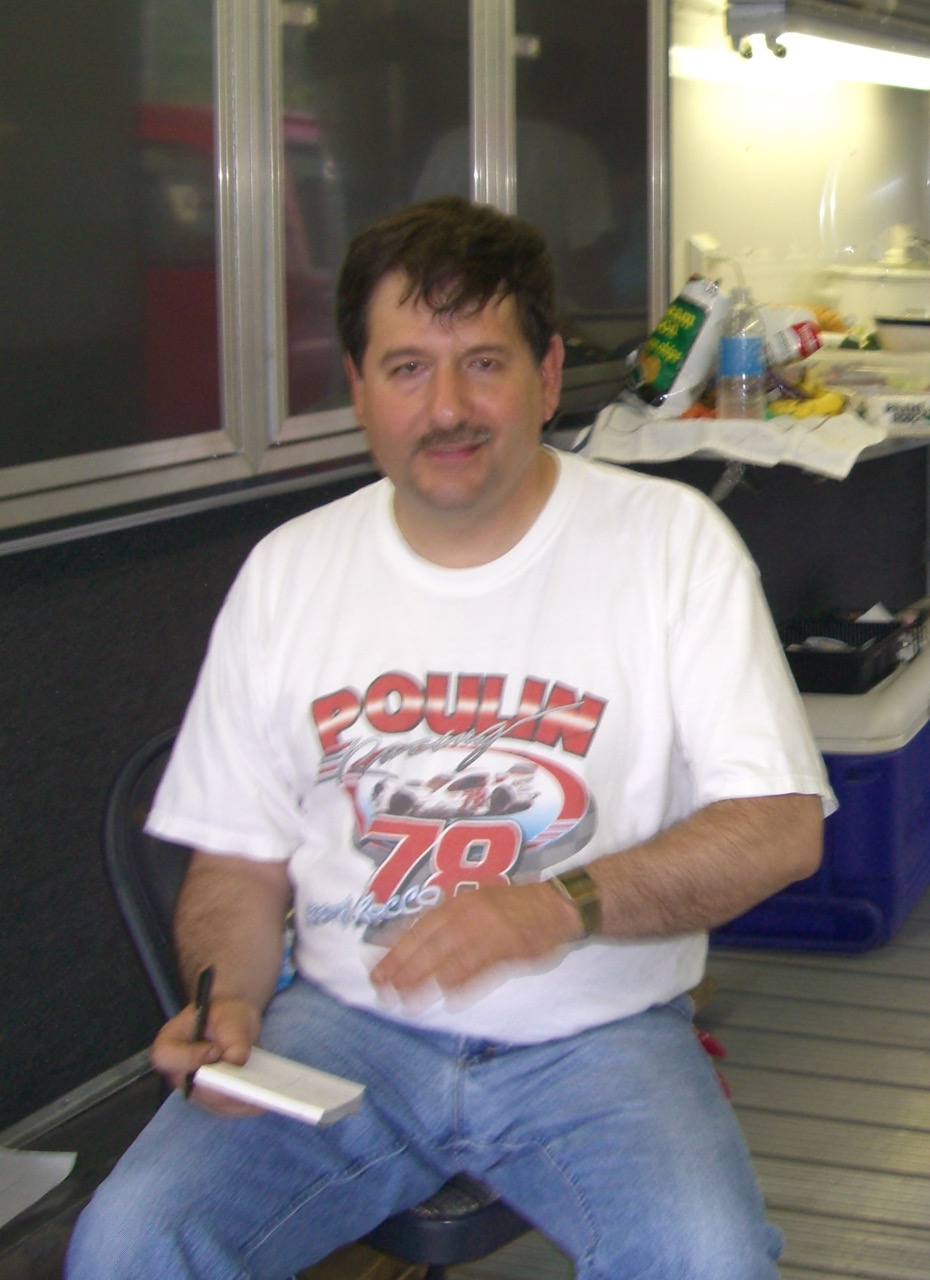 Sandra was checking on the weather and Bruce was looking cool.
Some nights you are just happy to get it over and loaded!
NOTE: This many years later, I wish I had named names!!!
For sure things must have been bad, I didn't even want to talk about it!
Then, check to make sure no one is in the car.
Then, one leg at a time and pay attention to what you are doing.
Turn over ever so carefully, no one said it was graceful!
On Saturday we attended a graduation party for Sean Docherty who has been accepted in the Engineering Program at Boston University. Mom had prepared a Memory Board and there were many old friends and teammates from the past. We are so very proud of Sean and so are Chuck and Donna. Many of you will remember him playing with his hot wheel cars for hours while Chuck raced. He is an exceptional young guy who will go far in life...remember the name...Sean Patrick Docherty.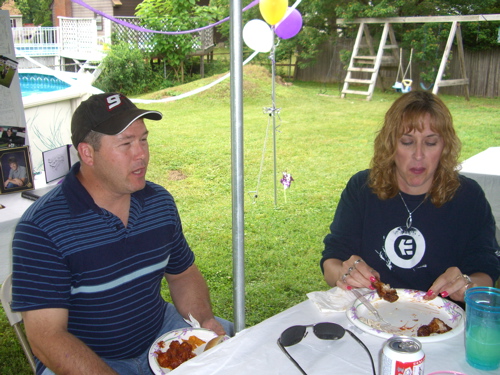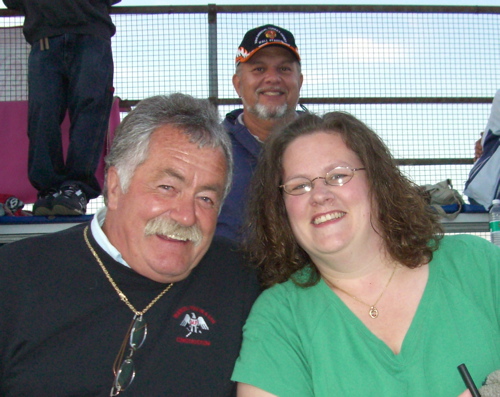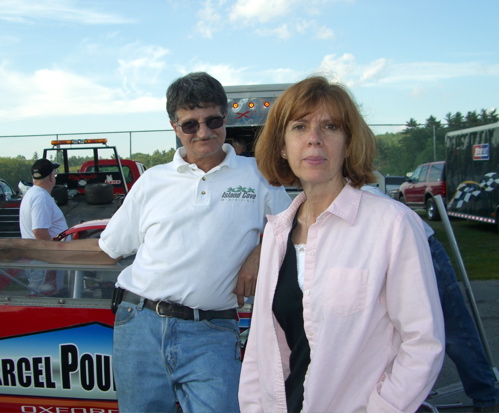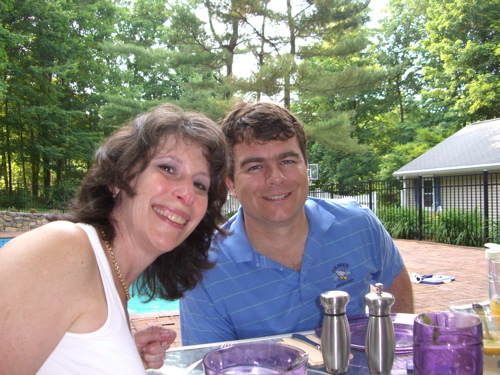 Oh ...to turn time back, how quickly they have grown, and Werner also loved them so!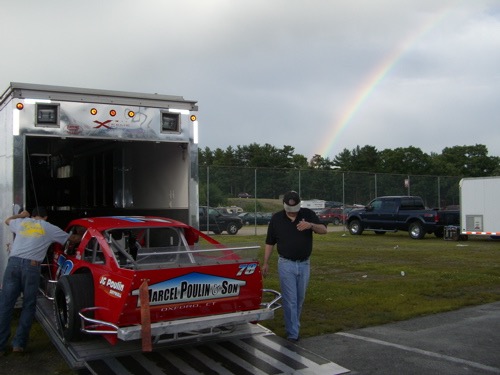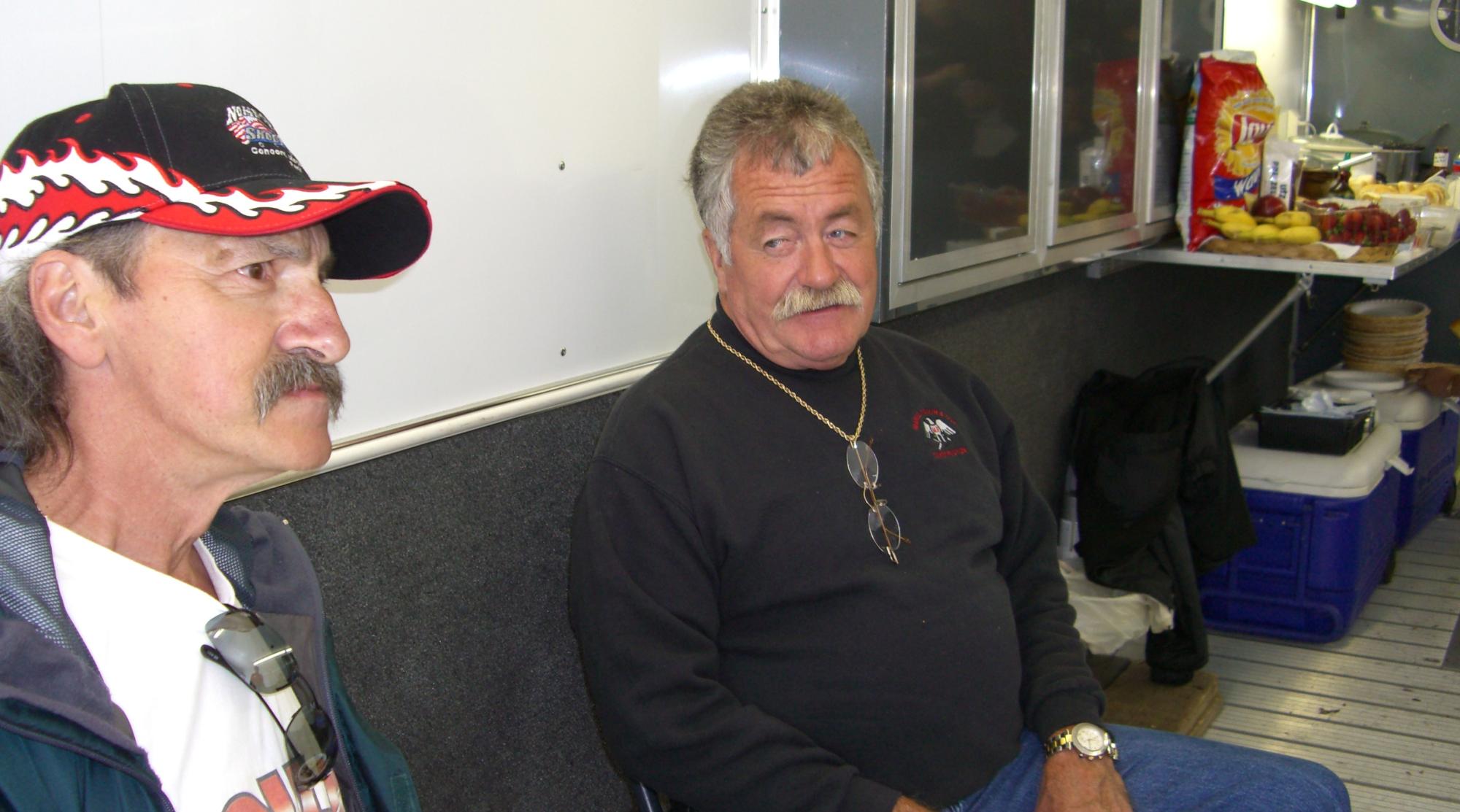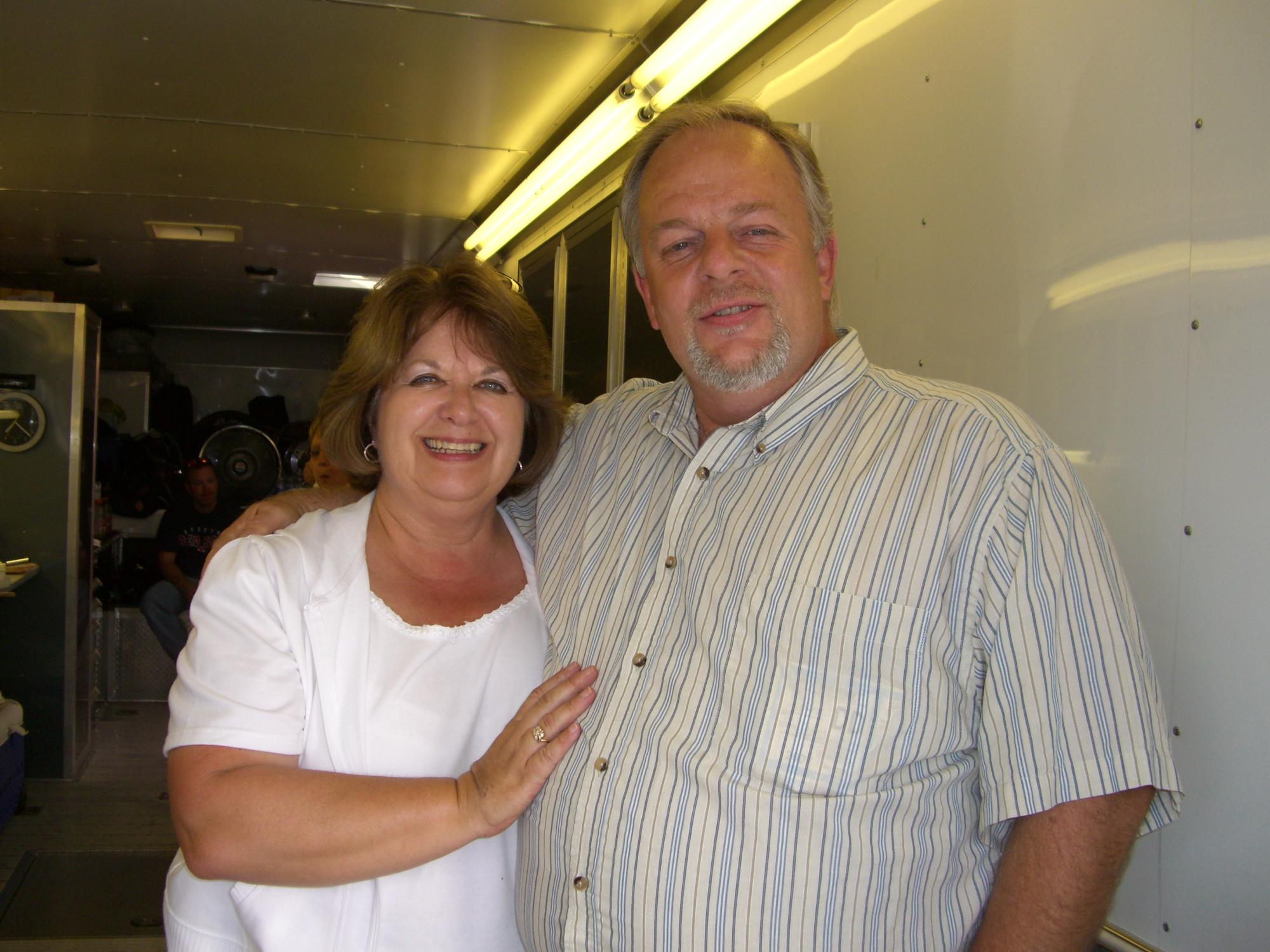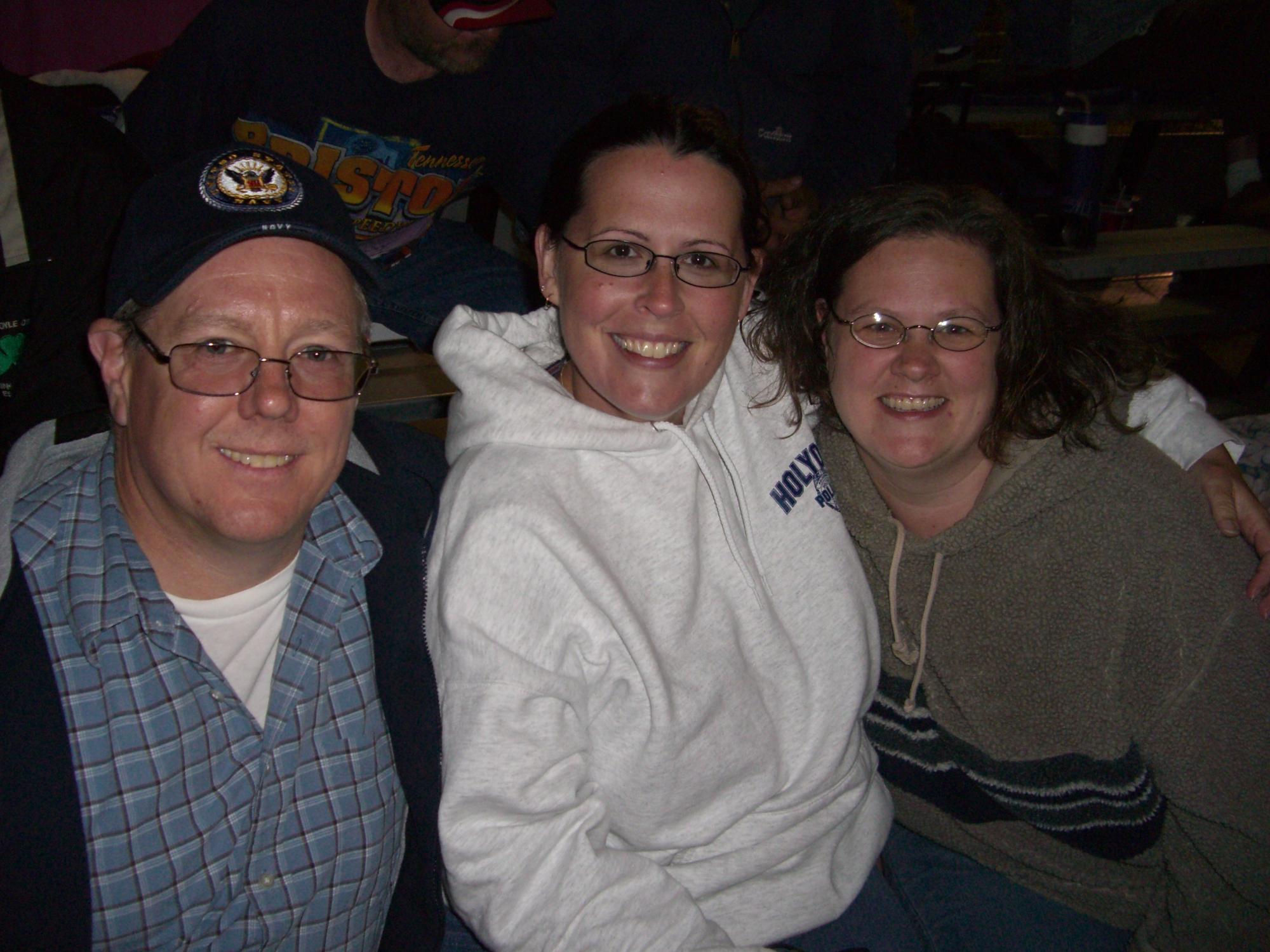 Sharing time, food and laughter....what a great evening!!
July 2, 2007??? No notes and just a few photos, best photo is of the full moon.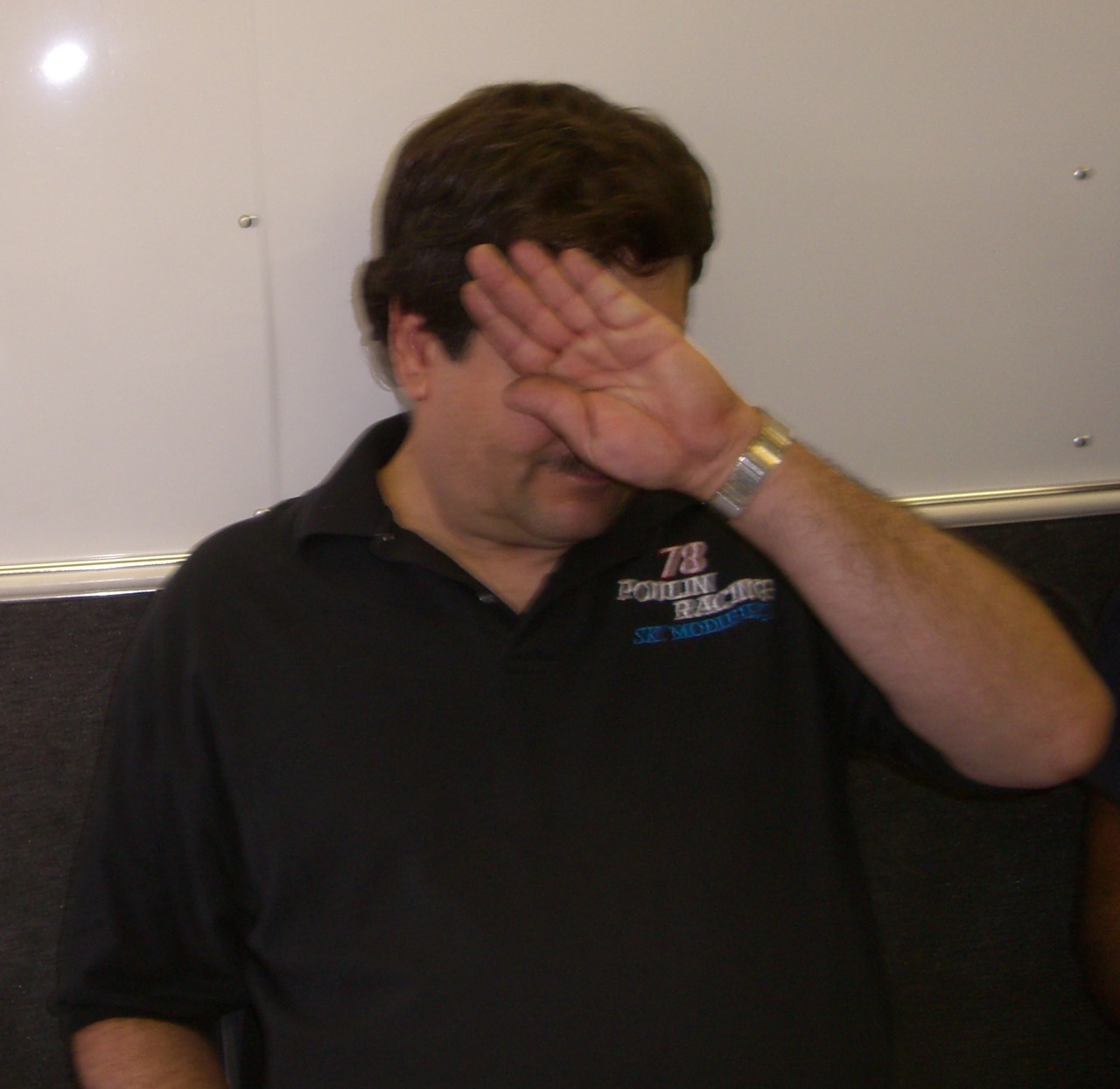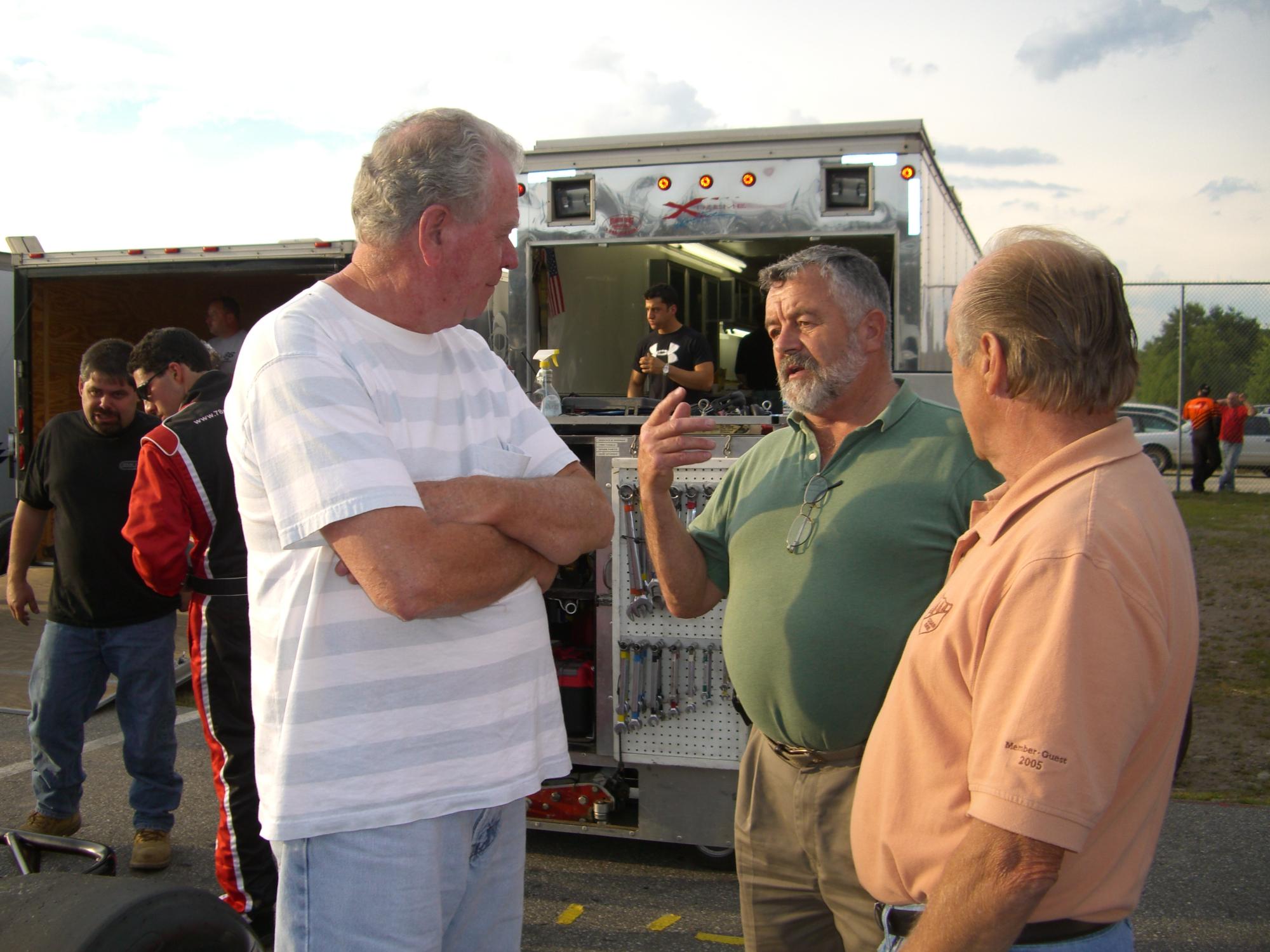 Tear down....best place to be at the end of a winning night!!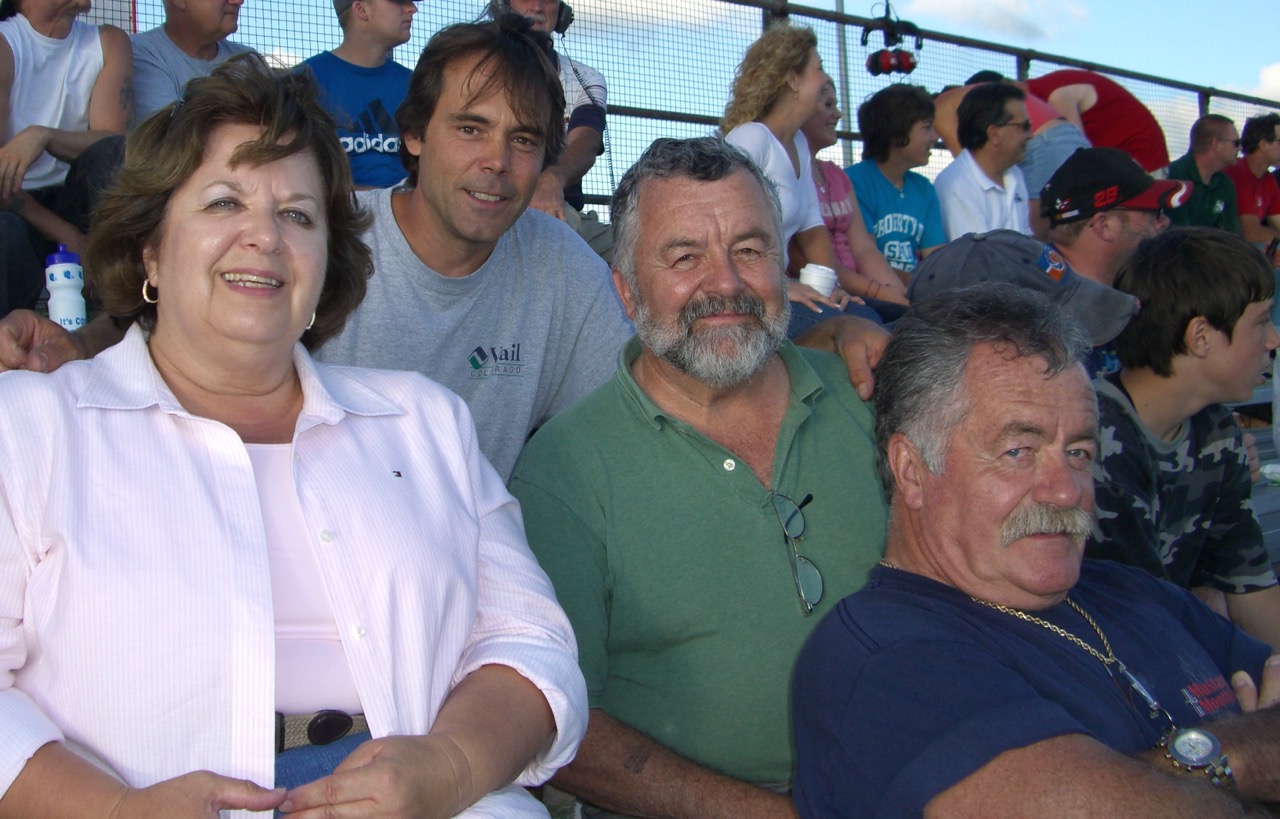 Nothing like old friends to make the evening perfect!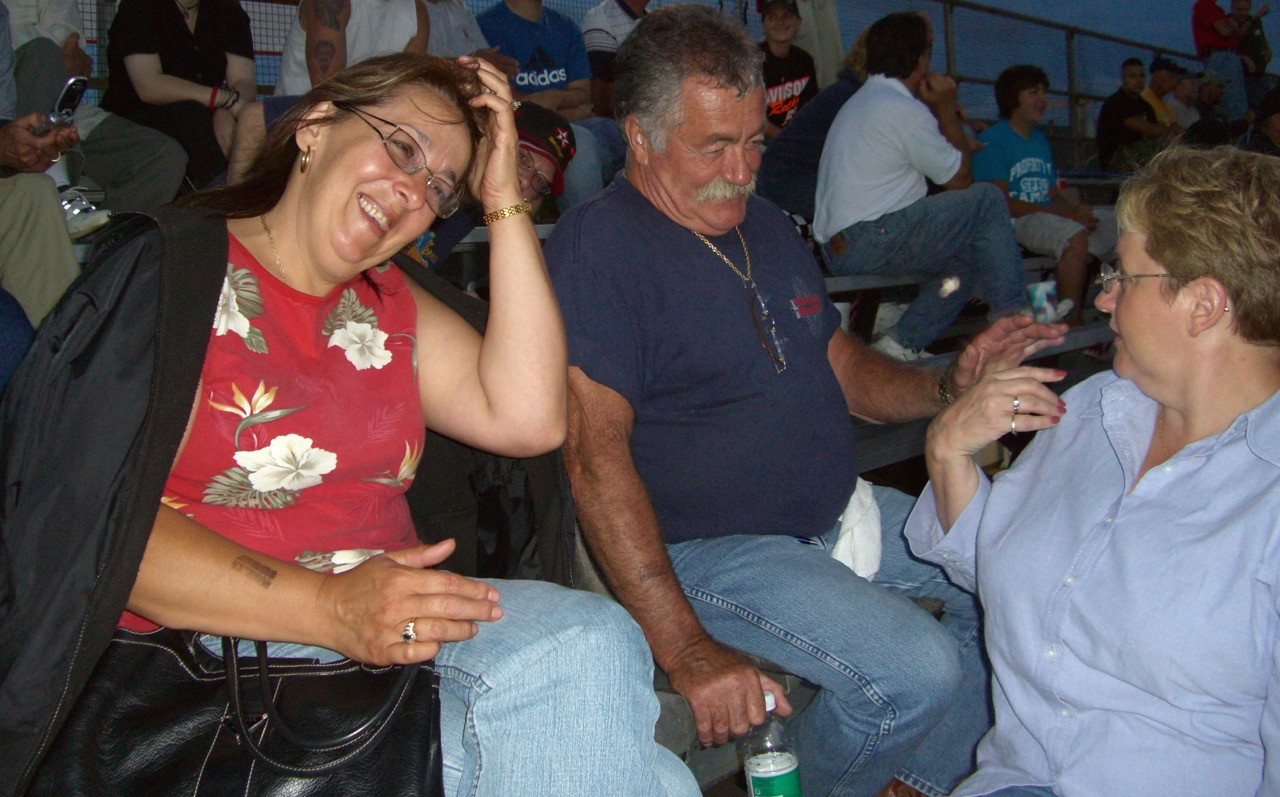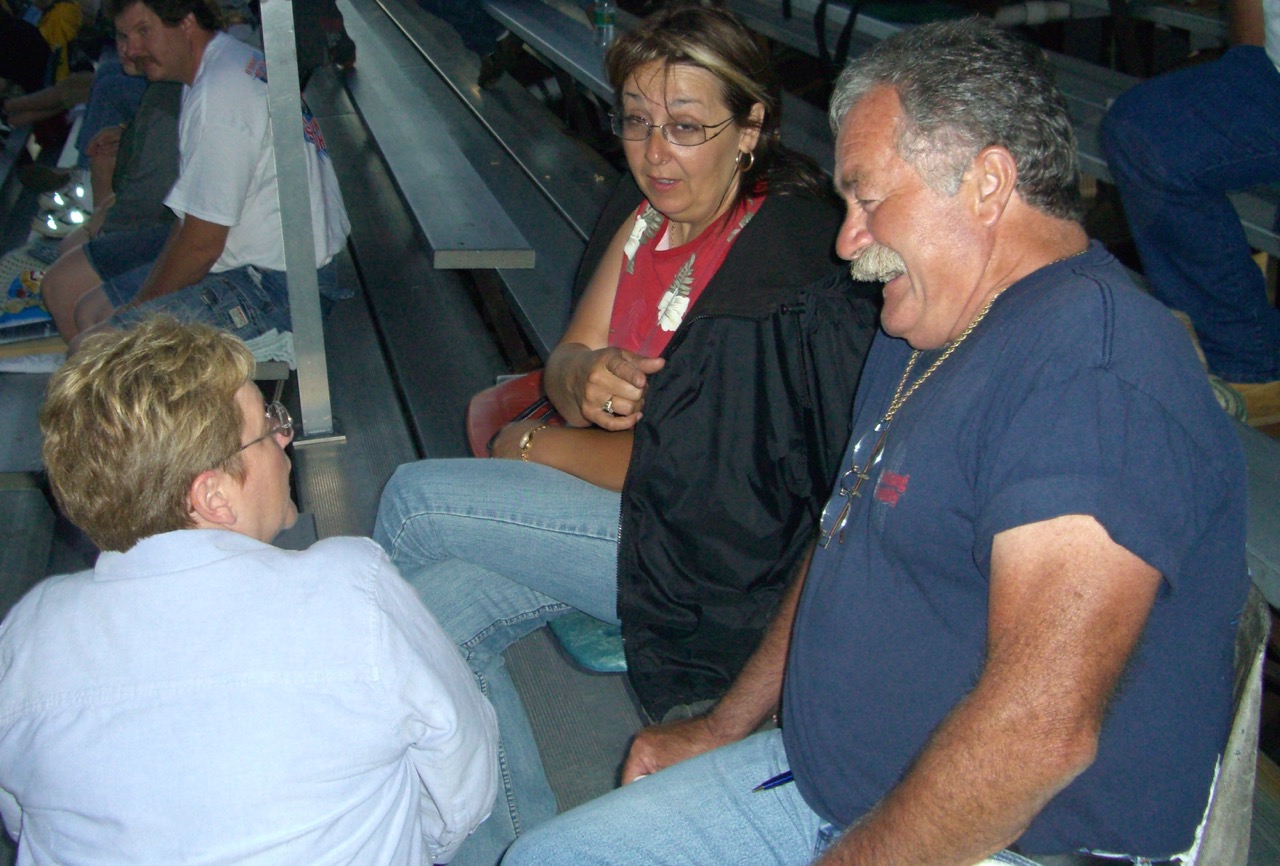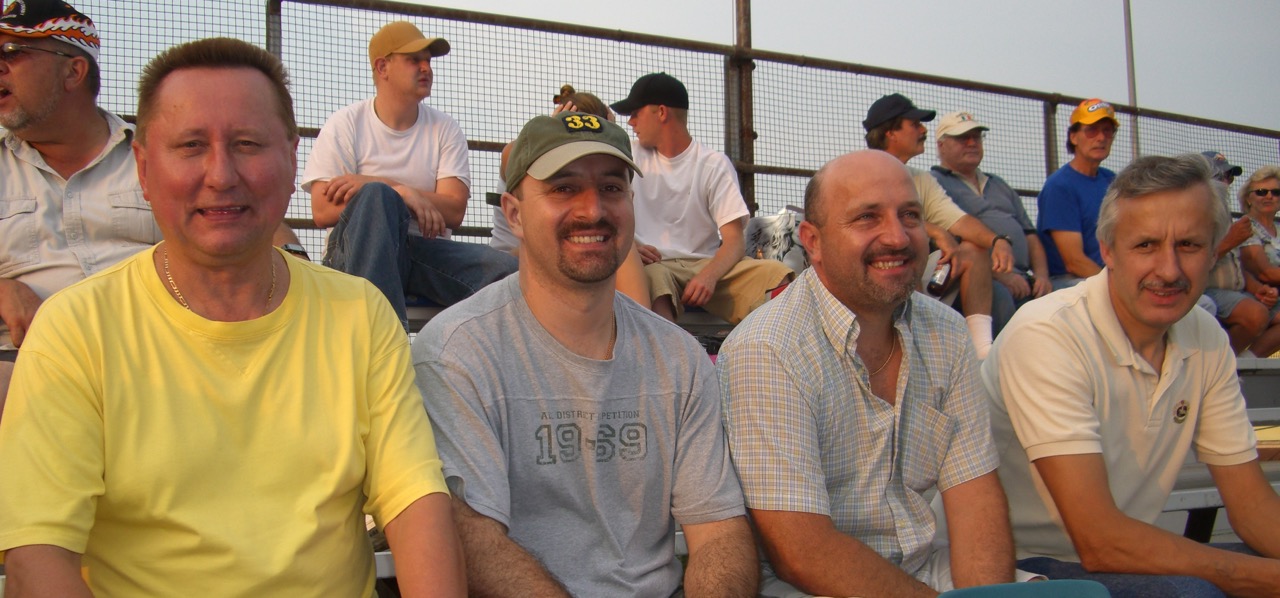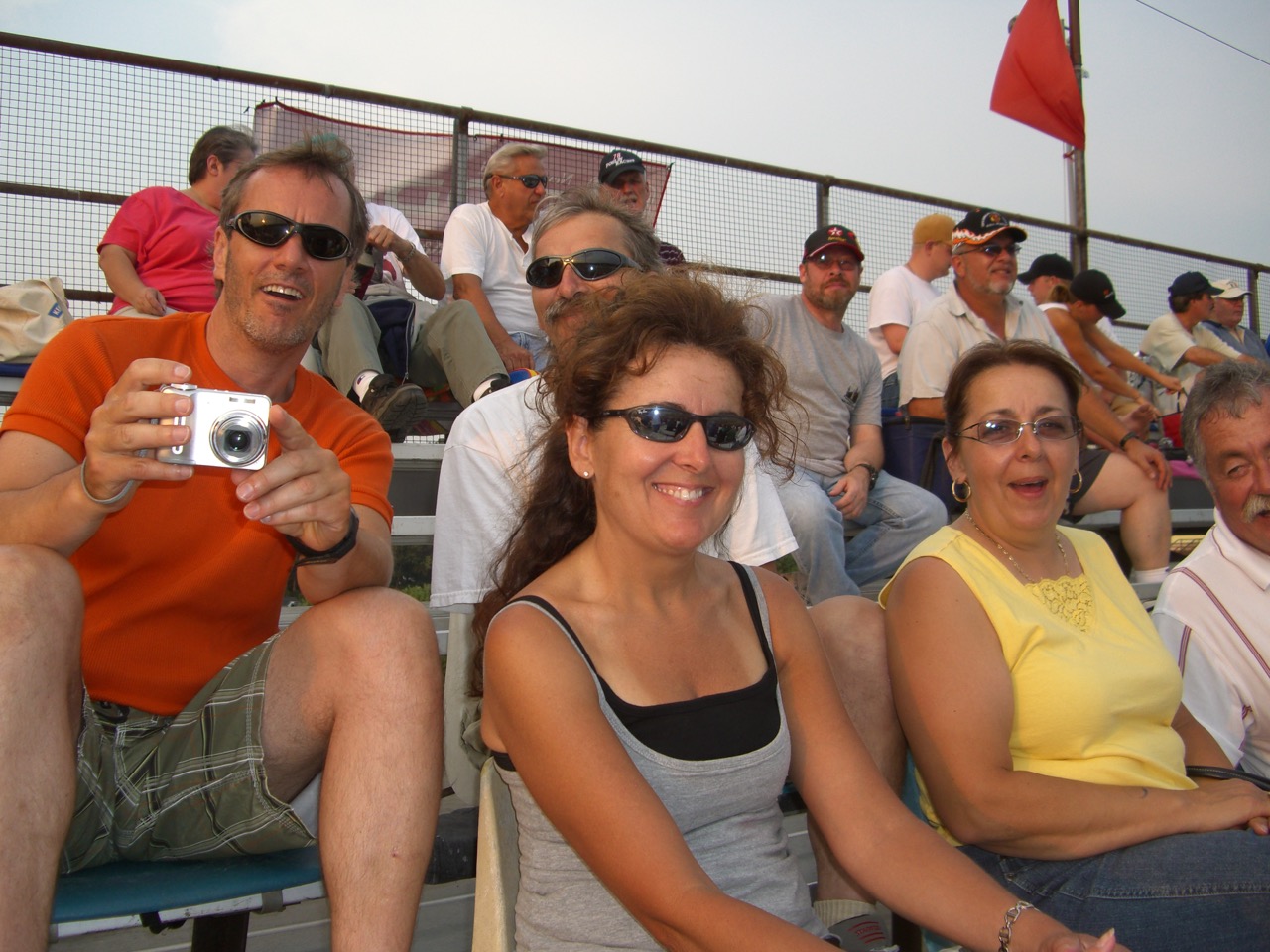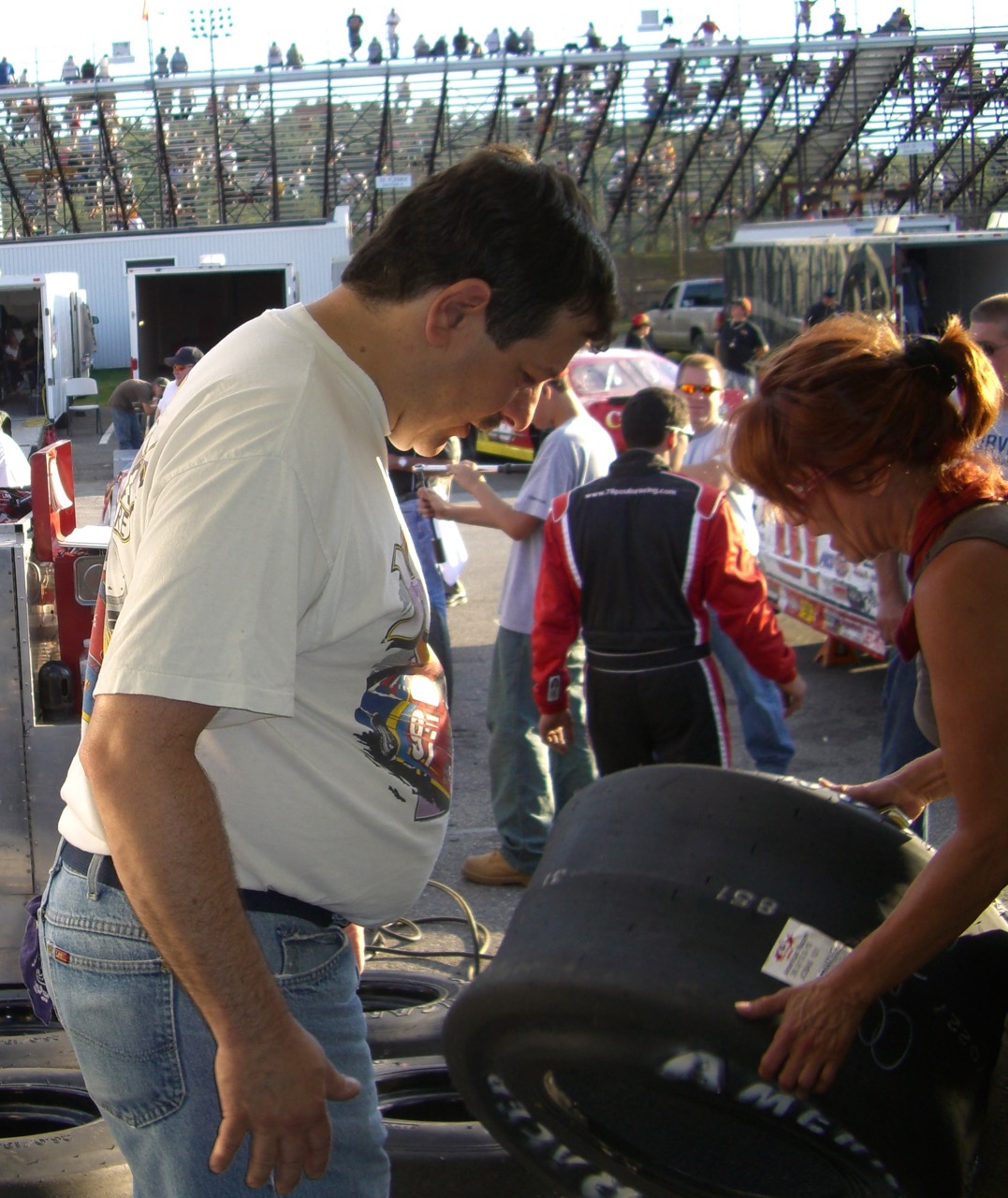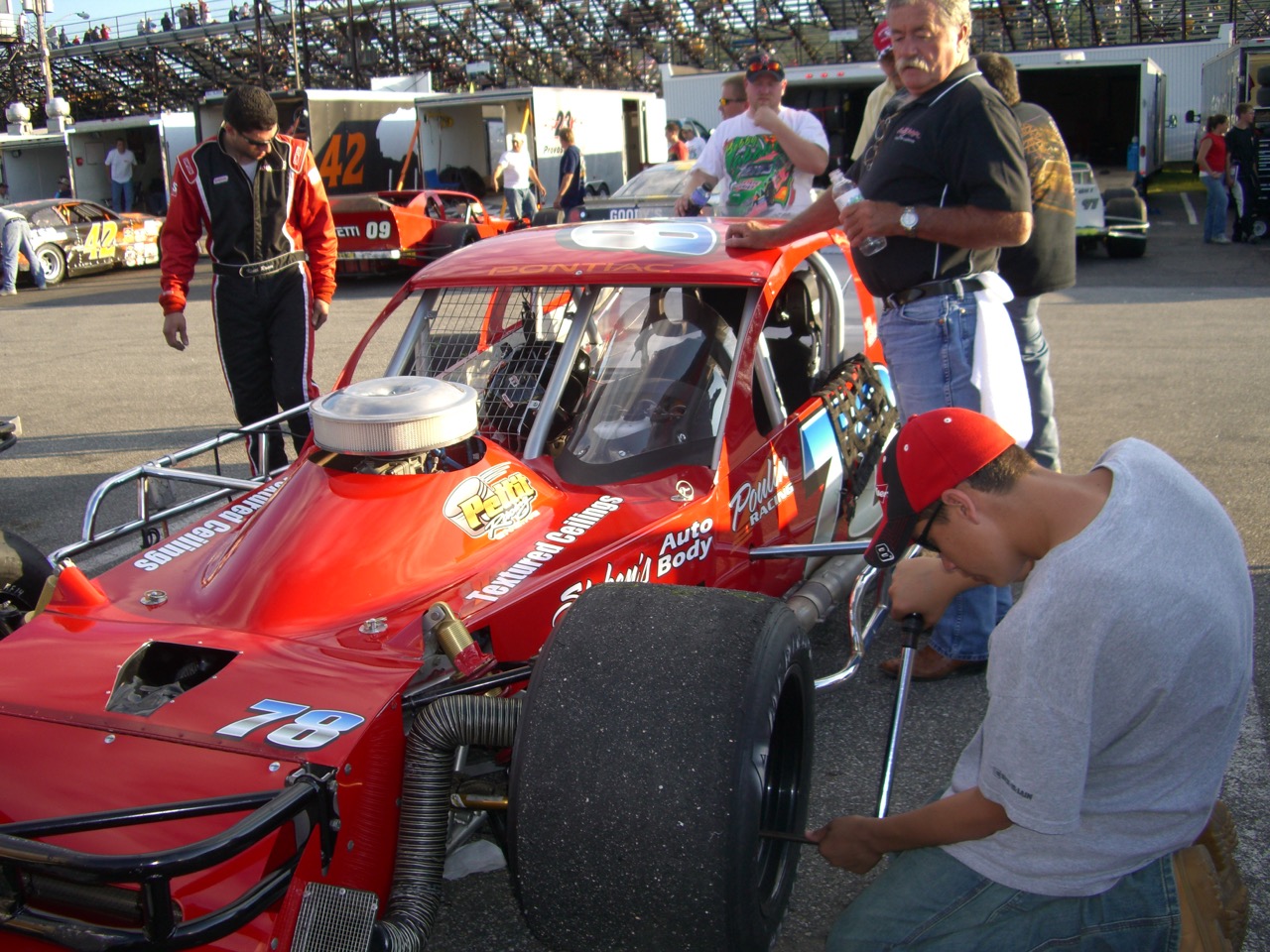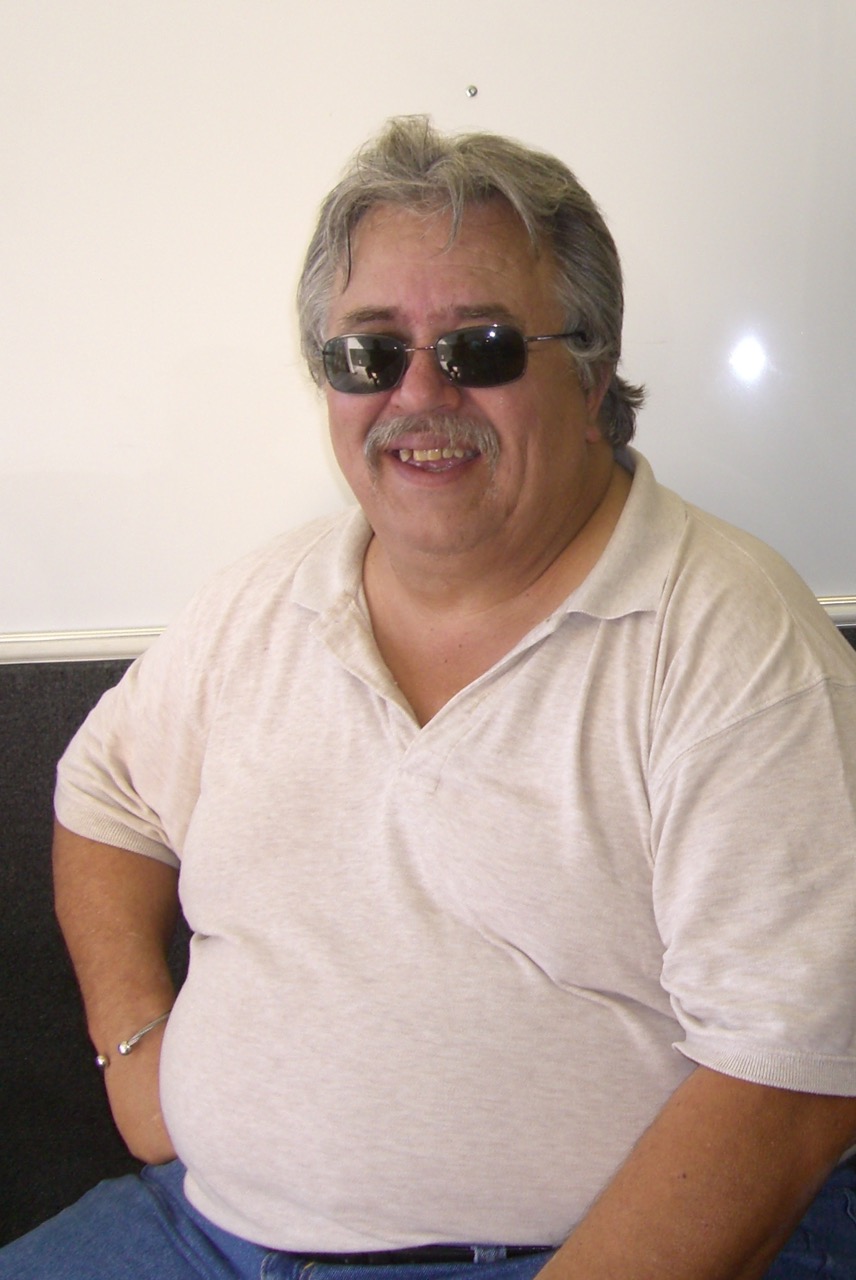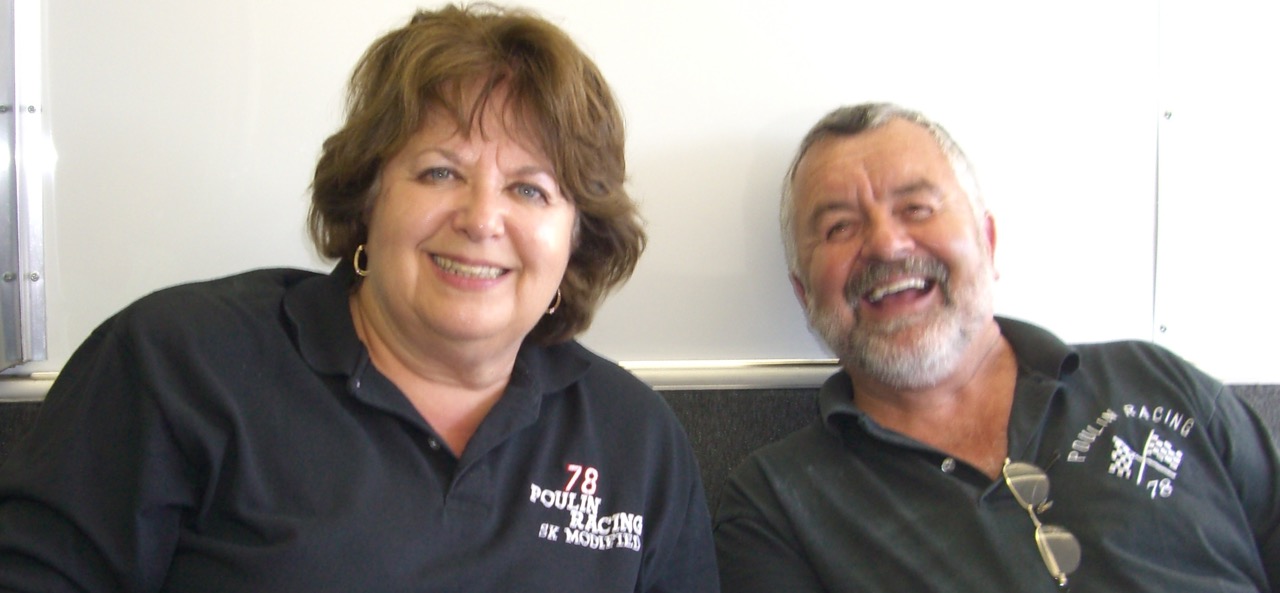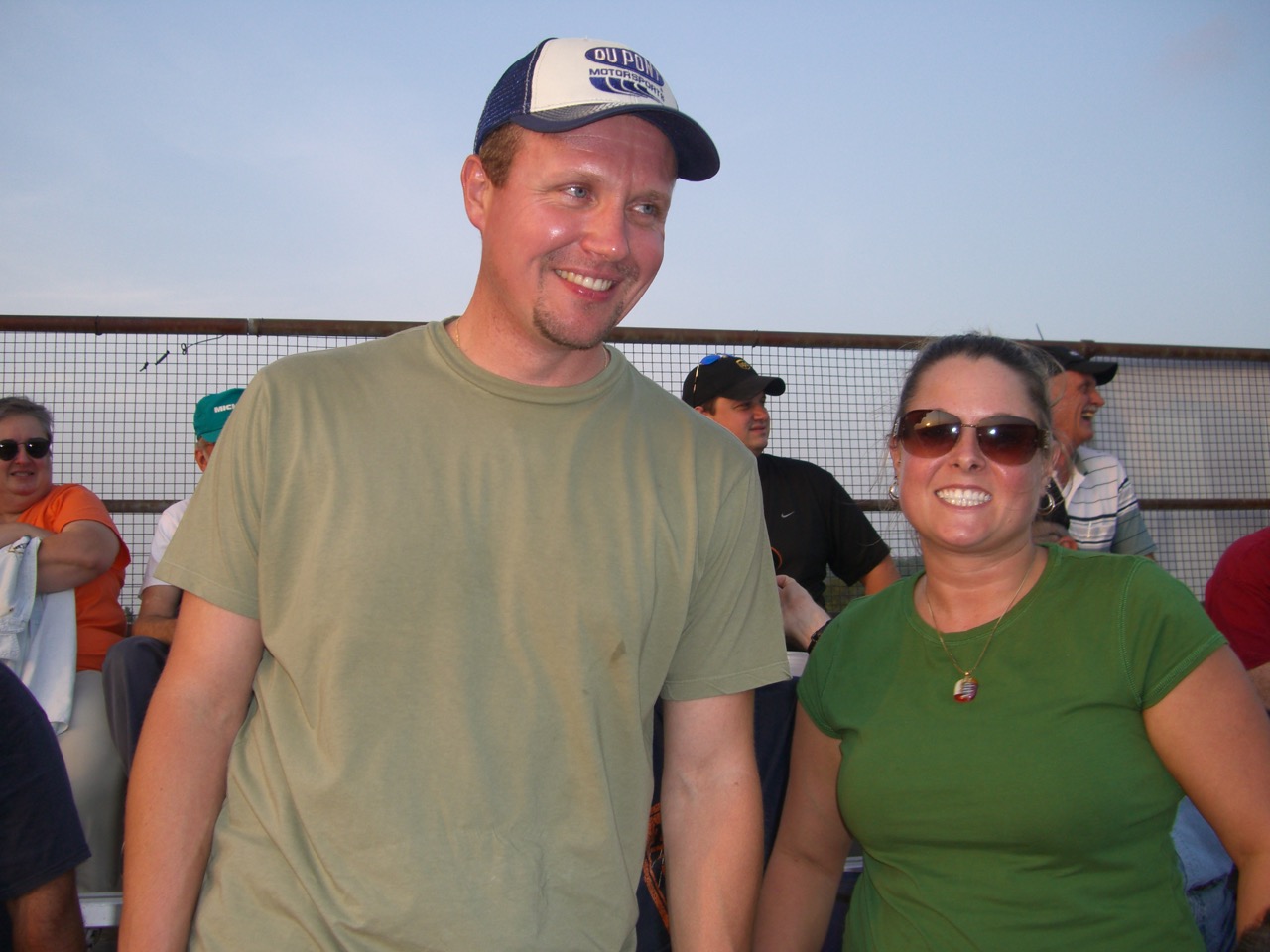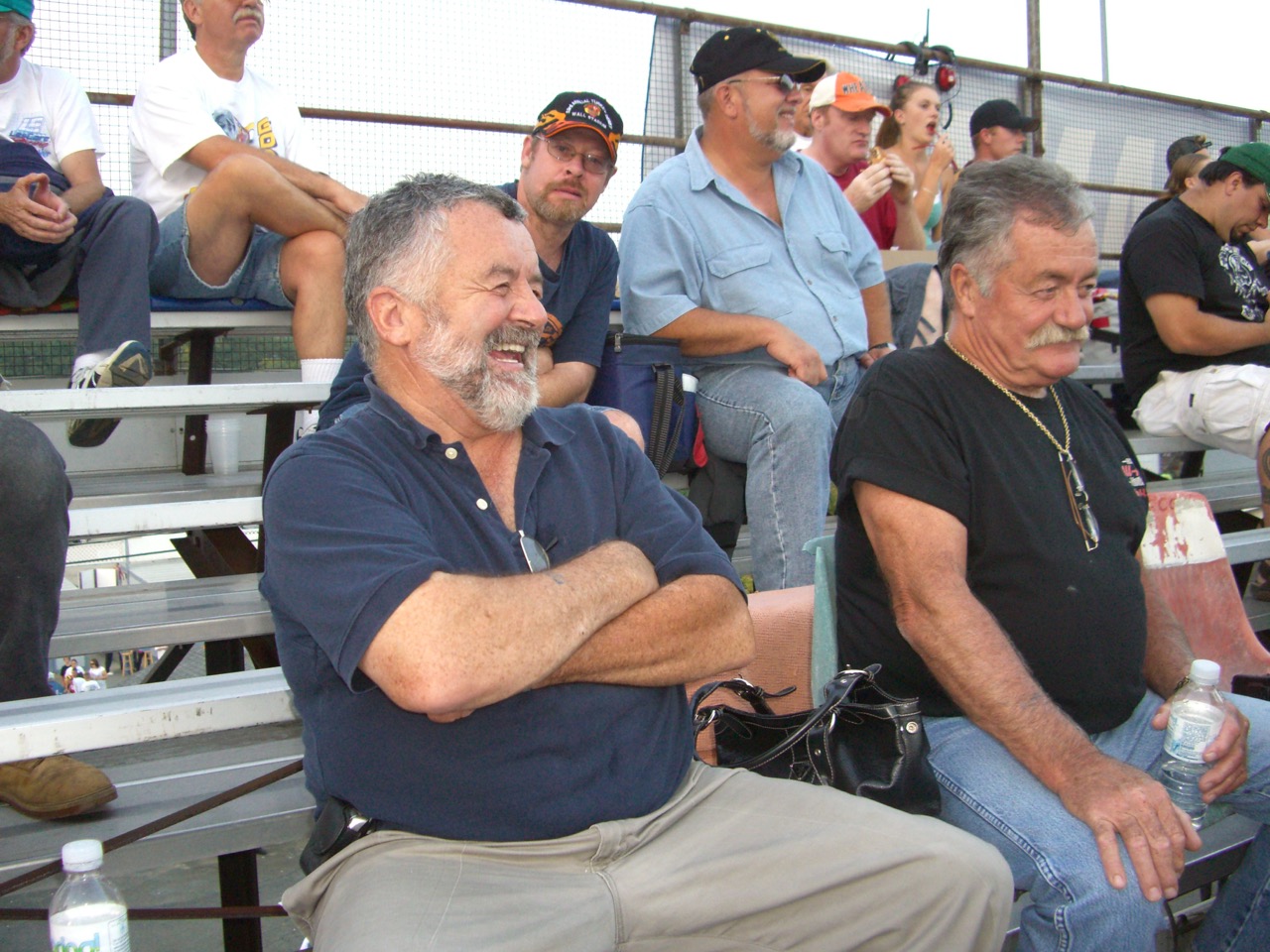 End if summer....fireworks, family, last fling at amusement parks and country fairs! A busy weekend for us, but a very specail weekend with both our sons in Connecticut with our grandchildren. We are hoping to make this a tradition for Labor Day weekends in the future.
Of course having your picture taken with your favorite driver is very important and Keith was gracious even though it was a busy time in the pits.
And spending time with Grandma is always fun!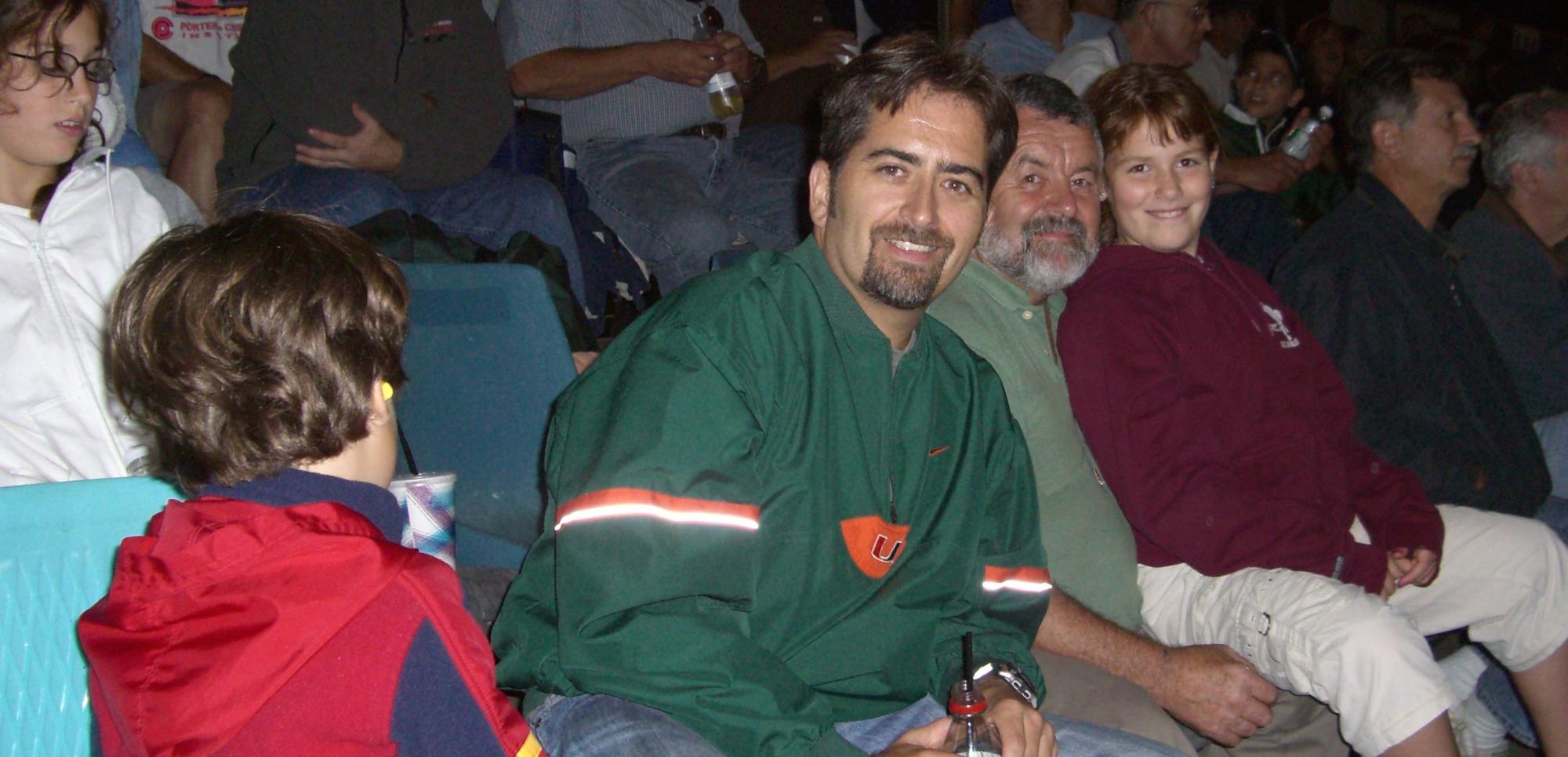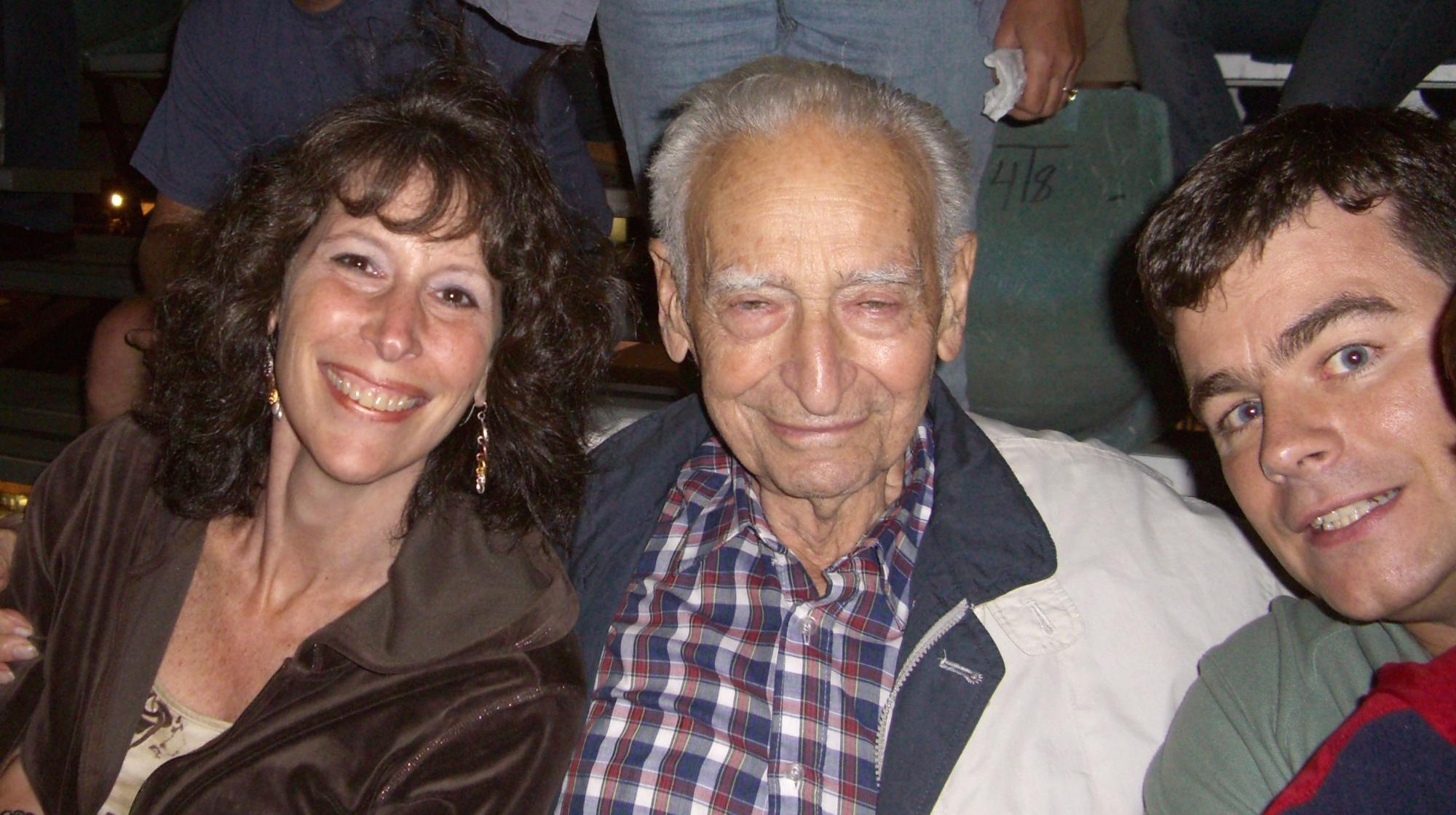 The rest of the weekend was filled with family...relaxing, all of us rendezvoued at Lake Compounce, which by the way is a gem that is sometimes overlooked, for cotton candy and stuffed animals and we took this little Miami guy to the Woodstock Fair. All too soon it was time go hug Grandpa goodbye and head back to Miami. One of the very best weekend of the year because we were all together, a rarity when so many miles separate us.
Phil and young Phil have proven to be most helpful on Friday nights.
Always a pleasure to have John Powers visit.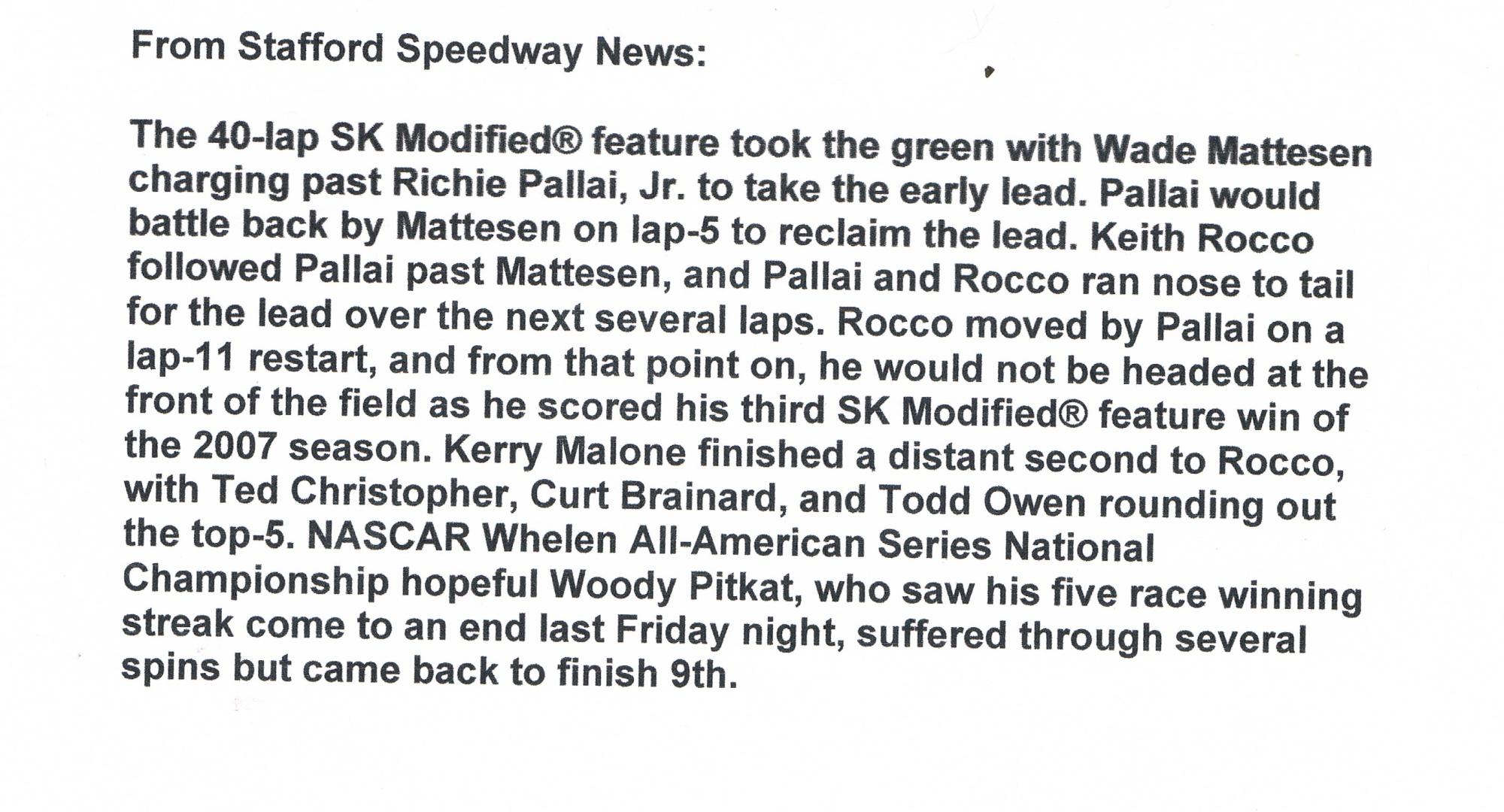 Sun setting earlier....season soon ending!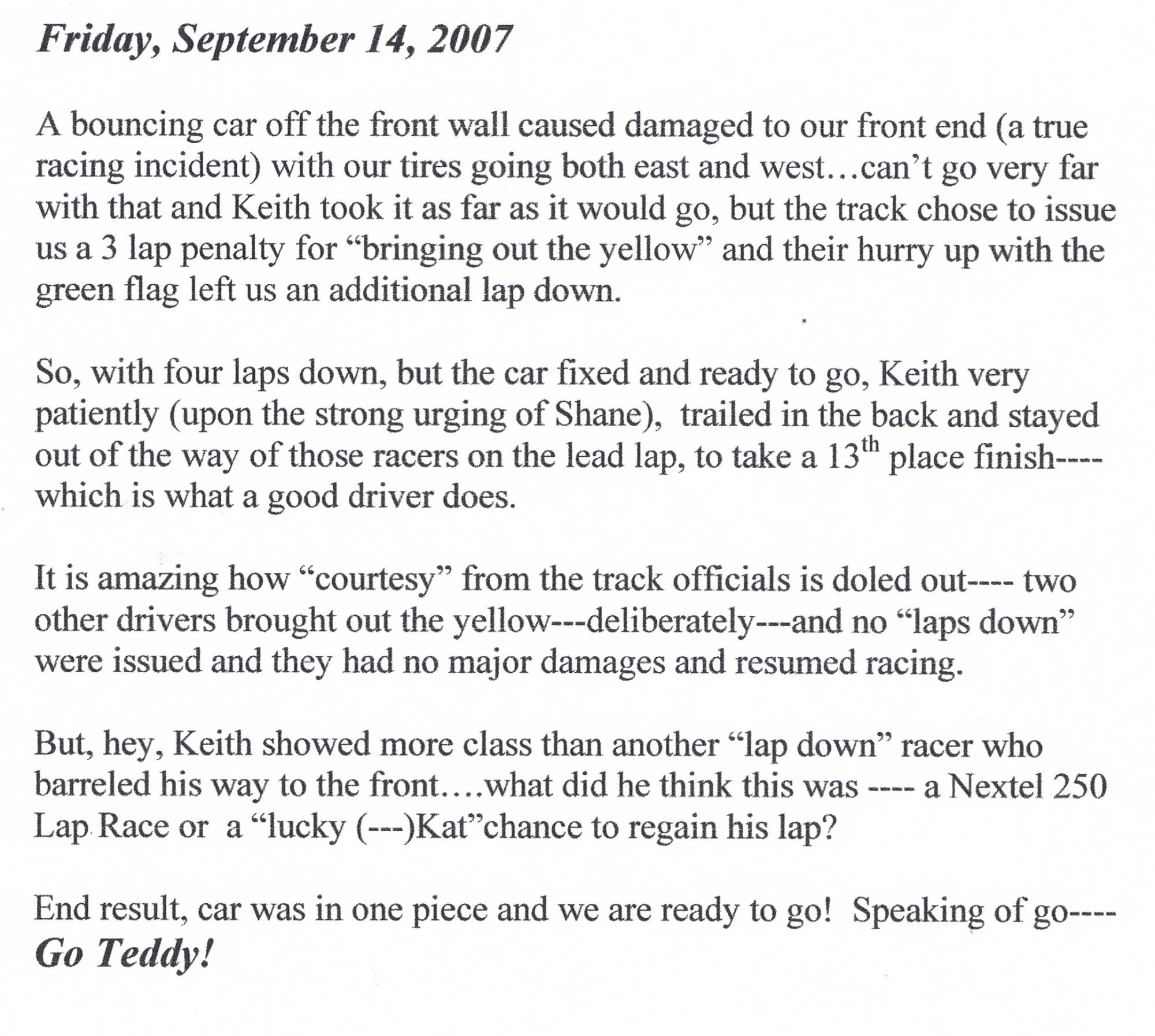 Weather changed quickly and jackets came out!
The great times continued, the weekend for us was New York City, with Marcel and Louise, lunch at St Barts, Grease, the musical and dinner at the Jockey Club. A weekend we all remember!
Tina finally made it to the races!!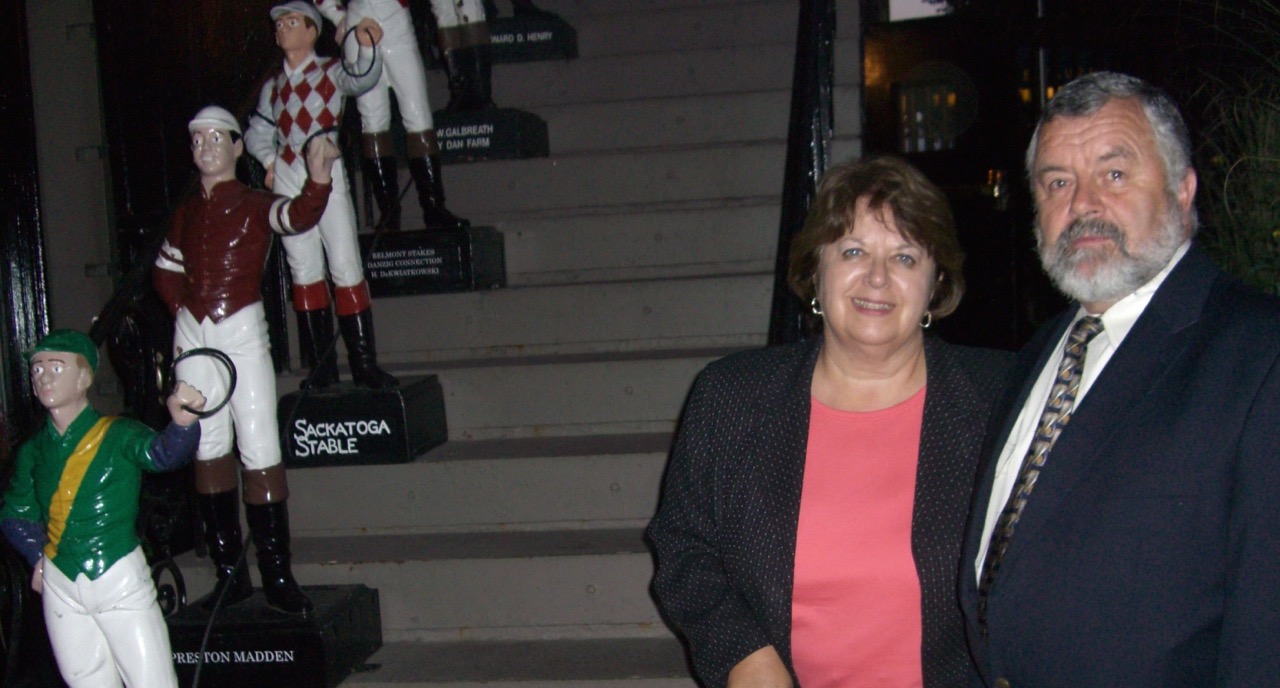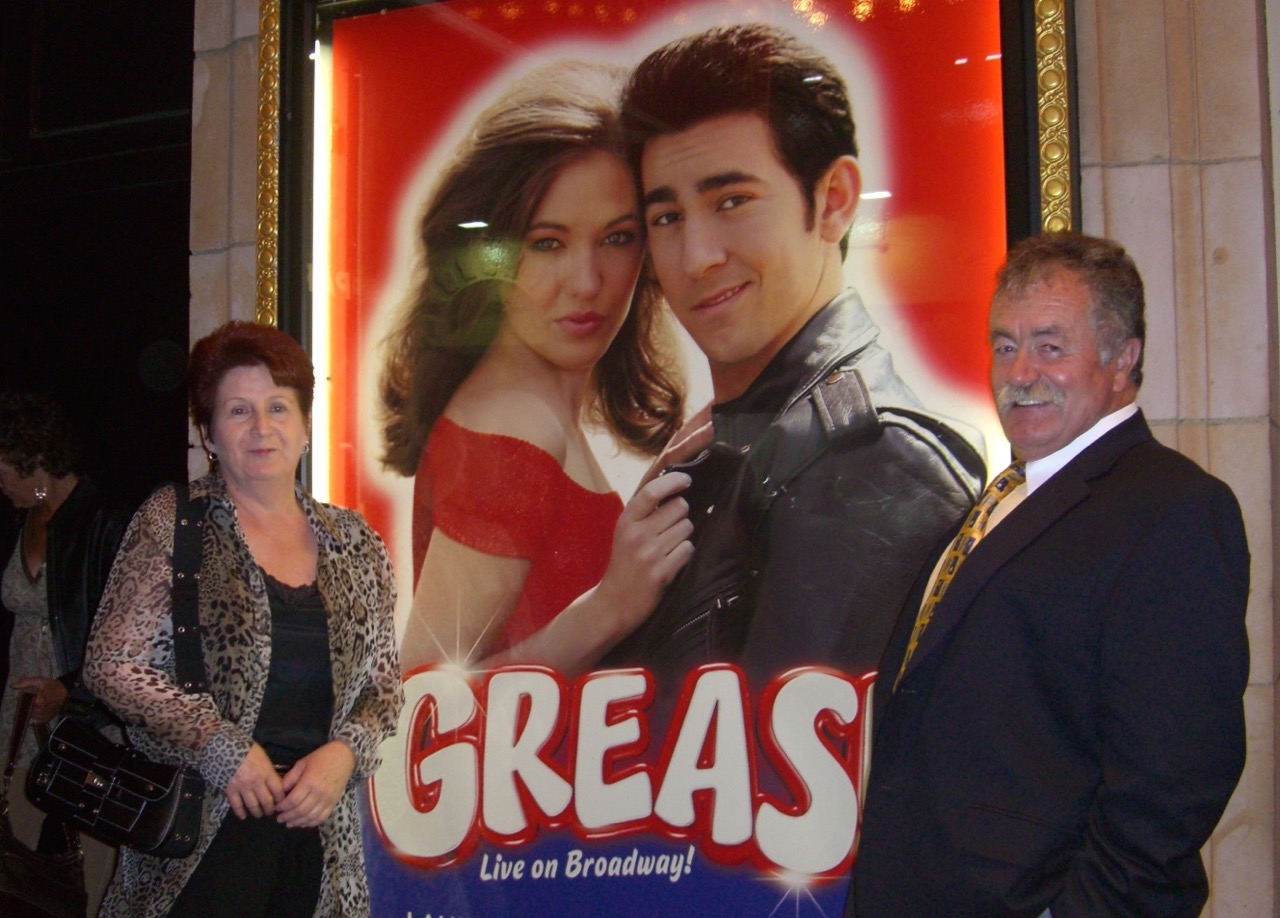 Friday, September 21, 2007 - Last Friday night race and we score our fourth win!!
This is all about fans and friends both in the pit area and in the stands. A perfect late summer night and some great racing enjoyed by all.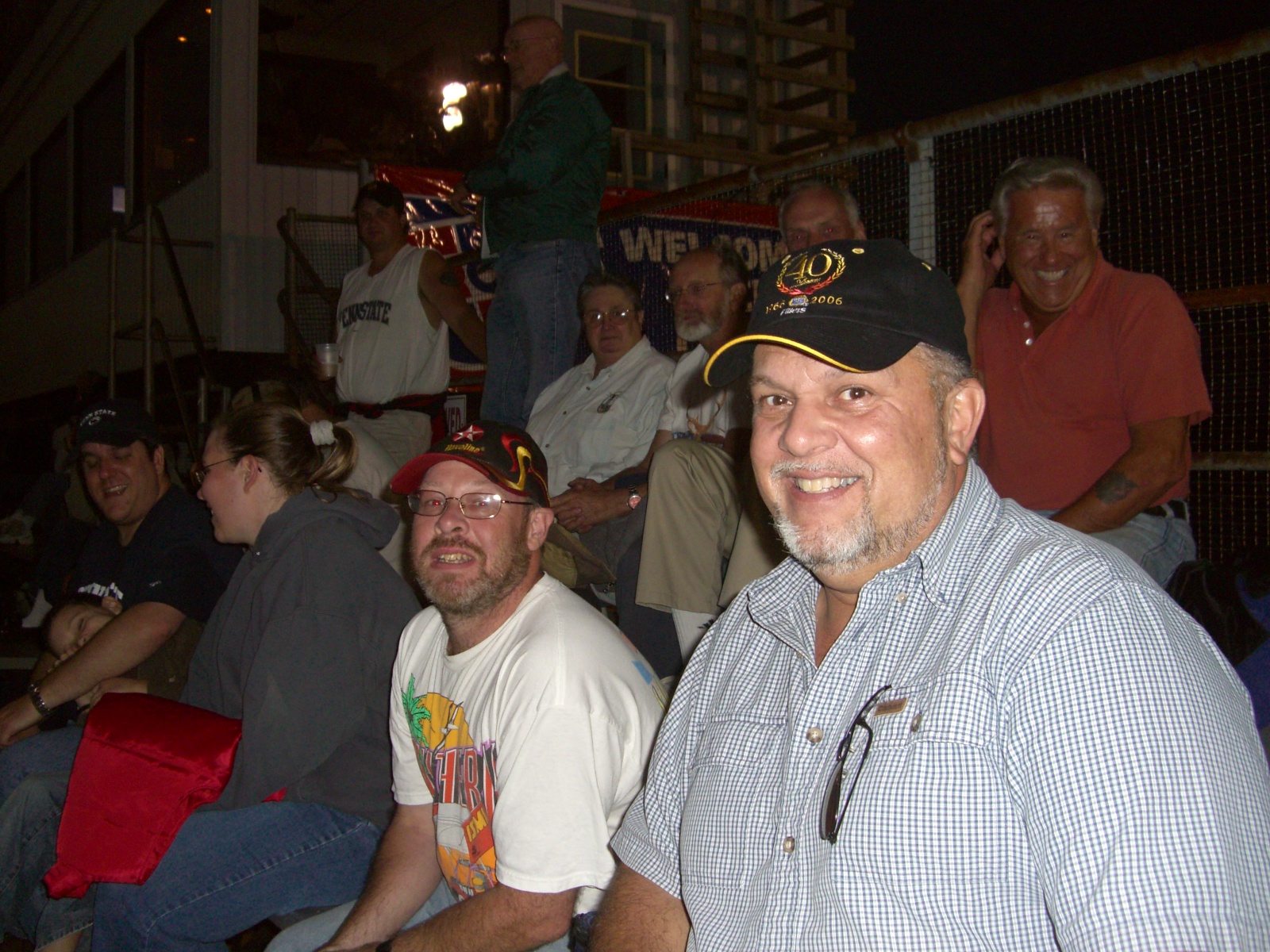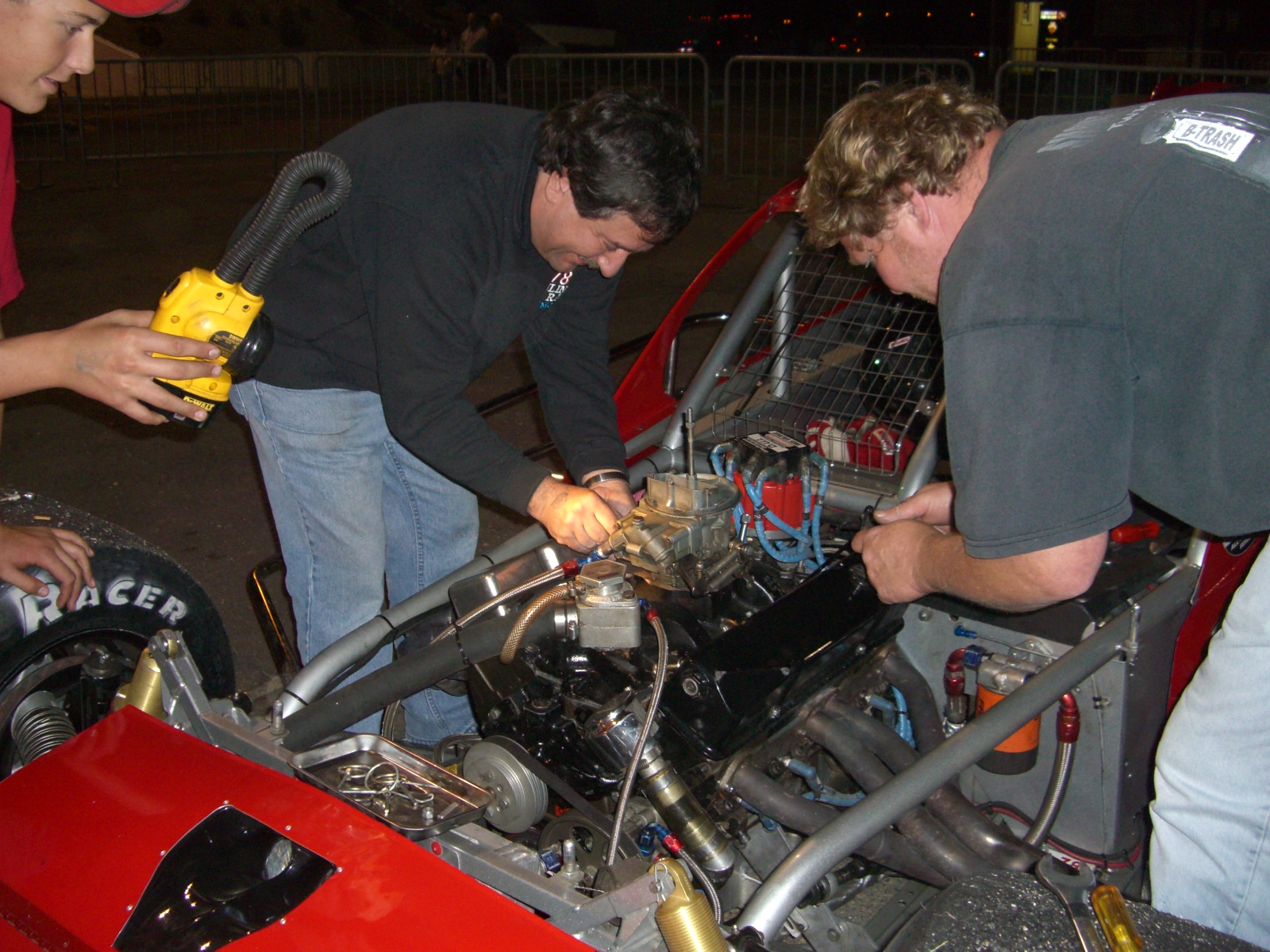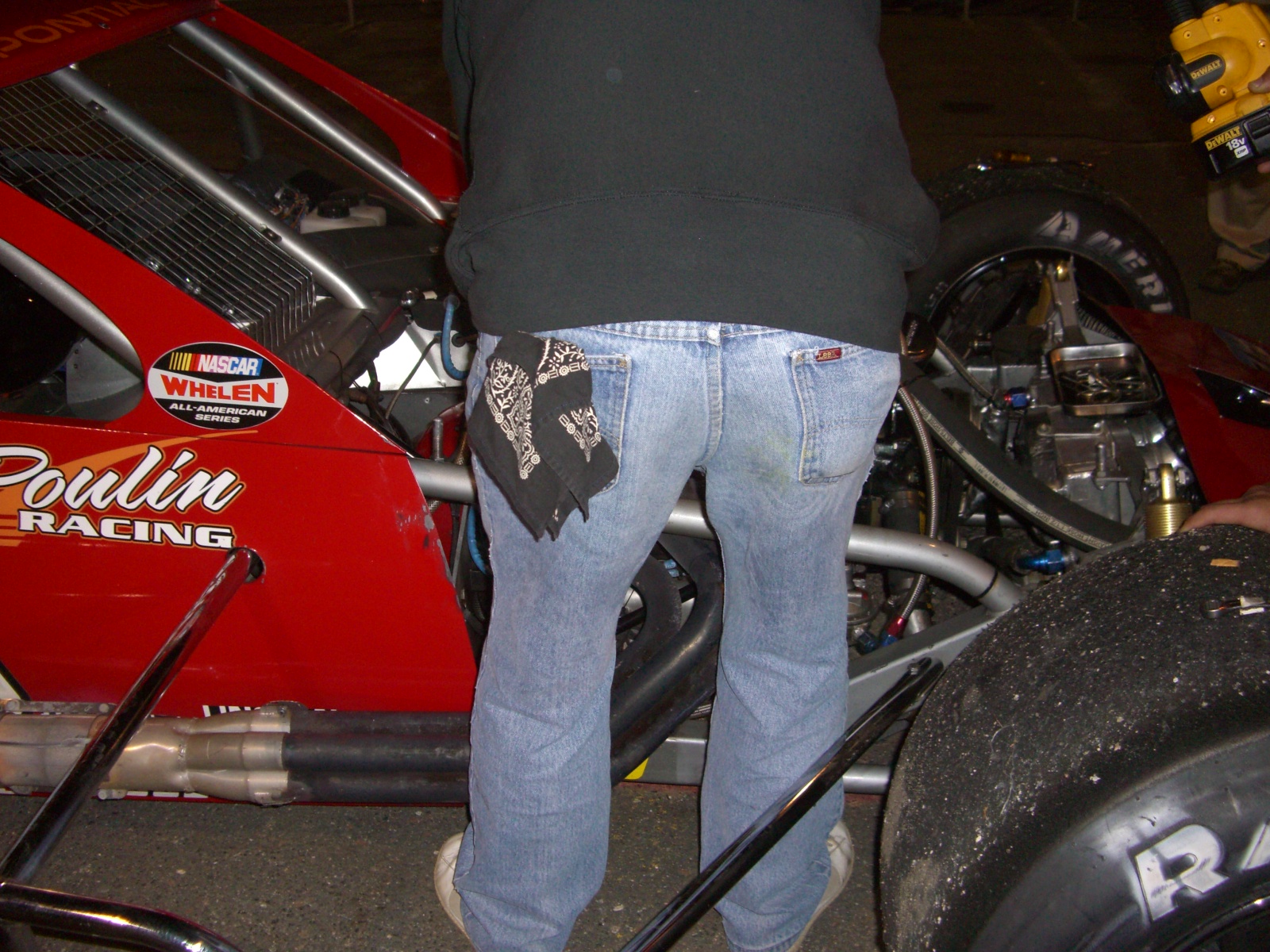 Tear down---always a good place to be!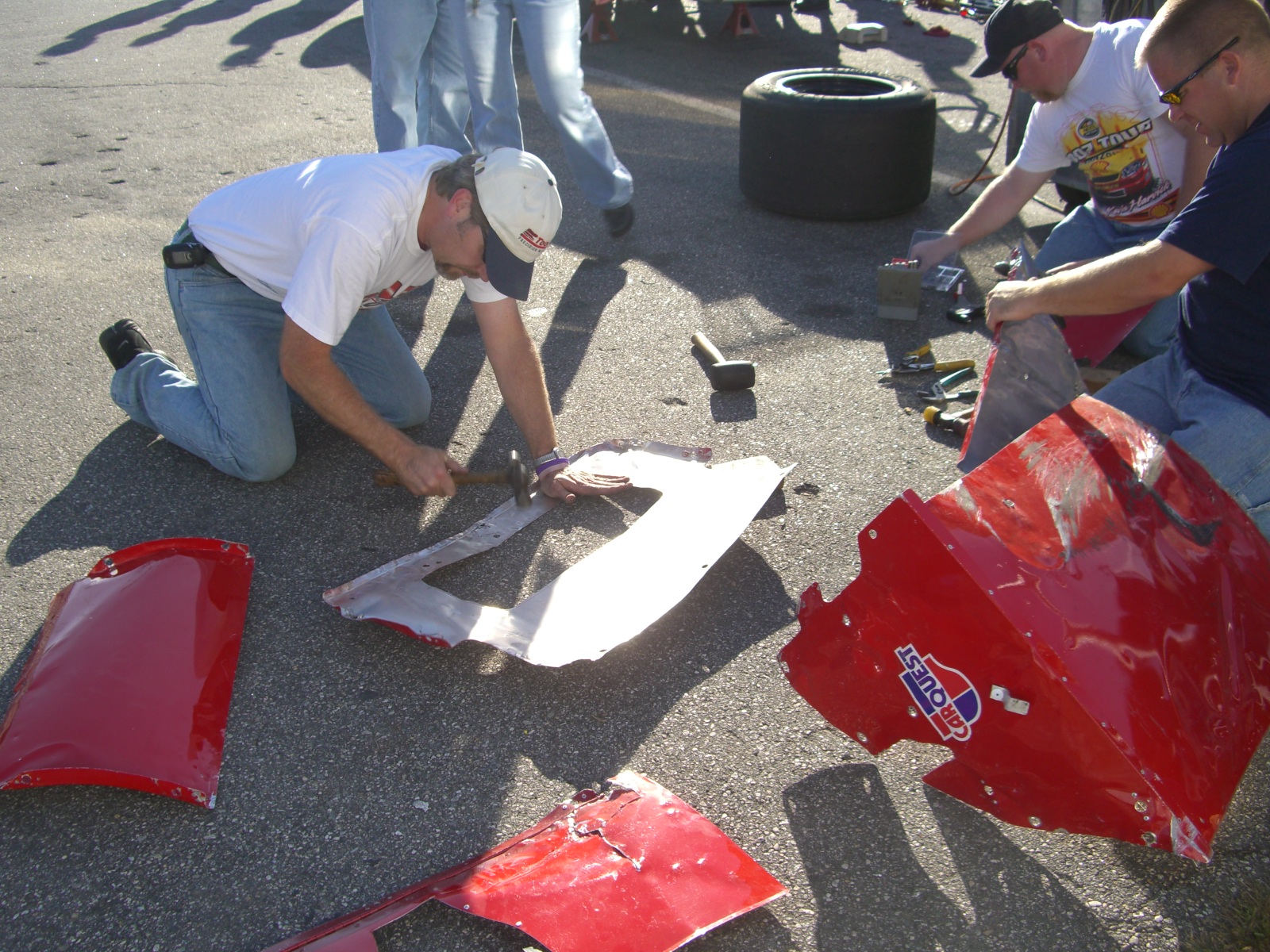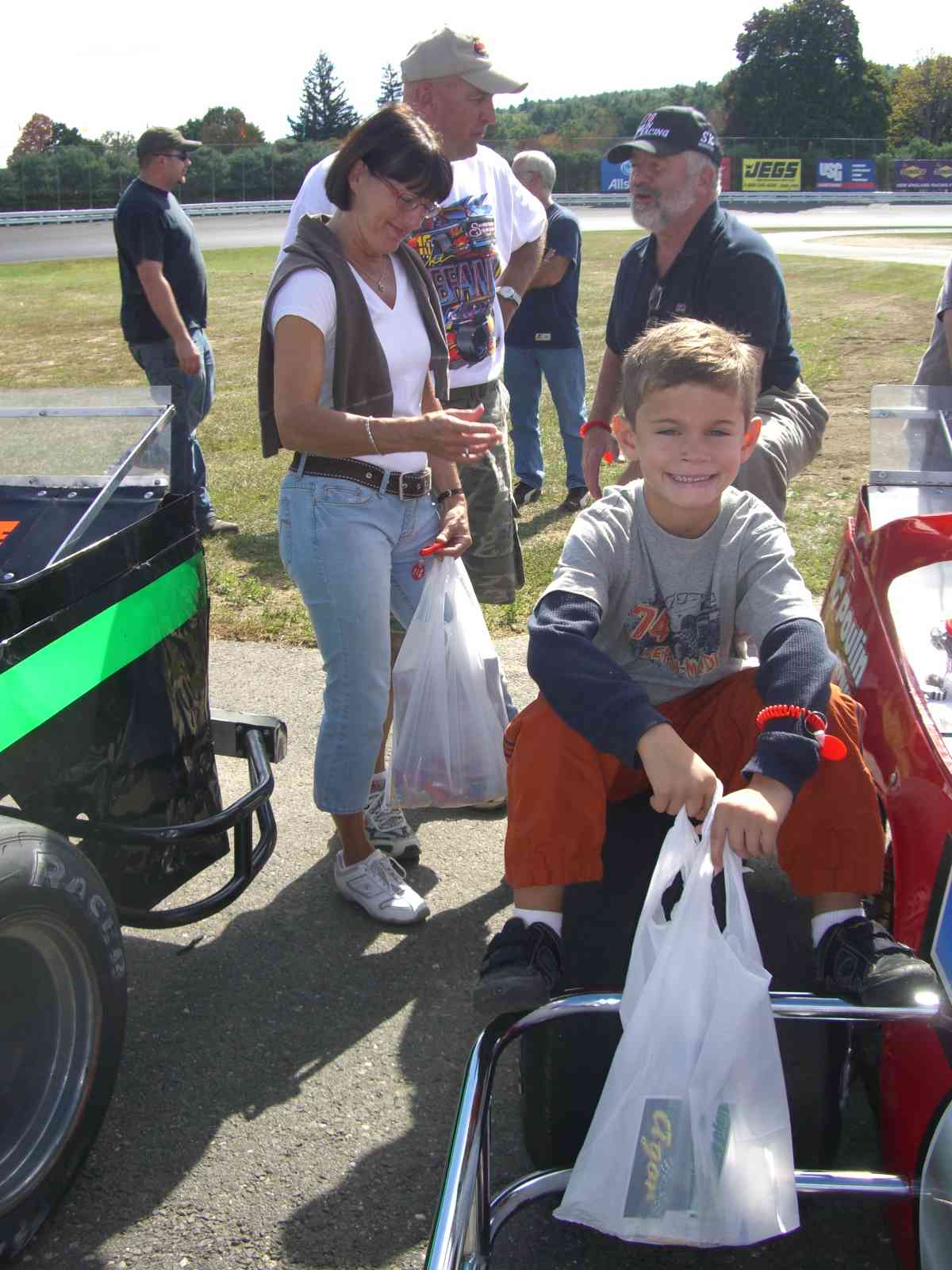 There was still time for the Pit Party.
And family - oh to turn back time!
Photos from our four wins - I always choose the ones with all our fans and friends! All photos from Driscoll Photography who is able to dig in archives...thank you John.