2015 - Beginning of a new independent era for Ryan.
It did not take very long after the Fall Final of 2014 for a decision to be made to move on. The now famous CD 40 was retrieved (for a price) with all of it's winning parts from the Gunsmoke garage and moved to Berlin, Ct at the Preece family home. After racing in essence for other people, Ryan made the decsion it was time to take control of his future. Sponsorship monies and winnings will now go directly to him, and win or lose, he will be at the helm of this new team. We were part of that decision and happy to also move on.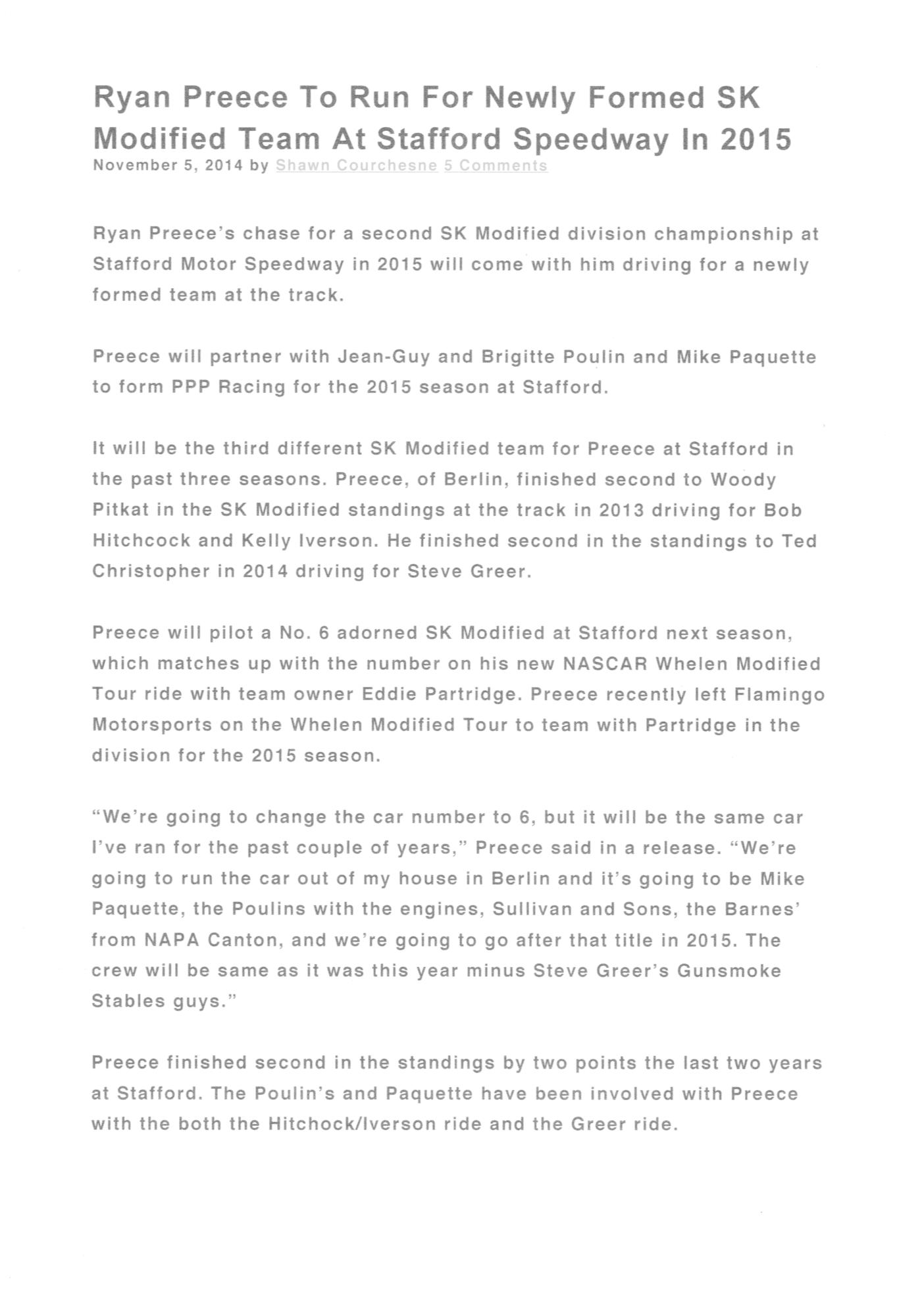 From January to April, Ryan was very busy, best to use just the headlines and photos....
NASCAR Modified star Ryan Preece enters the Atlantic City indoor race (foxsports Jan 10, 2015)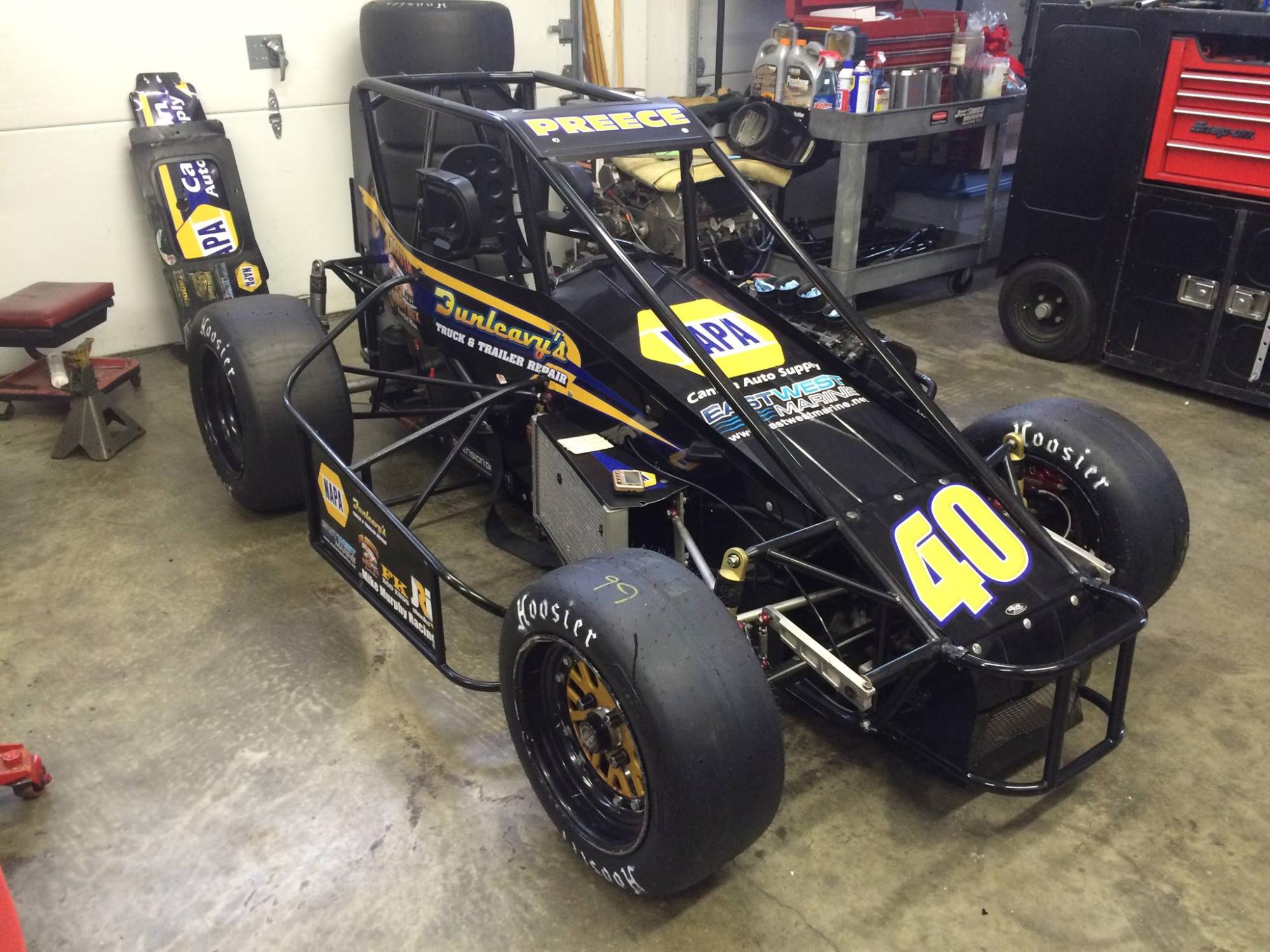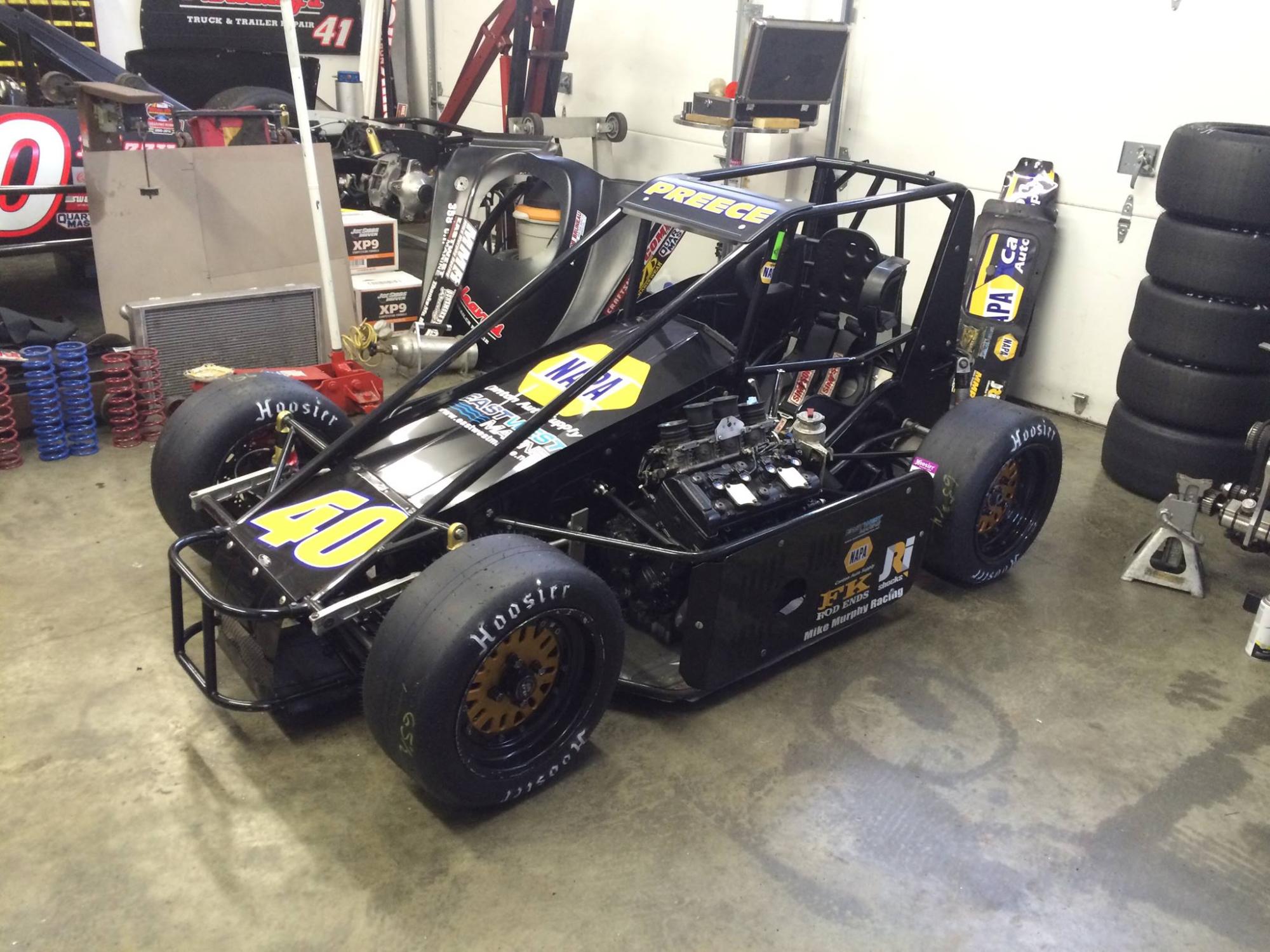 Preece Hoping to Continue Car Owner's Success in Florida Speed51 February 6, 2015 Archive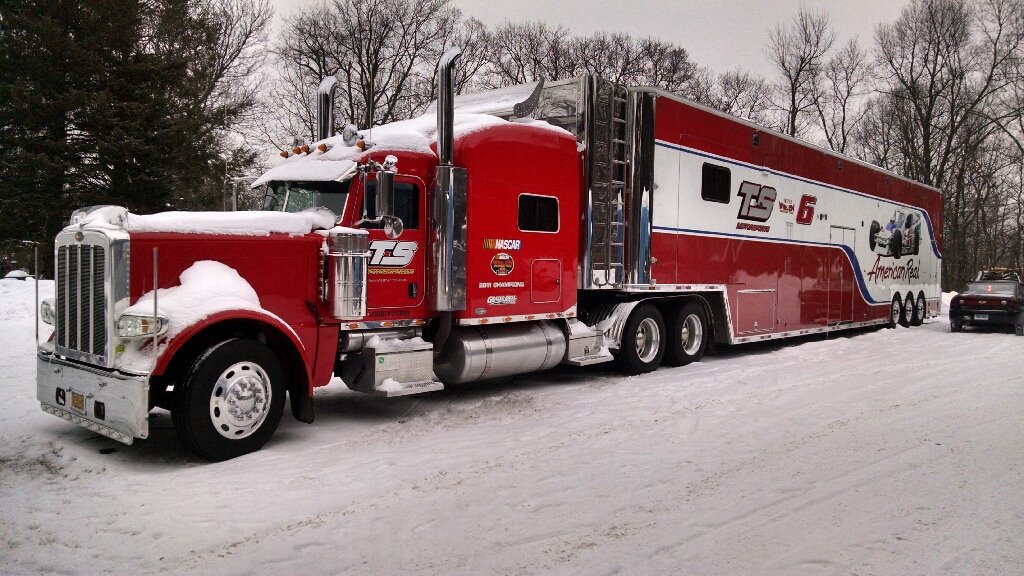 Testing February 11, 12 and 13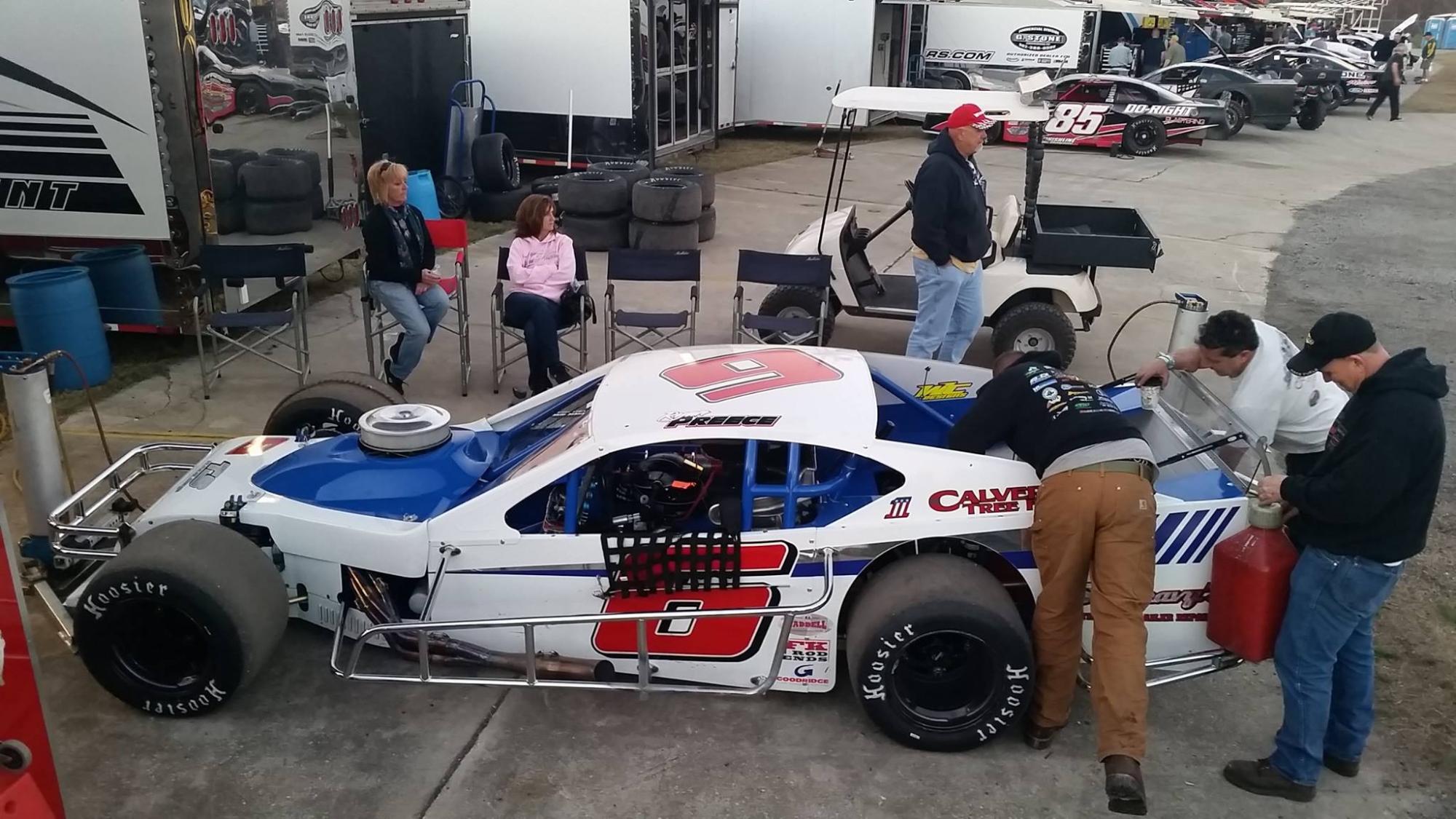 Ryan Preece Victorious In Modified Feature on Night One of New Smyrna Series (February 13, 2015 Racedayct)
Bonsignore Inherits World Series Mod Win After Preece DQ (Speed51 February 14, 2015)
Well we got it done tonight here at Speedweek! (February 15, 2015 Ryan Preece Racing)
Ryan Preece Wins His Second Straight Tour Modified (February 16, 2015)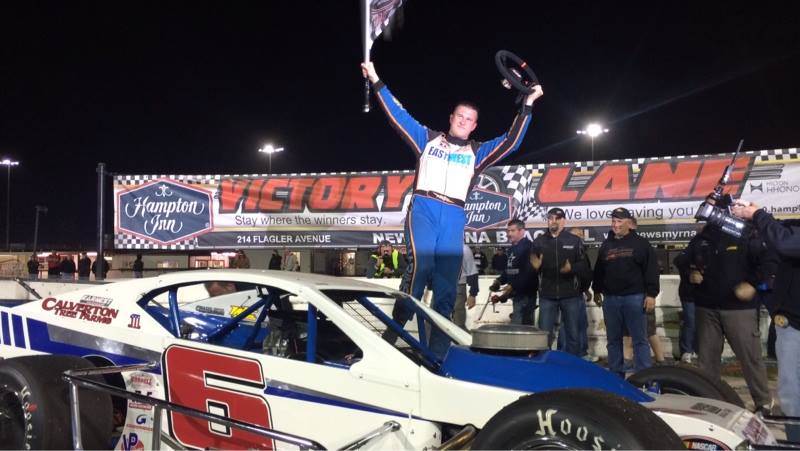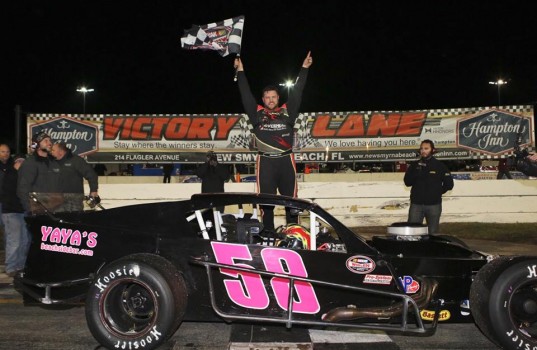 Goodale Proves Preece Can Be Beat (February 19, 2015 Speed51)
Preece Rebounds One Night After Letting Win Slip Away (February 20, 2015 Speed51)
Ryan Preece Rolls to Richie Evans Memorial 100 Victory at New Smyrna . (February 21, 2015 RacedayCT)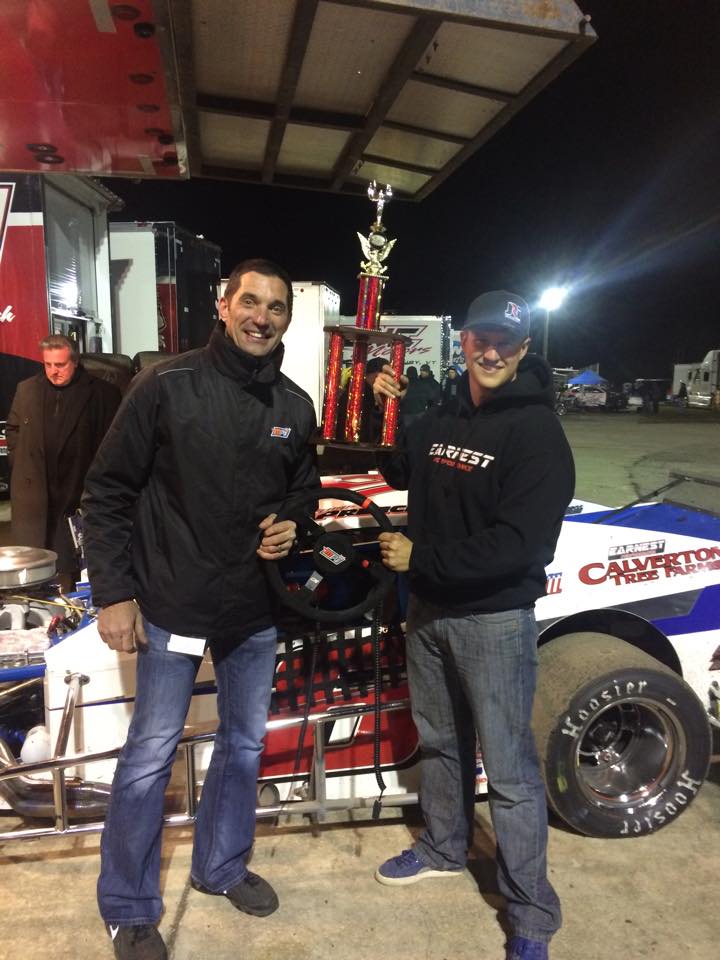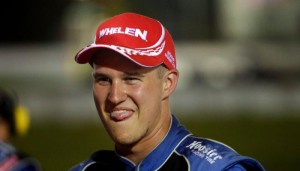 Any time there is a new driver/team combination, questions can arise for a driver as did I switch to the right team and for owners they can wonder if they have the right driver in the seat of their car. For Ryan Preece and the Ed and Connie Partridge owned T.S. Haulers, Inc. team, they put any doubts to rest with a dominating performance during SpeedWeeks at New Smyrna, winning 4 of the 6 Tour Type Modified feature events, including the prestigious Richie Evans 100. With SpeedWeeks now in the rearview mirror, Preece will look to carry the momentum from his week in Florida over to the start of the NASCAR Whelen Modified Tour season and the NAPA Auto Parts Spring Sizzler on April 24-26.
Ryan Preece Looking To Carry New Team Momentum To Spring Sizzler At Stafford Speedway
(March 5, 2015 RacedayCT)
The NASCAR Whelen Southern Modified Tour season kicks off Saturday night at Caraway Speedway (NC), but there's a good chance the battle for the win will come down to two of the best from the Northeast that the NASCAR Whelen Modified Tour has to offer.
The last NWMT champions, Doug Coby (2014) and Ryan Preece (2013), are both headed south to Sophia, North Carolina this weekend. While Preece has already done a lot of racing, and winning, in 2015, this weekend will be the first time that Coby will hit the track this year since hoisting the championship trophy at Thompson Speedway Motorsports Park (CT) in October.
NWMT Champs Taking Battle South to NWSMT Opener (March 9, 2015 Speed51)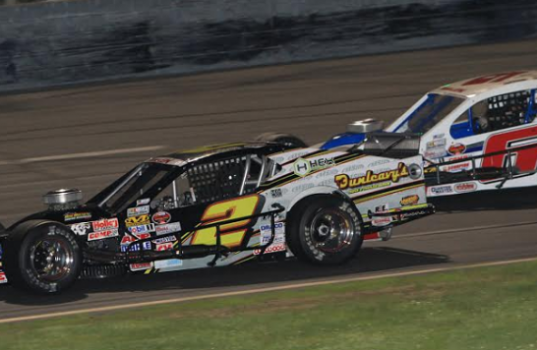 Next stop was Hickory, March 22, 2015, got the pole and finished 6th
Hickory Finish Results:
1 5 1 Burt Myers 125
2 2 5 Chris Pasteryak 125
3 6 4 Jason Myers 125
4 4 31 Zach Brewer 125
5 13 77 Gary Putnam 125
6 1 6 Ryan Preece 125
7 8 34 Josh Nichols 125
8 11 9 Bobby Sheffield 125
9 3 79 Spencer Davis 125
10 12 12 Mike Norman 124
Caraway SpeedwayMarch 28, 2015 ·
Congratulations to #6 Ryan Preece for his Pole Award in the NASCAR Whelen Southern Modified Division here at Caraway Speedway tonight!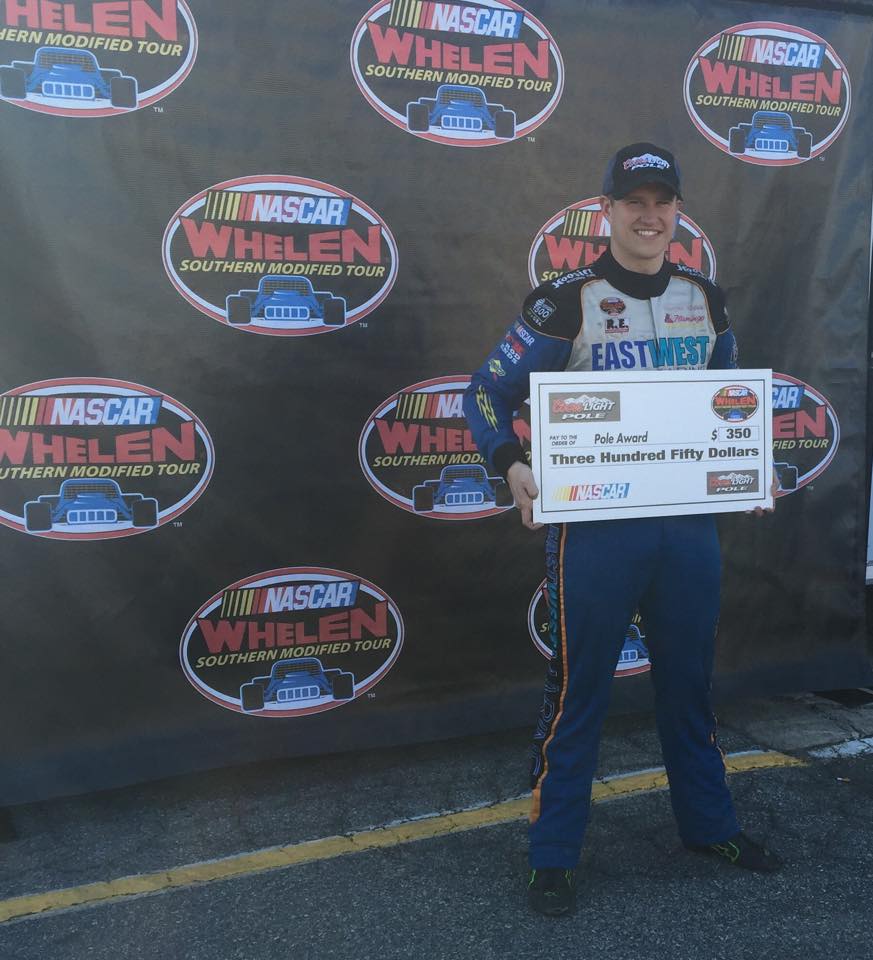 Brigitte Poulin
March 28, 2015 ·
CHECKERED FLAG: Andy Seuss holds off Eric Goodale to take the win, his first of the season. Ryan Preeece, JR Bertuccio and Burt Myers complete the top five.
Ryan Preece's chase for a second SK Modified division championship at Stafford Motor Speedway in 2015 will come with him driving for a newly formed team at the track.
Preece will partner with Jean-Guy and Brigitte Poulin and Mike Paquette to form PPP Racing for the 2015 season at Stafford.
It will be the third different SK Modified team for Preece at Stafford in the past three seasons.
Preece, of Berlin, finished second to Woody Pitkat in the SK Modified standings at the track in 2013 driving for Bob Hitchcock and Kelly Iverson. He finished second in the standings to Ted Christopher in 2014 driving for Steve Greer.
Preece will pilot a No. 6 adorned SK Modified at Stafford next season, which matches up with the number on his new NASCAR Whelen Modified Tour ride with team owner Eddie Partridge. Preece recently left Flamingo Motorsports on the Whelen Modified Tour to team with Partridge in the division for the 2015 season.

"We're going to change the car number to 6, but it will be the same car I've ran for the past couple of years," Preece said in a release. "We're going to run the car out of my house in Berlin and it's going to be Mike Paquette, the Poulins with the engines, Sullivan and Sons, the Barnes' from NAPA Canton, and we're going to go after that title in 2015. The crew will be same as it was this year minus Steve Greer's Gunsmoke Stables guys."
Preece finished second in the standings by two points the last two years at Stafford. The Poulin's and Paquette have been involved with Preece with the both the Hitchock/Iverson ride and the Greer ride.
"Things are going to be the same as they have been but it's exciting because everyone is looking forward to going back to the track and getting the year started," Preece said. "We've had strong runs in the past and we're looking forward to having more strong runs in the future. I was disappointed knowing how bad the Poulin's wanted to win the championship, how bad everyone on the team wanted to win it, and obviously I wanted it bad. Sometimes things aren't meant to work out the way you want them to but we're not quitters. We're just going to keep on going forward and trying to win the championship and continue the success we've had winning races. We've won almost 50% of the races the last 2 seasons, so I think that's a pretty big accomplishment. We race to win and that's what we're going to continue to do."
Ryan Preece To Run For Newly Formed SK Modified Team At Stafford Speedway In 2015
November 5, 2014 by Shawn Courchesne
Ryan Preece RacingApril 4, 2015 ·
Getting ready to go here at @SoBoSpeedway57 with @No1Bono and Gary Putnam with @CurbRecords and #Menards as our sponsors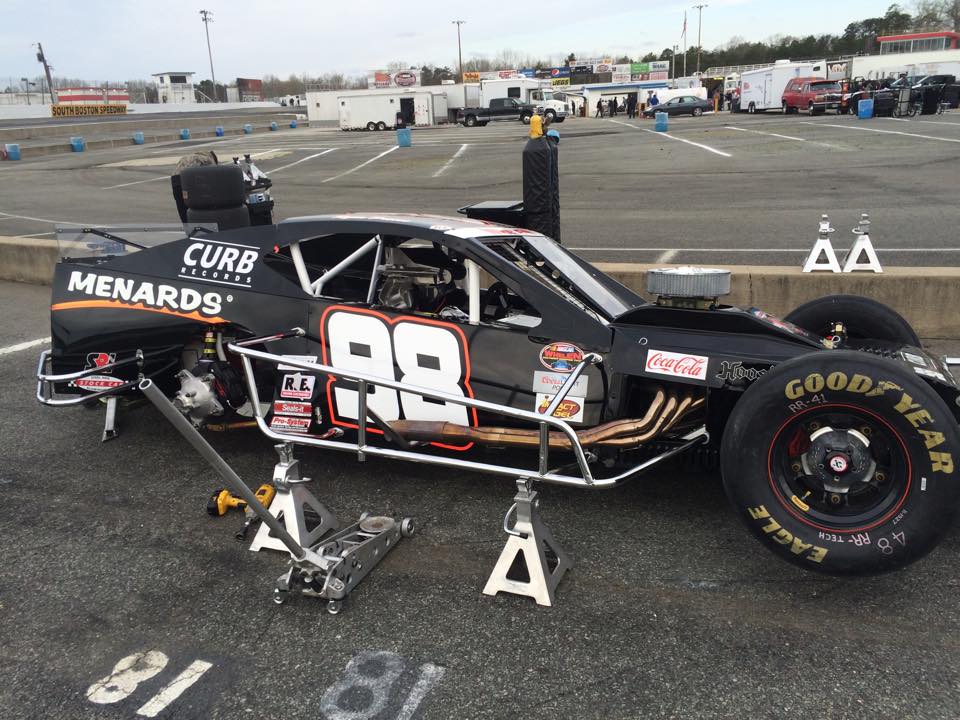 Tommy Baldwin RacingApril 6, 2015 ·
What off weekend? Bono and our spotter Doug Campbell spent the weekend with The Ryan Preece Fan Page at South Boston Speedway and took home the win. Congratulations!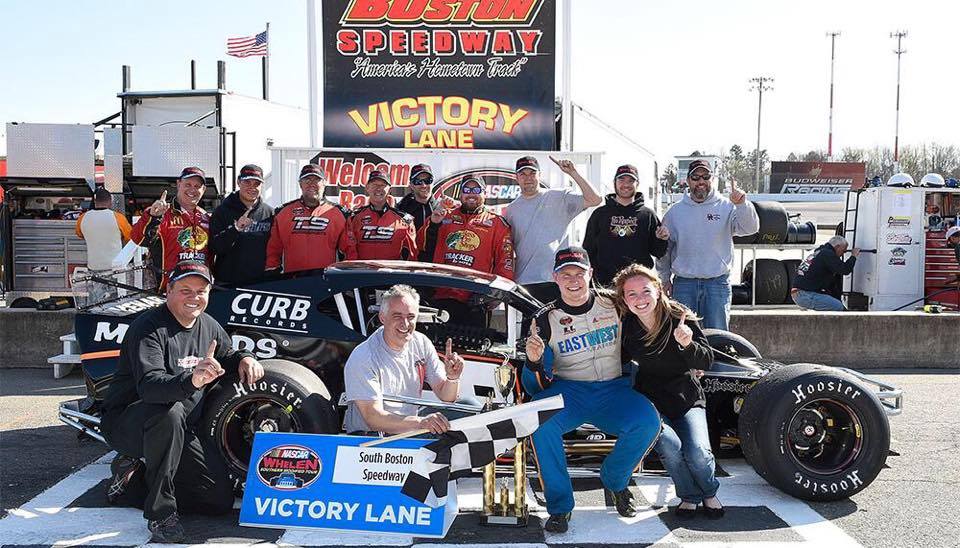 The Ice Breaker at Thompson Motor Speedway is the annual start of racing in Connecticut and Ryan, driving the #31 for Al and Cathy Moniz opened his season with a win!
Rally Time: Ryan Preece Uses Late Move To Score SK Mod Victory At Thompson Speedway
April 12, 2015 by Travis Barrett 13 Comments


By Travis Barrett ~ Special To RaceDayCT
Ryan Preece celebrates victory in the season opening SK Modified feature Sunday at Thompson Speedway
THOMPSON — Ryan Preece opened the defense of his 2014 NASCAR Whelen All-American Series track championship with a return trip to victory lane.
Preece, of Berlin, survived a caution-marred event at Thompson Speedway Sunday afternoon, reeling in second place finisher Keith Rocco of Wallingford over the final laps to win a marathon 75-lap Sunoco Modified feature event.
Ryan Preece RacingApril 13, 2015 ·
Good weekend at Thompson Speedway Motorsports Park . Won the Sunoco Modified race with the #31 Albert and Cathy Moniz owned Sunoco Modified, and rebounded with the @tsmotorsportsfanpage to get 5th! Proud of both teams and looking forward to Stafford in a 2 weeks.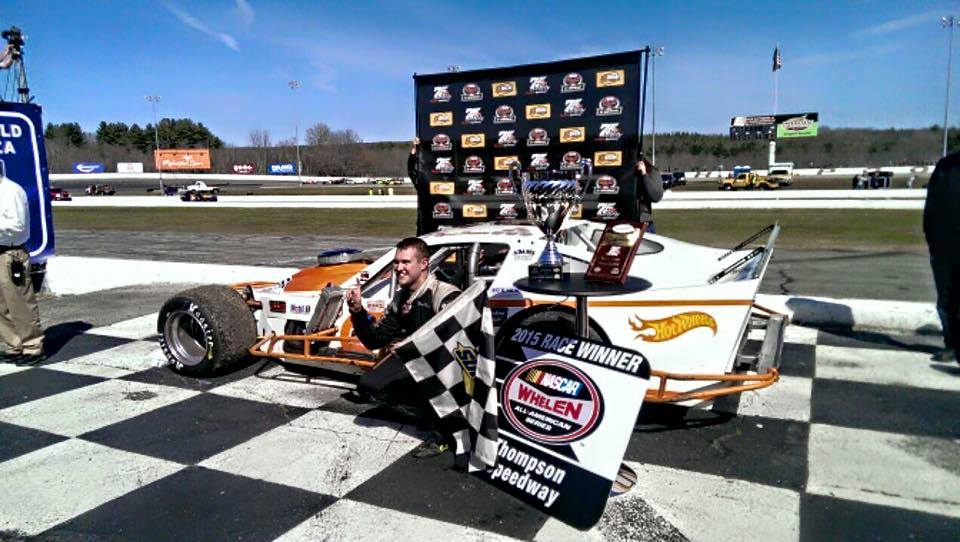 Brigitte Poulin
April 24, 2015 ·
Here we go!! Looking forward to a good weekend and a great season!
---April, 2019 - I loved everything about this car! It showed the independence that Ryan was looking for, rolled out of the Preece garage.
Sizzling: Ryan Preece Scores Pole For Whelen Mod Tour NAPA Spring Sizzler 200 At Stafford Speedway
April 25, 2015 by Shawn Courchesne 7 Comments

STAFFORD – Ryan Preece showed Saturday at Stafford Motor Speedway that there's always something good about that new car feel.
With a new ride making under him, Ryan Preece blitzed the field in qualifying Saturday on the way to winning the pole for Sunday's NASCAR Whelen Modified Tour NAPA Auto Parts Spring Sizzler 200 at Stafford Motor Speedway.
Preece, of Berlin, toured the half-mile oval with a fast lap of 17.960 seconds (100.223 mph).
And so...our season began!

Brigitte Poulin
April 26, 2015 ·

Spring Sizzler is in the books! Week No. 1 Top Ten are listed below. Already looking forward to next Friday.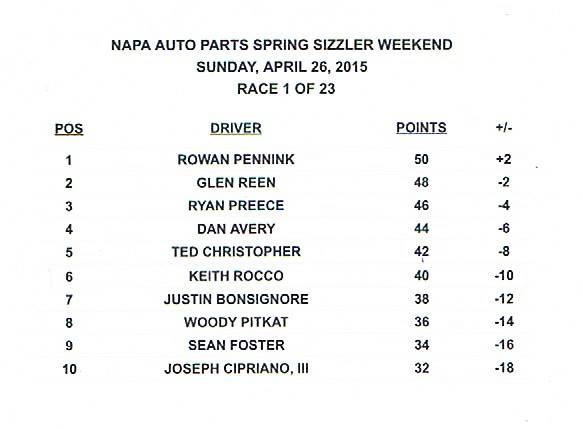 Brigitte Poulin
April 27, 2015 ·

Ryan Preece RacingApril 27, 2015 ·
Two 3rd place finishes at STAFFORD MOTOR SPEEDWAY with the PPP #6 and TS Motorsports Fan Page Modifieds. Ready for Stafford this Friday and Saturday at Riverhead!