In 2006, we decided to make Thompson our home track. Still don't remember why, but I think it was because at that time we were building open motors and those kind of ponies love the big track. Also, it would be great experience for Keith, the more seat time at different tracks the better the learning curve.
We also planned to race at Stafford throughout the year. We built a new car. Racing at Thompson on Thursday night was tough in that I worked and had other daily personal responsibilities that started my days early and ended them late. Friday mornings came real quick.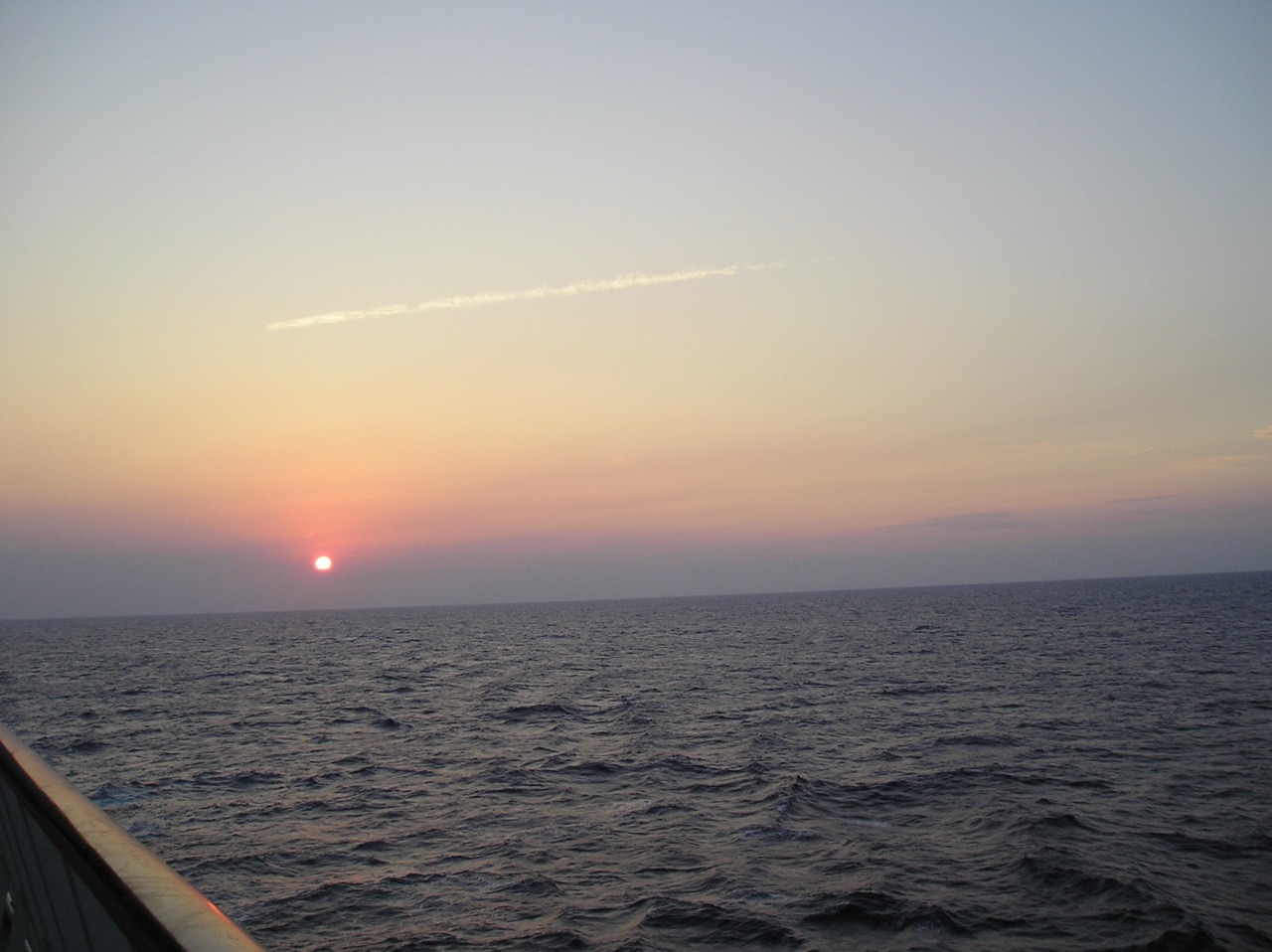 March 2006 - Racerama - Although we had more Winter in March than we expected, you gotta believe that - Spring is in the air! One of the first signs is indeed Racerama and this year did not disappoint. Nice show, smaller scale, but nice facility and easy drive. And we are ready to go!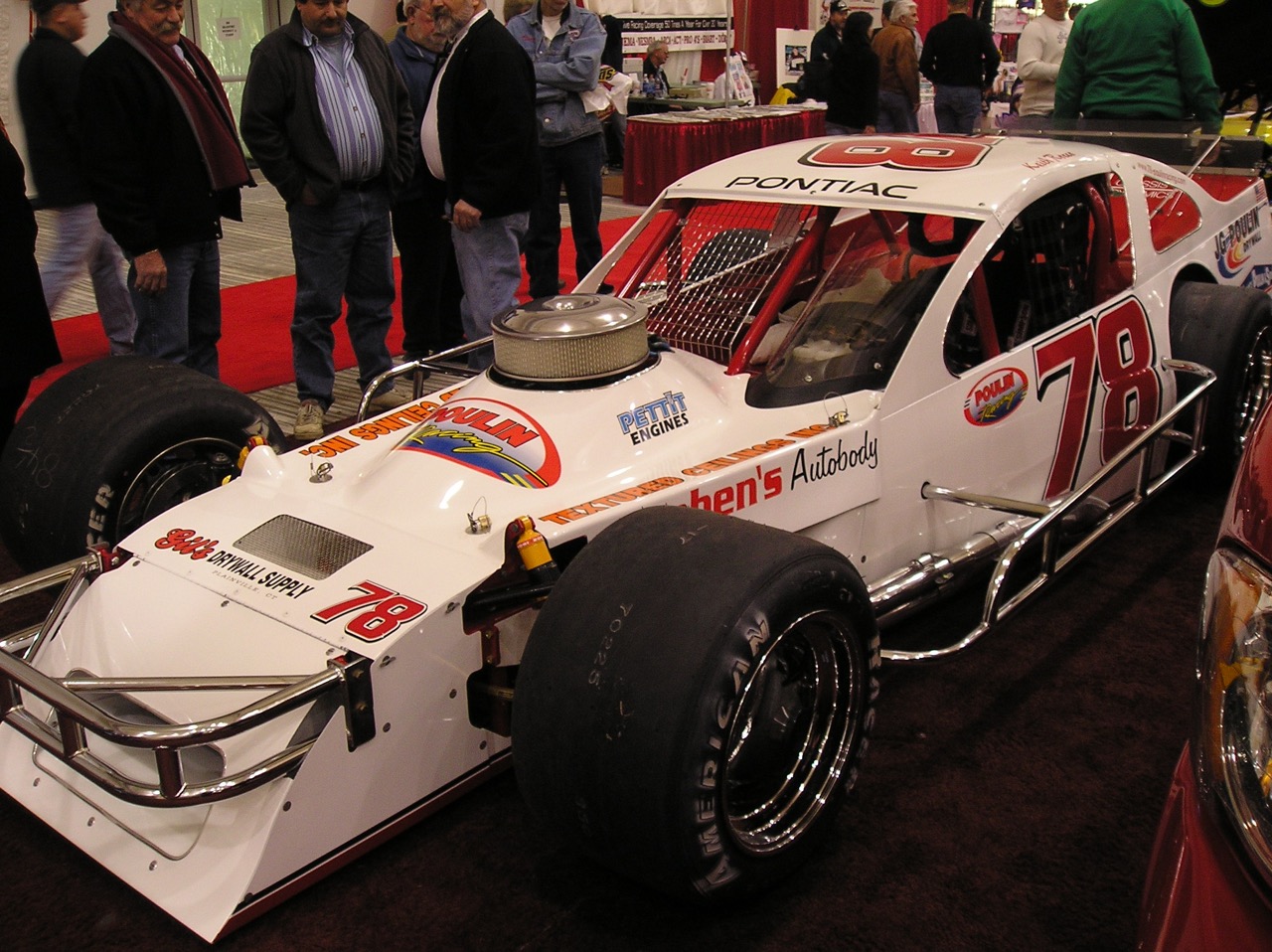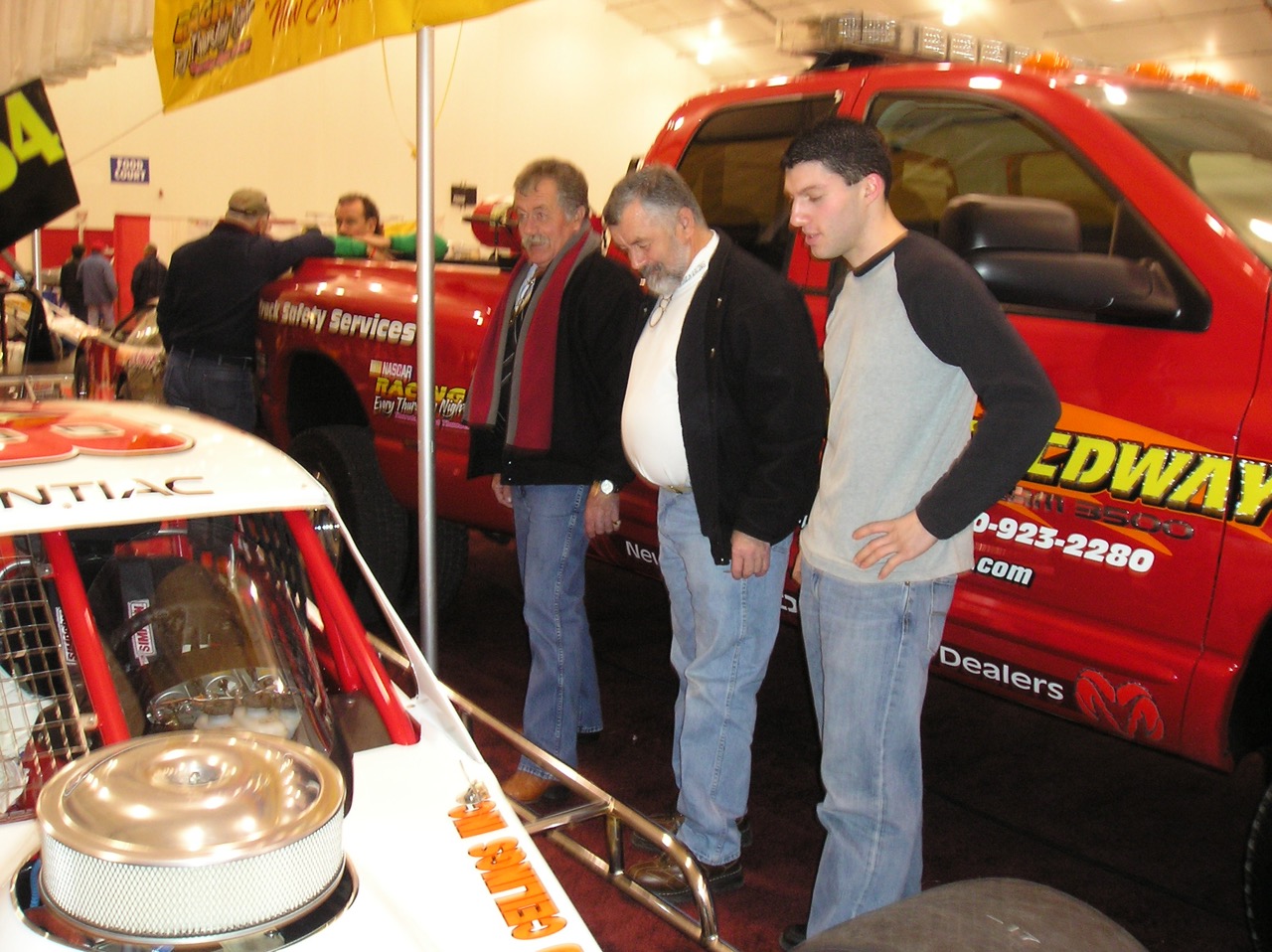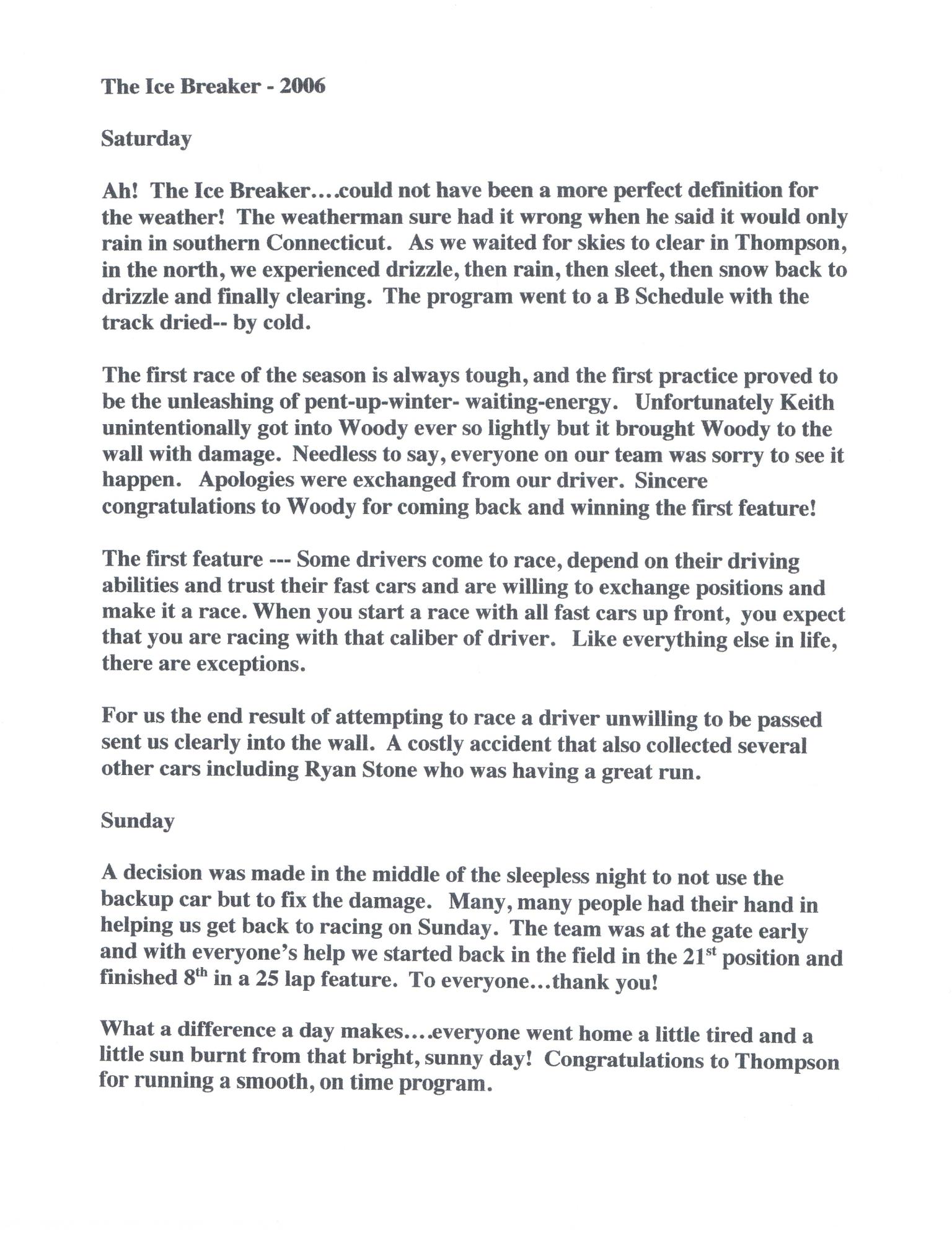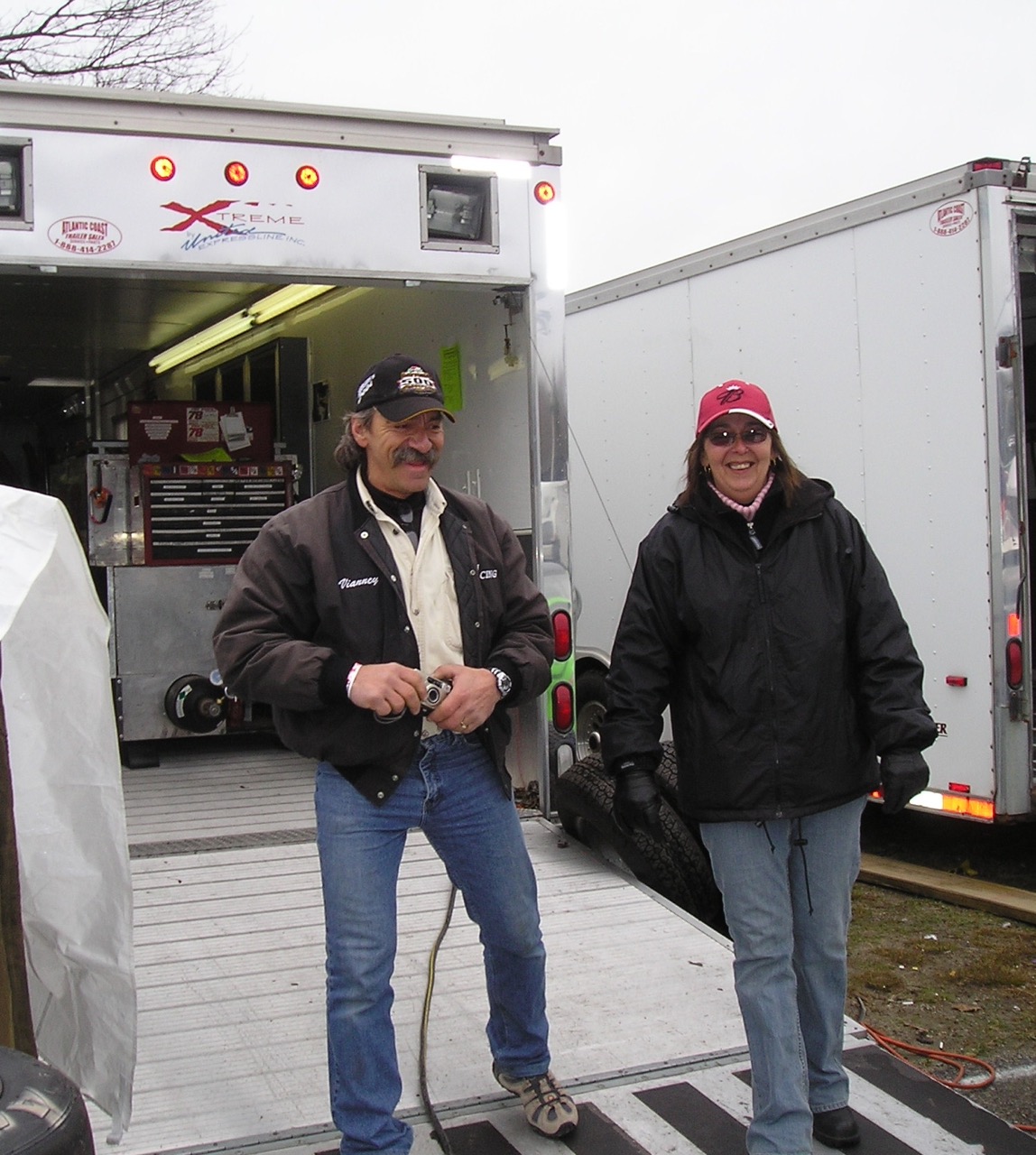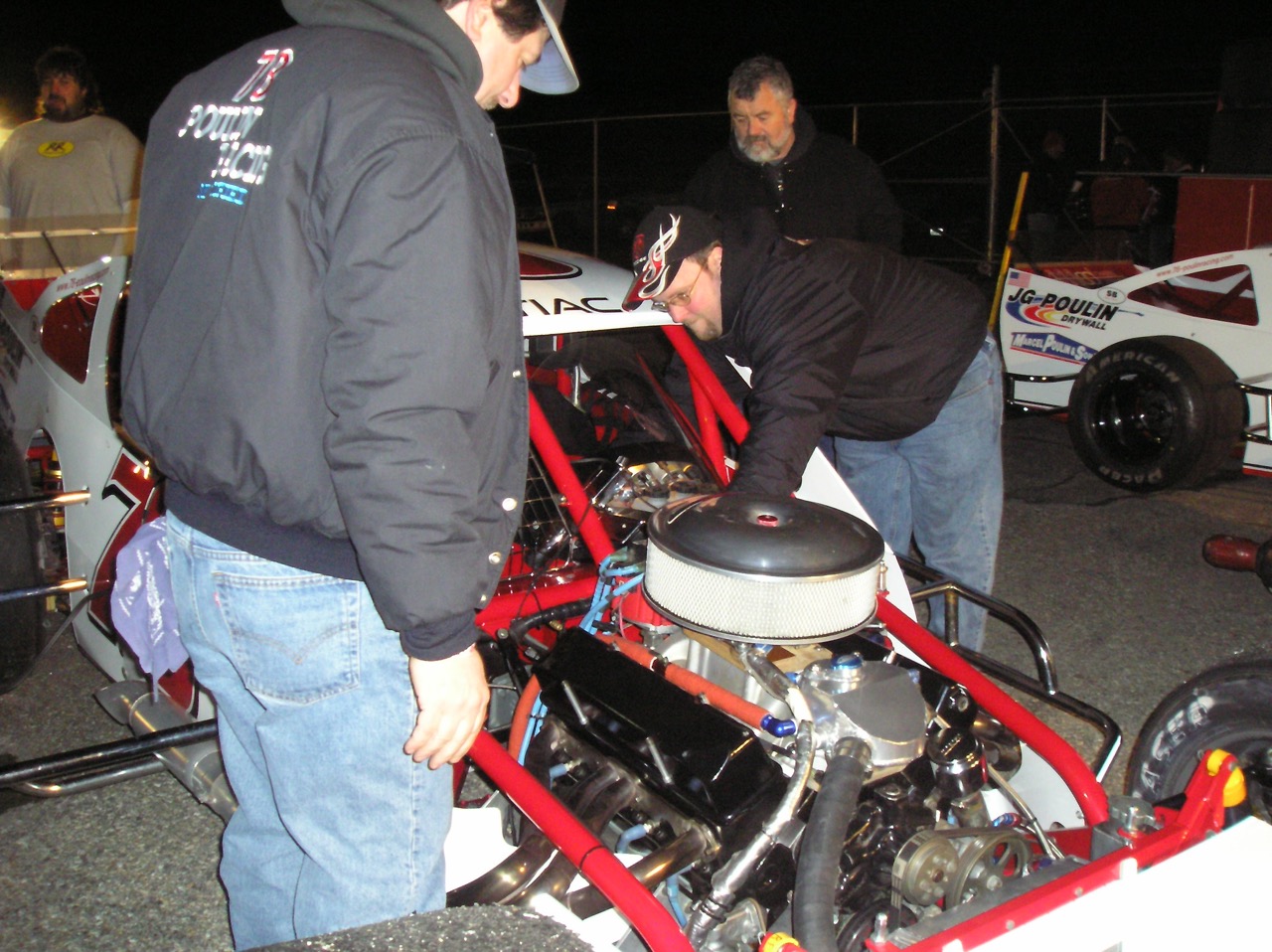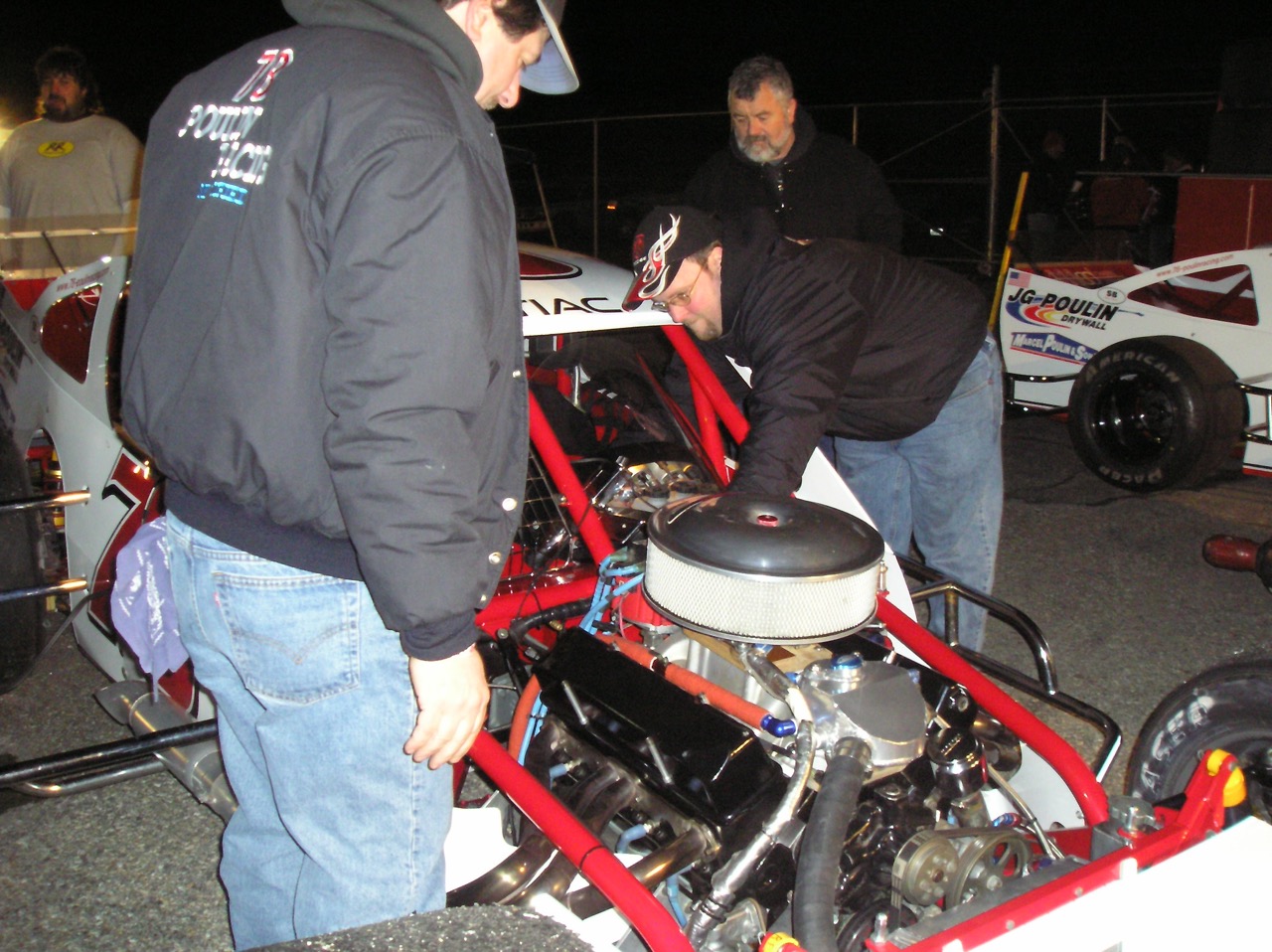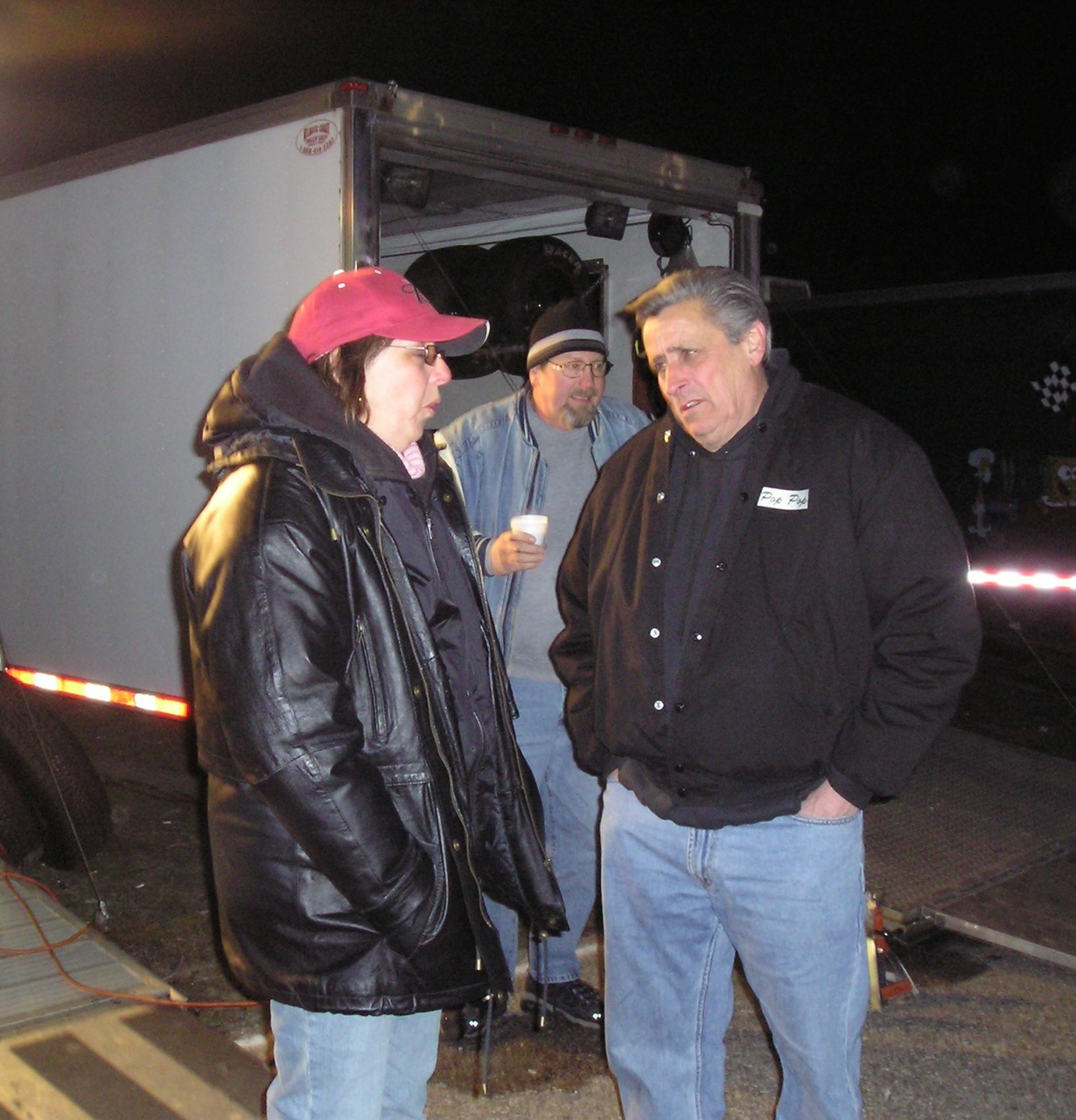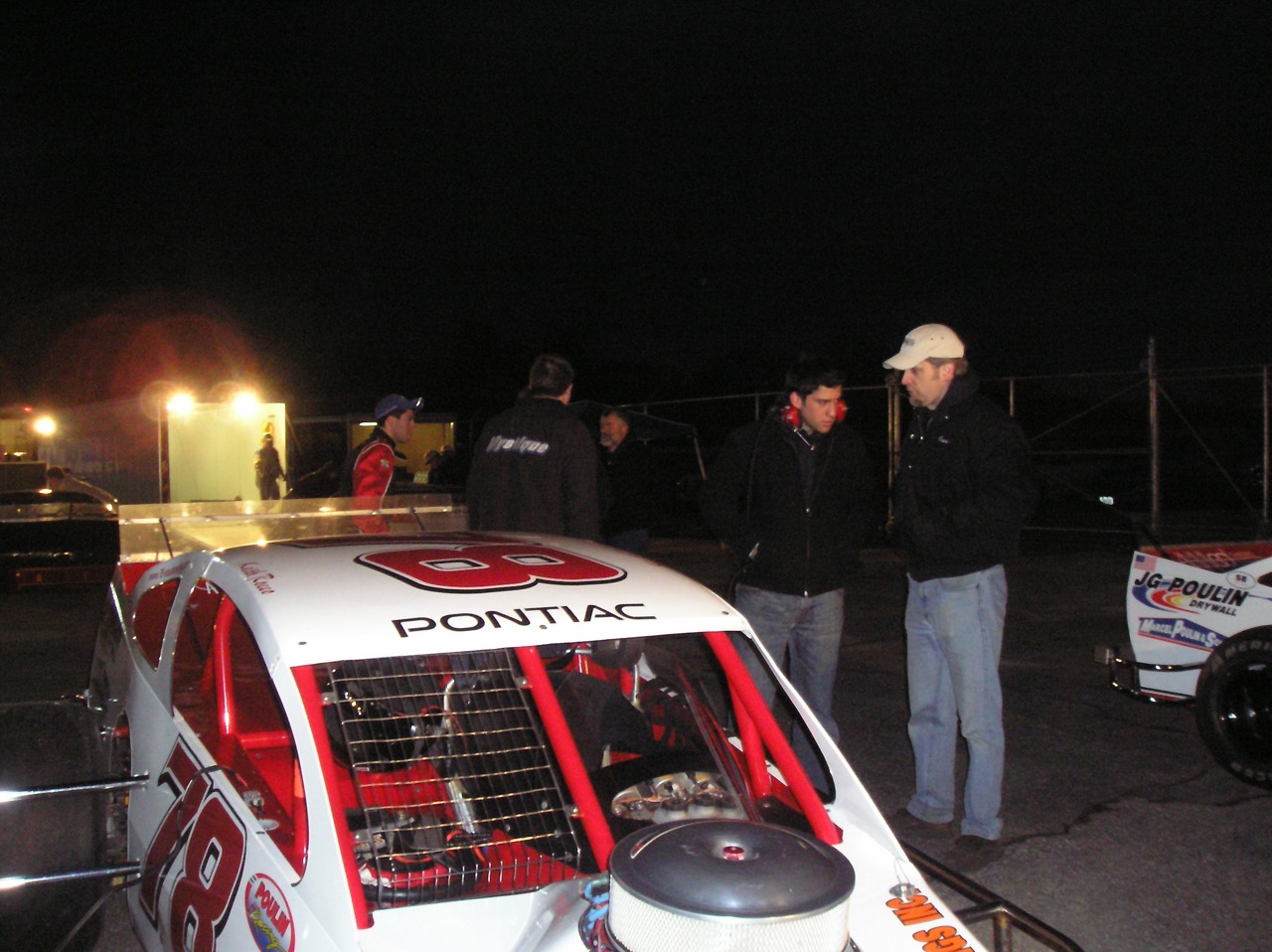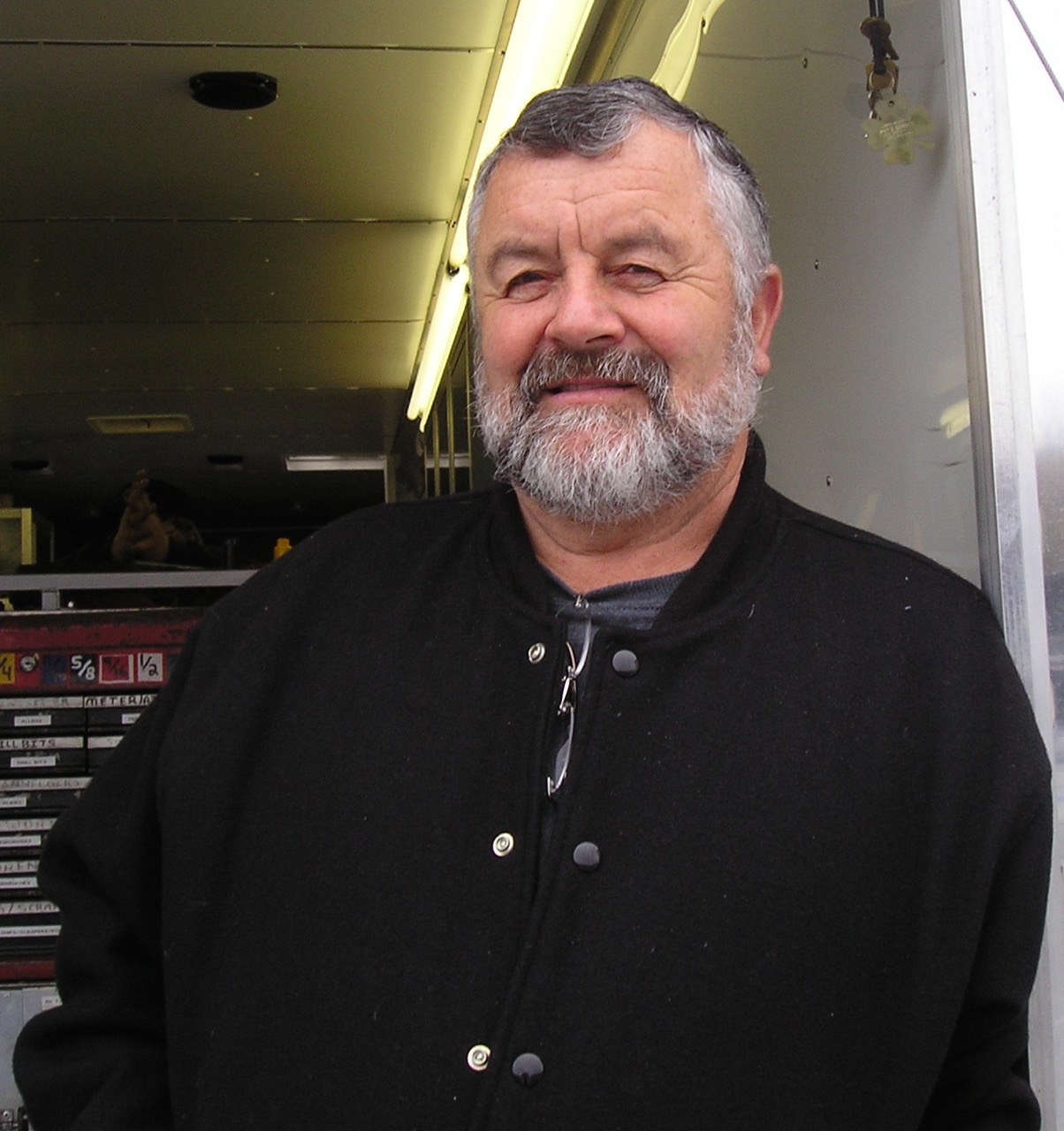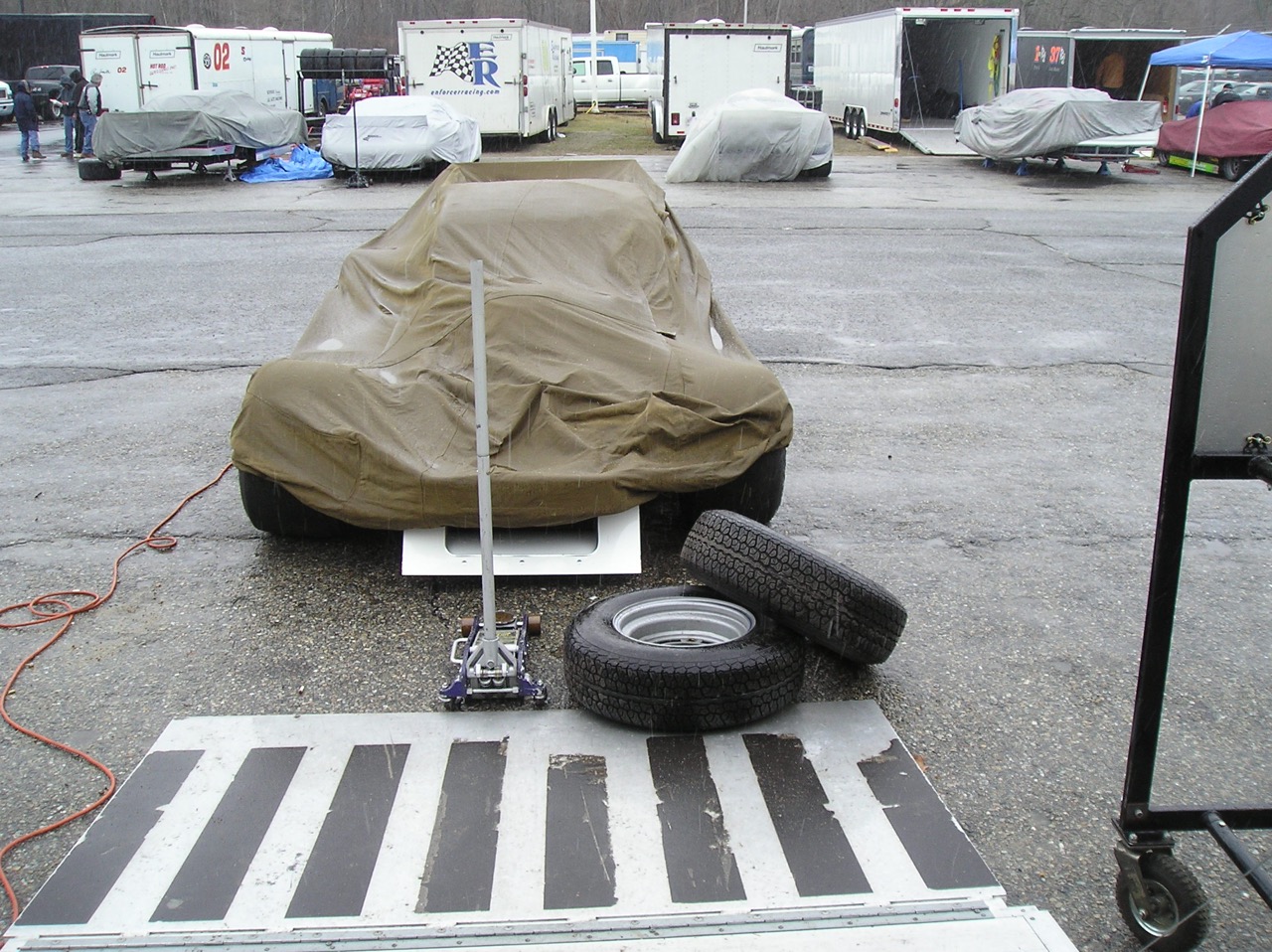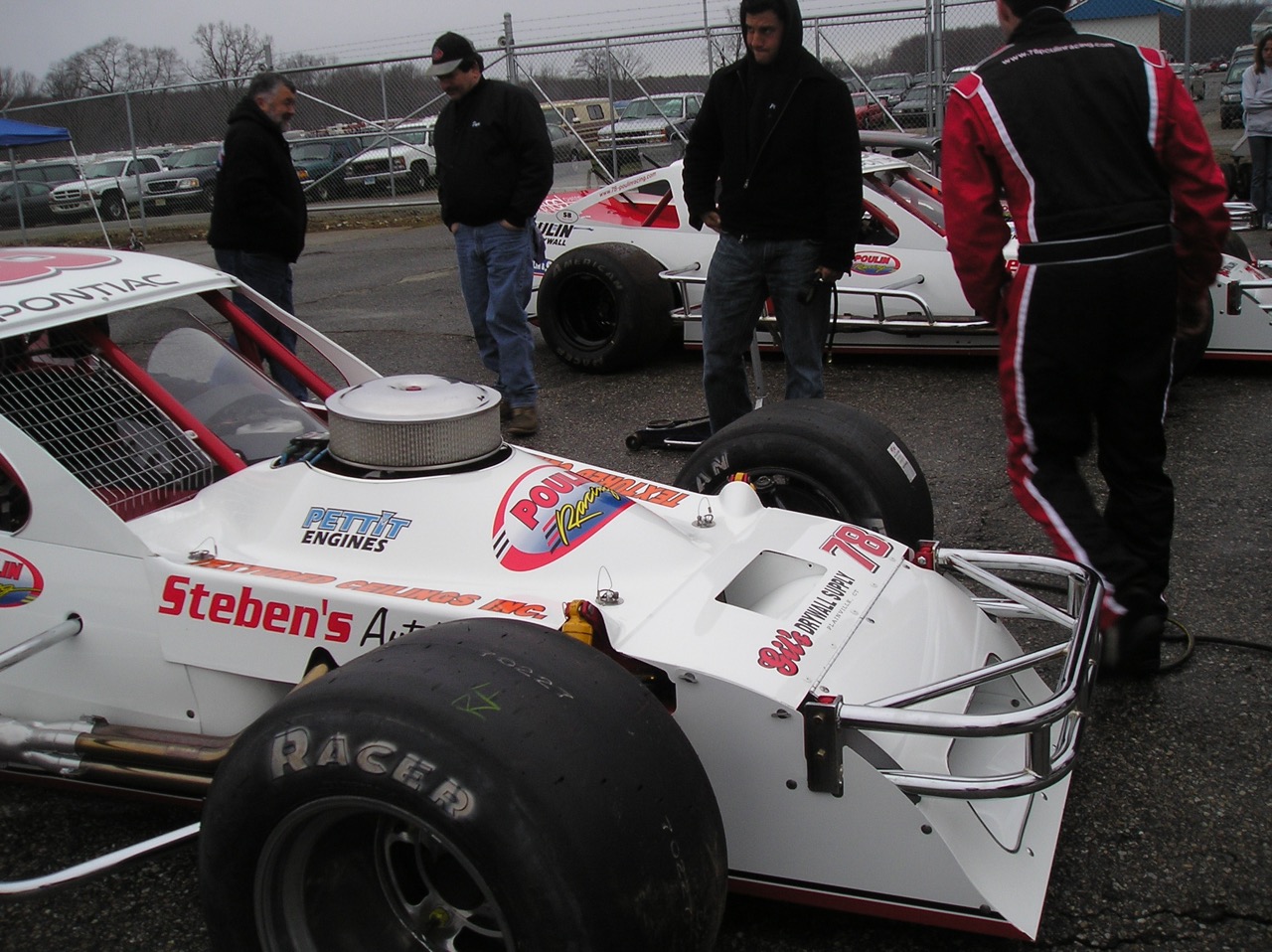 Sunday...lots of repairs and helping hands.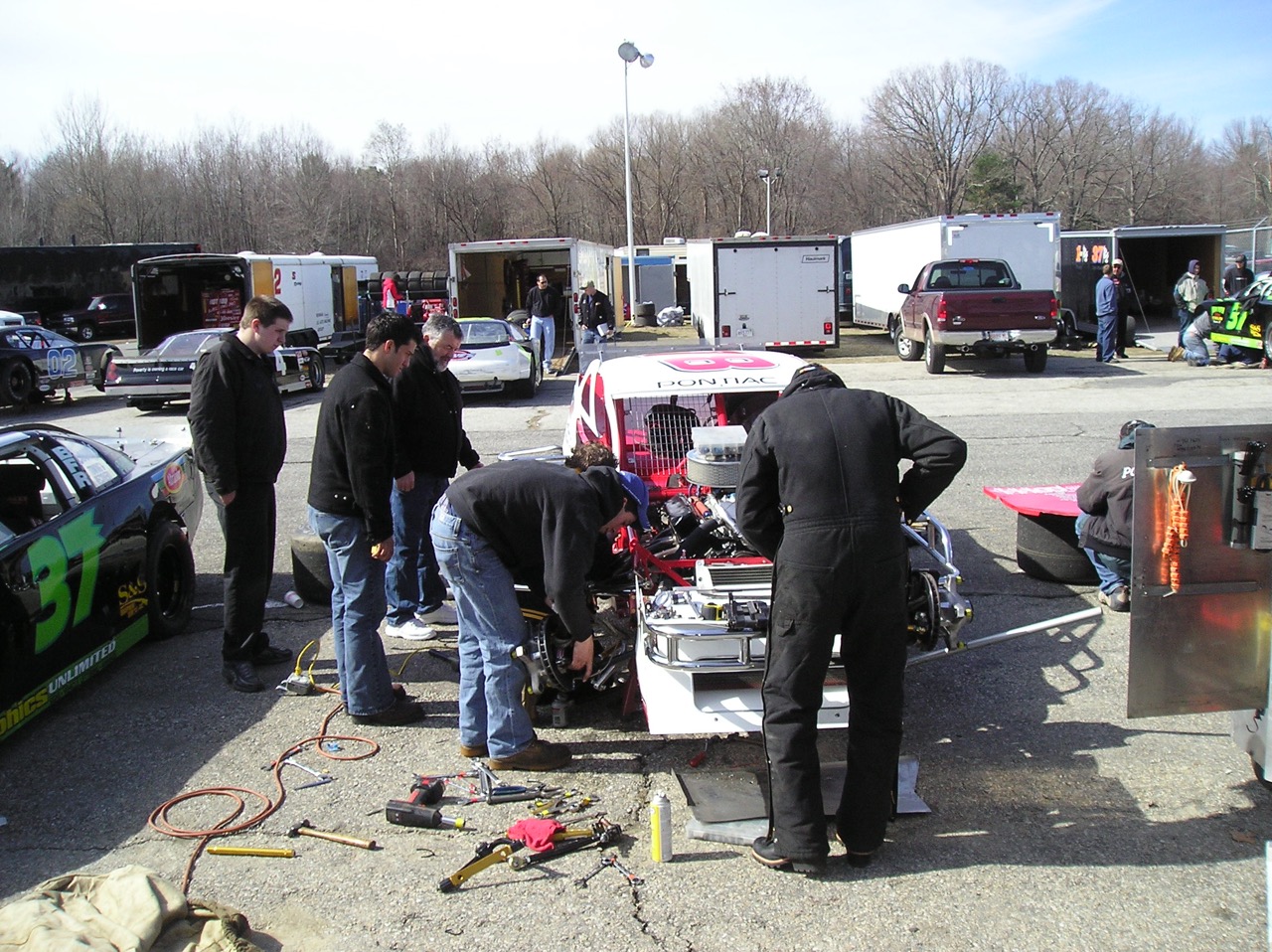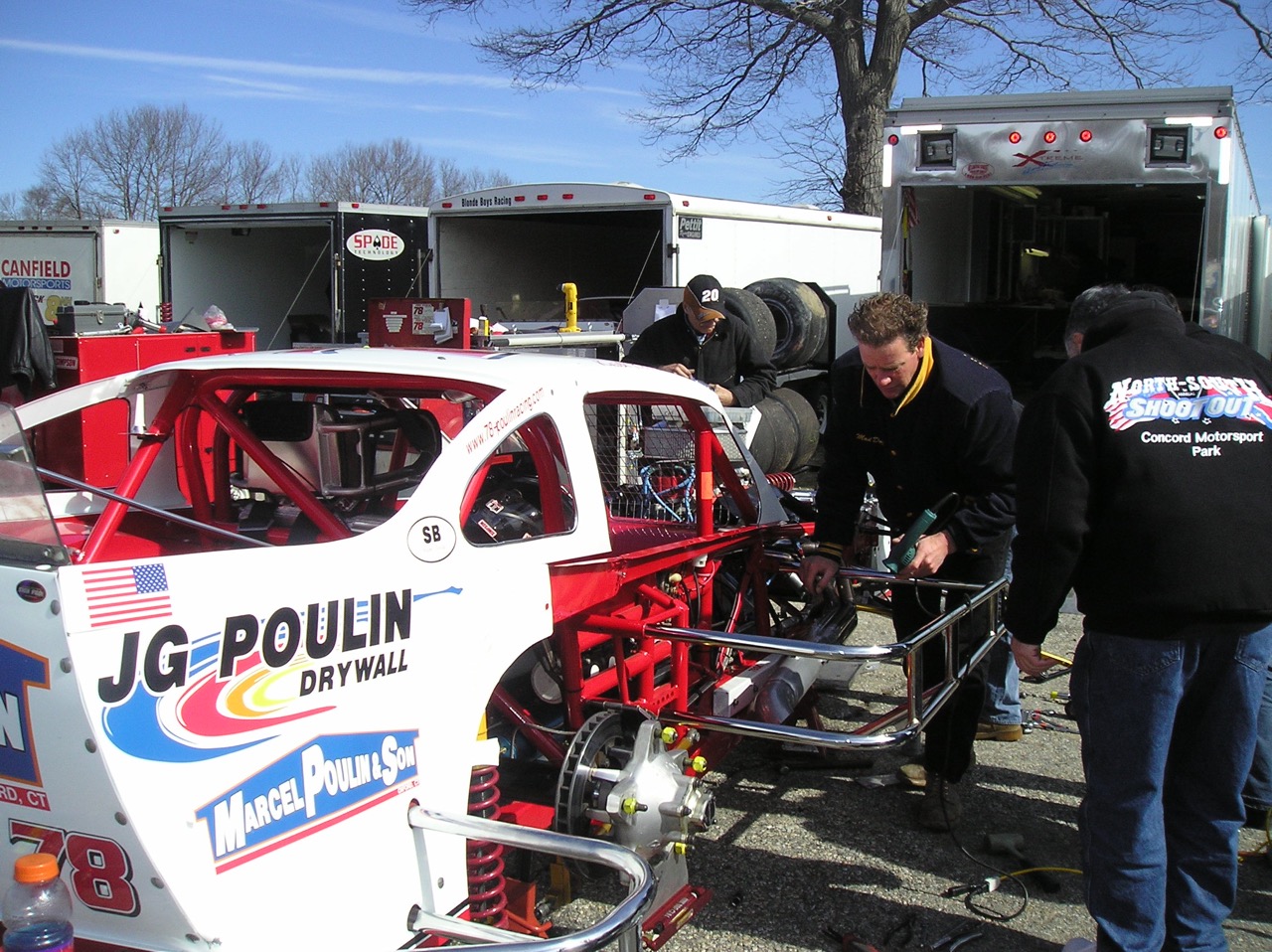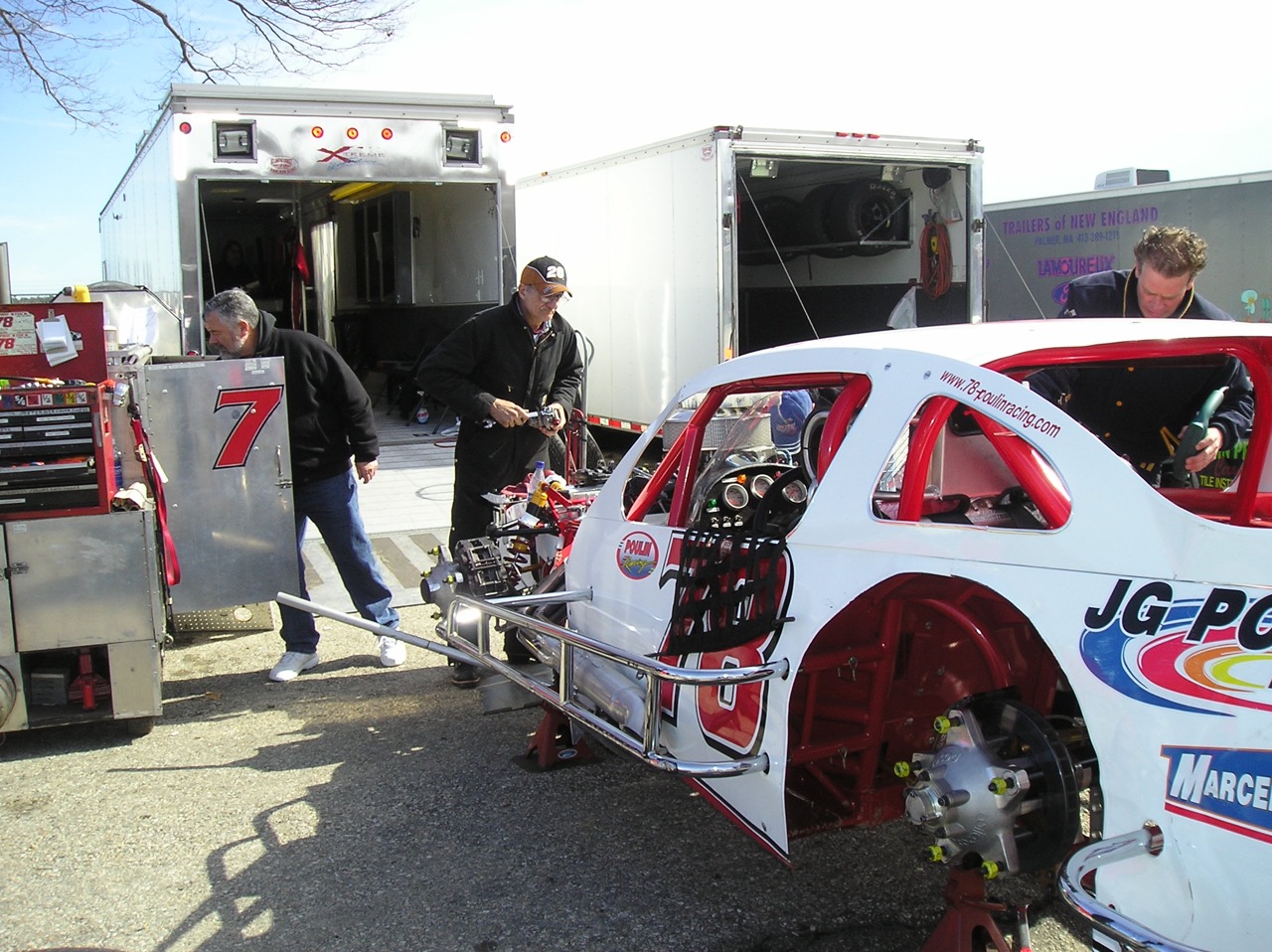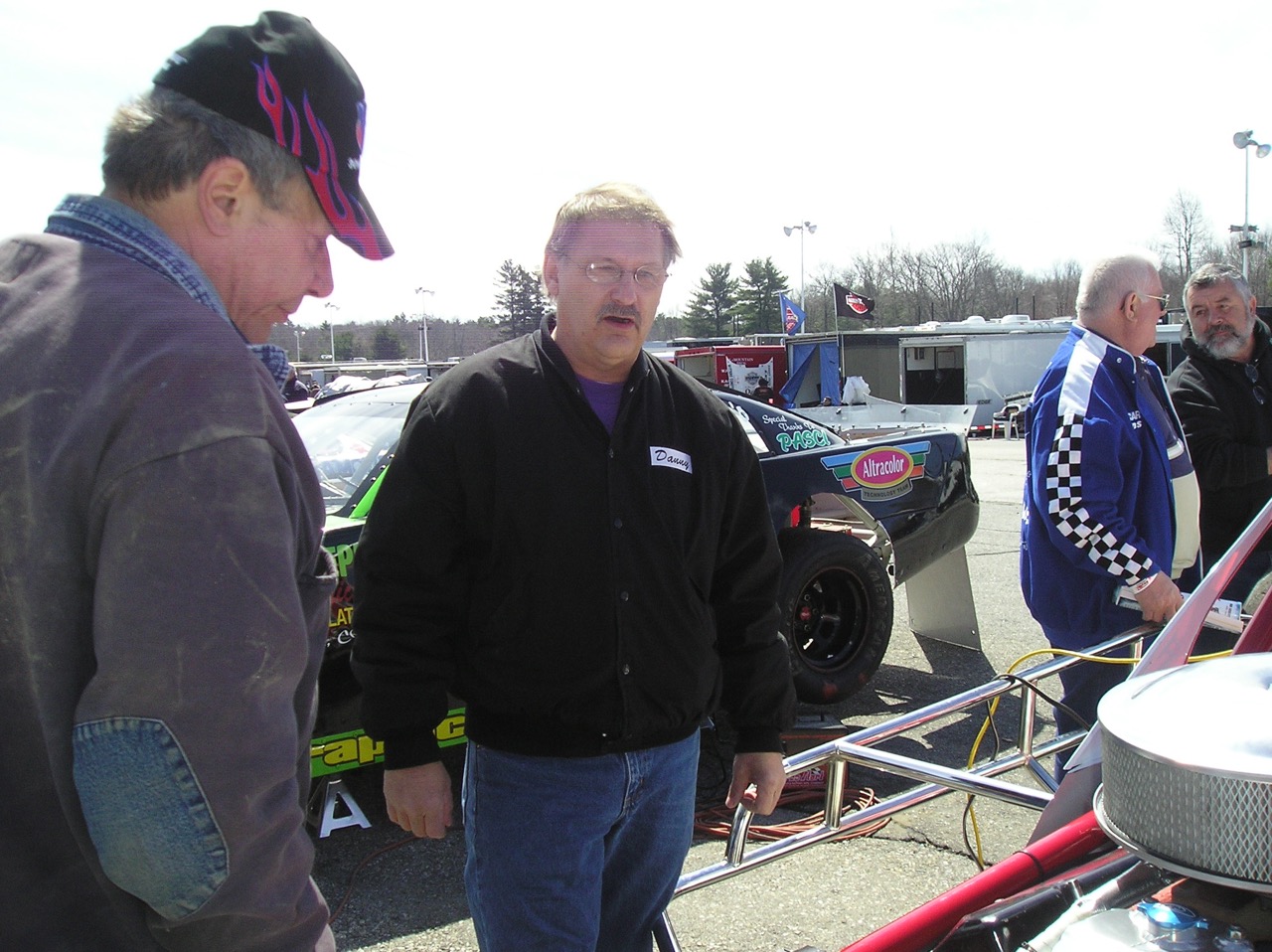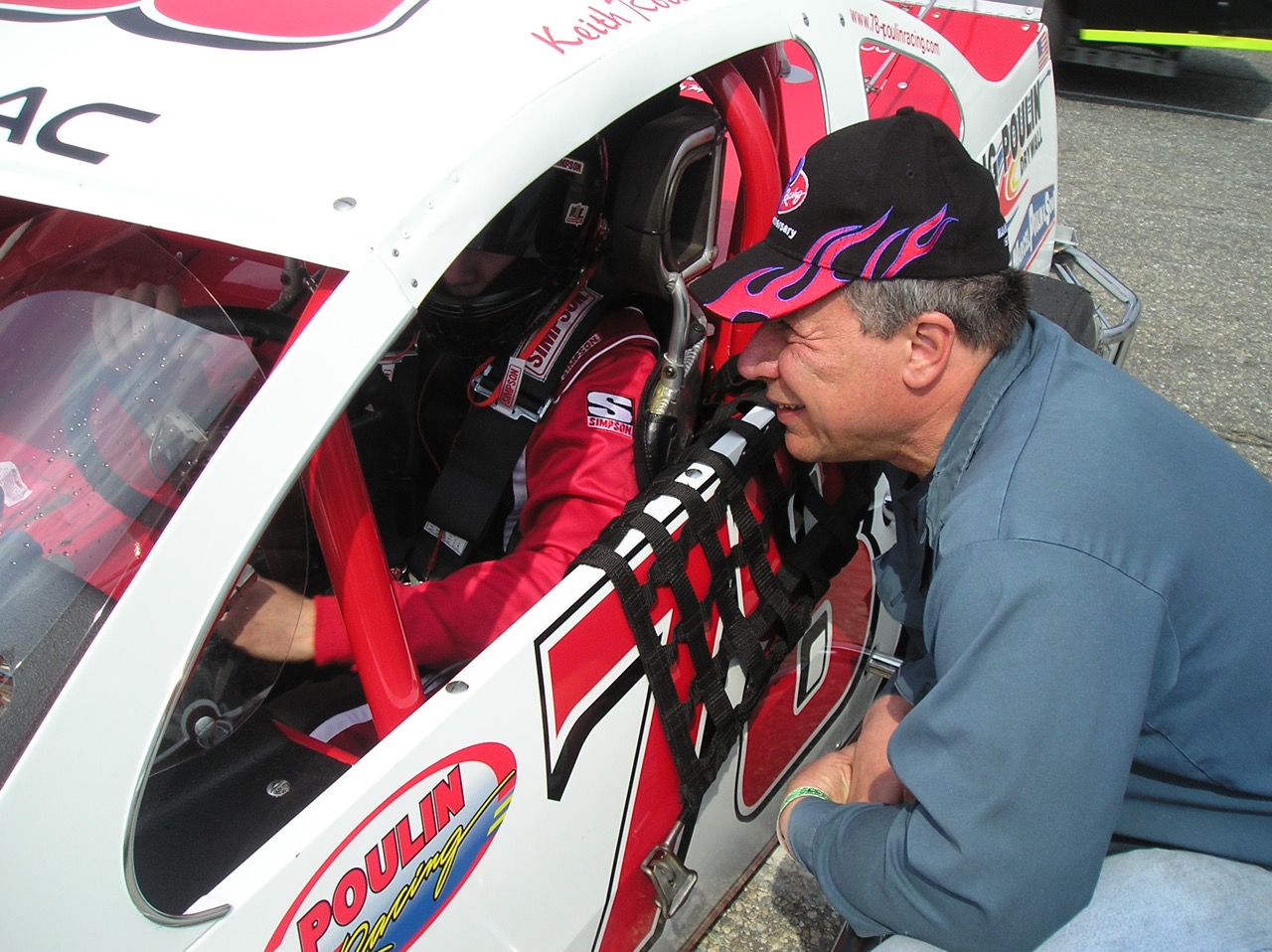 Spring Sizzler at Stafford Motor Speedway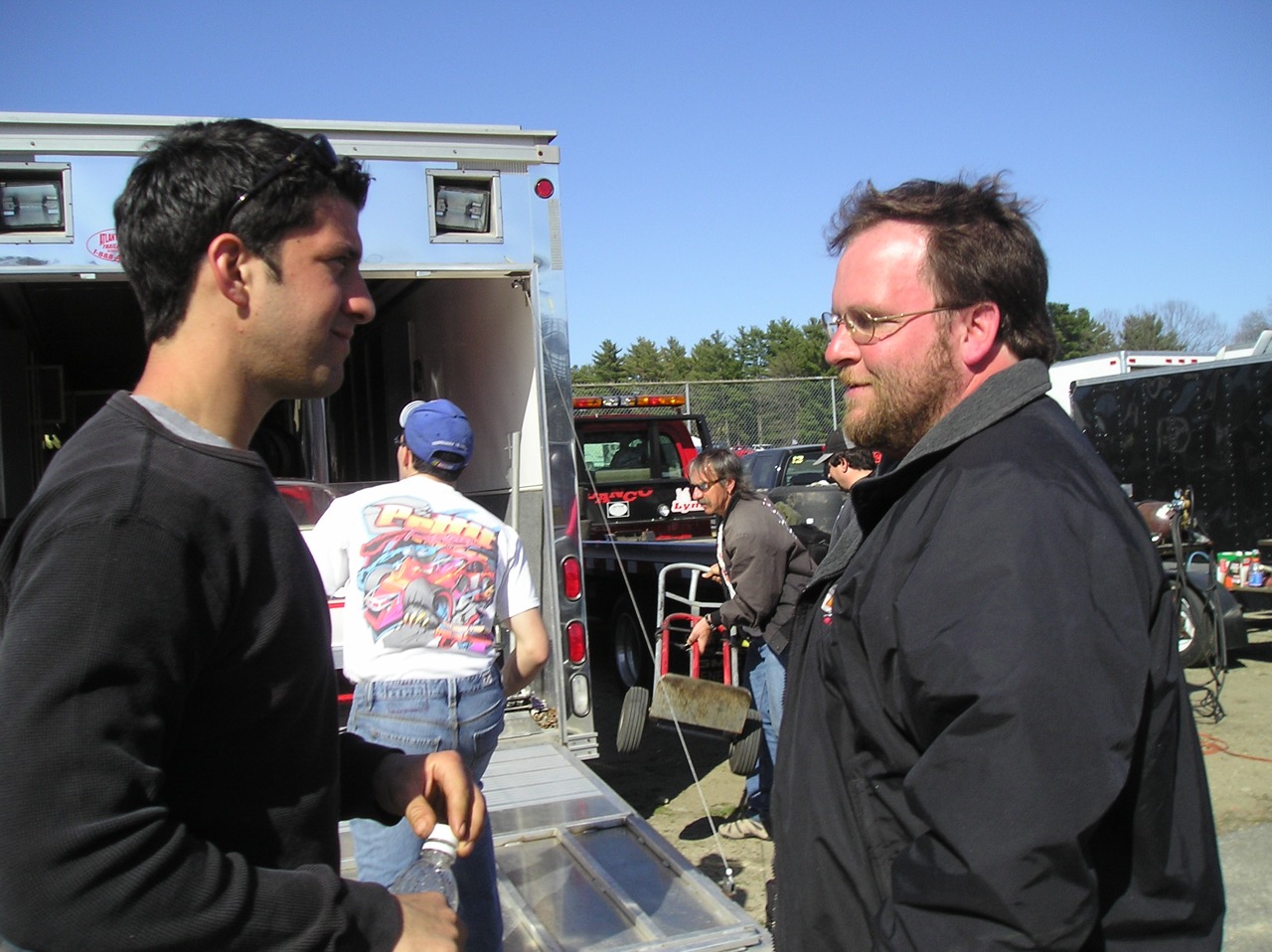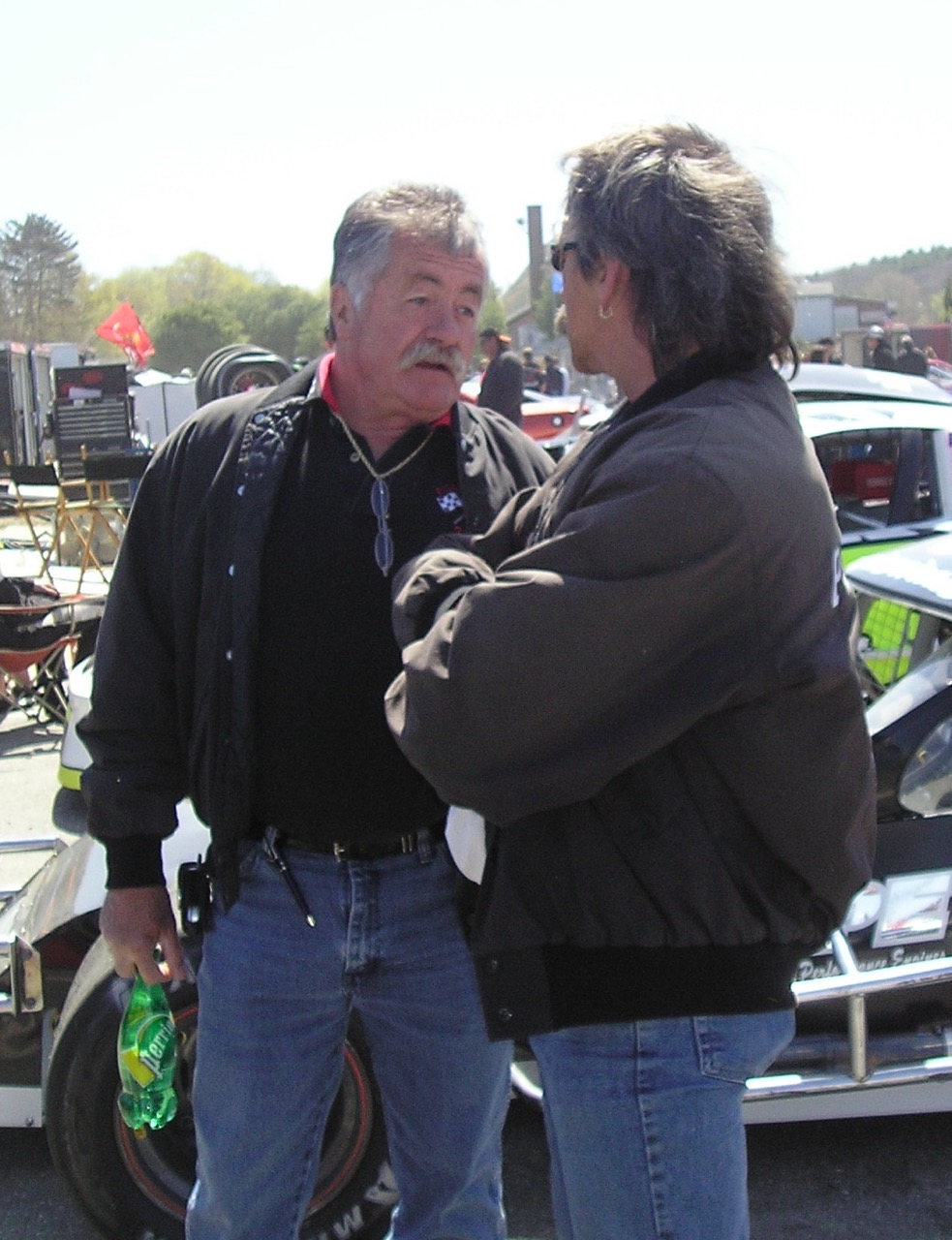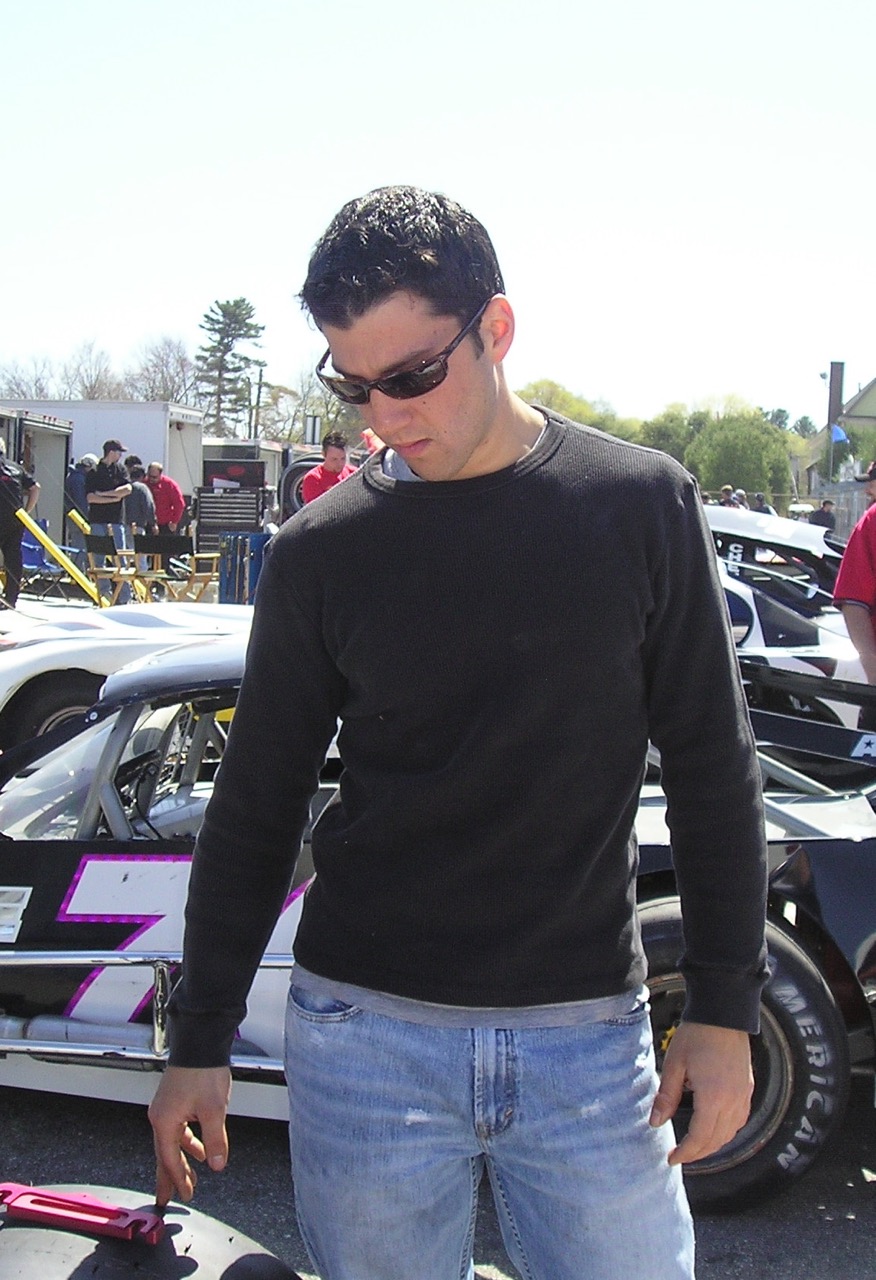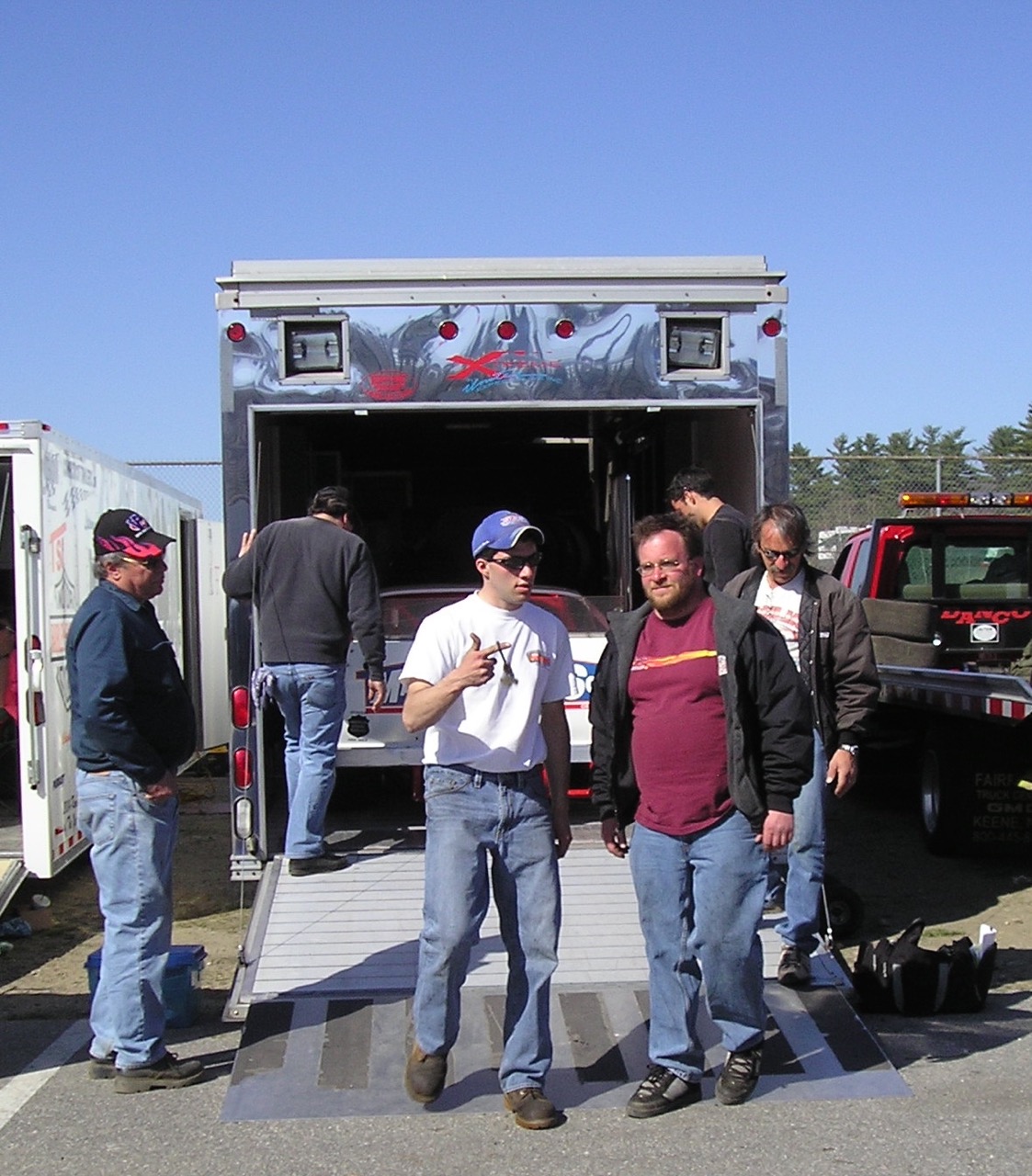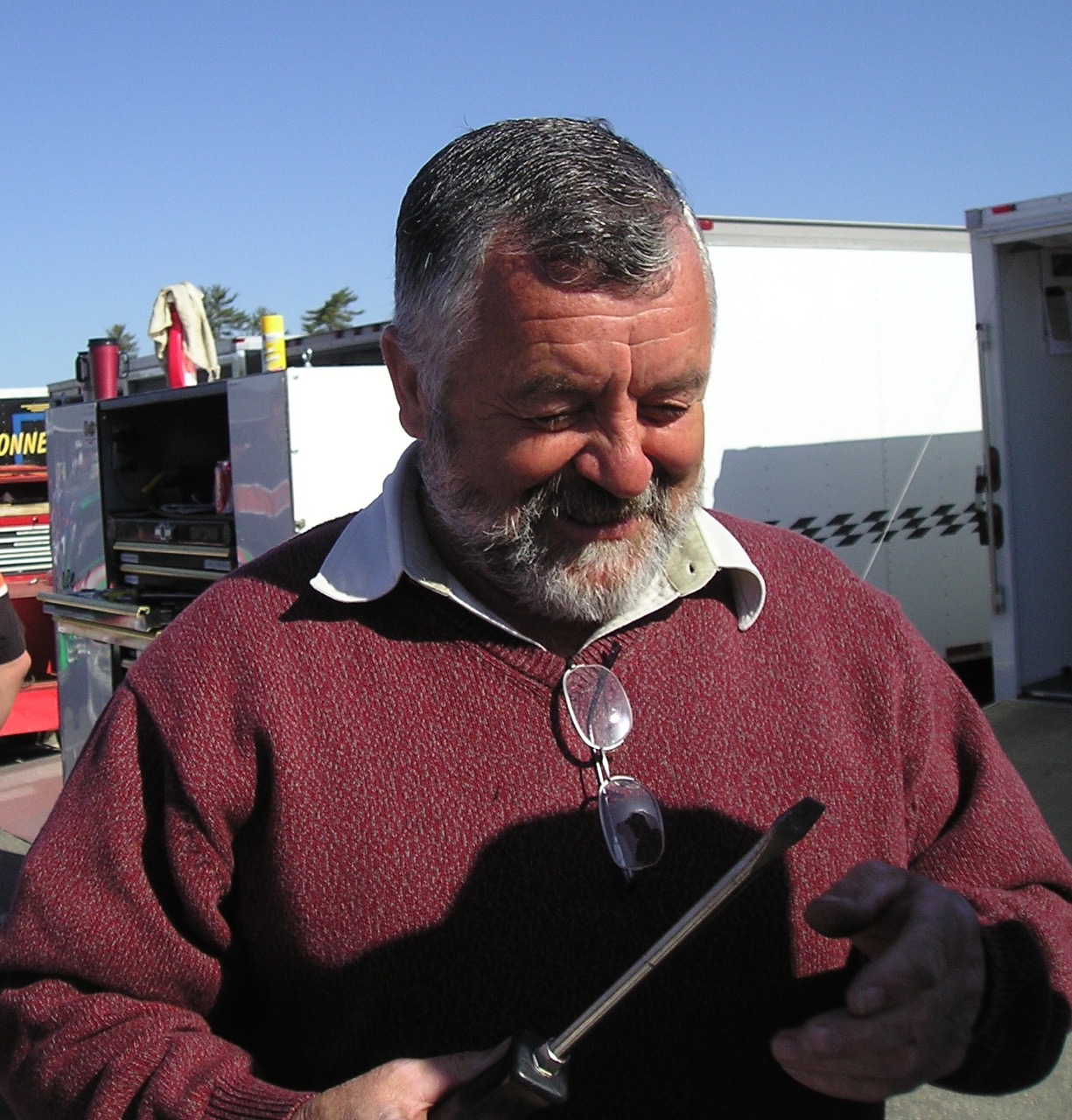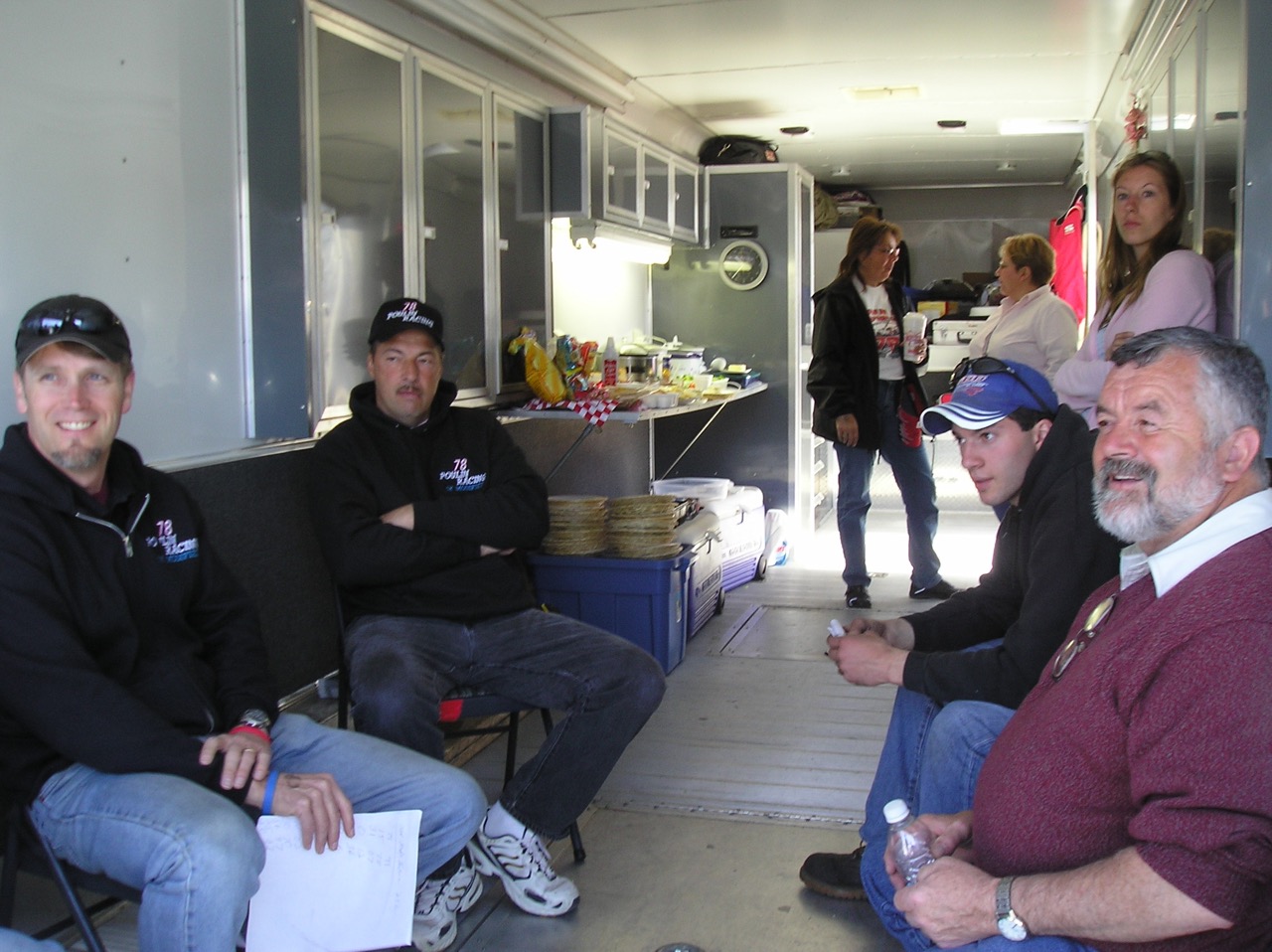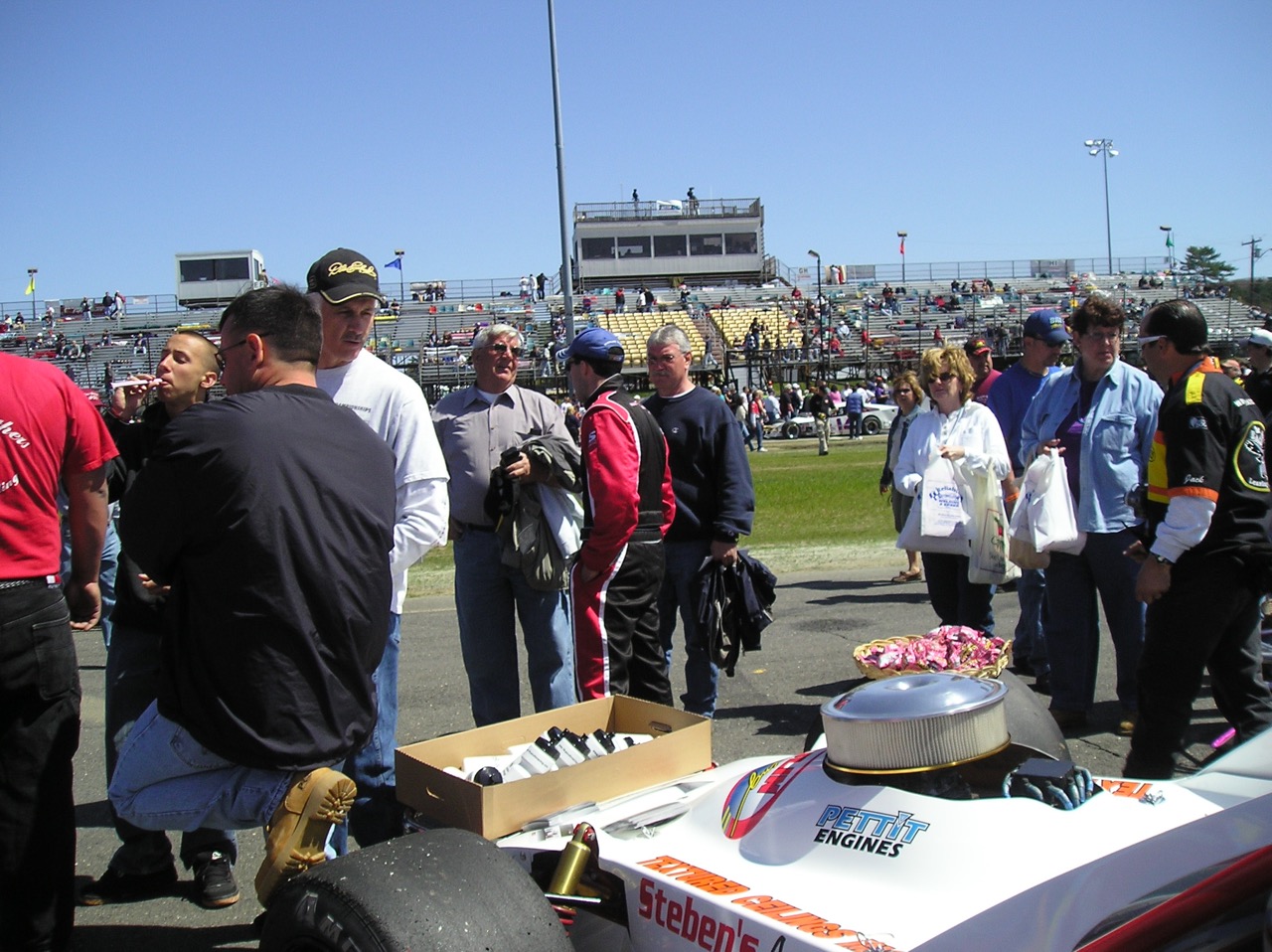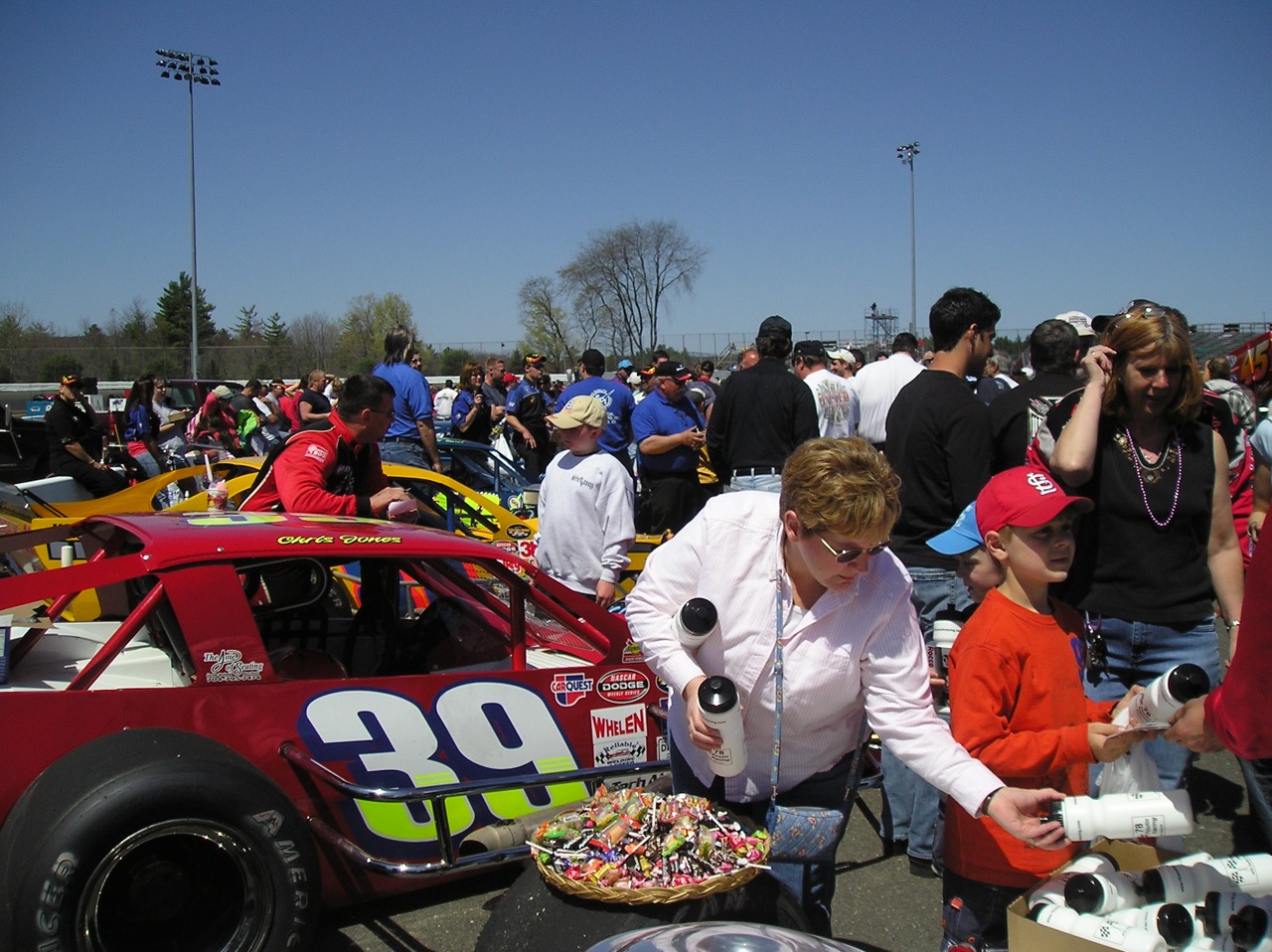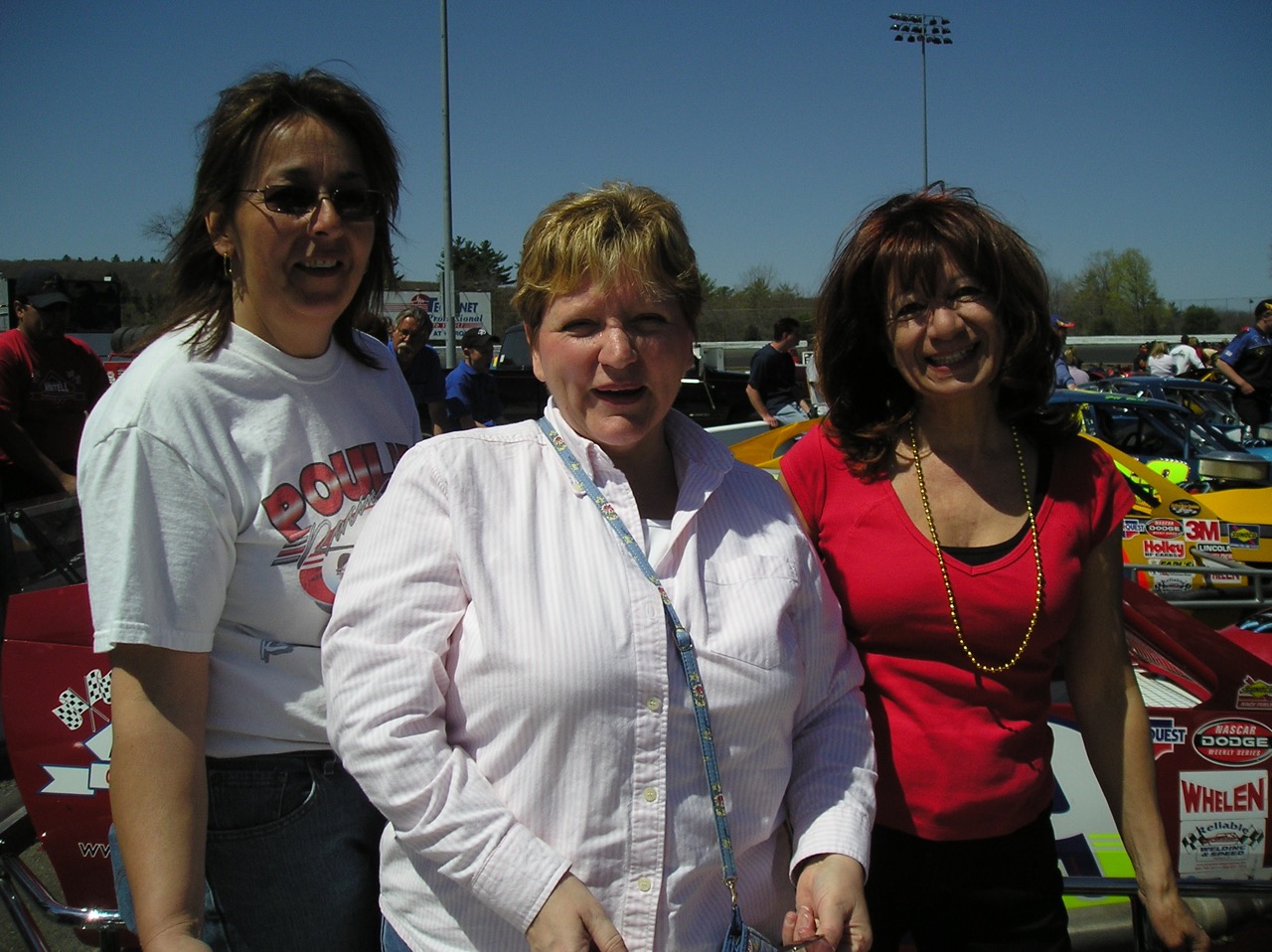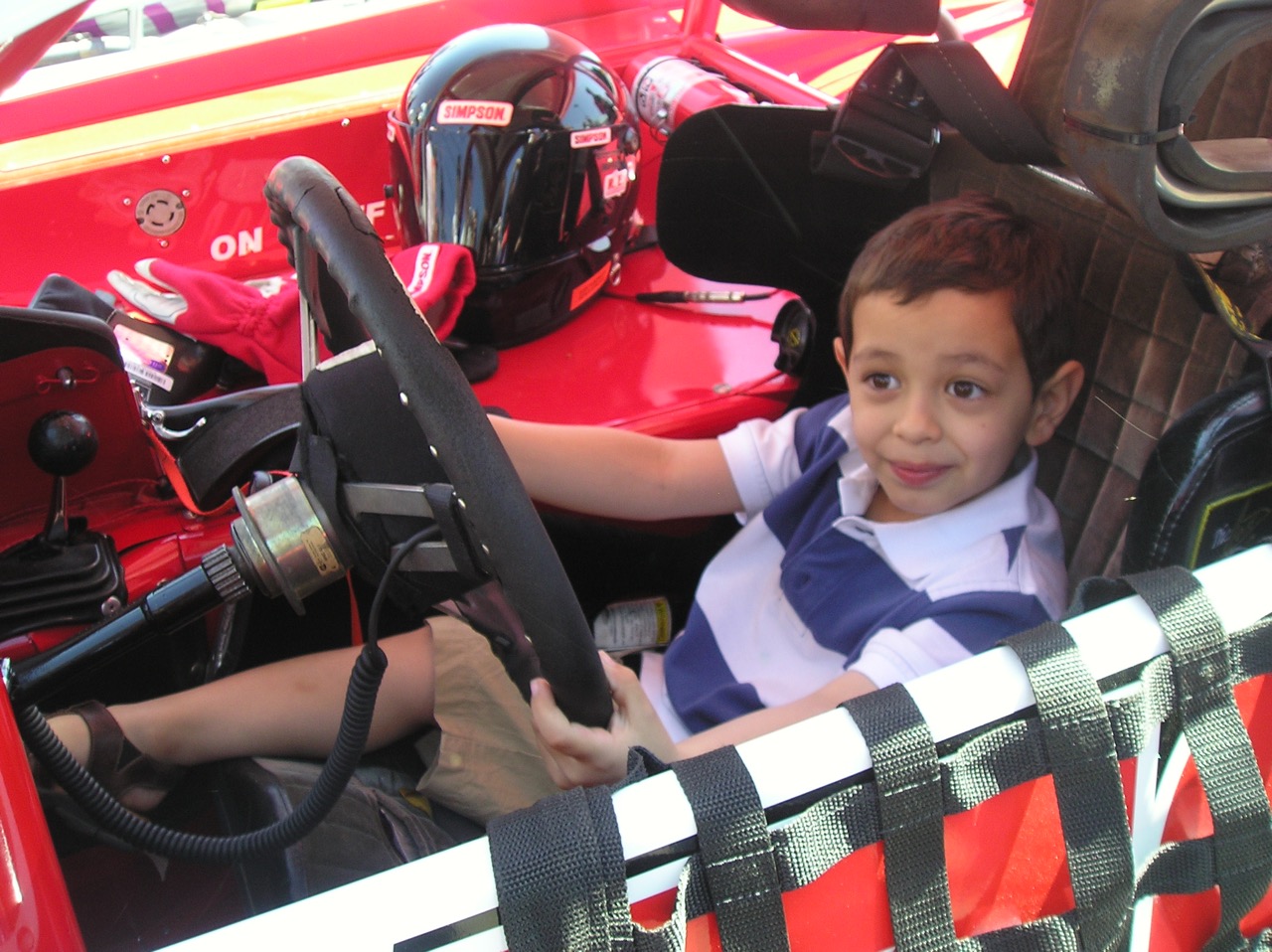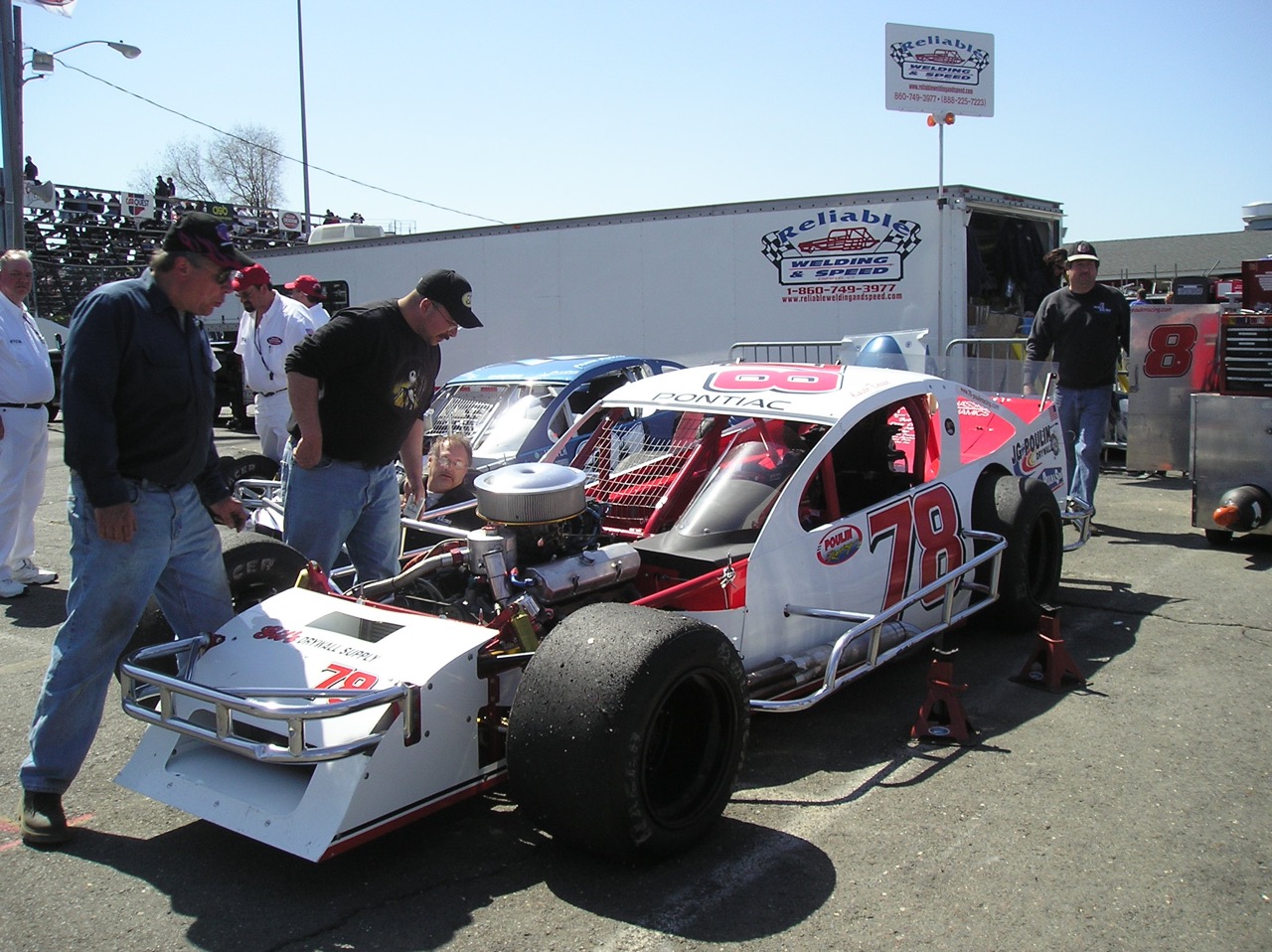 Could not find my notes, but Scott Running's article describes the race. His report is always excellent, he takes meticulous notes as the race is happening and it shows. Still to this day, best place to get a true picture of how a race went down at Stafford.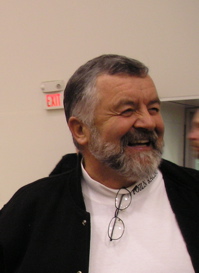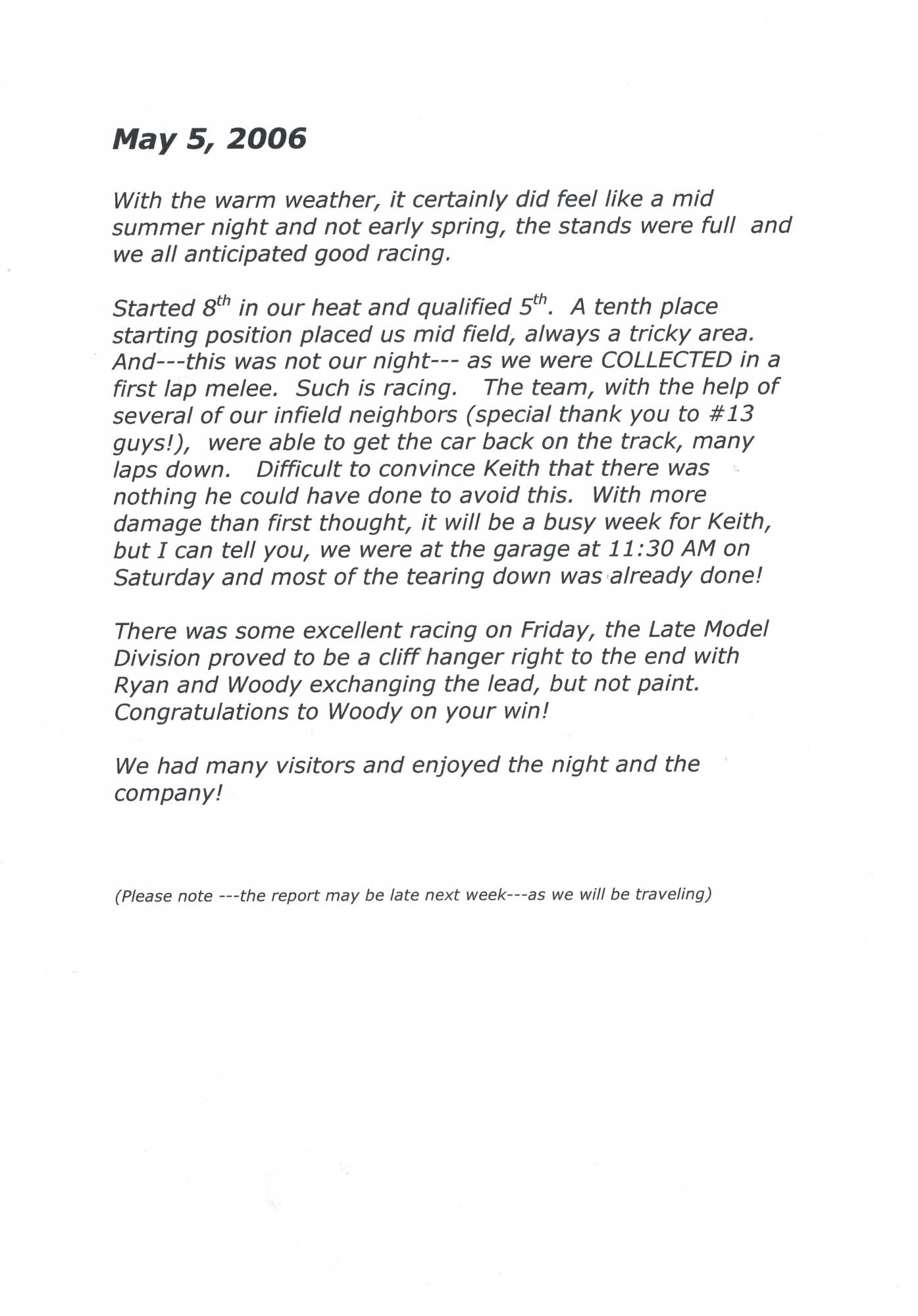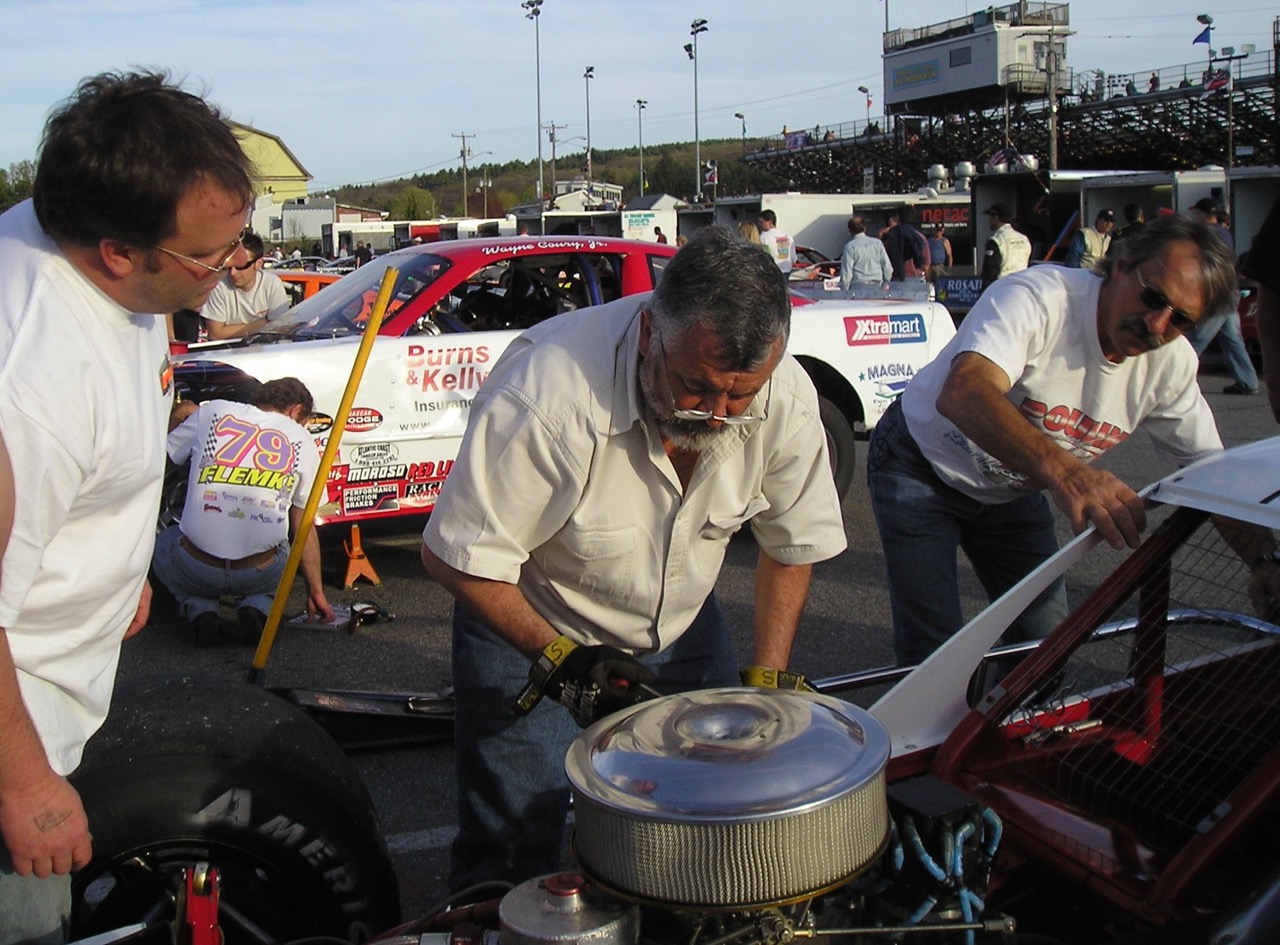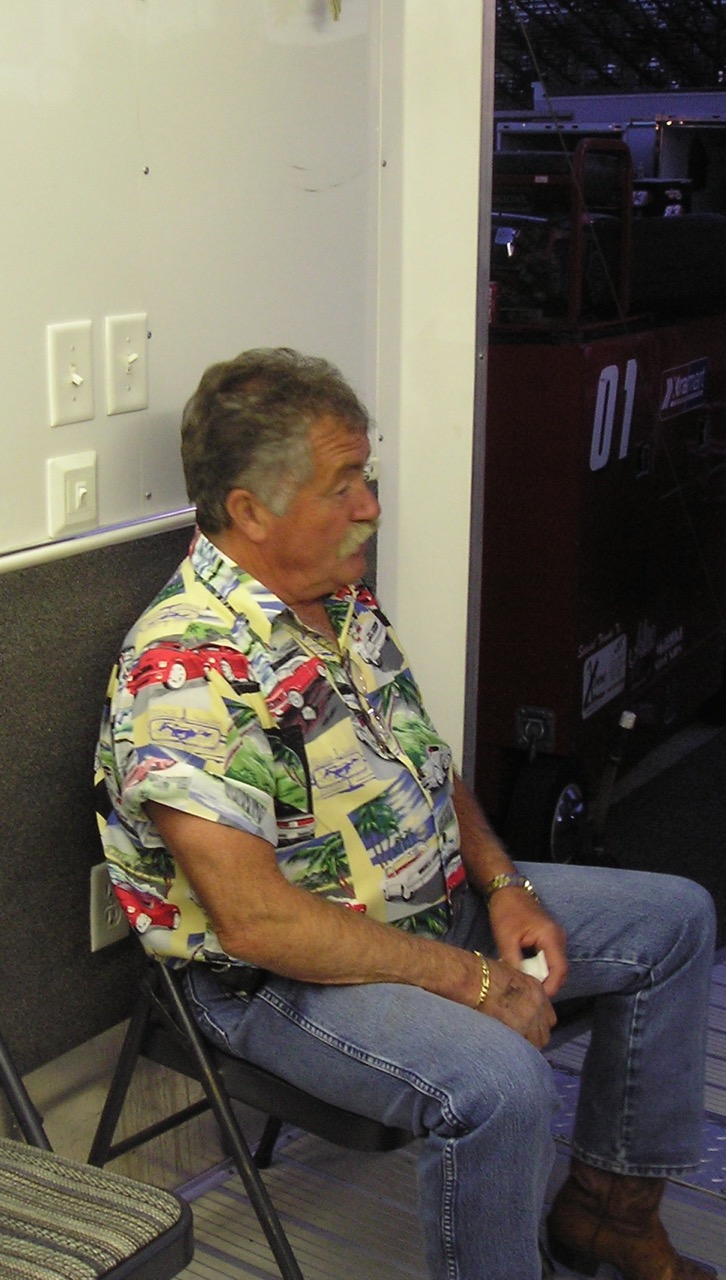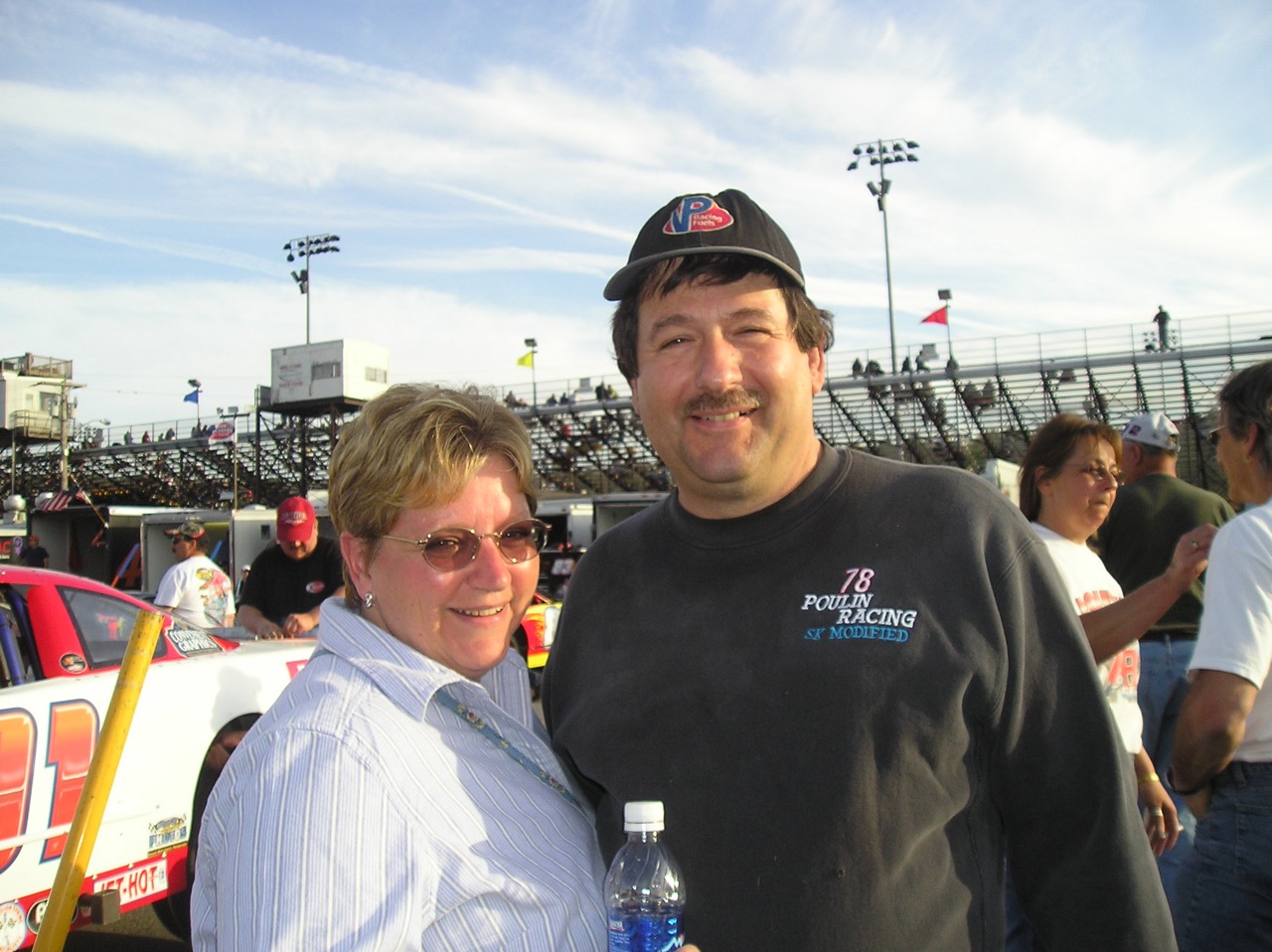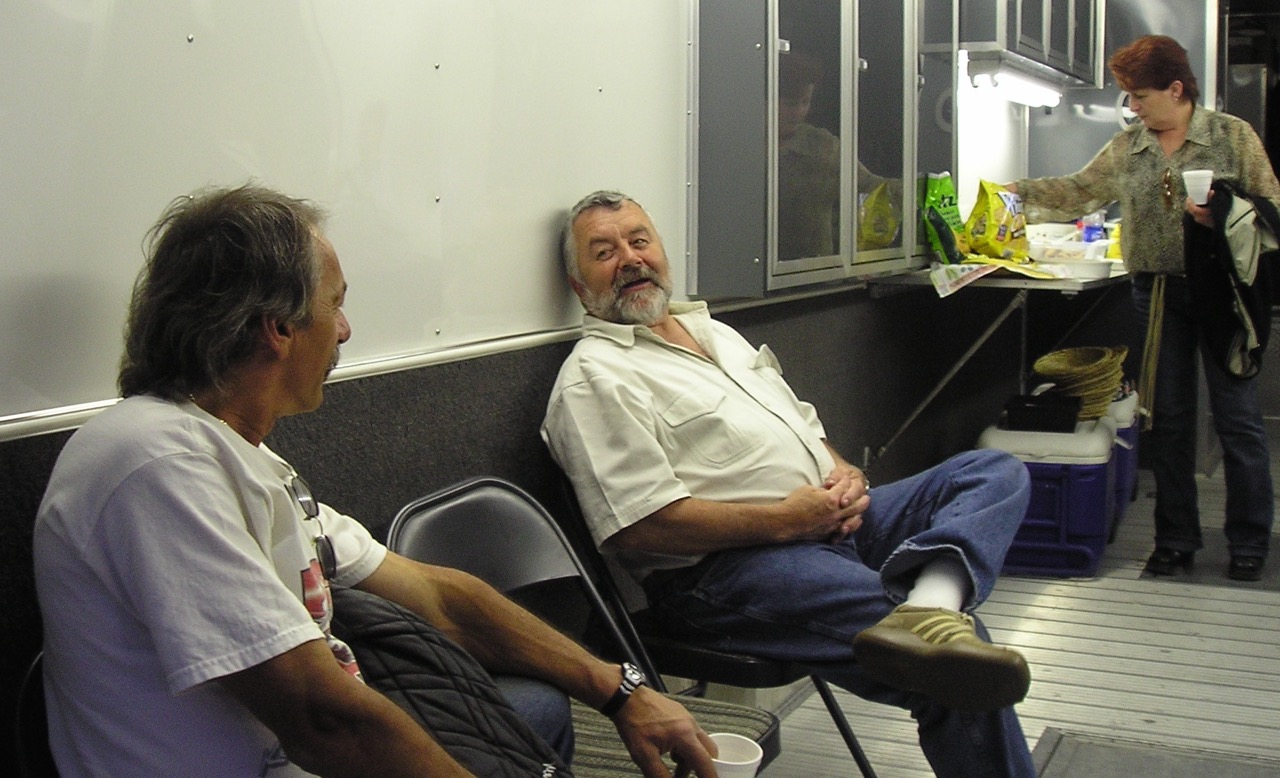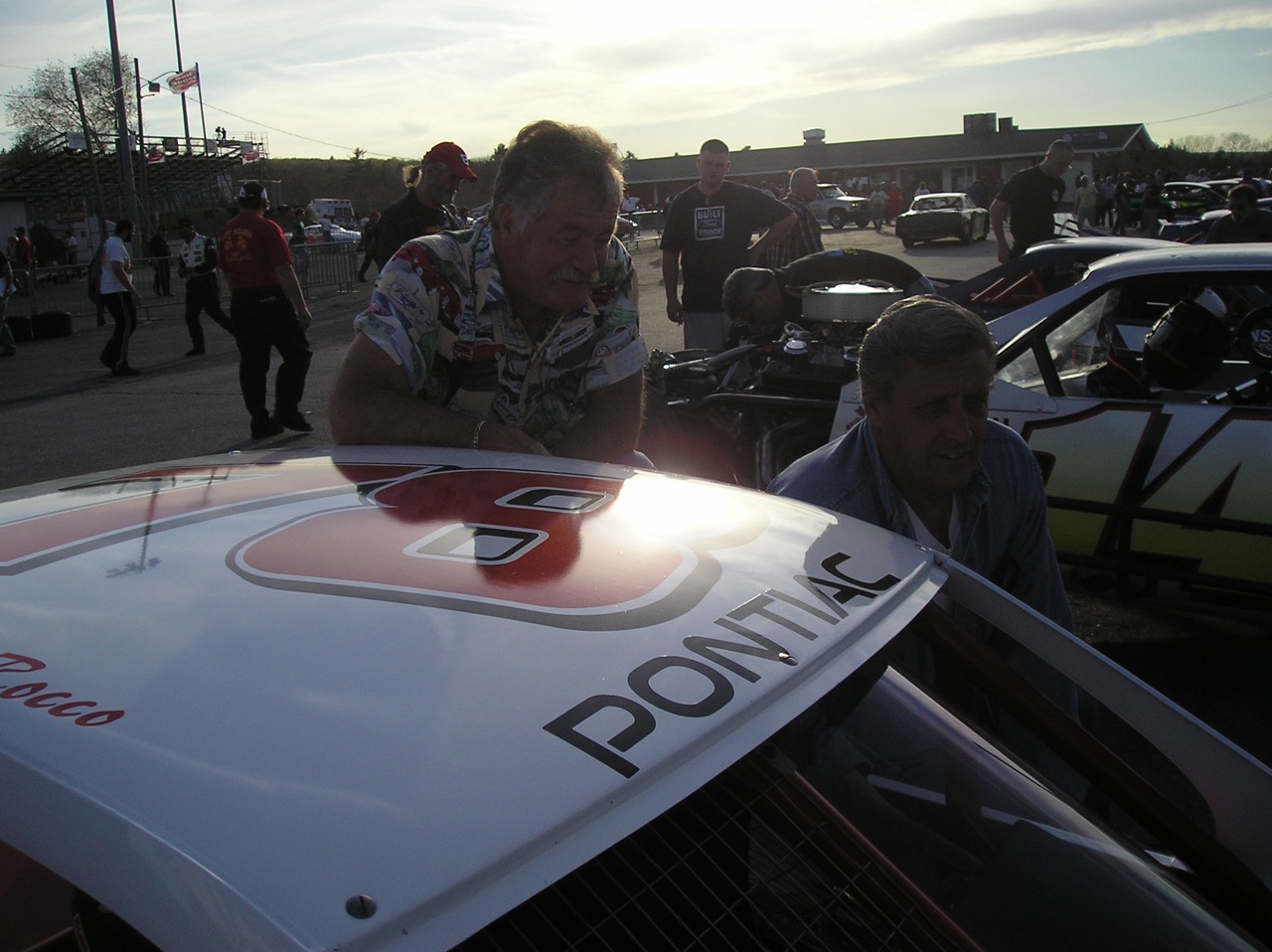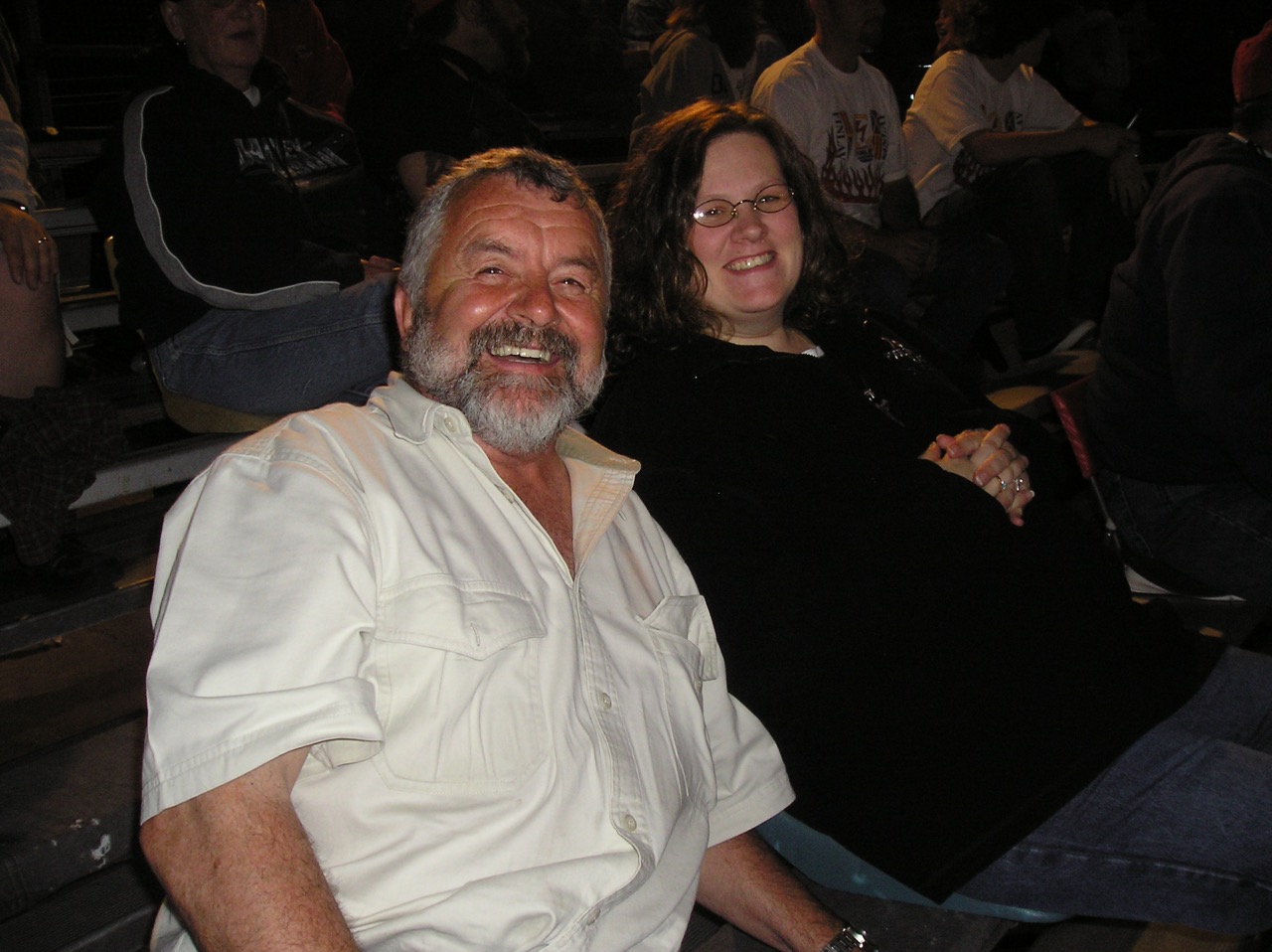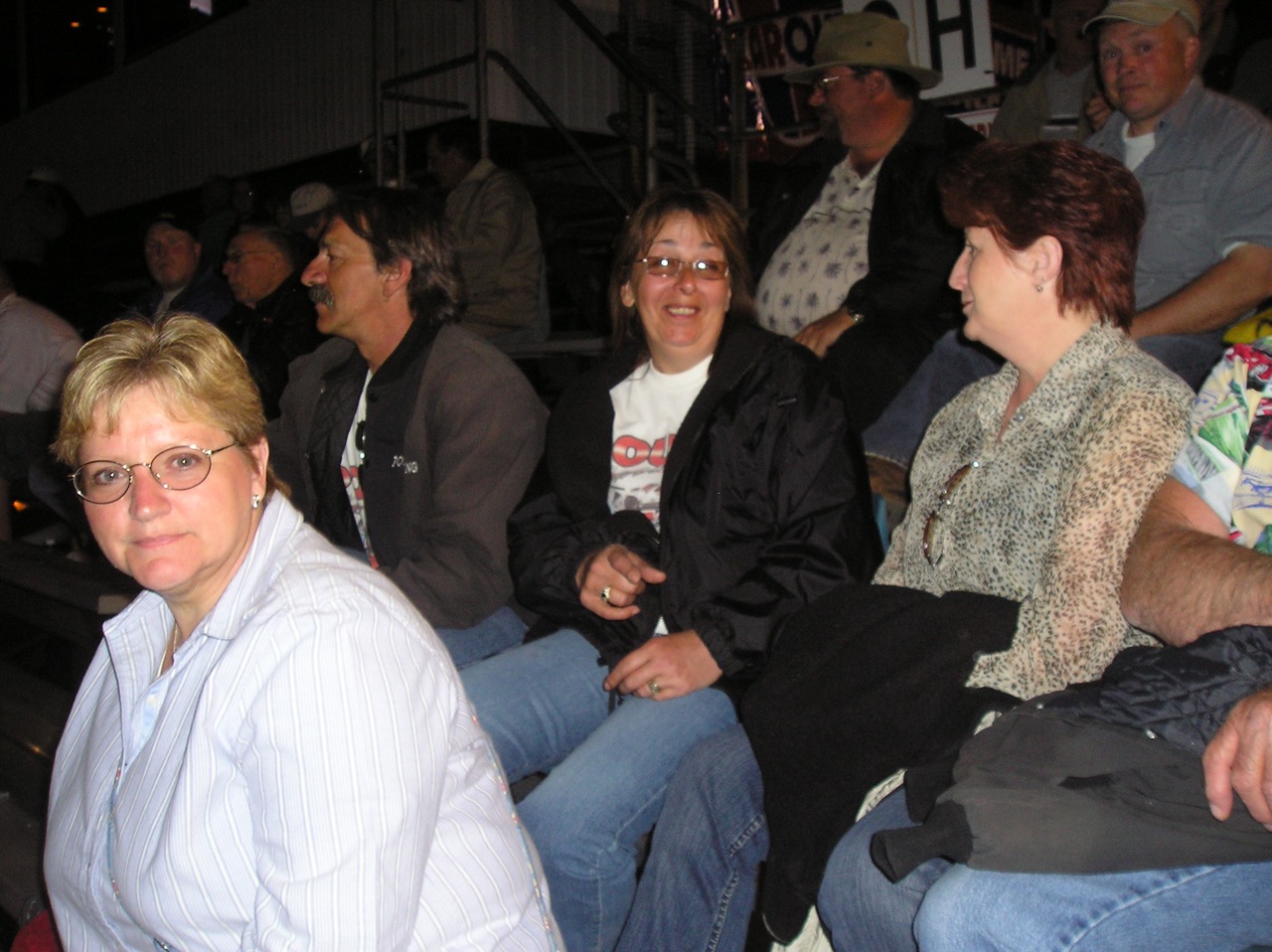 The next two weeks would prove to be rainouts. This also allowed us a leisurely anniversary trip to Baltimore Harbor.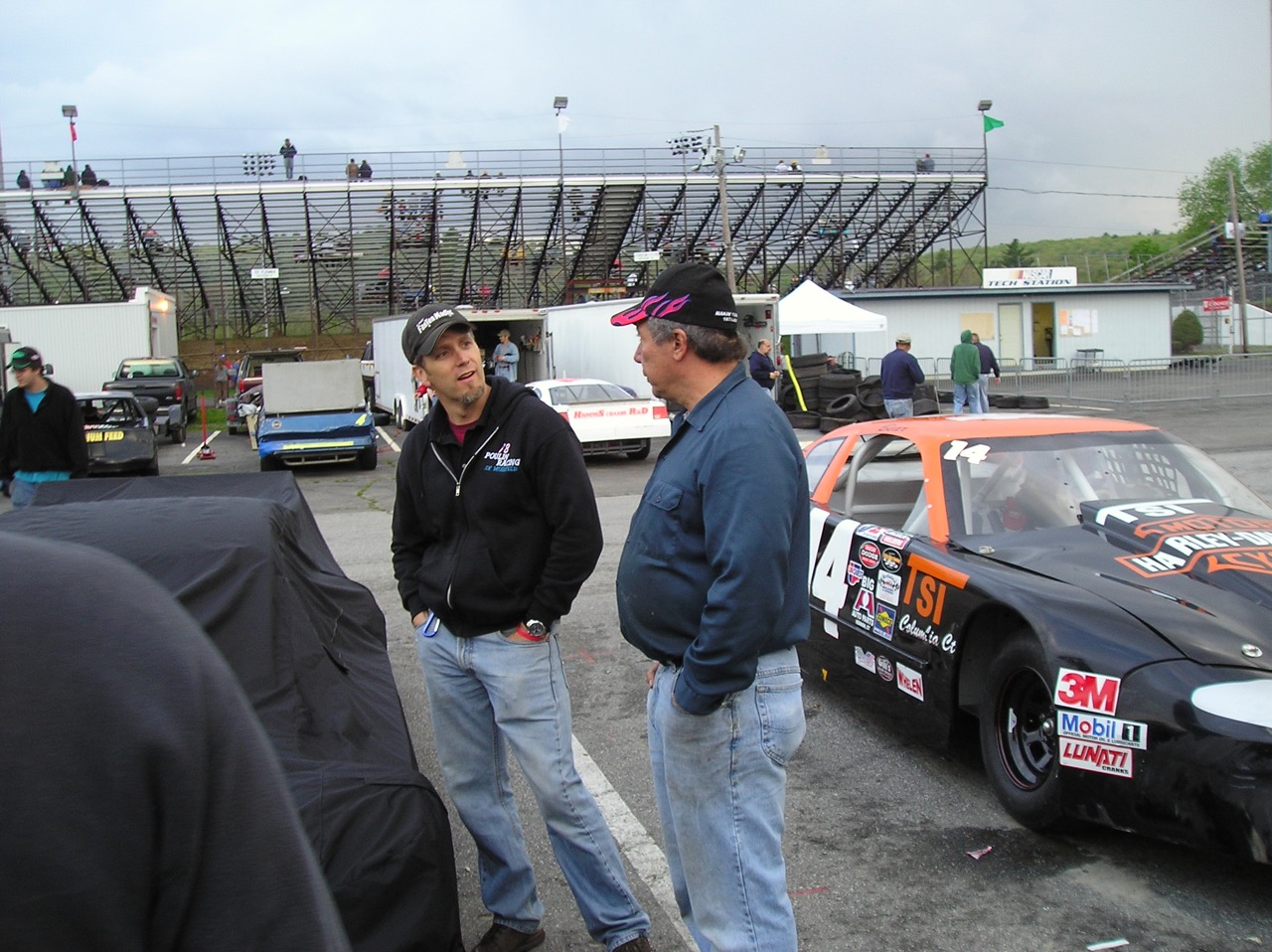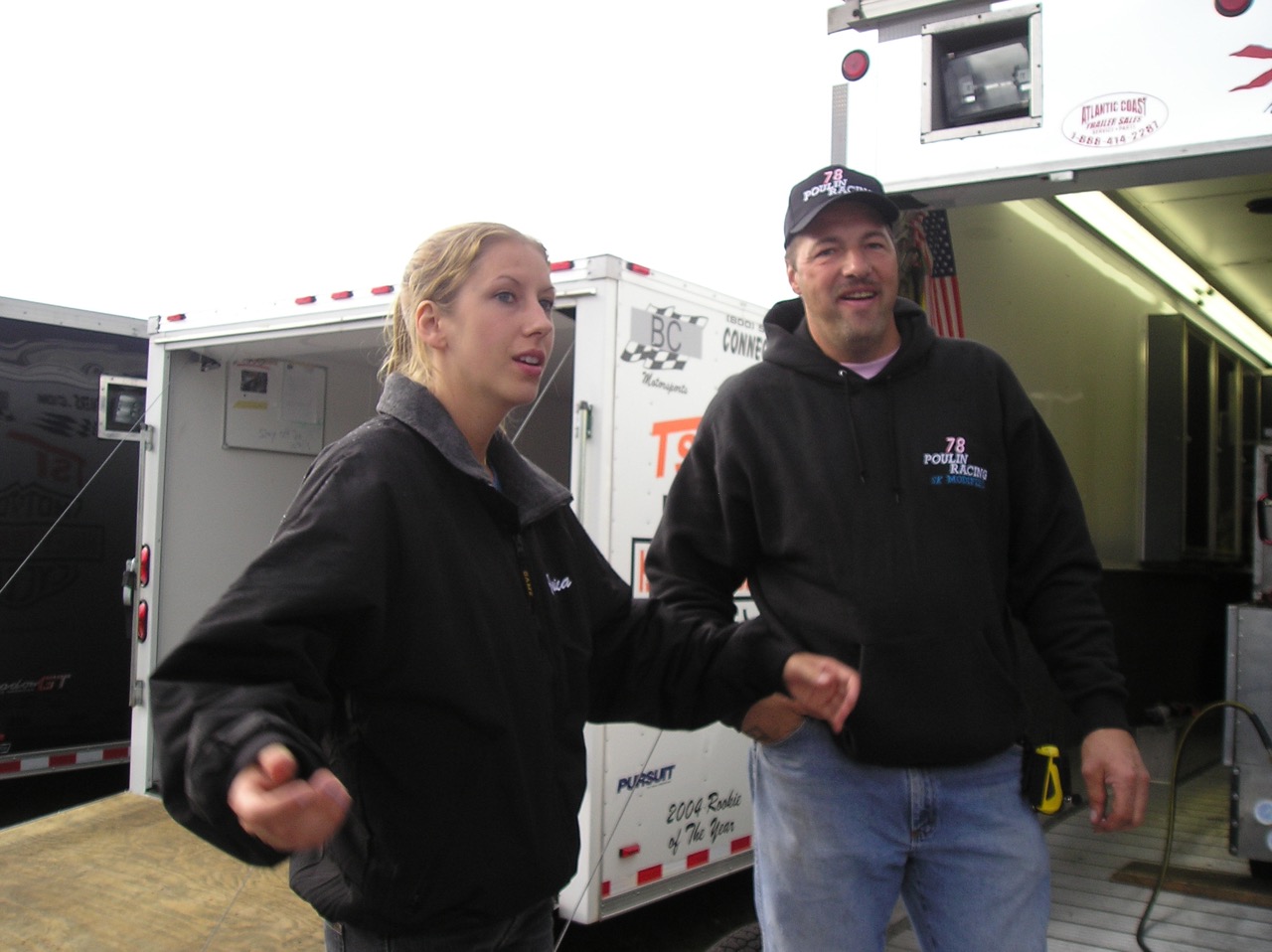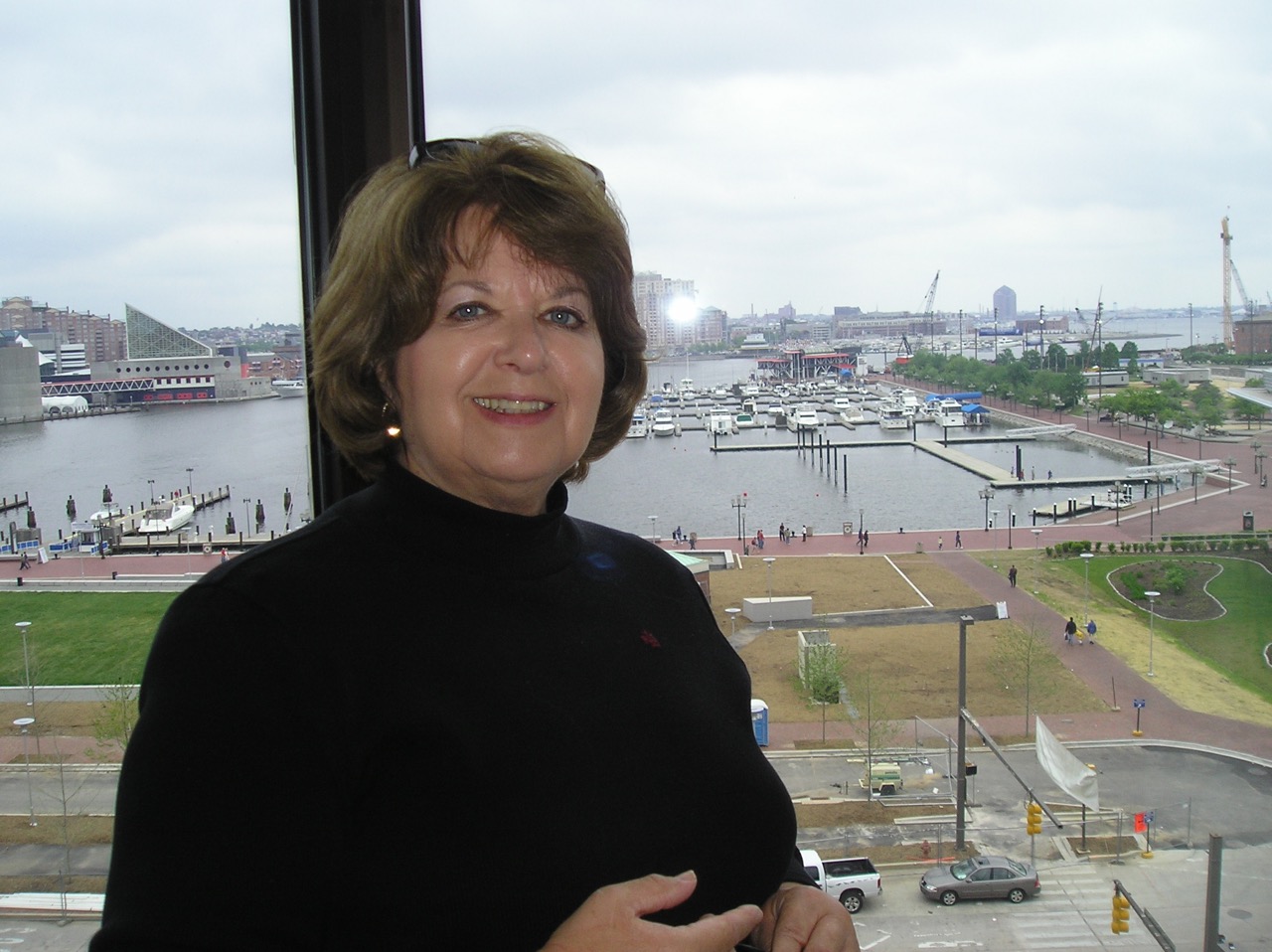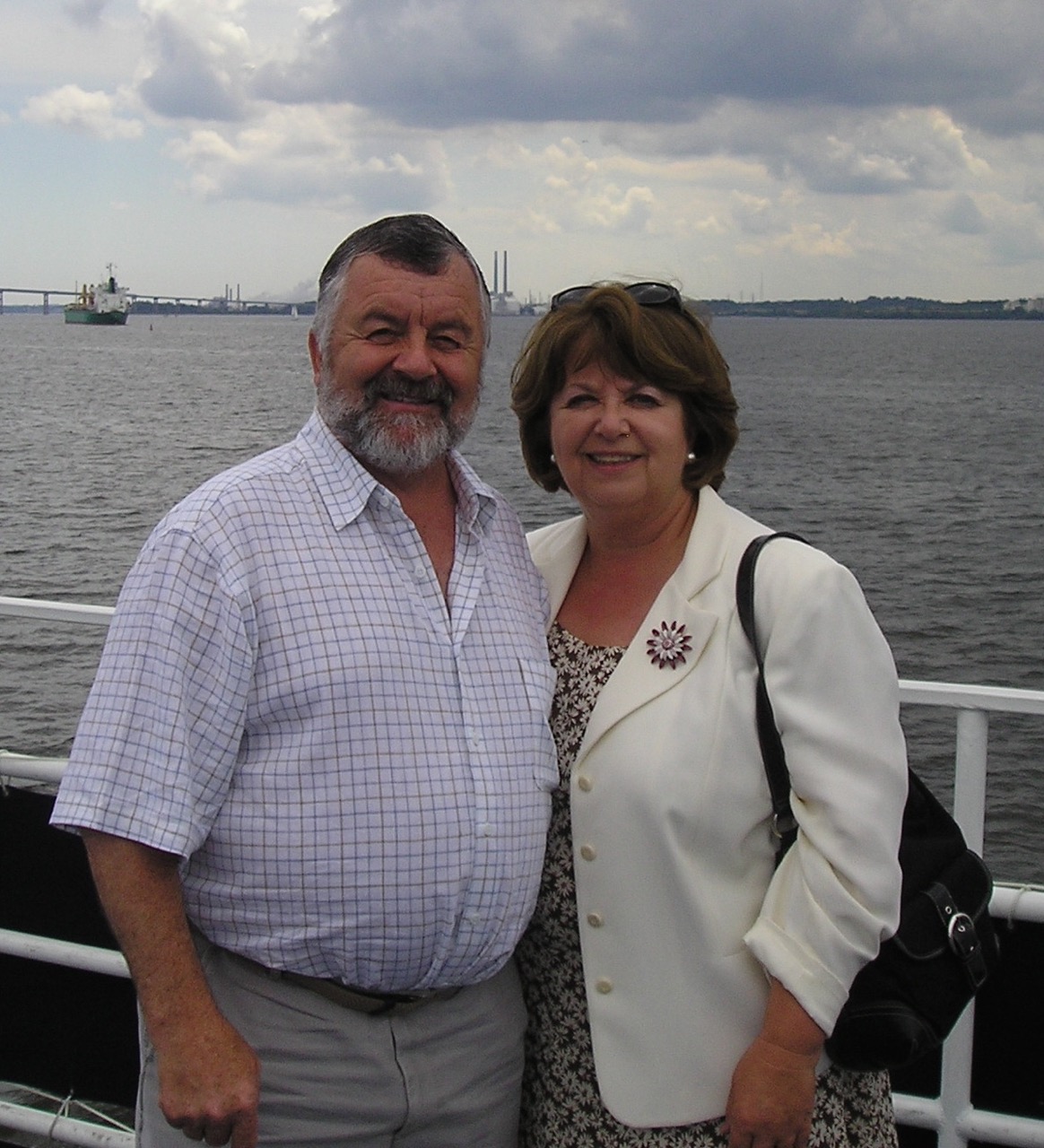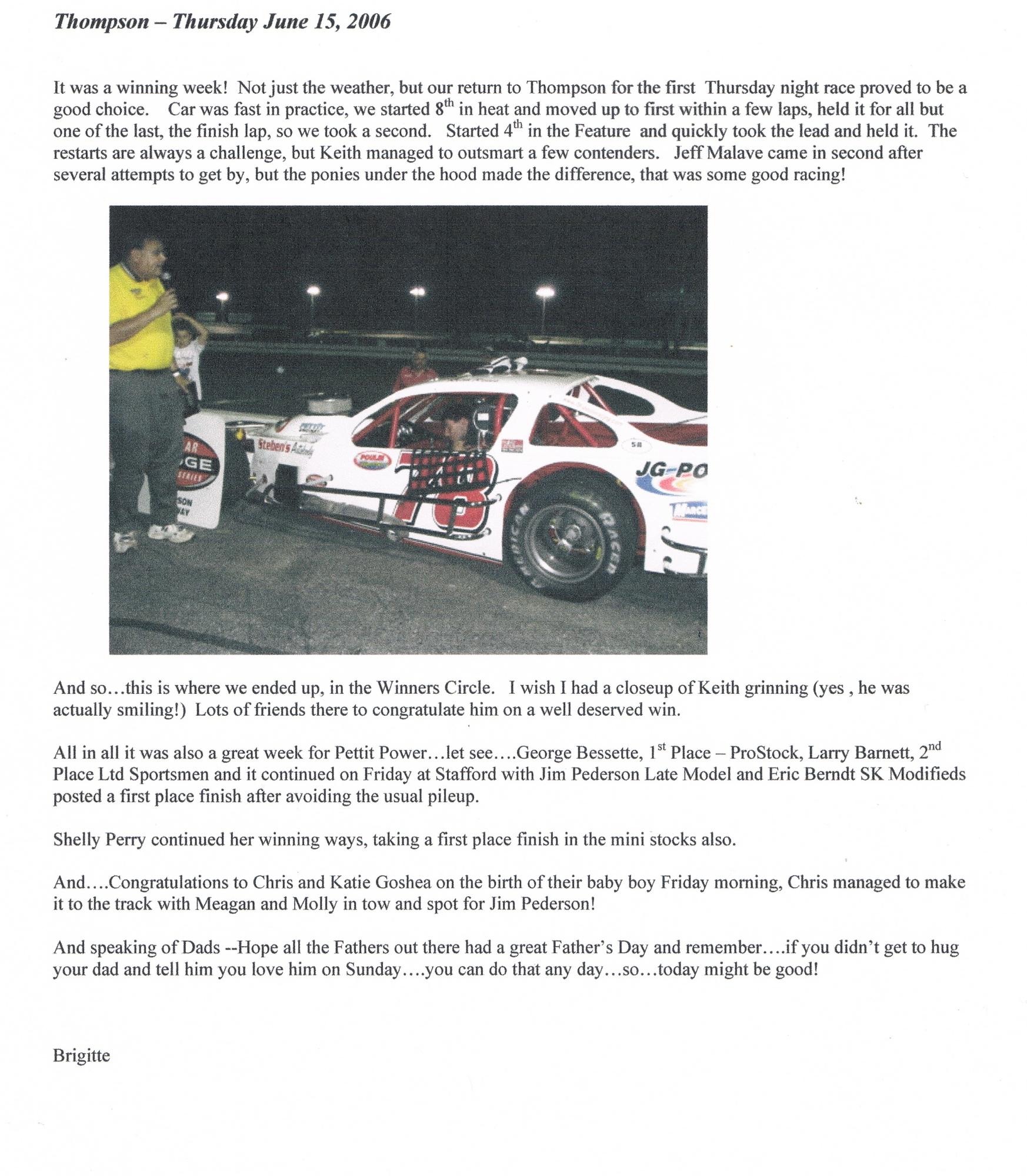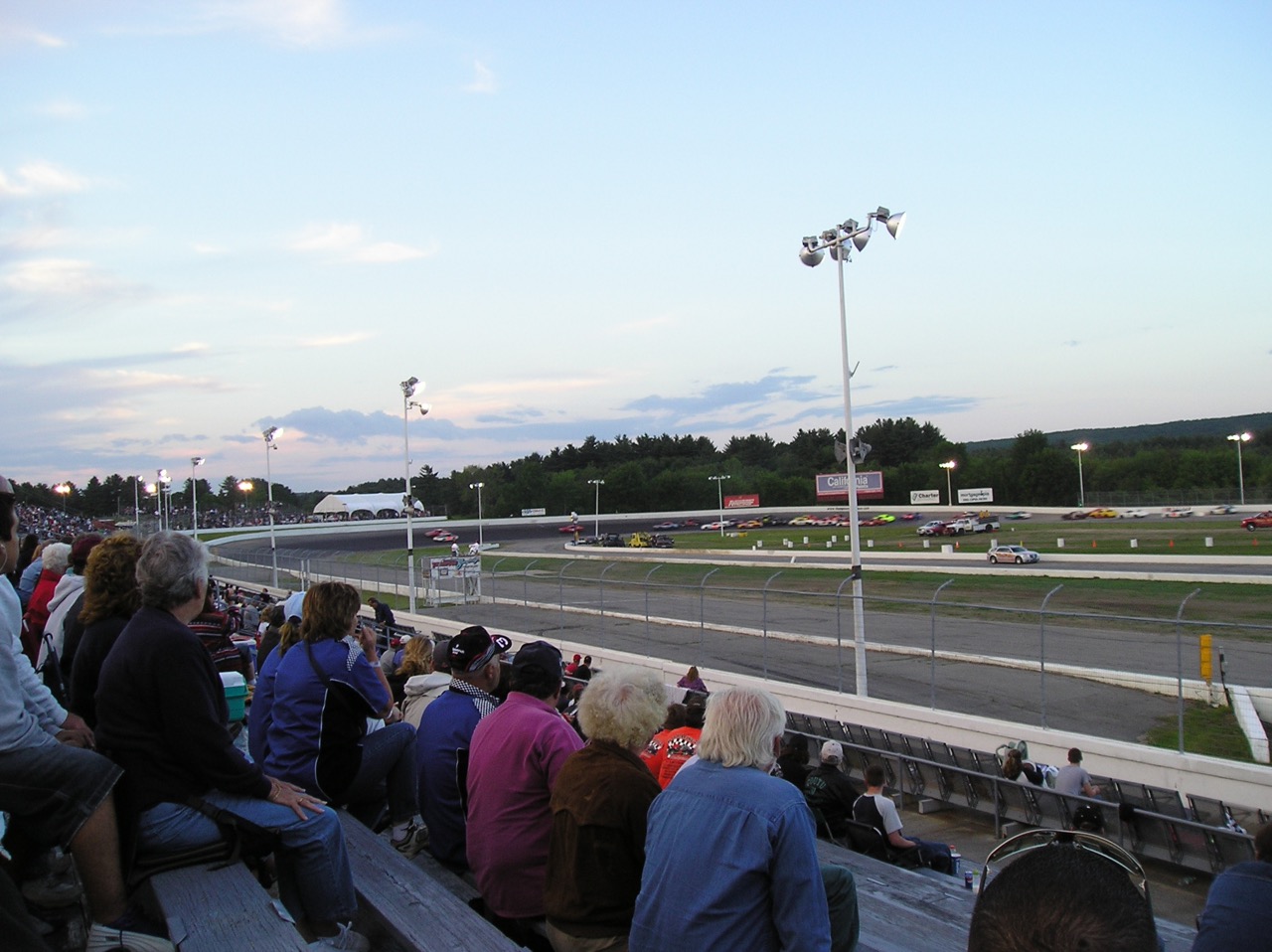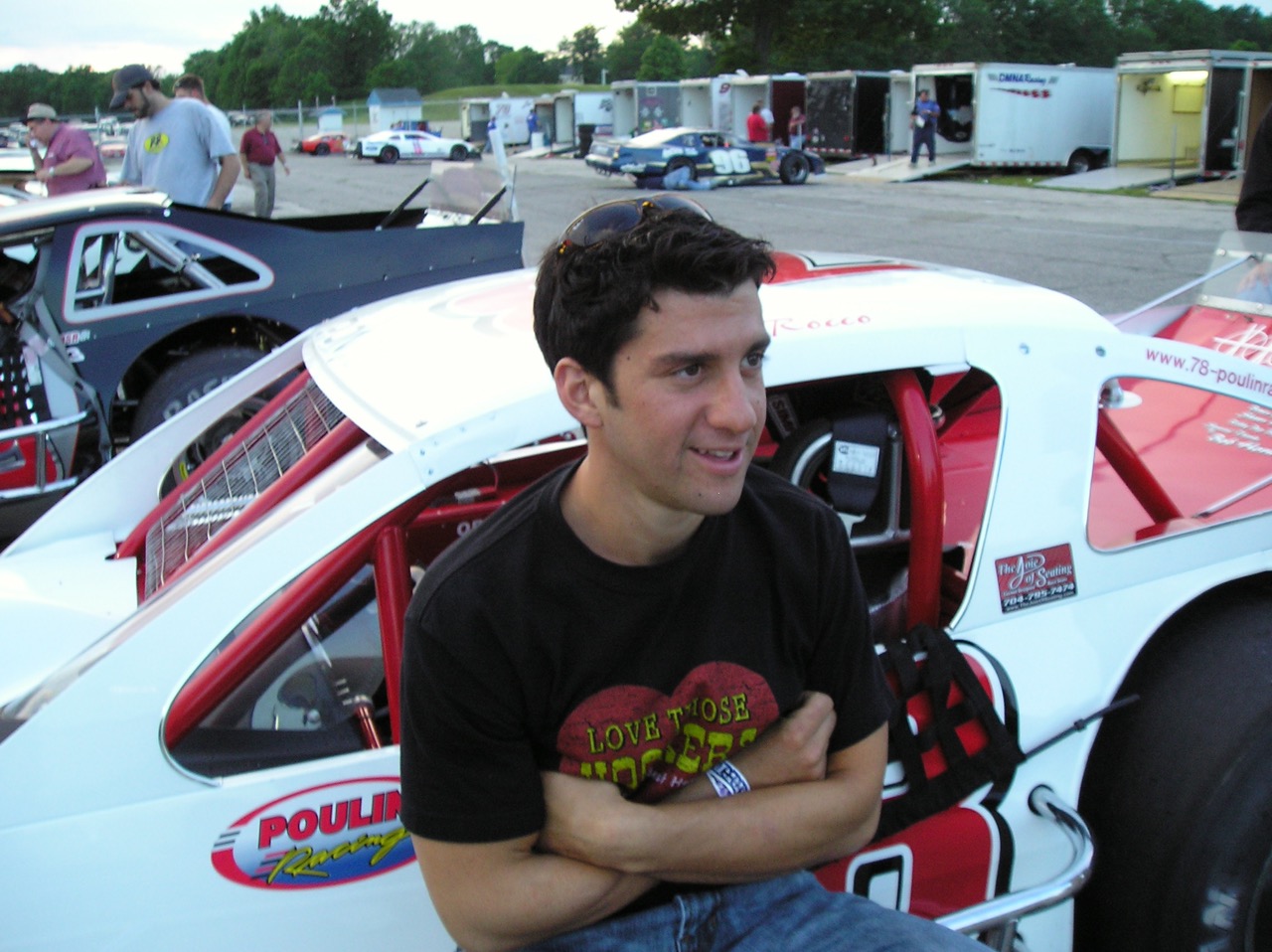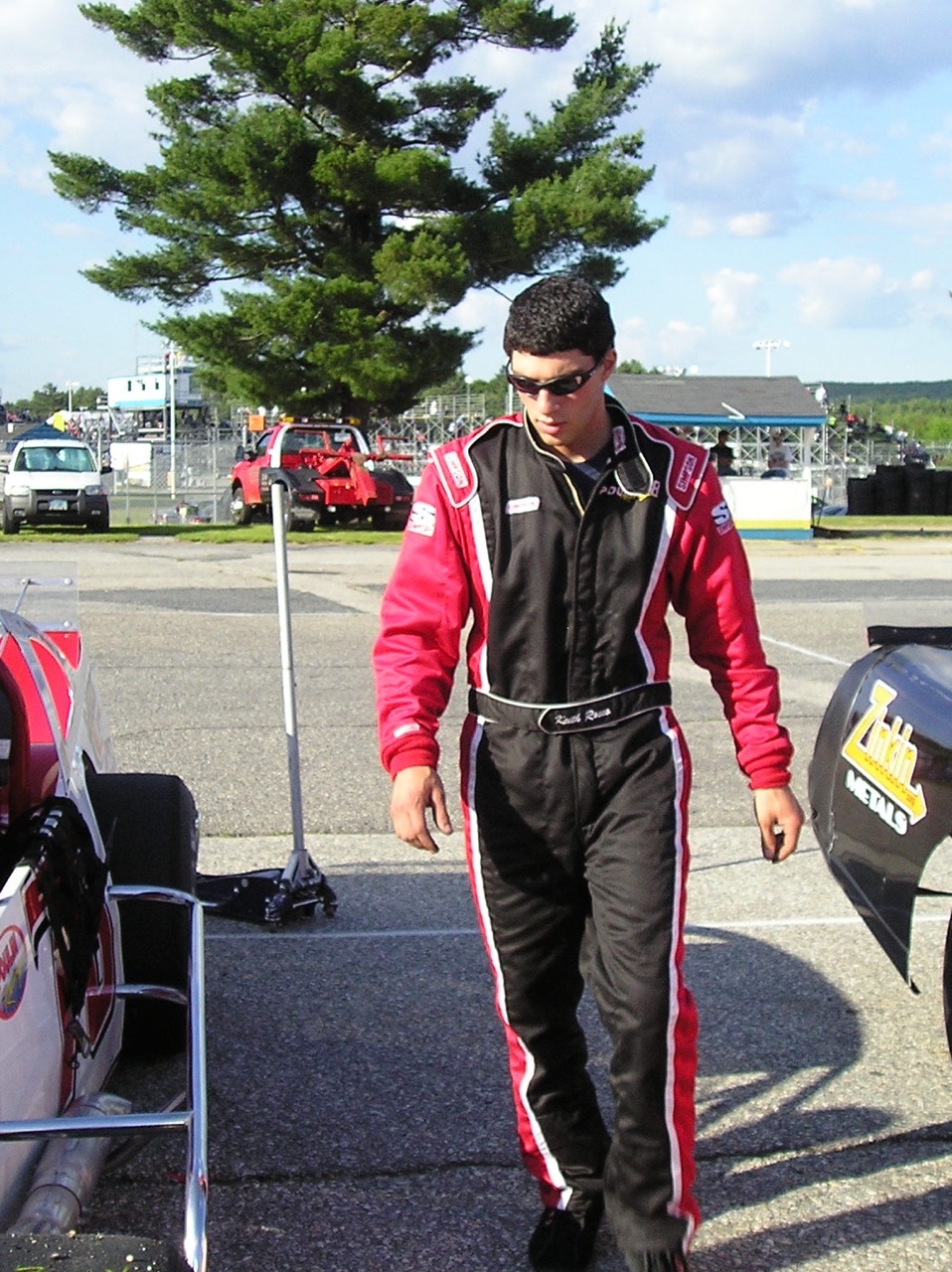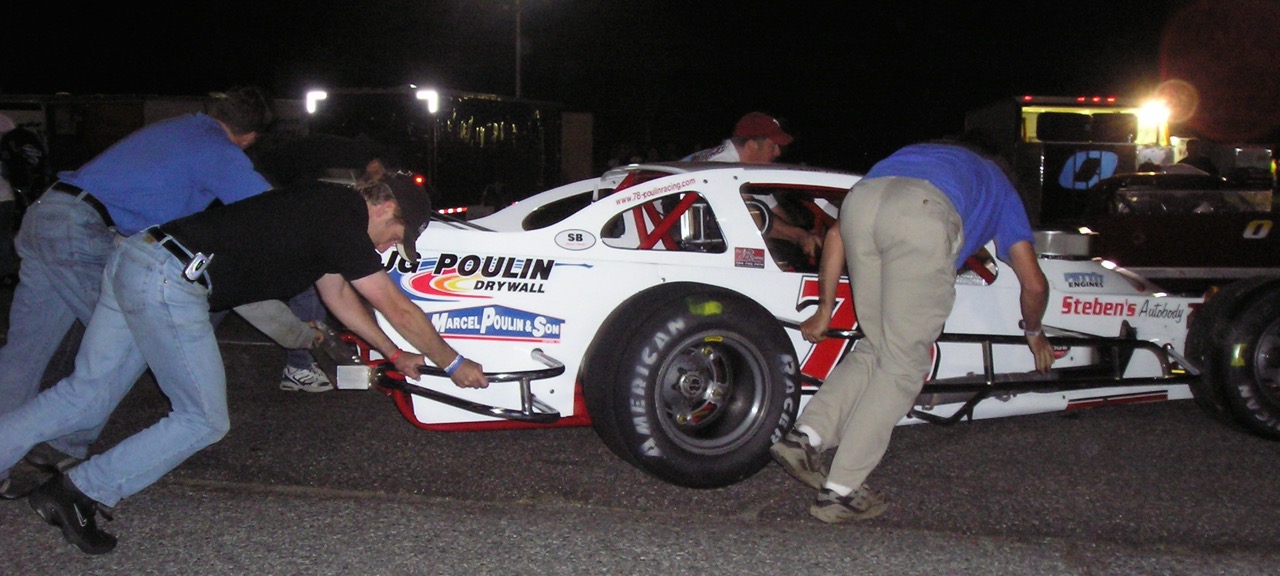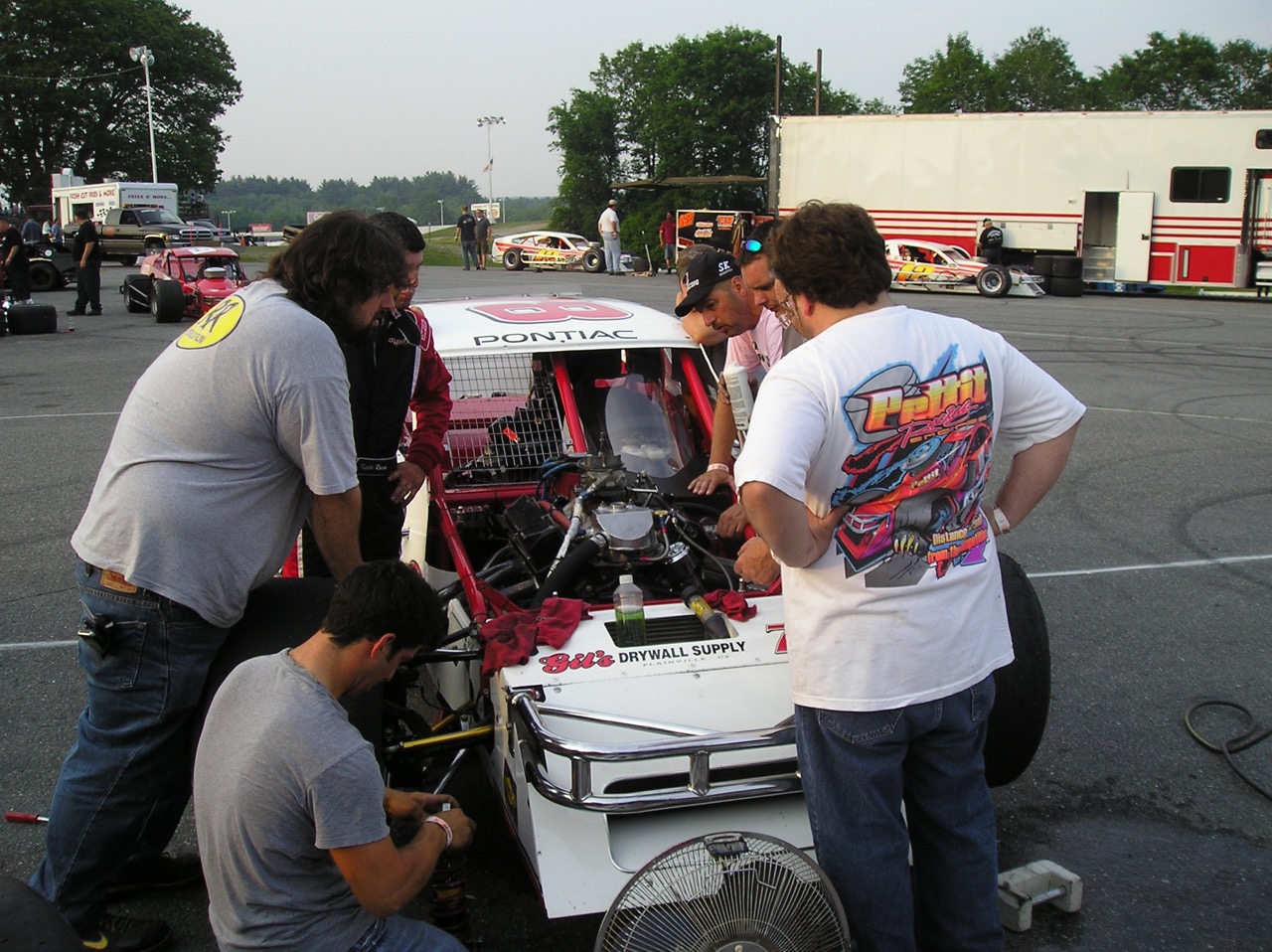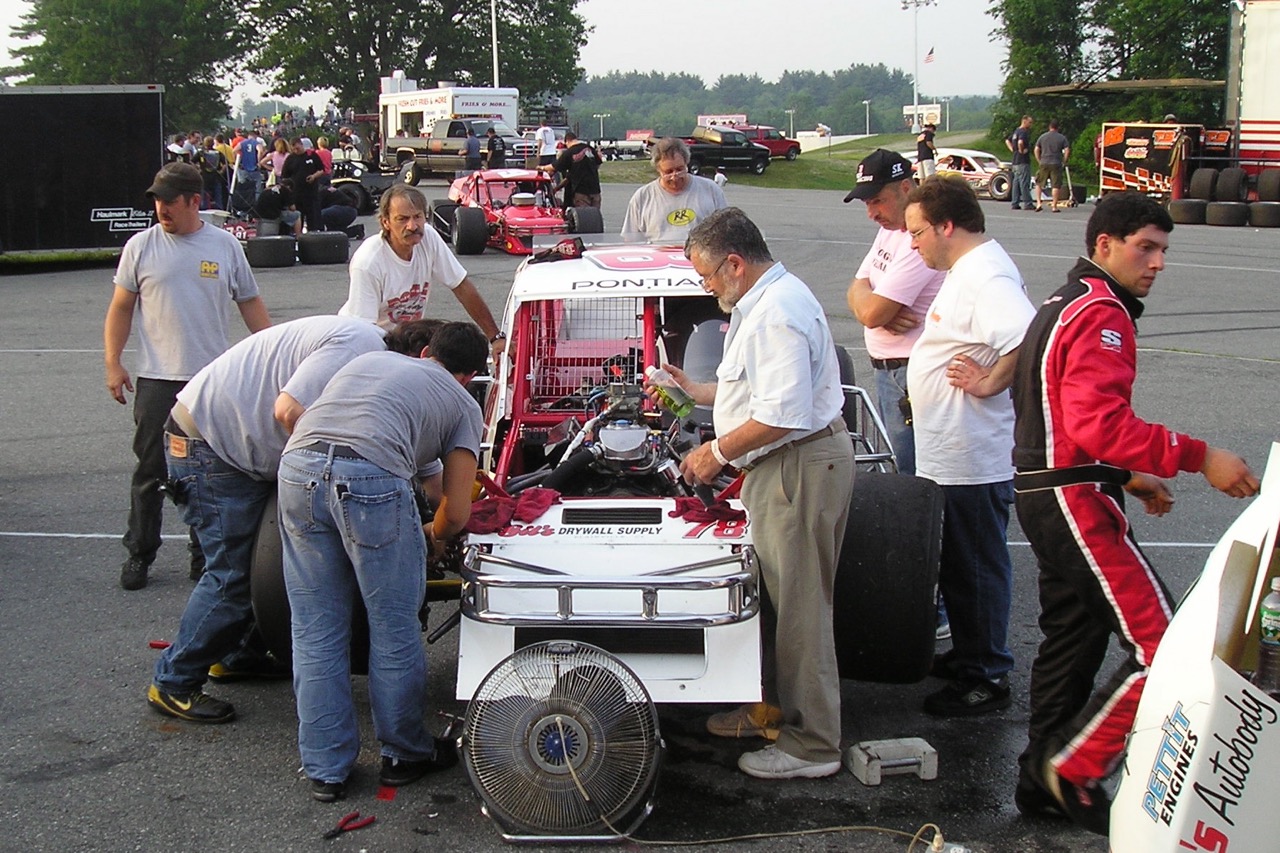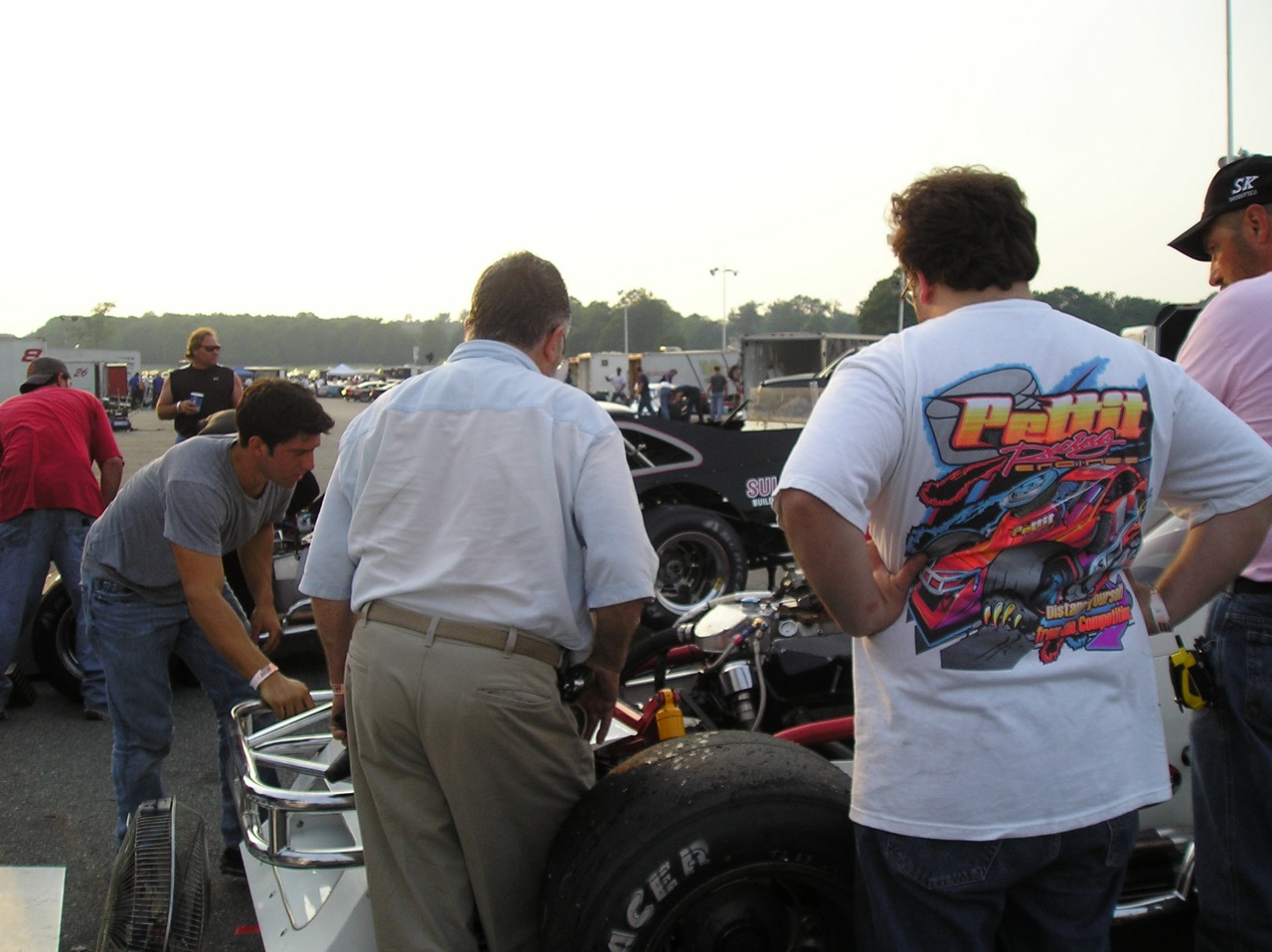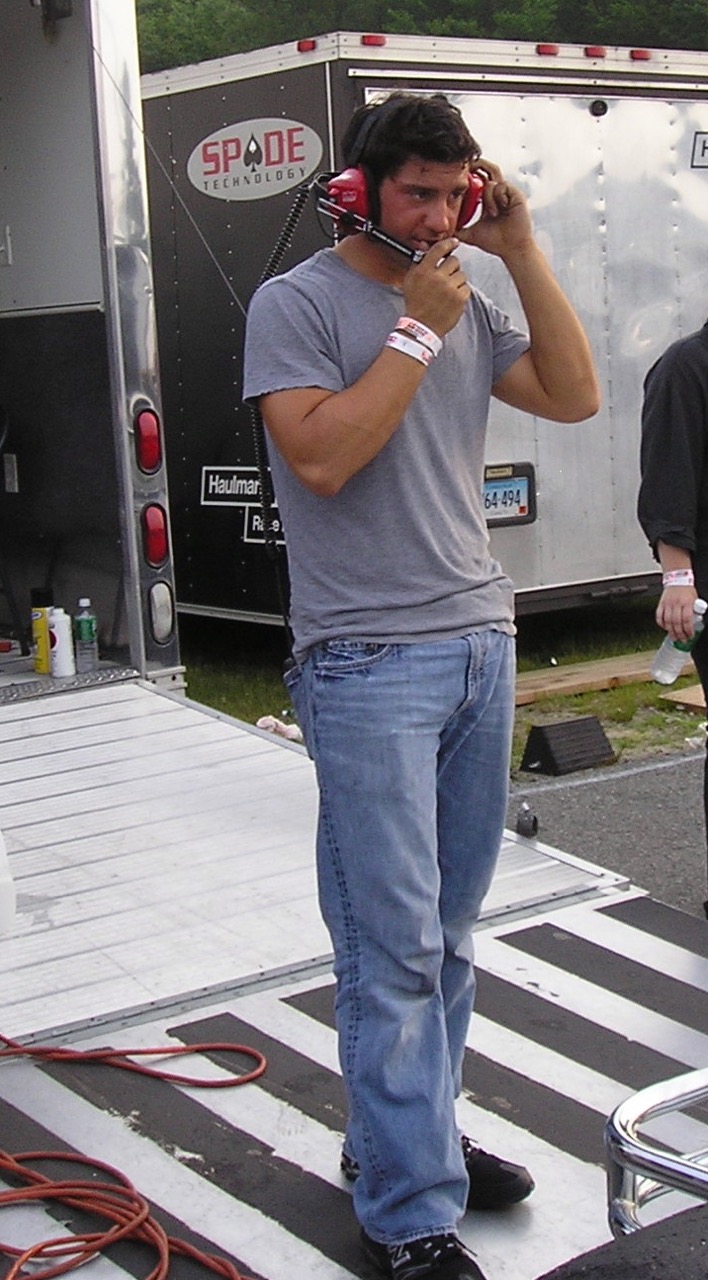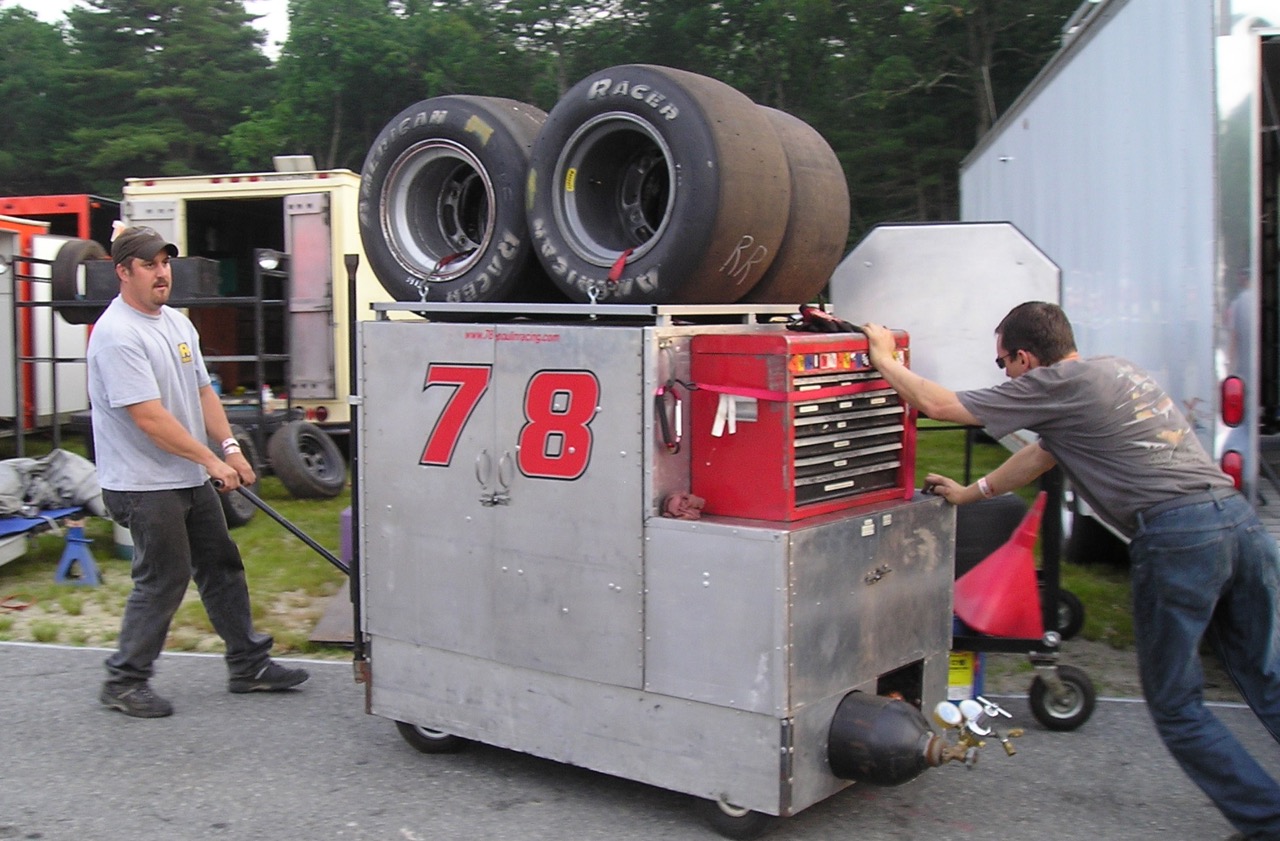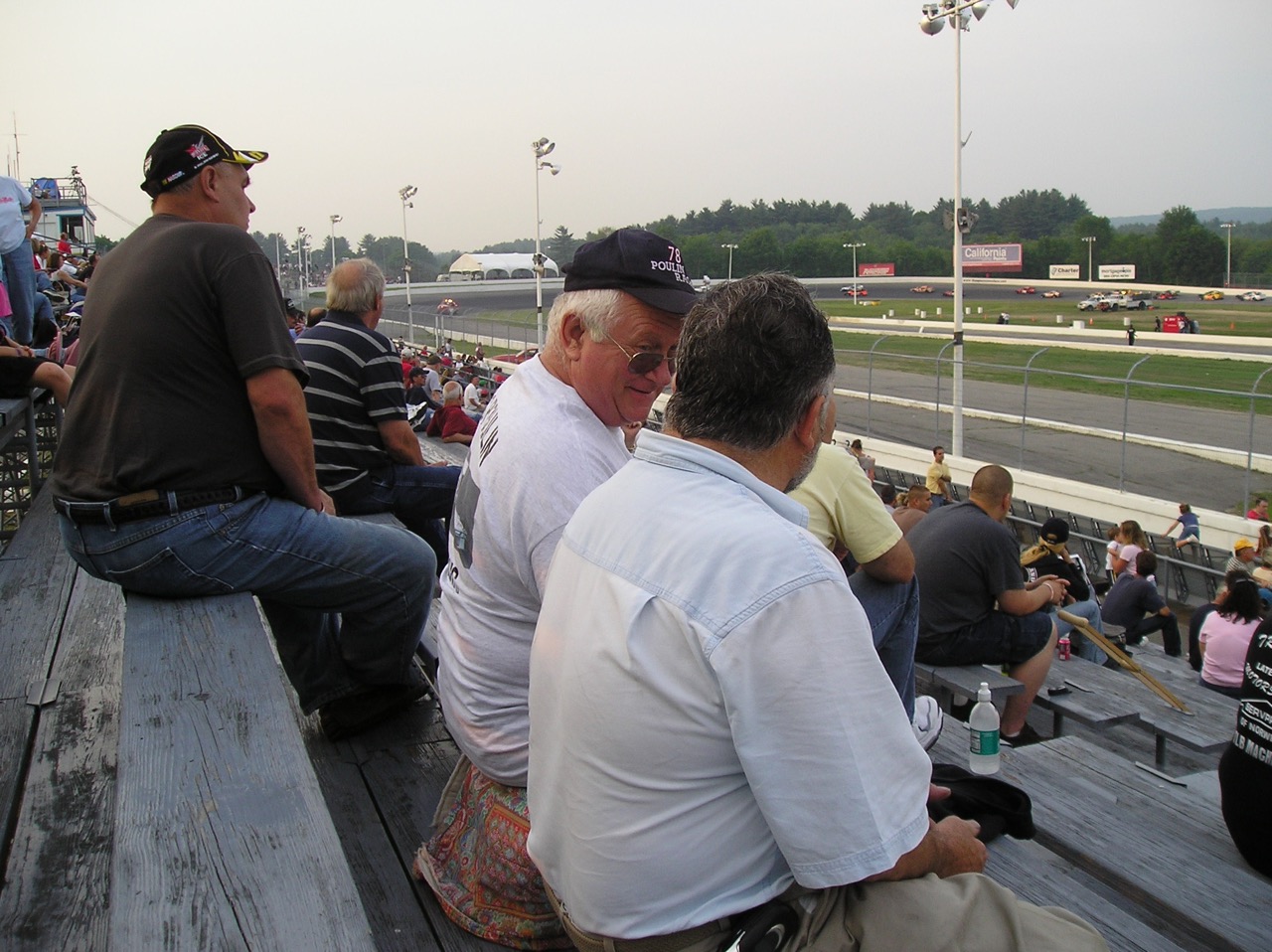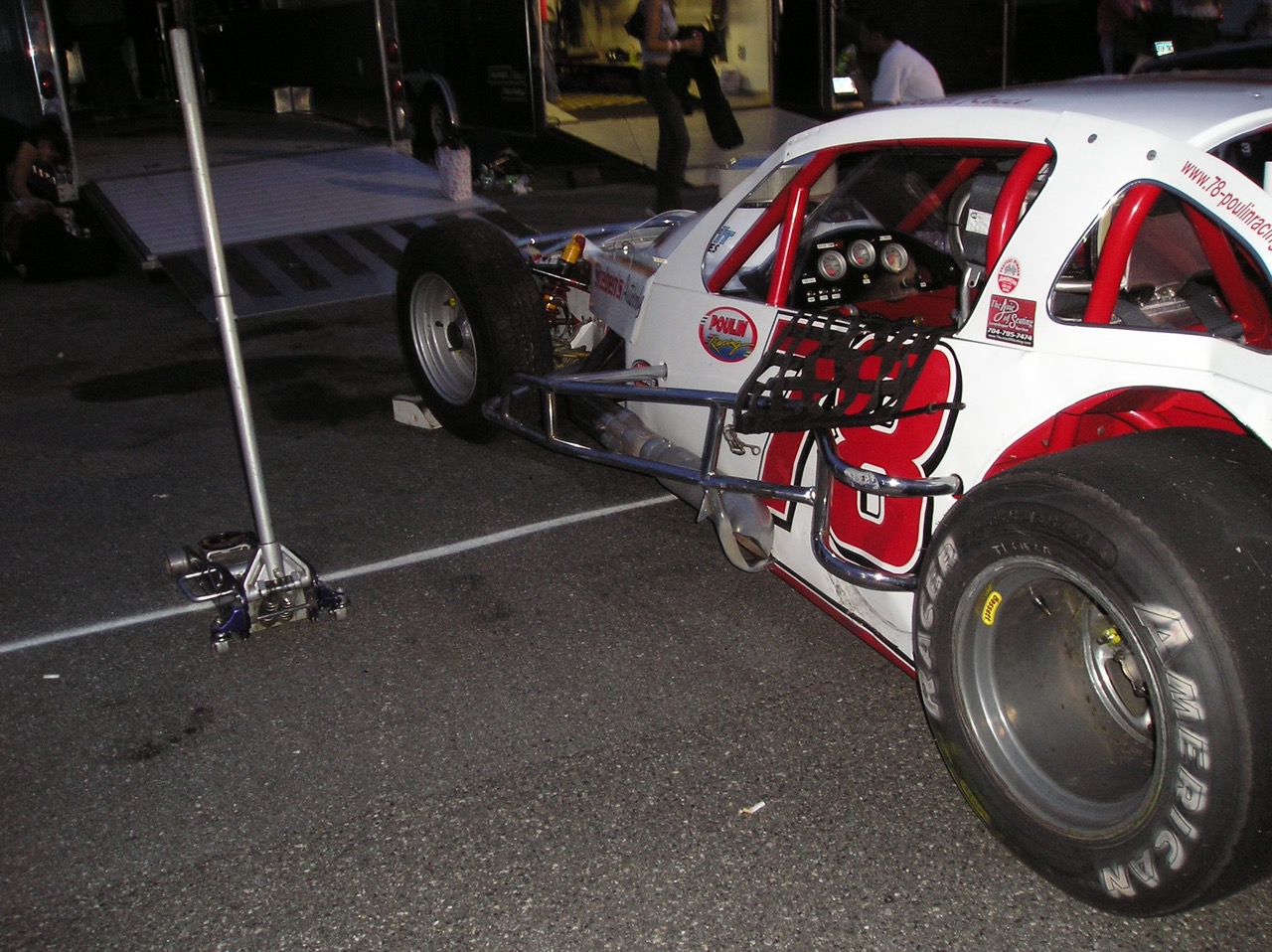 Late June at Stafford - don't have any notes on this set of photos, but my photo file suggests this time frame. (June 23?)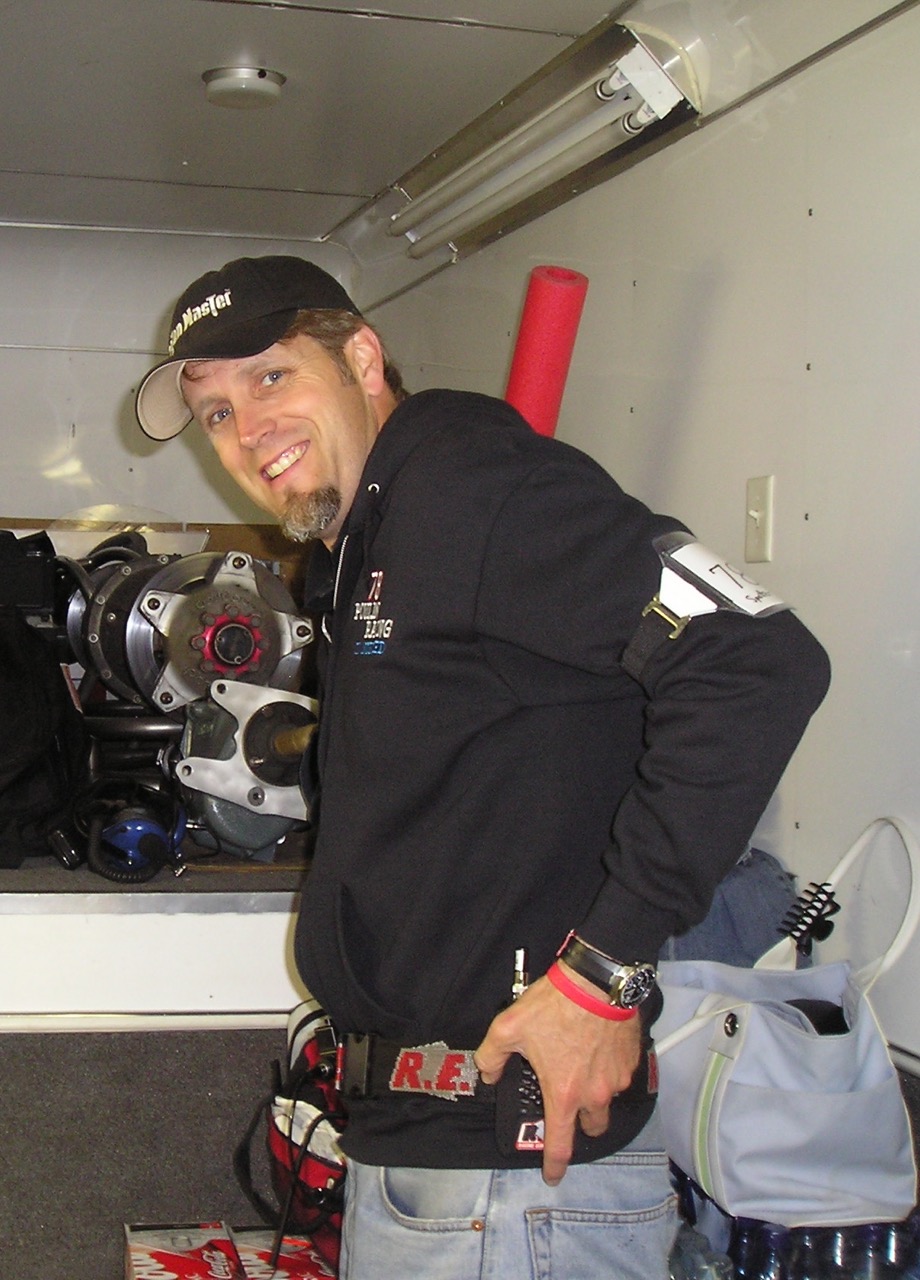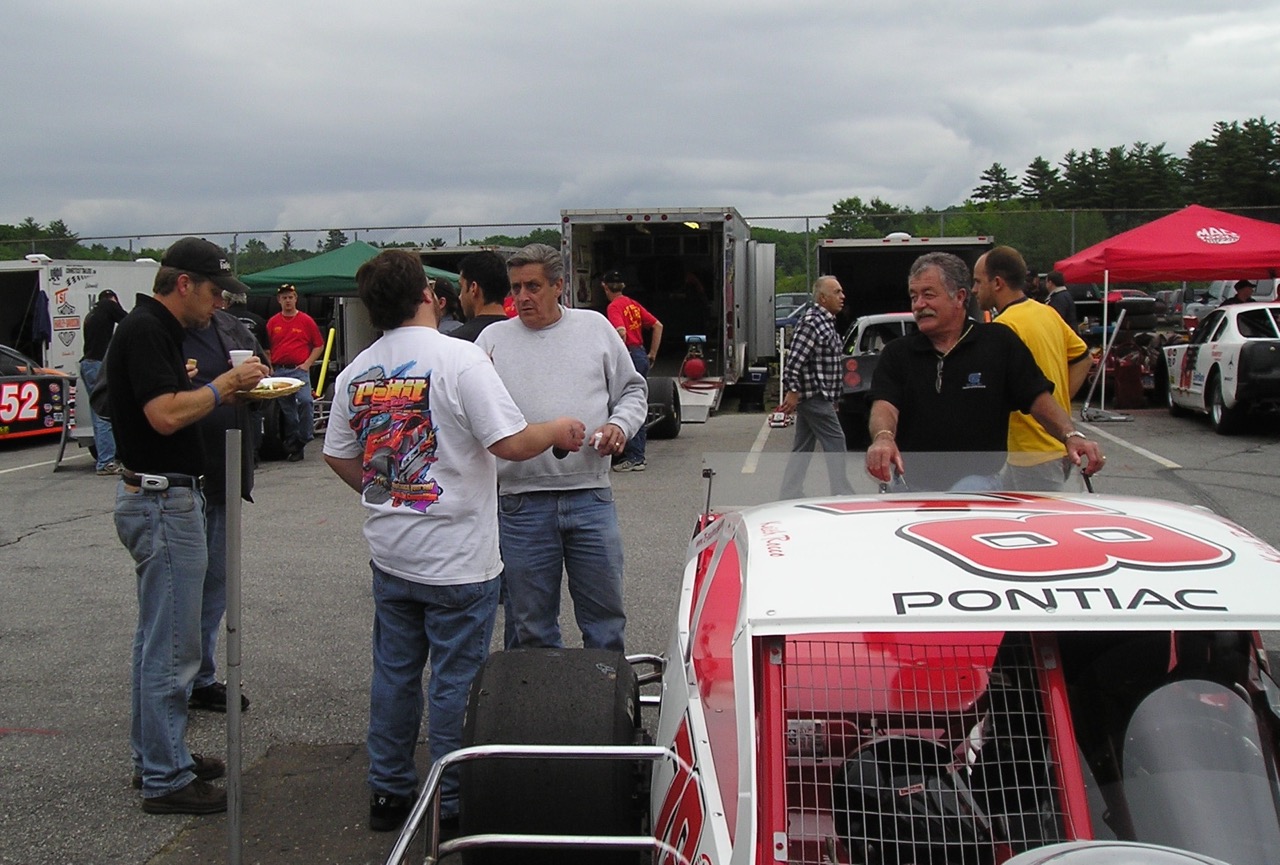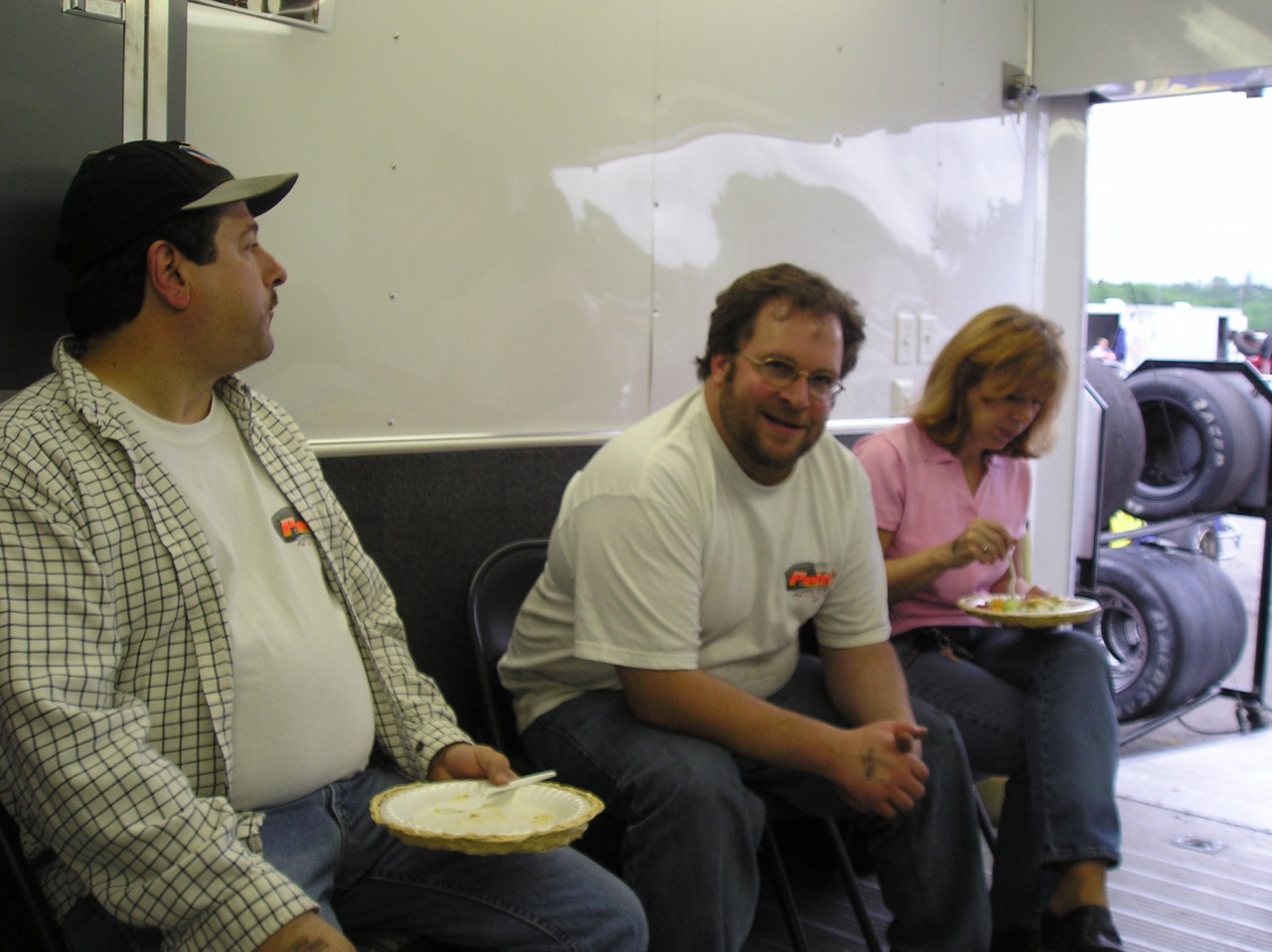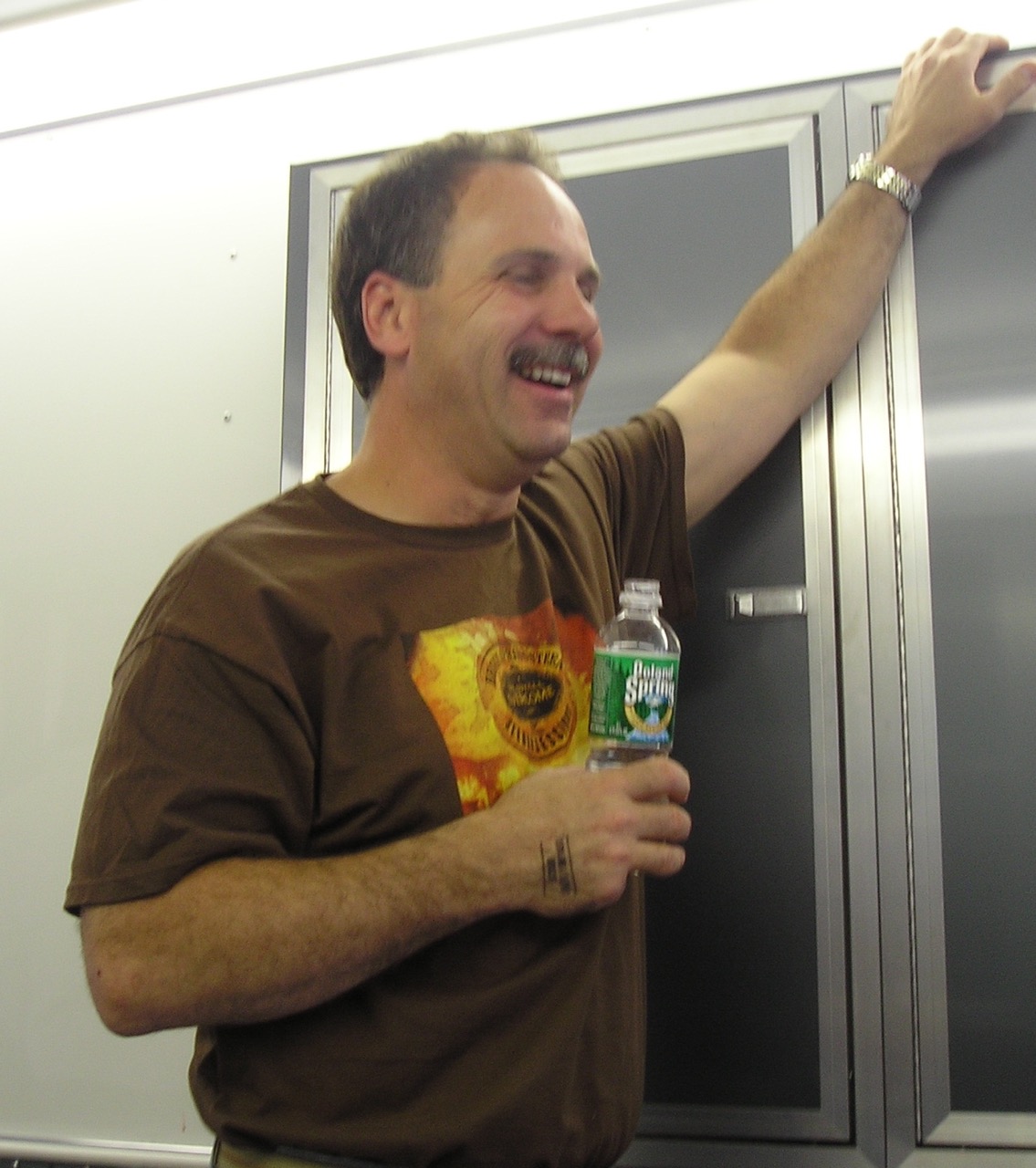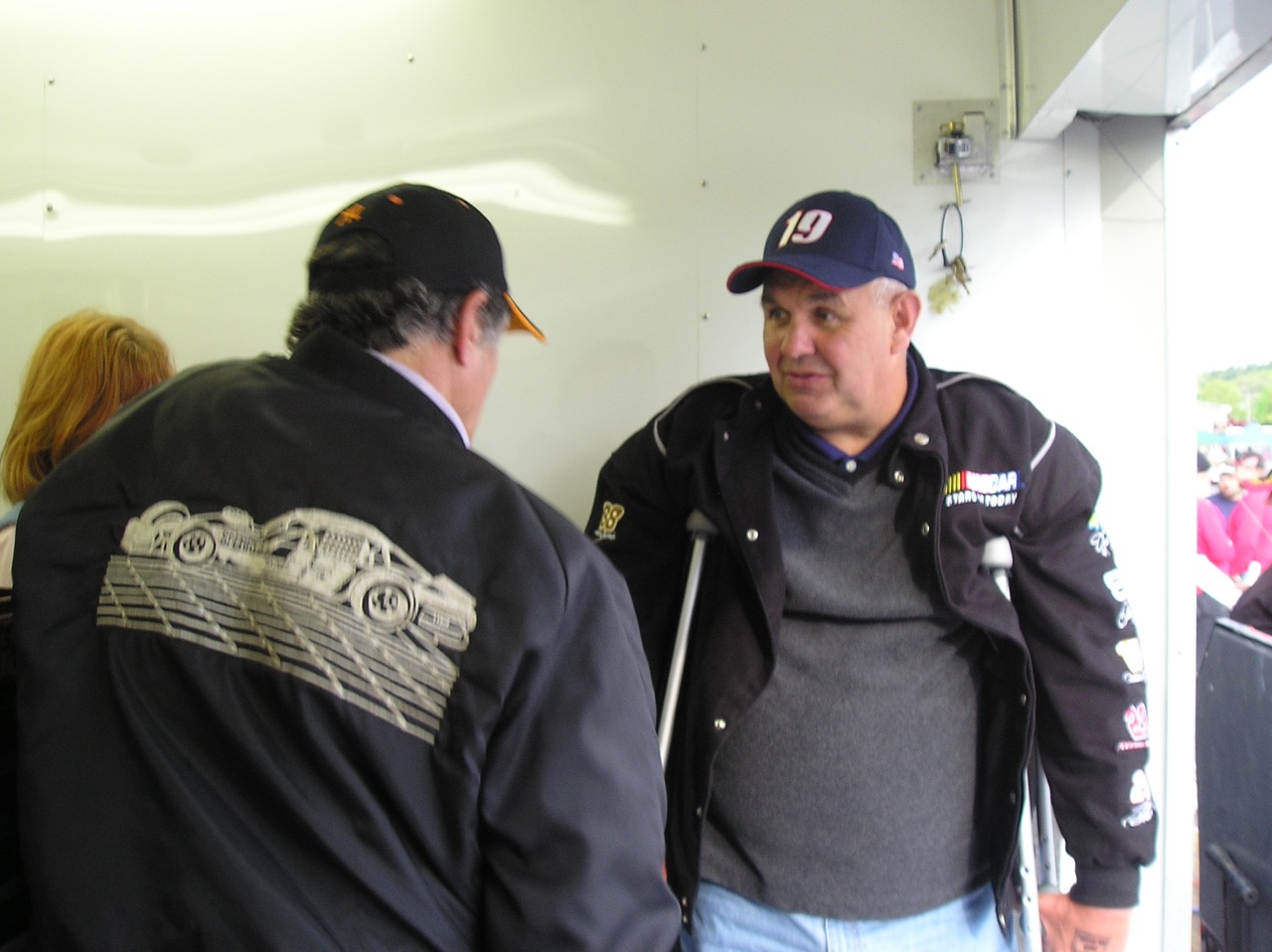 The car had a brand new petticoat!!
Car was not the only thing overheating....Jean's brilliant way of keeping the generator going!!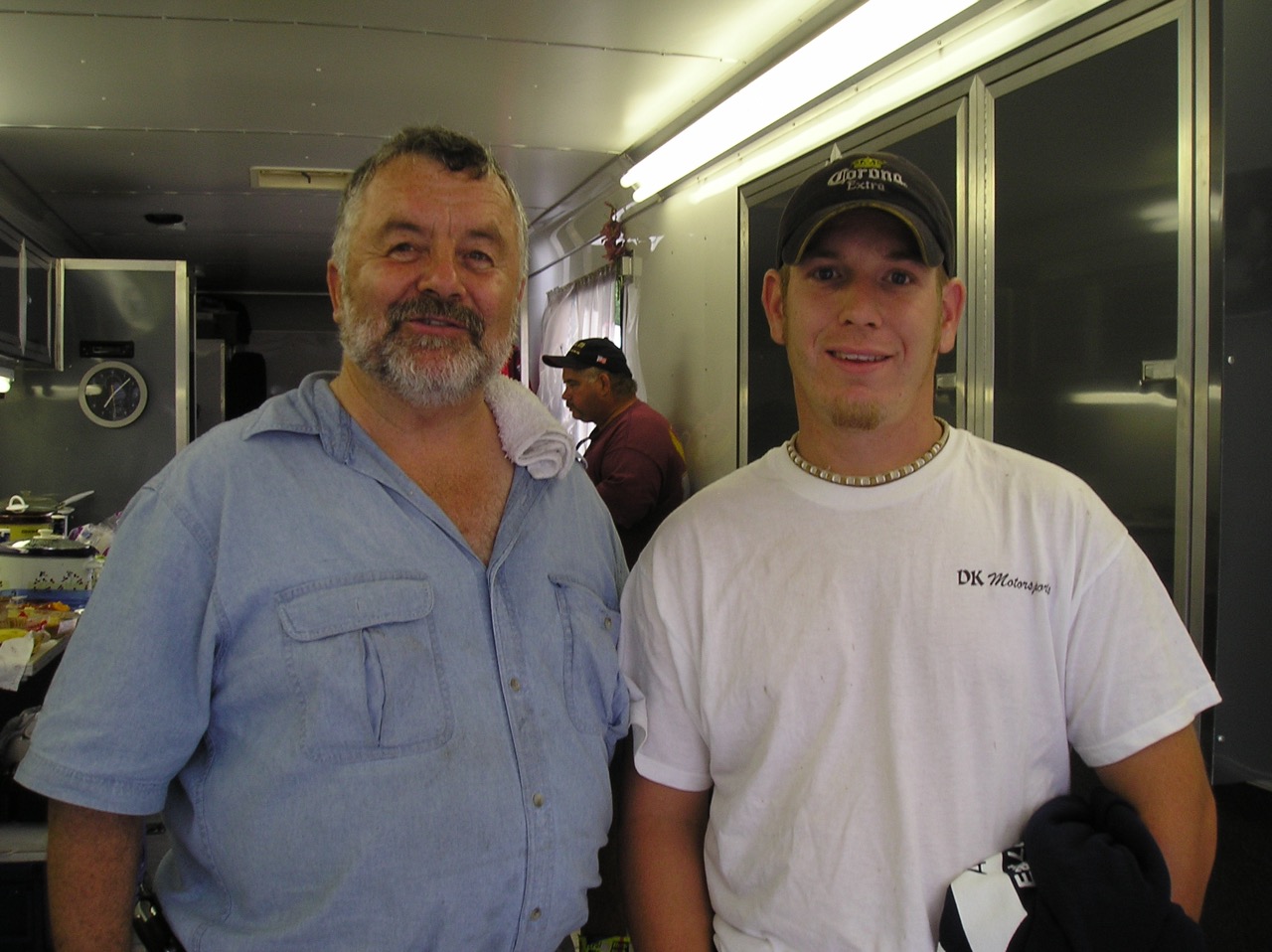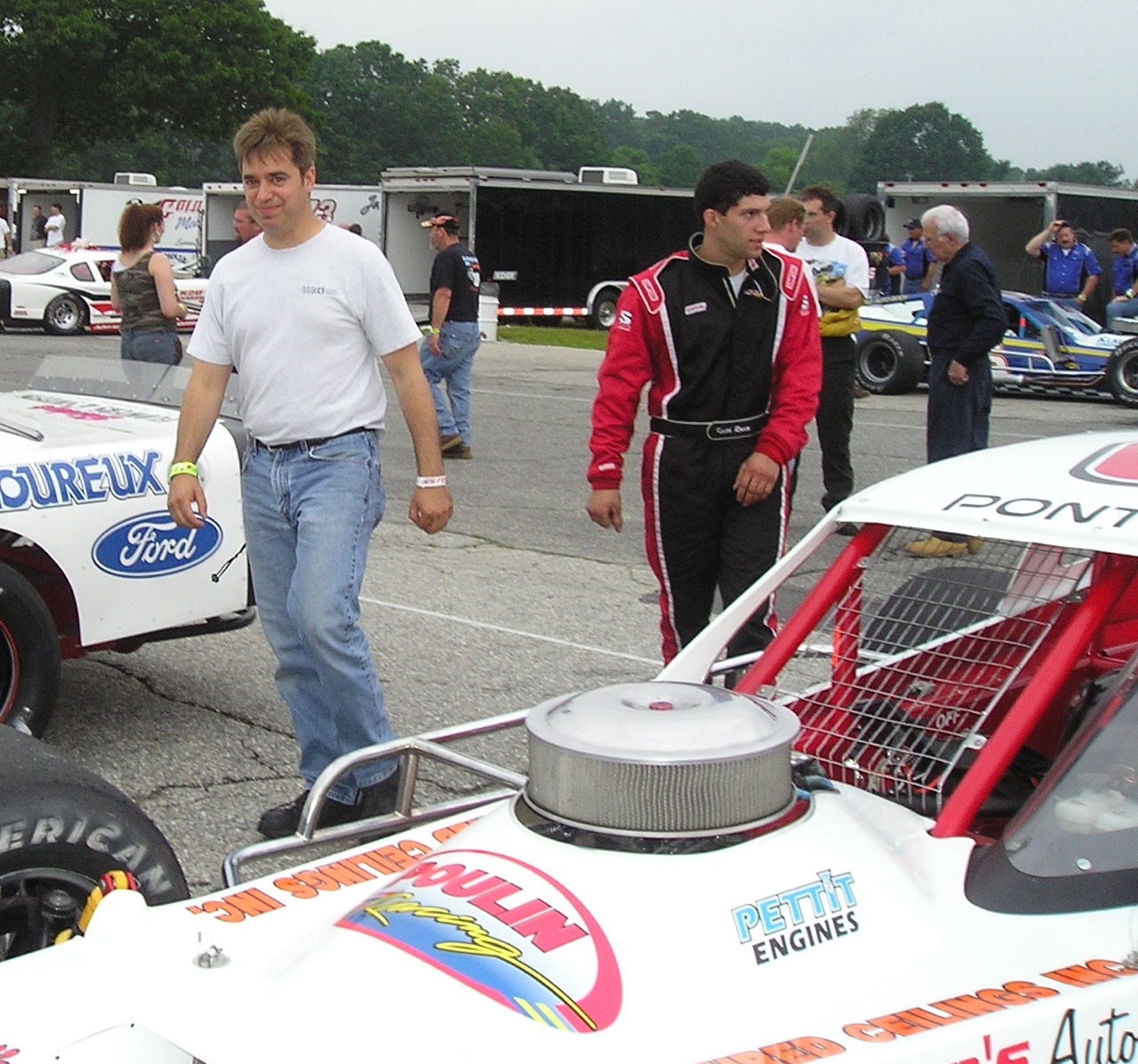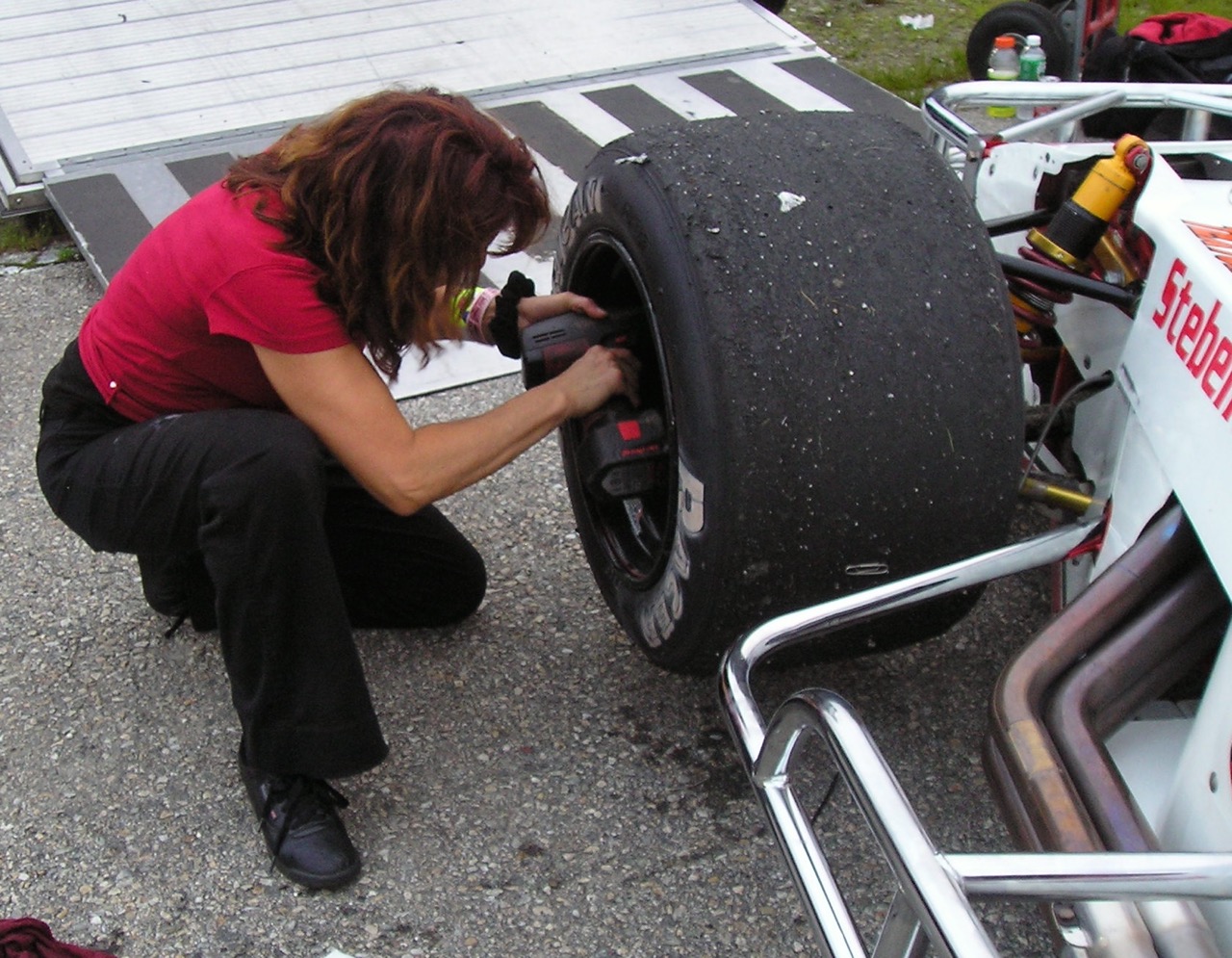 June 30 and July 4th 2006, Stafford. We did not race on June 30 but joined visitors from Canada and other friends, fireworks of course. We raced on Tuesday July 4th, from my notes...weather was oppressive.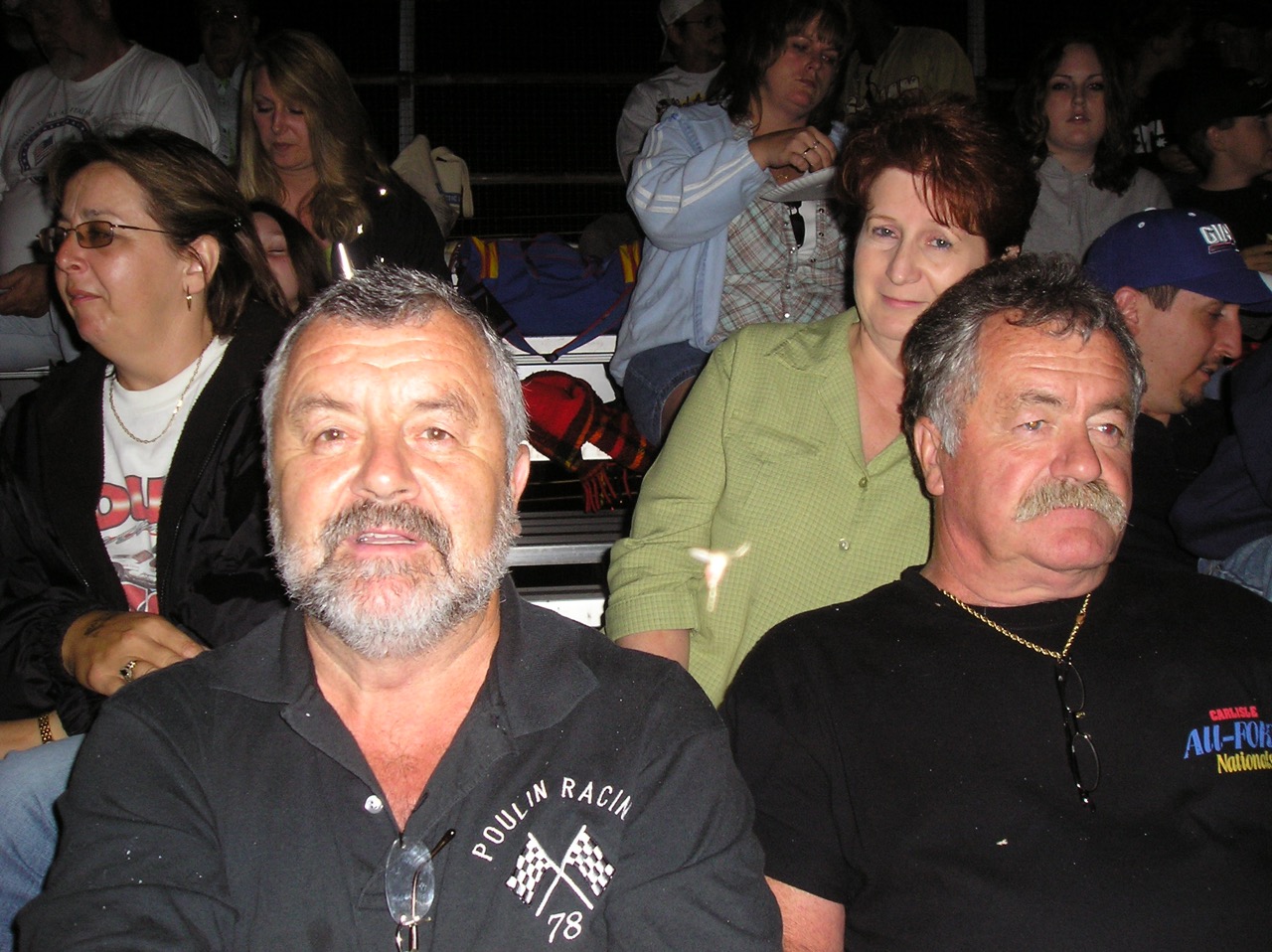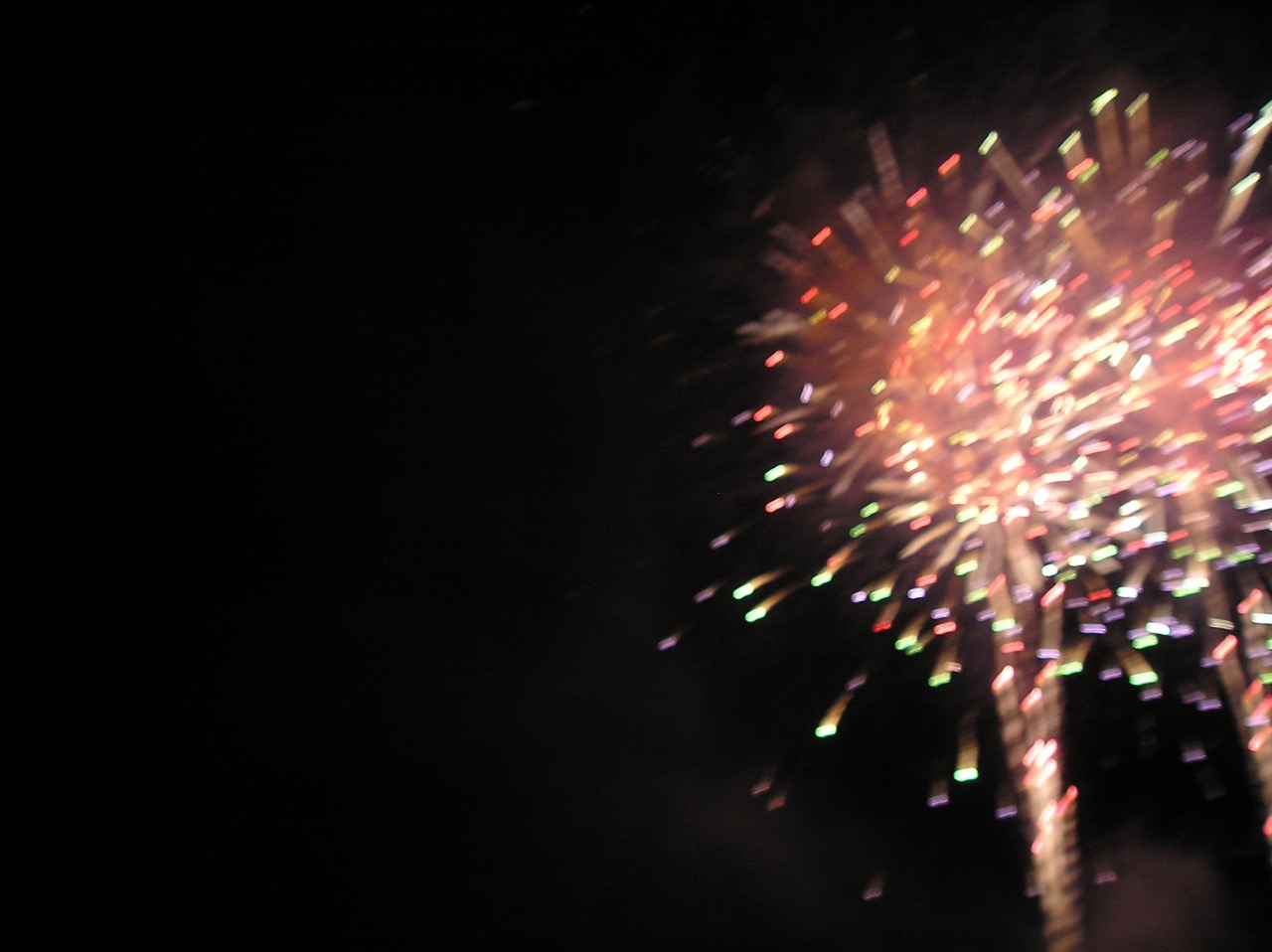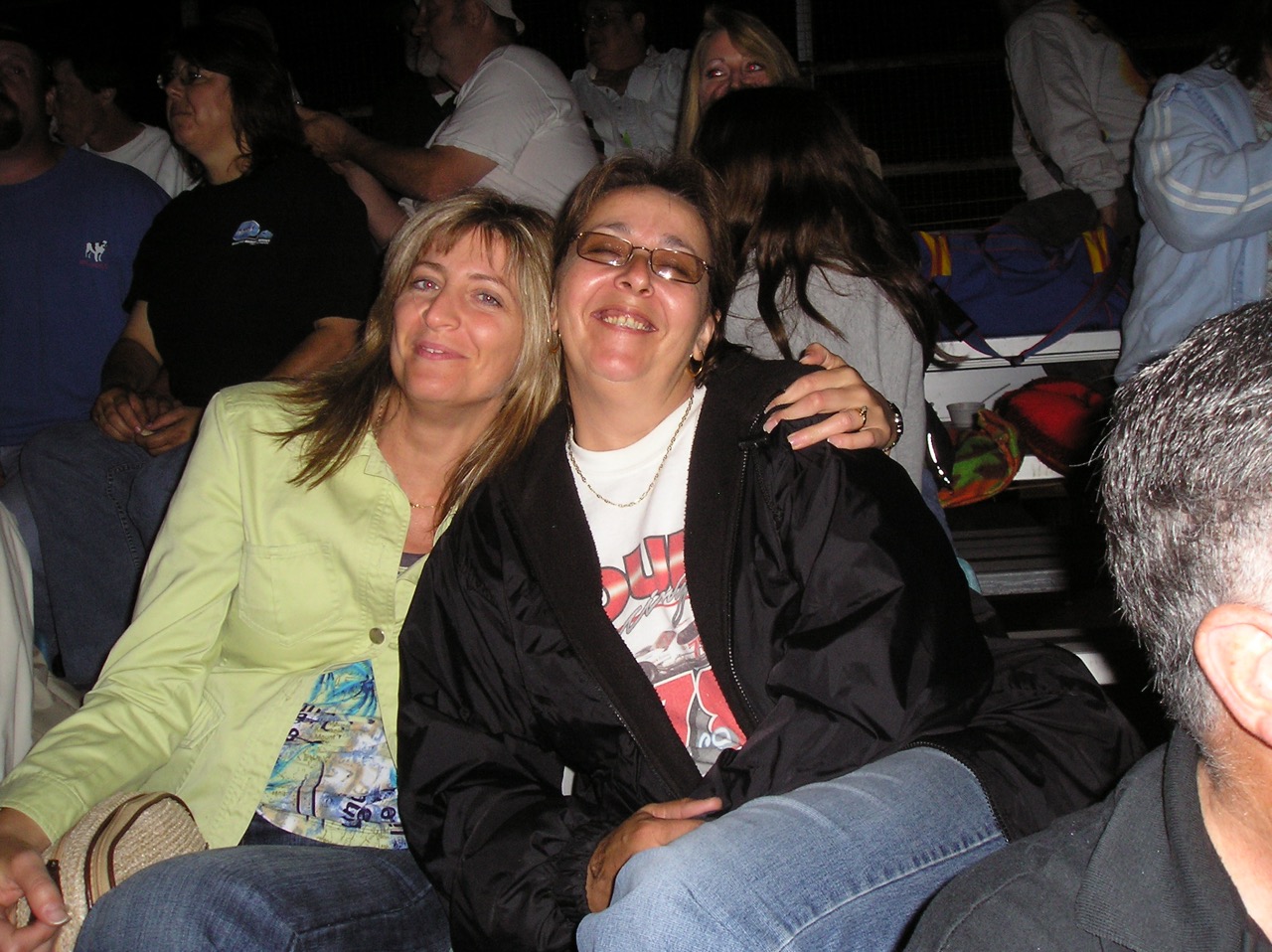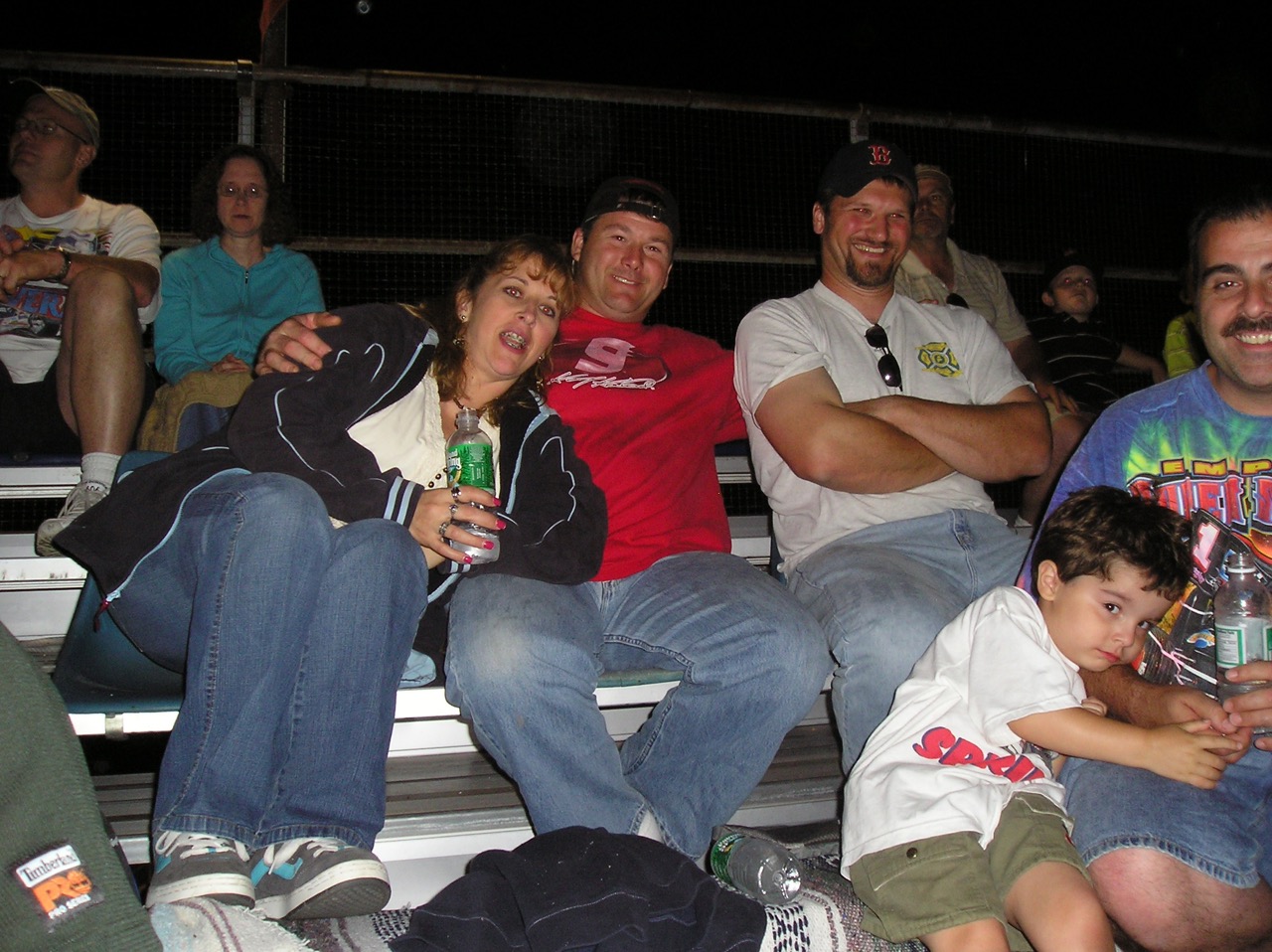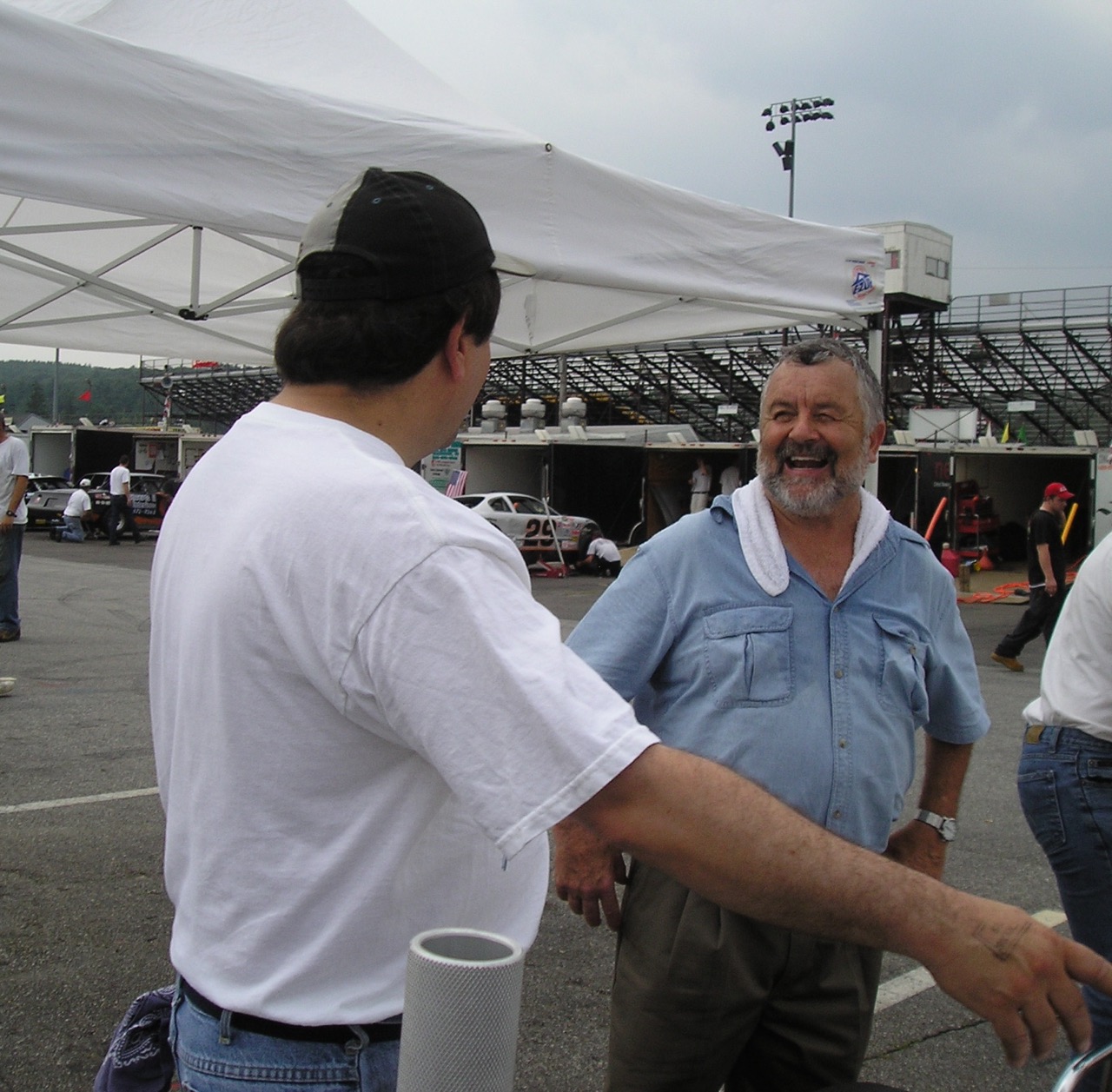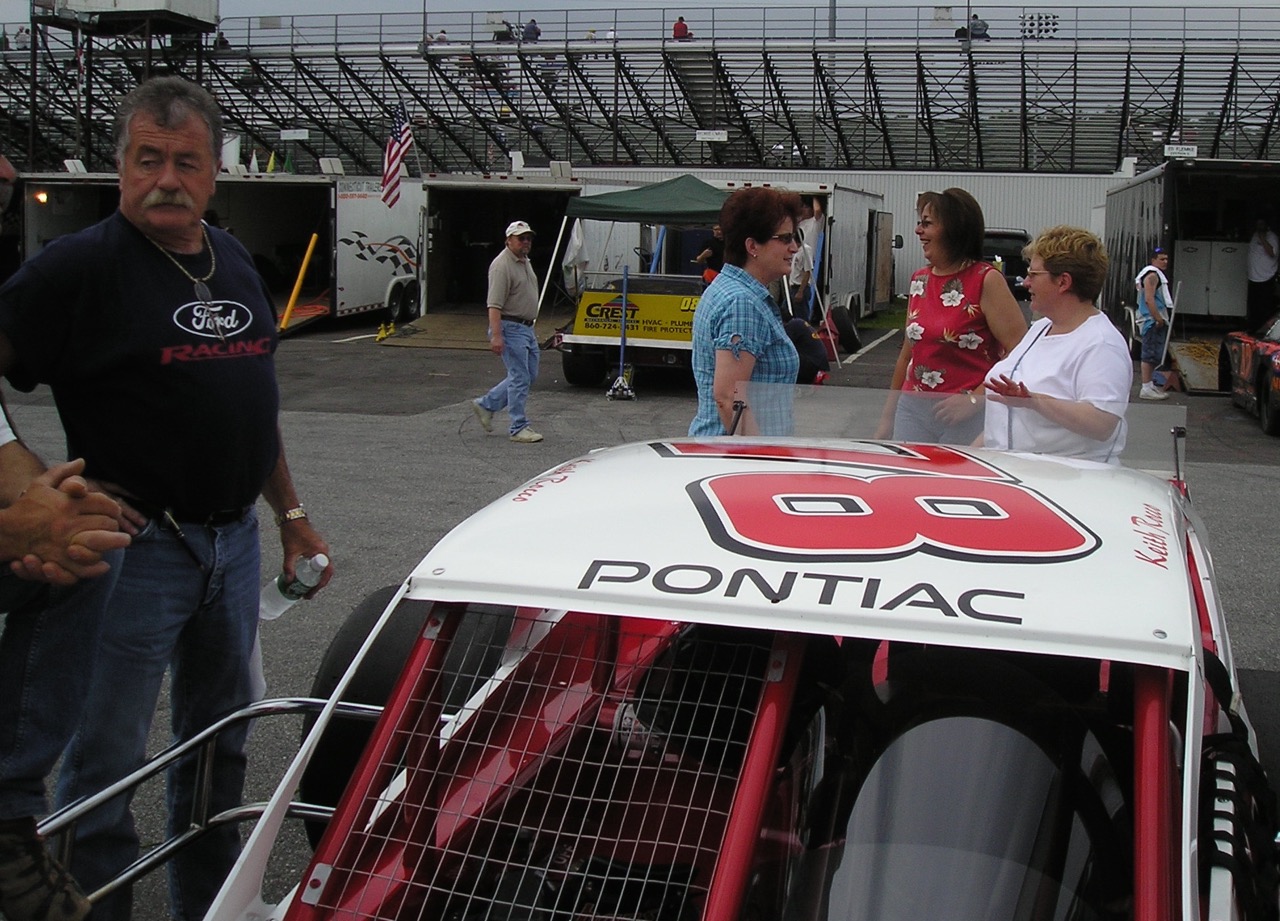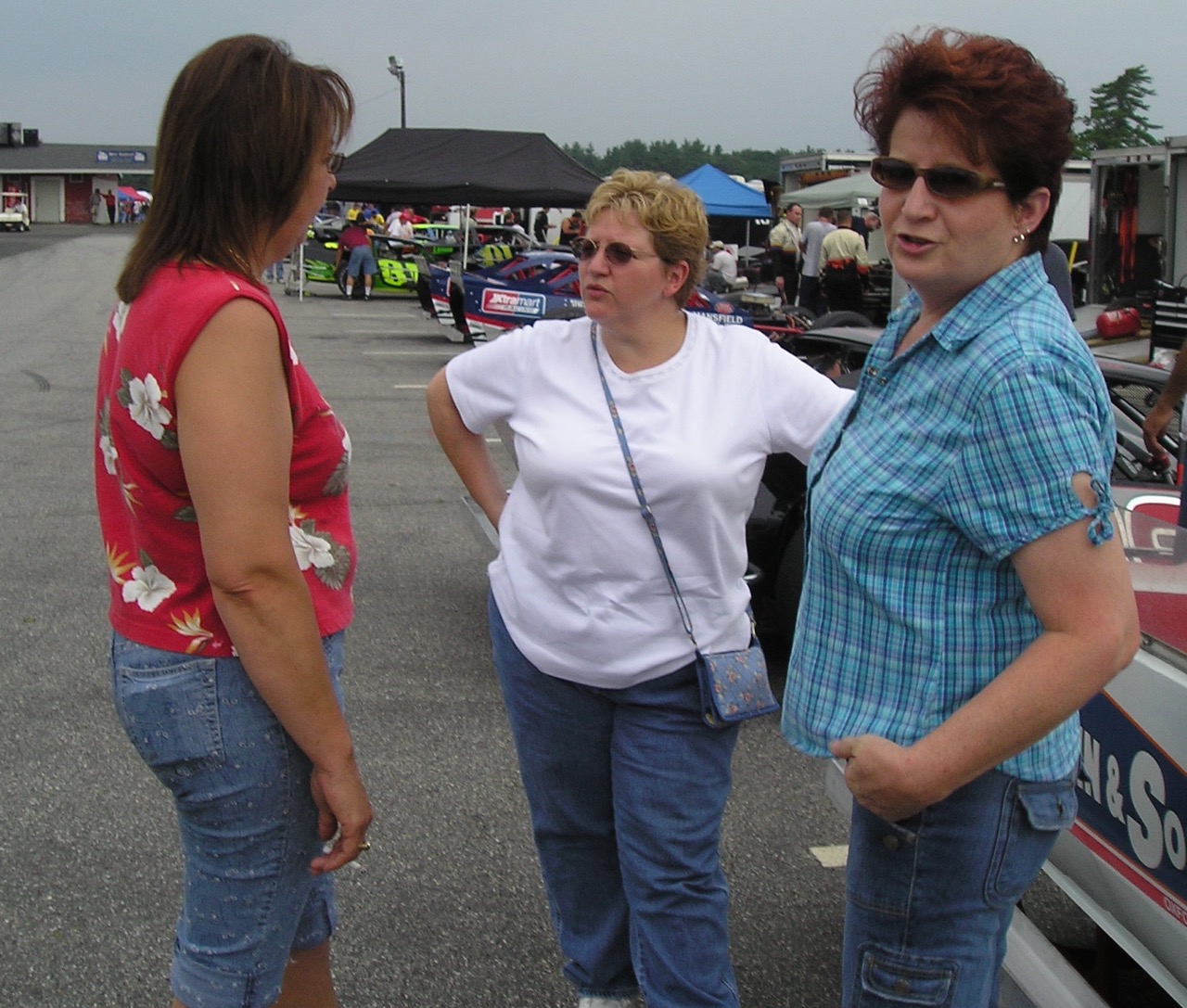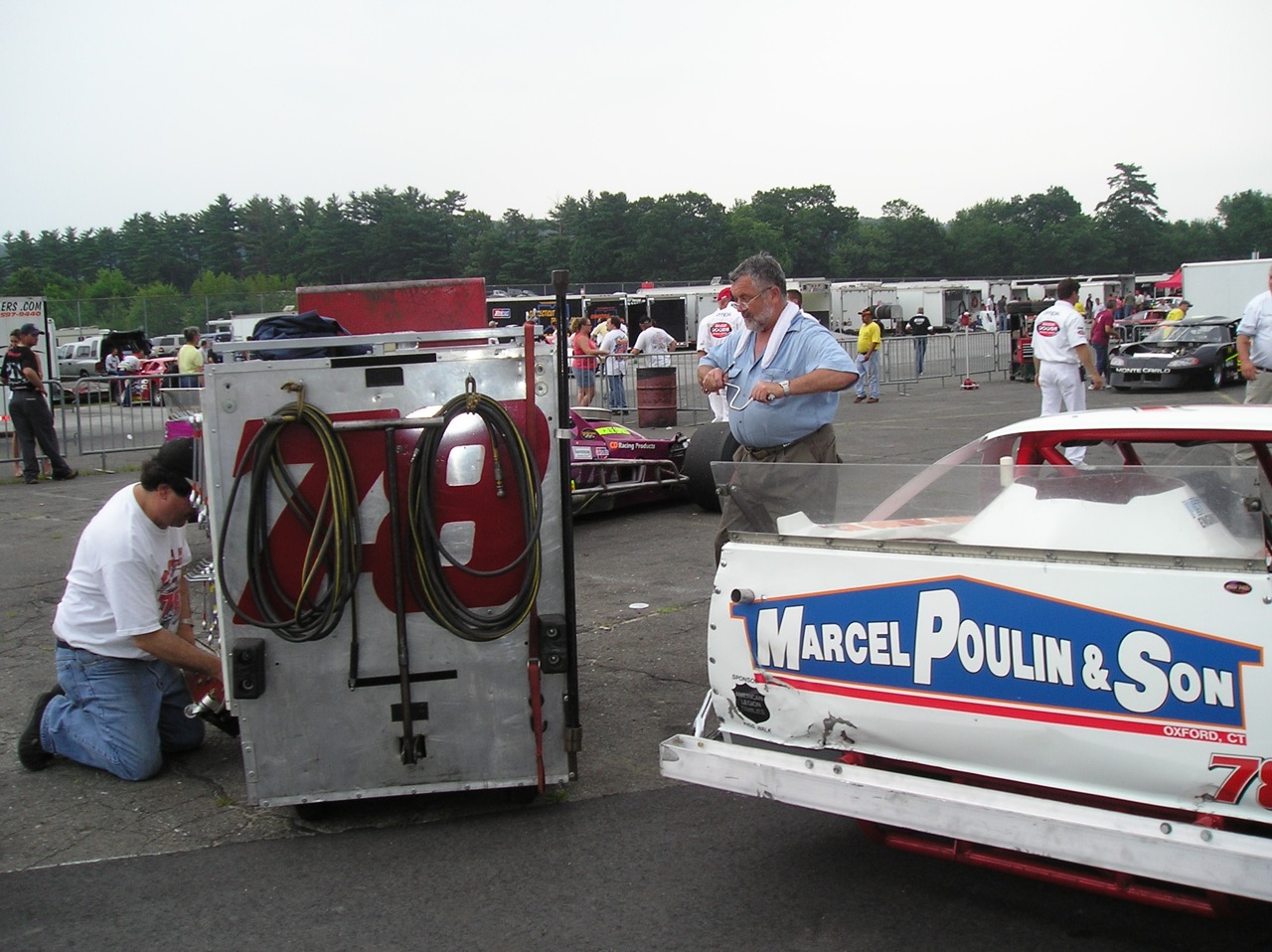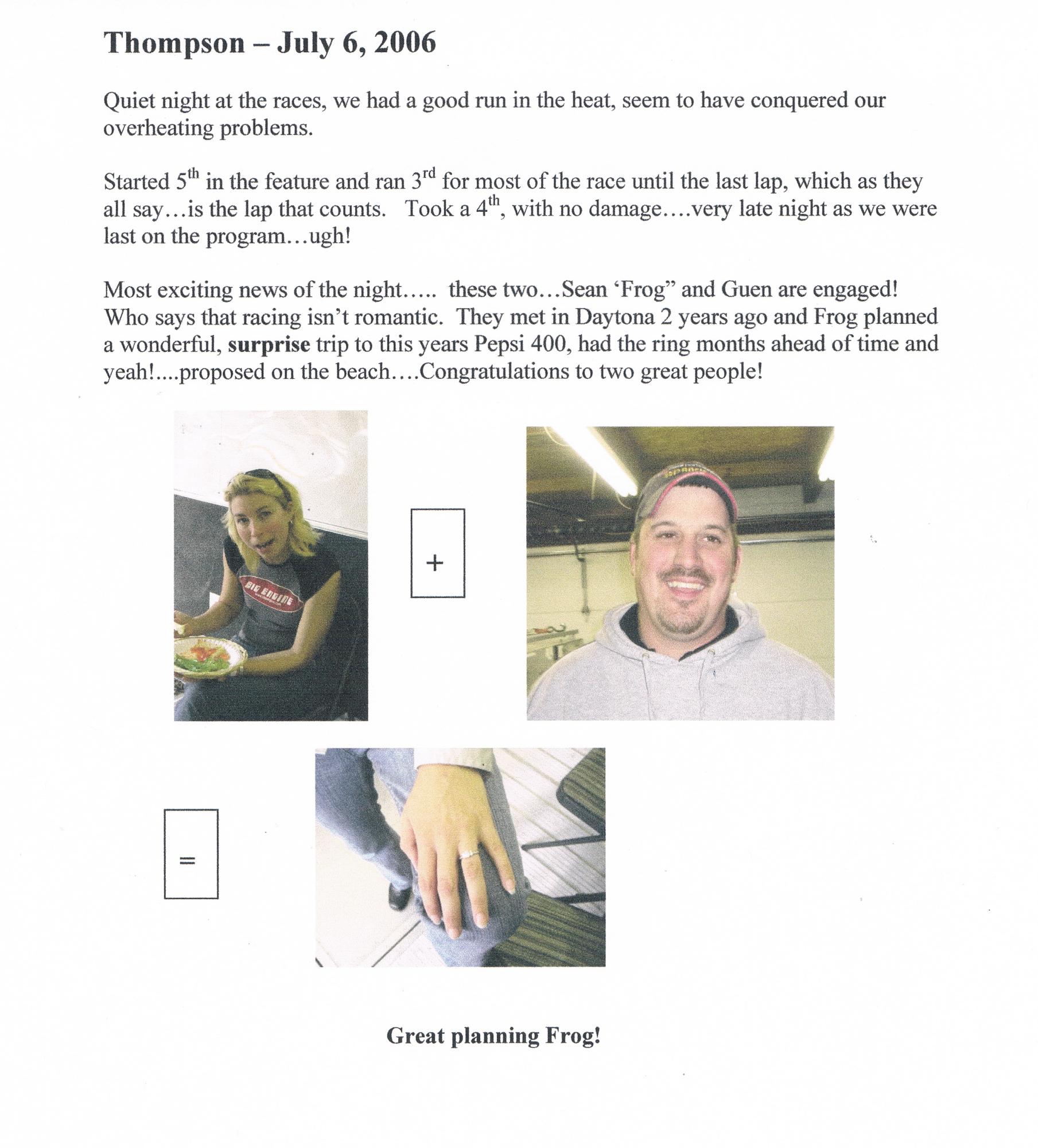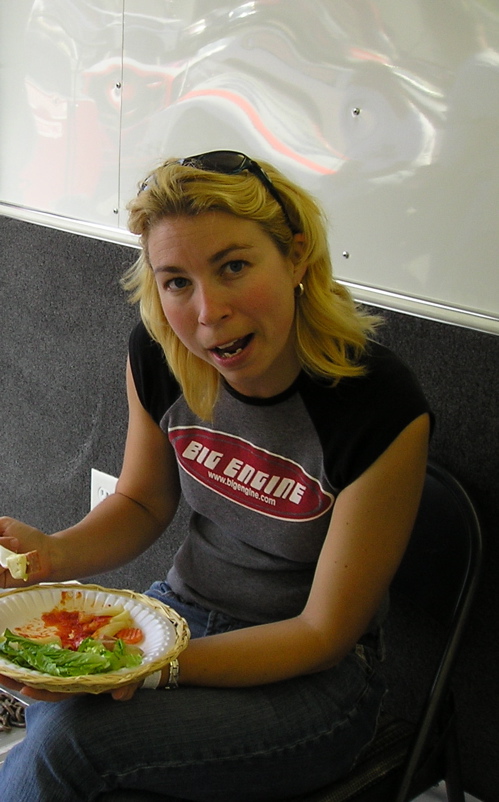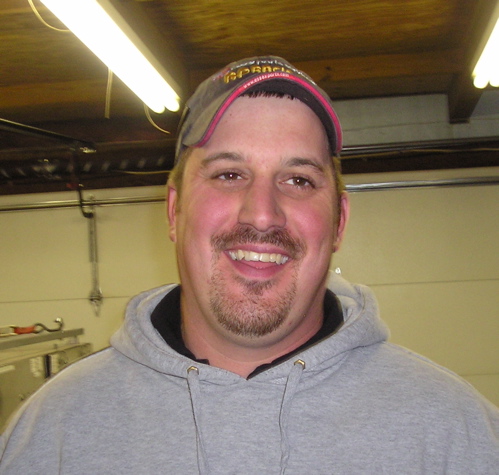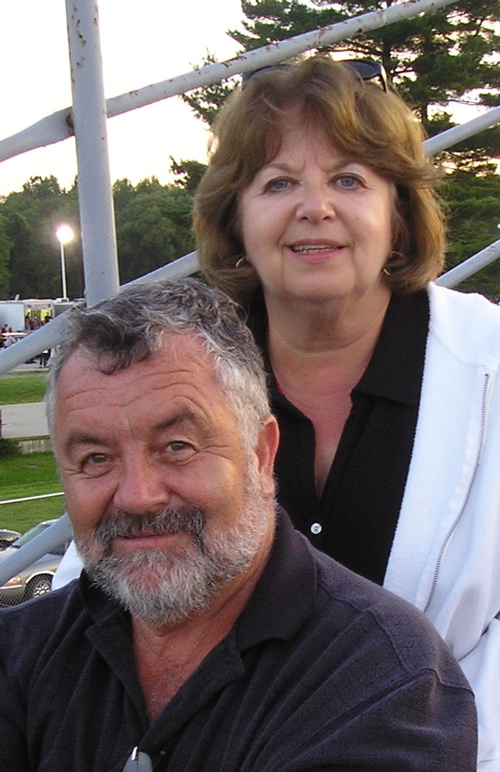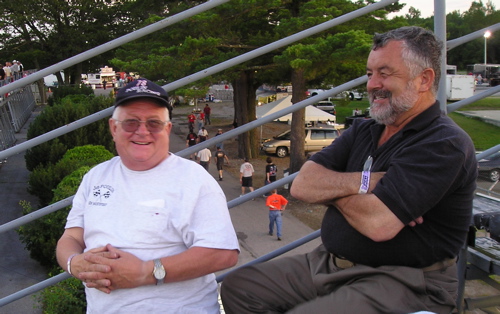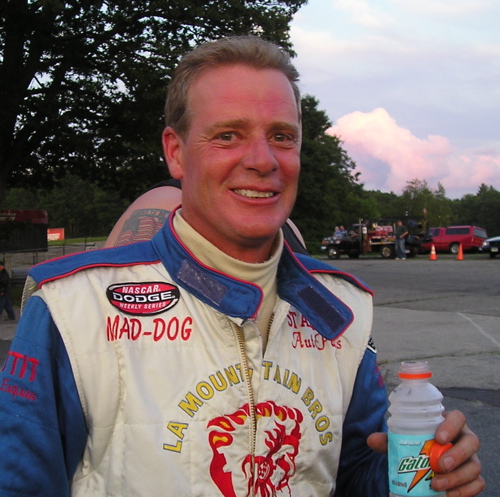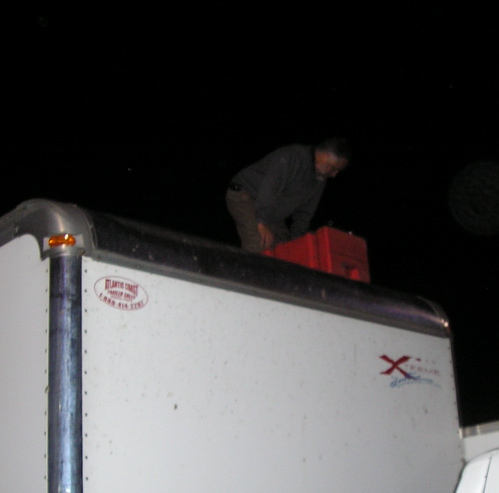 Still problems with generator....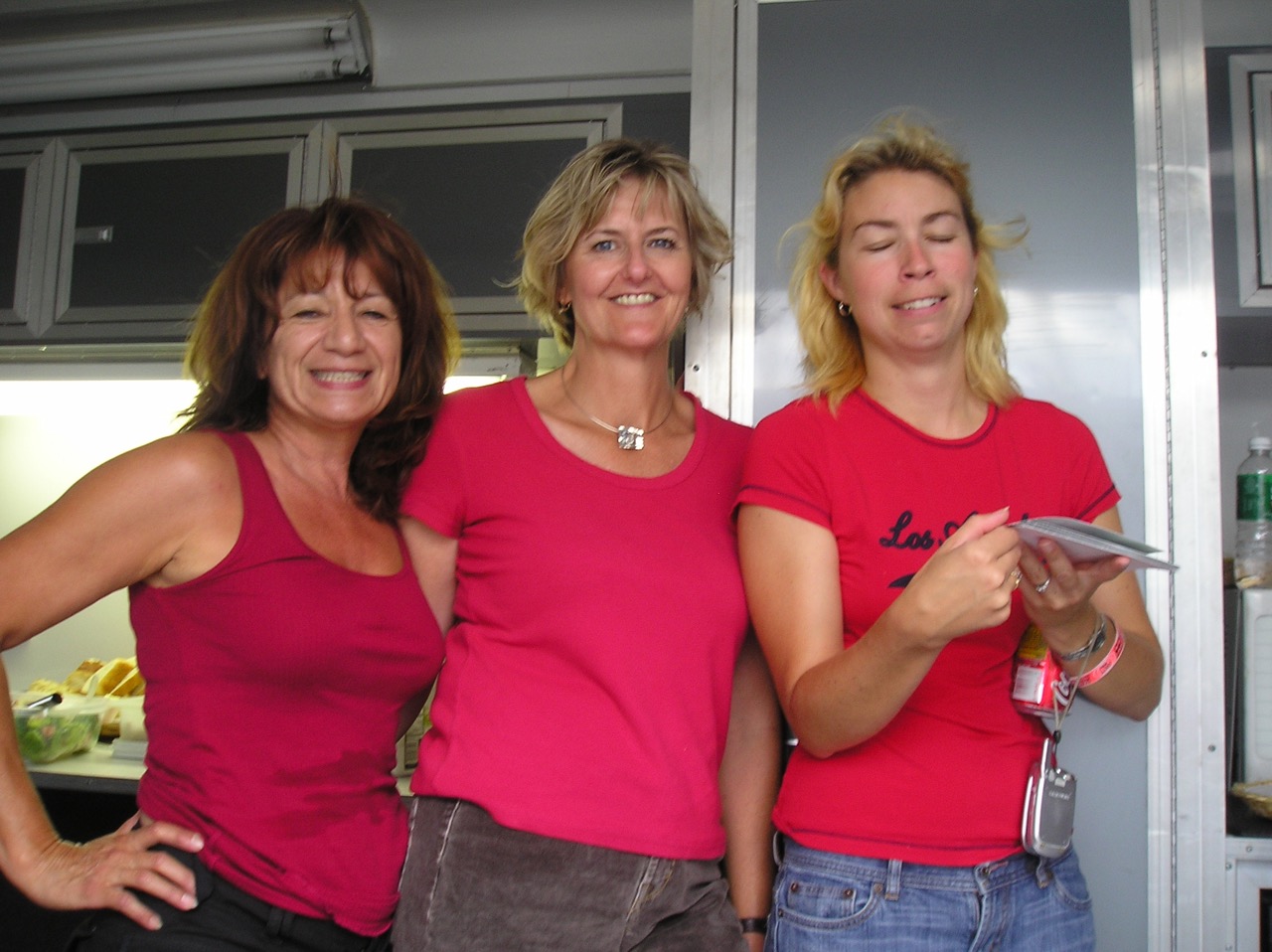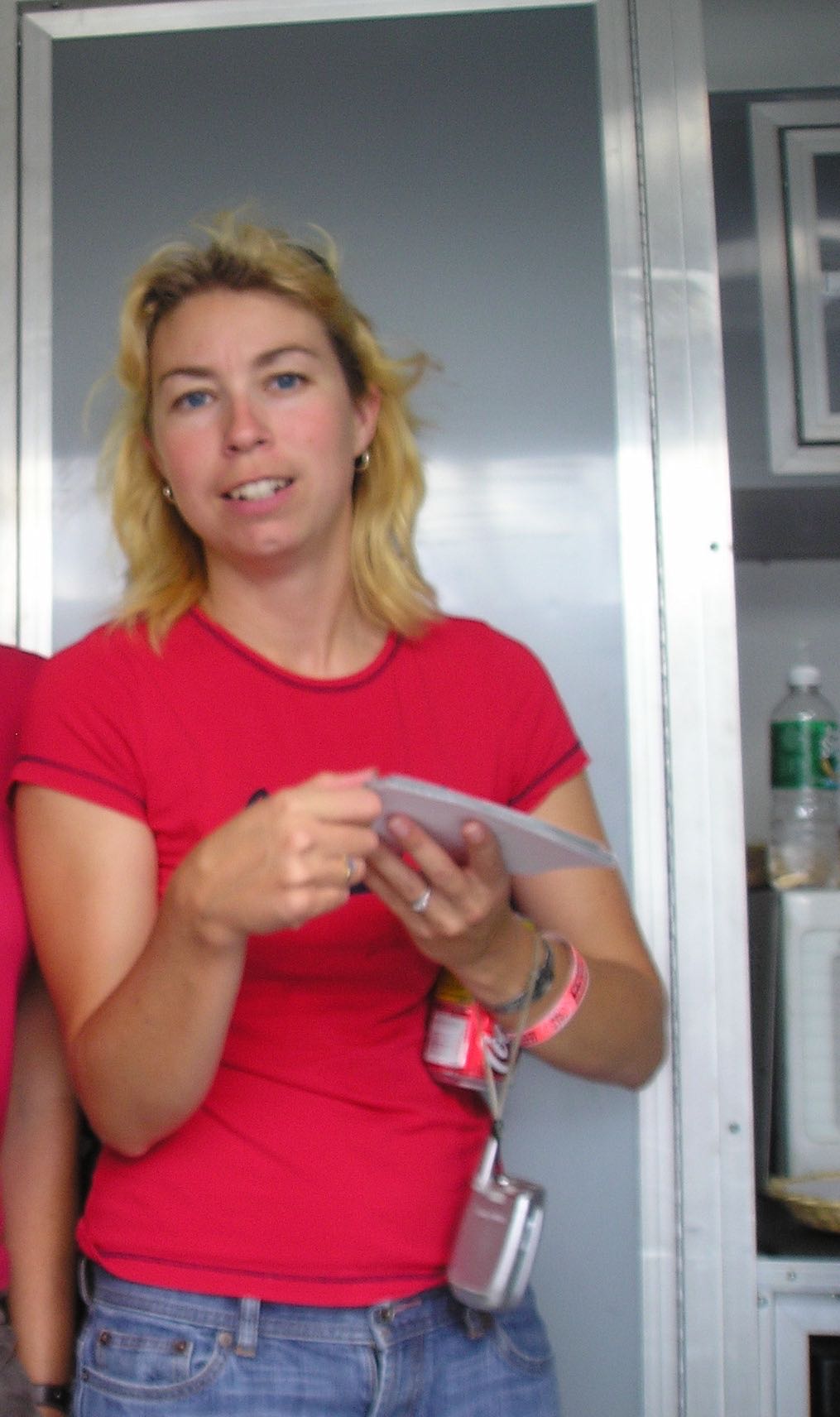 Ladies in red...this is a cropped photo because it's tough to get everybody smiling, eyes open...you know!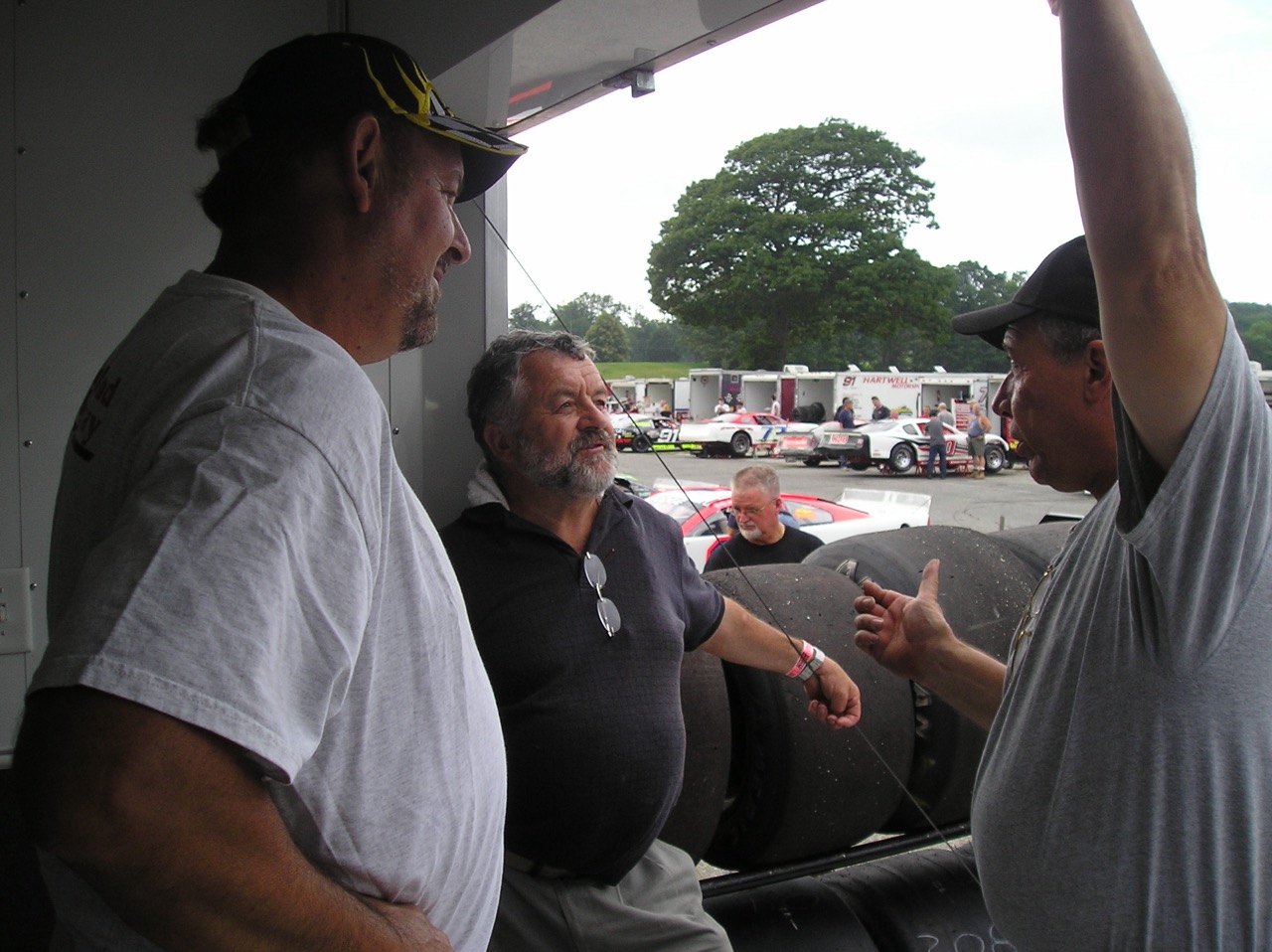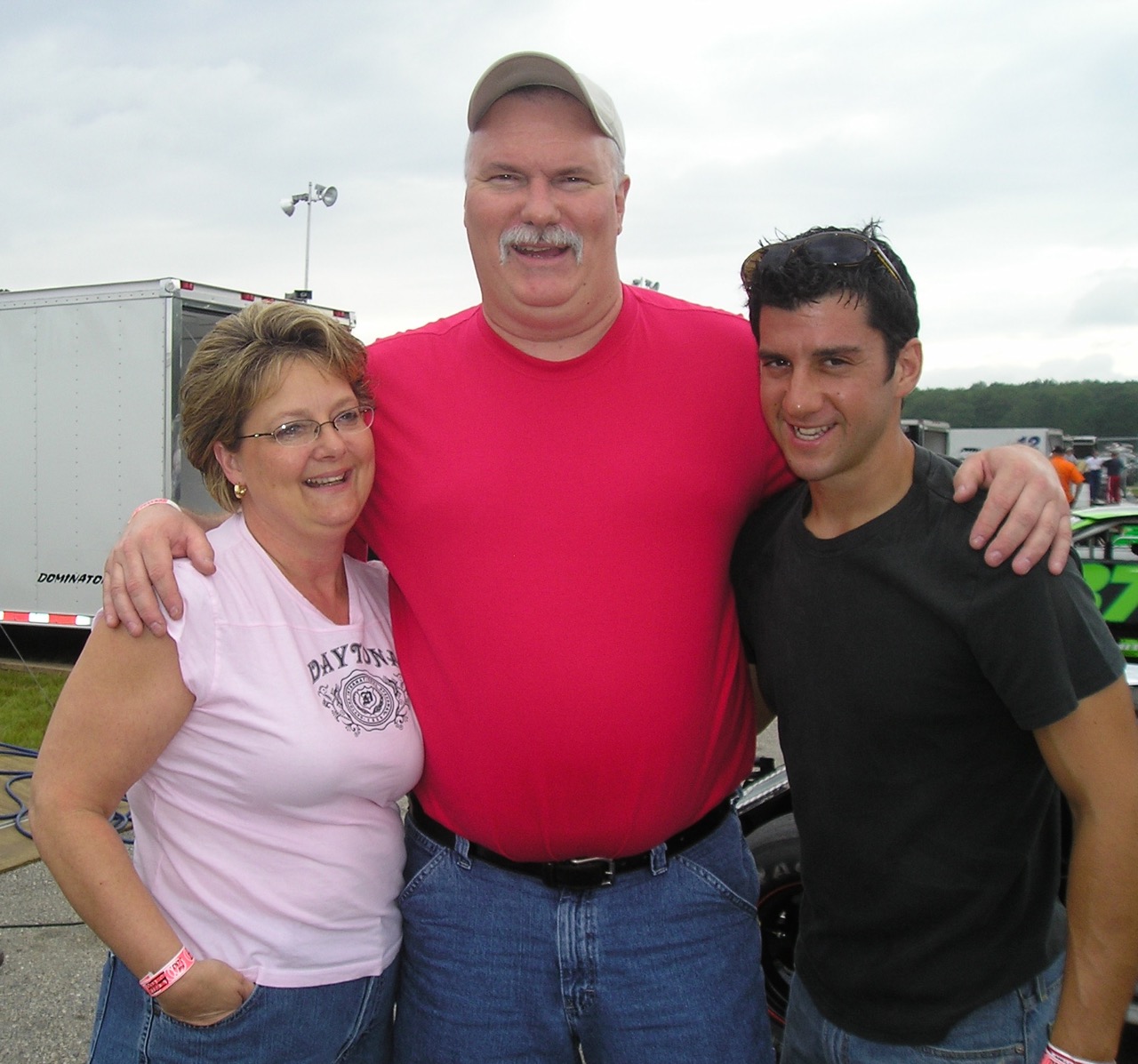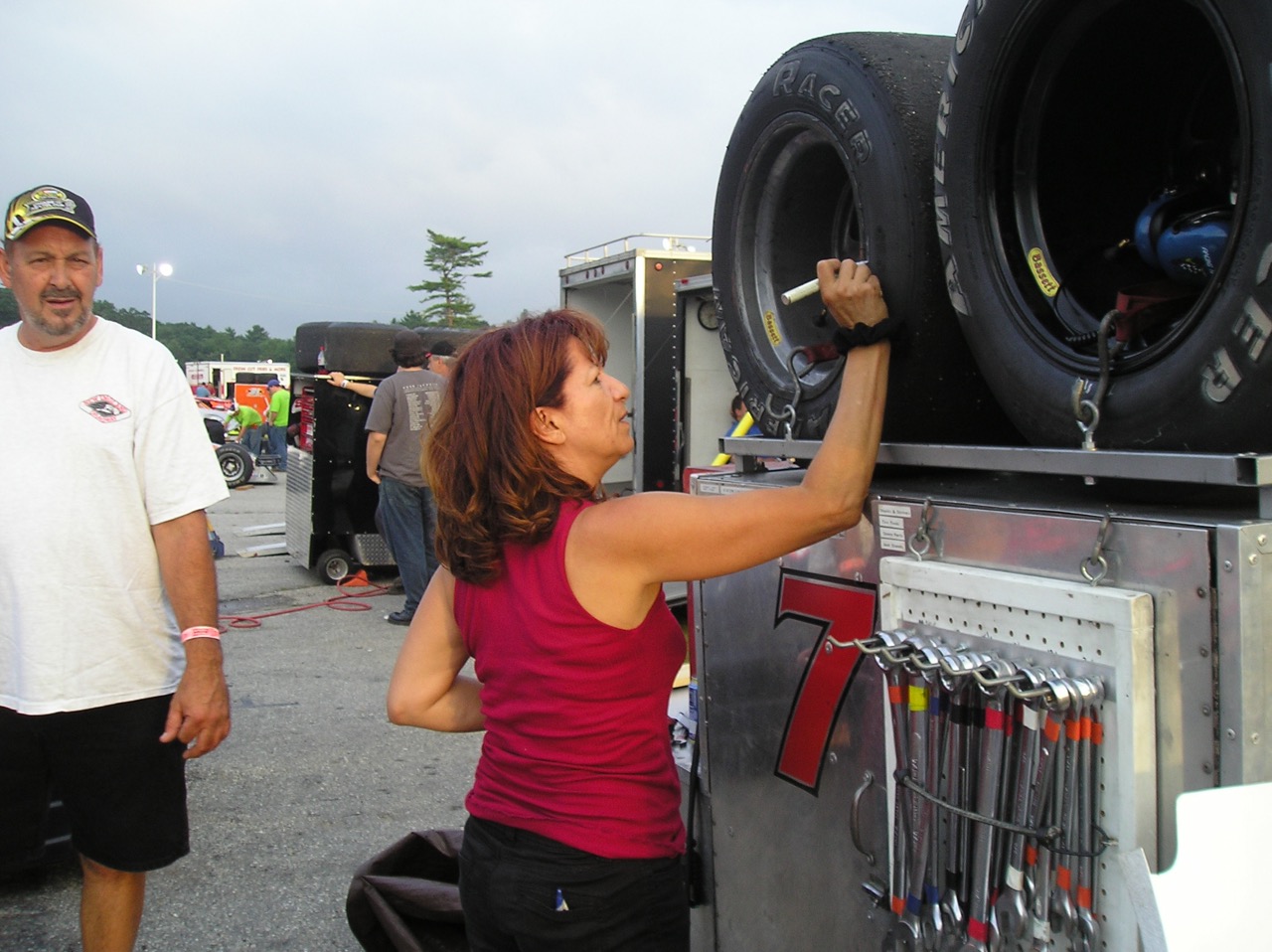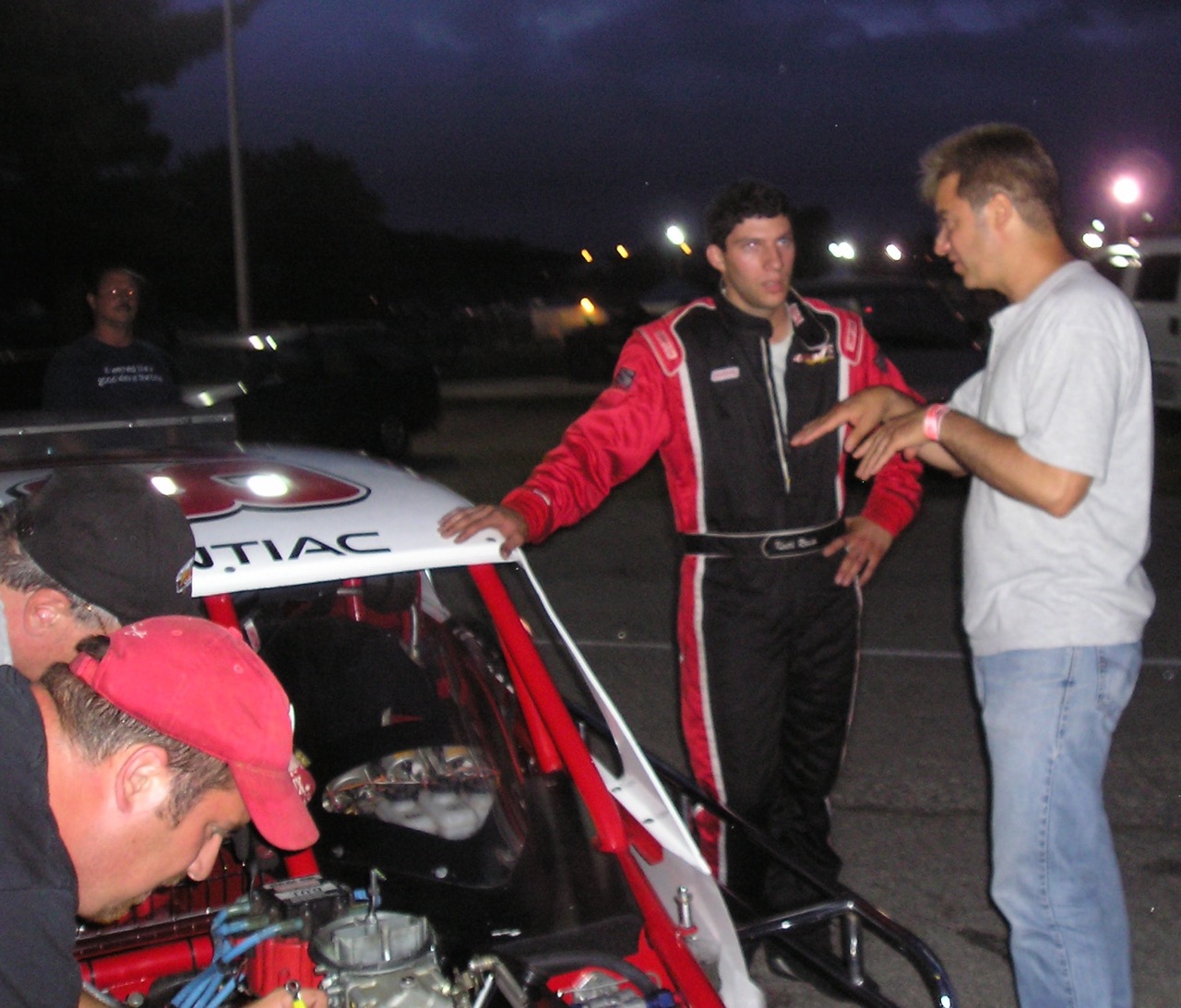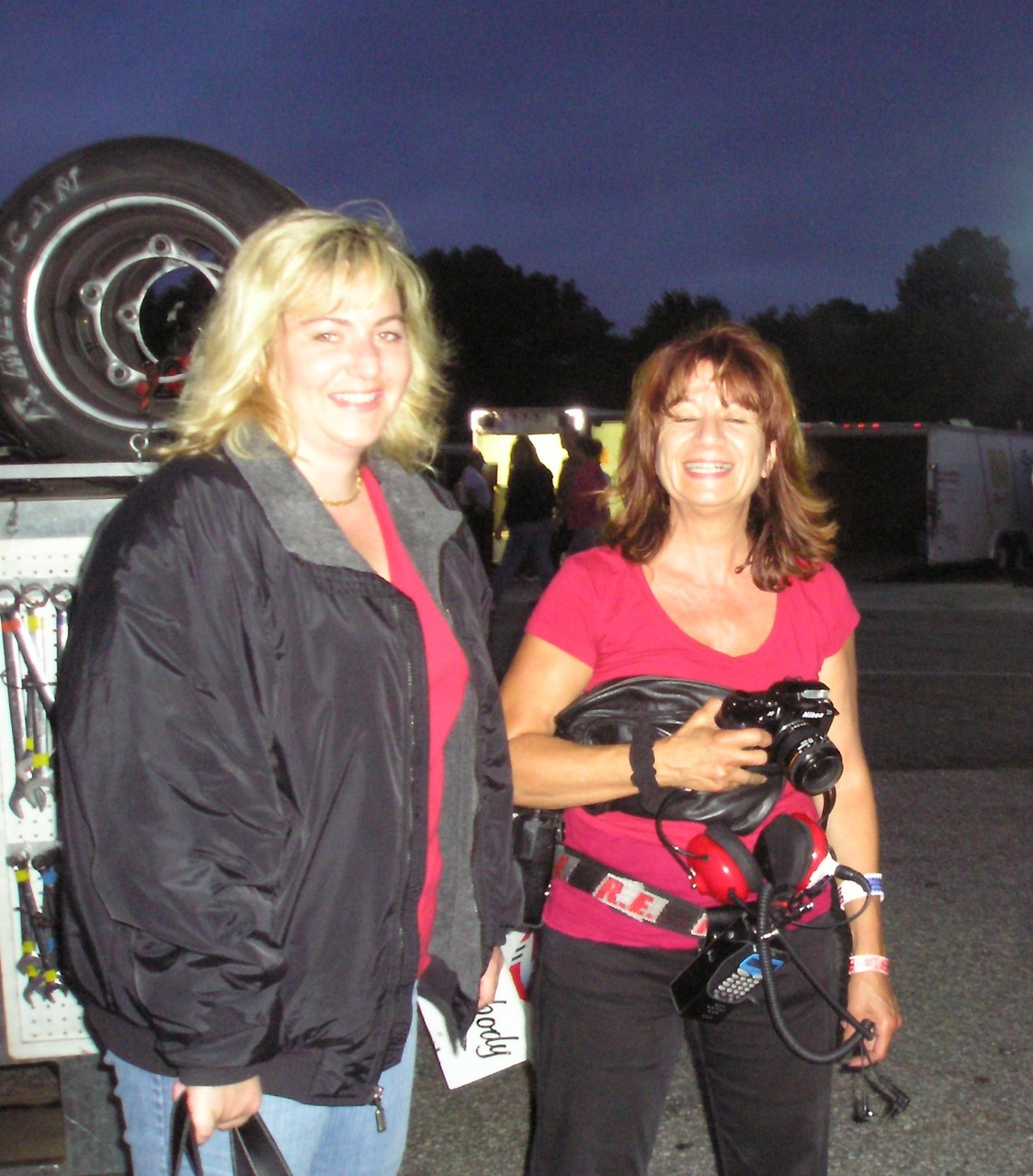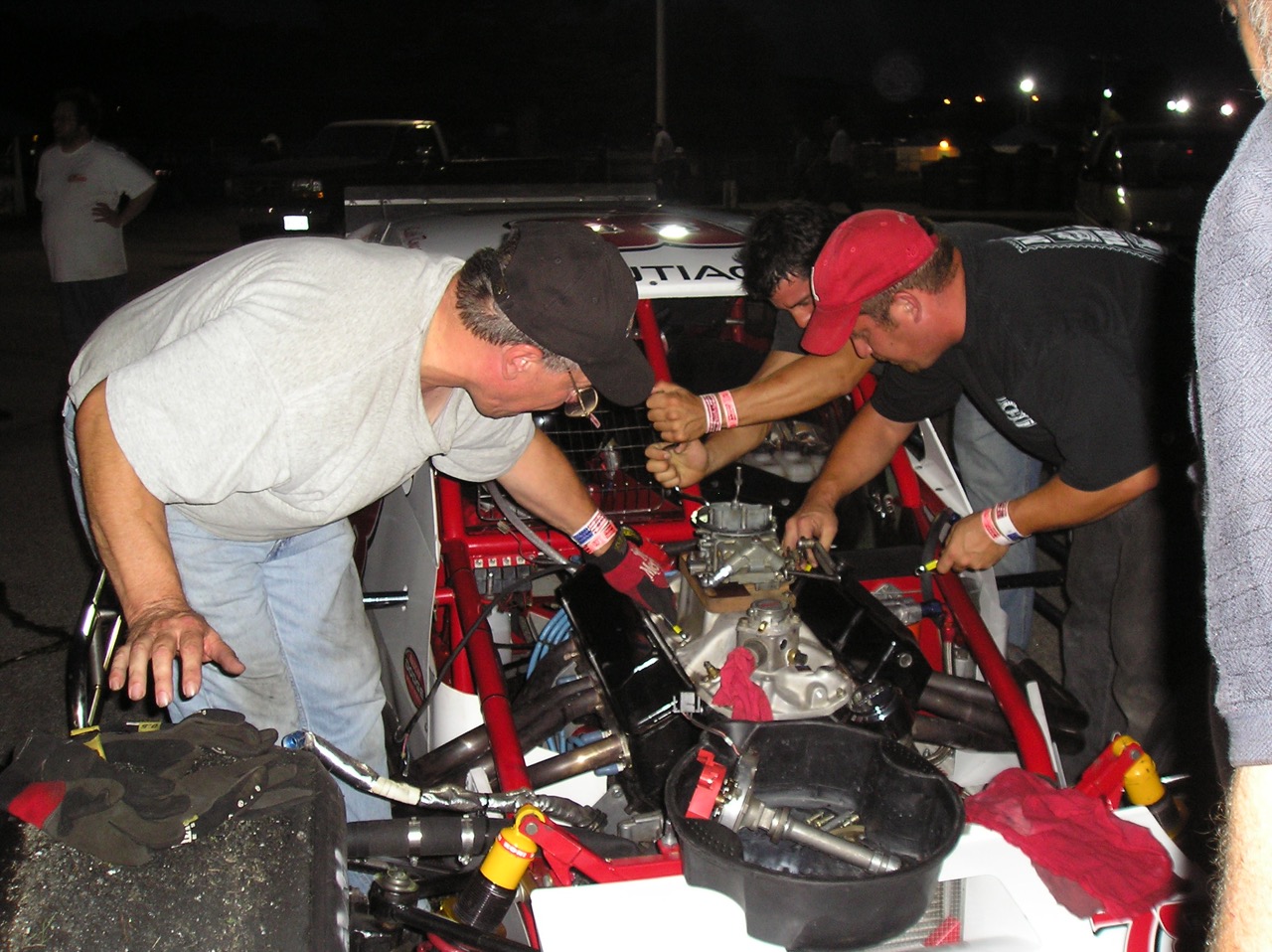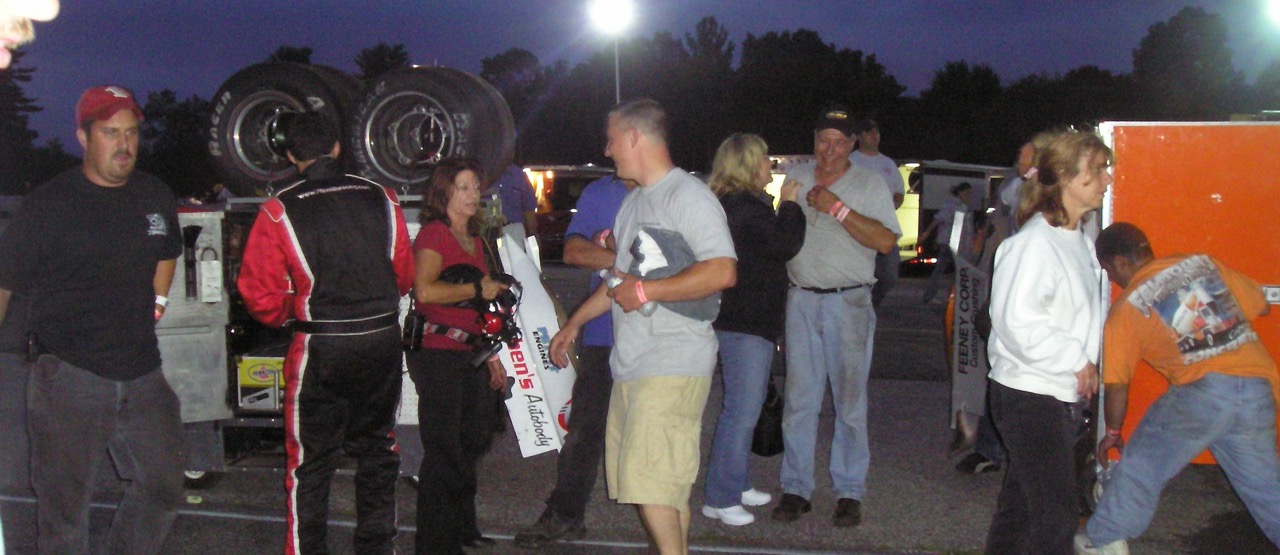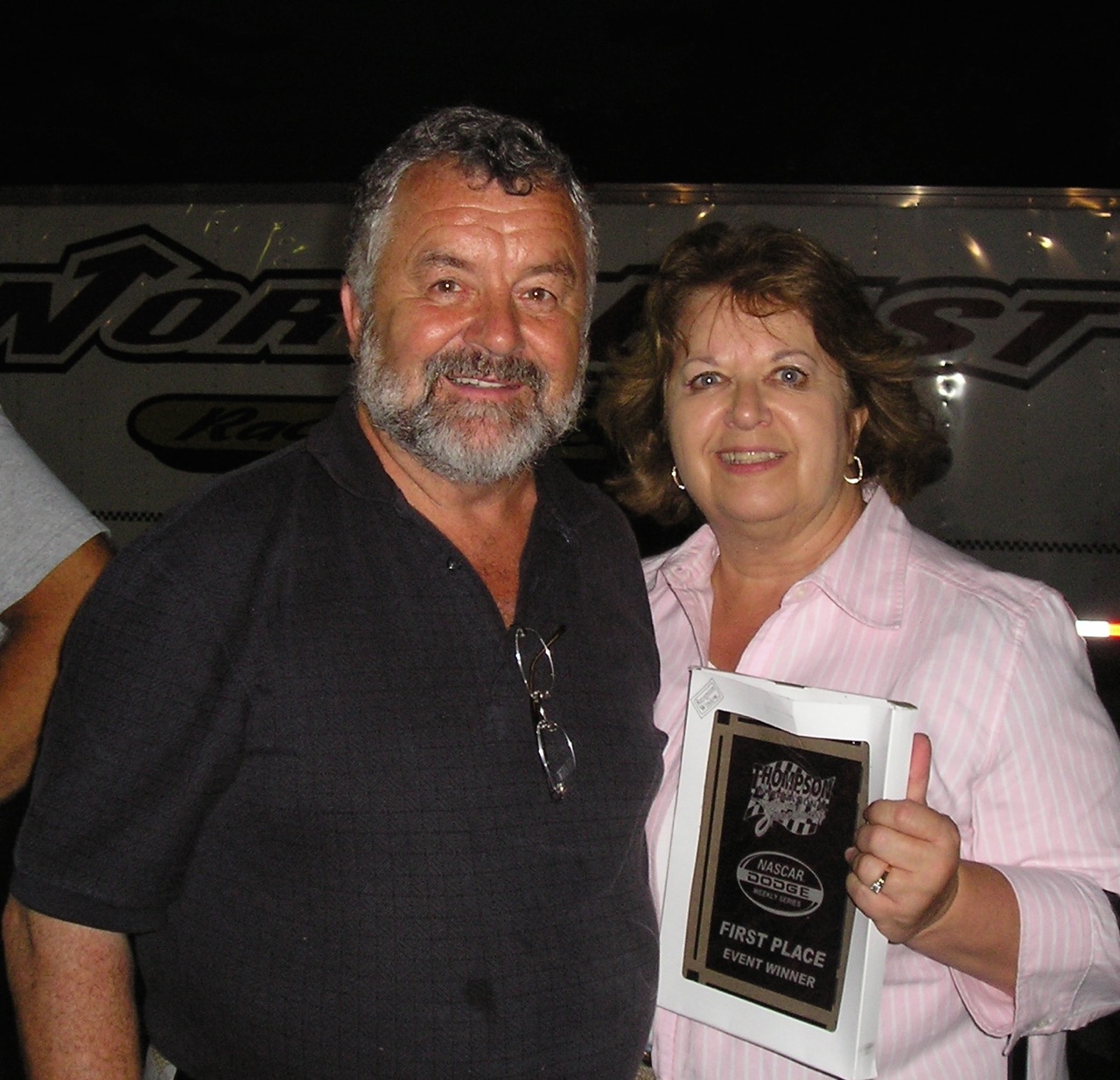 The skies threatened all day, but we sent her out and it turned out to be a very good night!!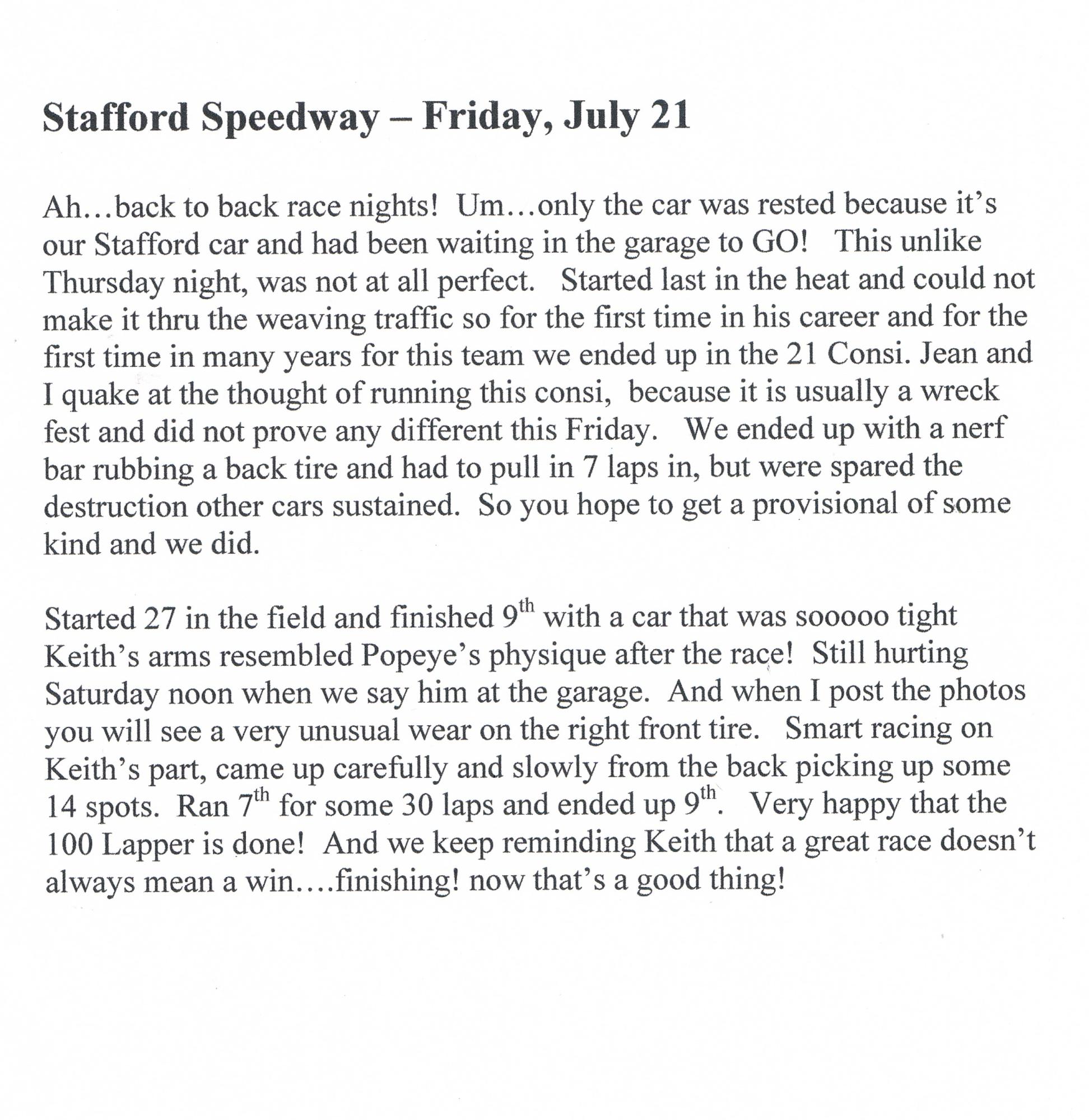 Always great to have 'old'friends visiting and Chris and Kate left all the kids at home and enjoyed the night!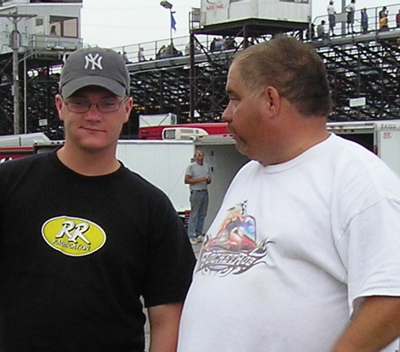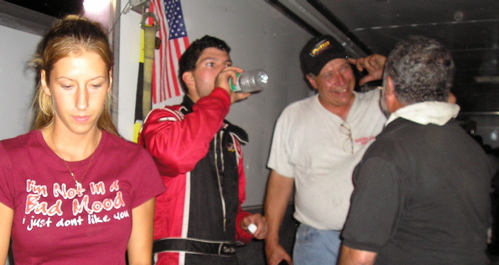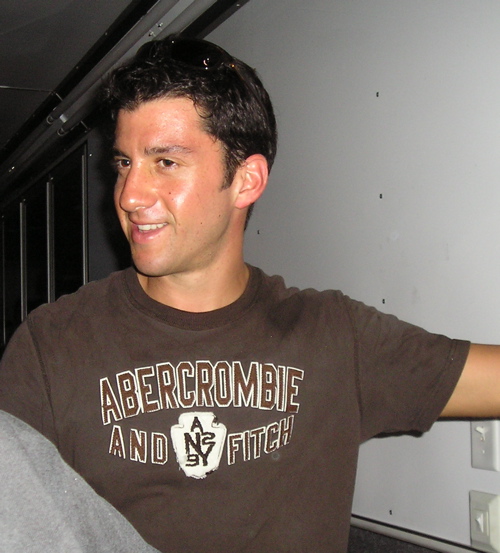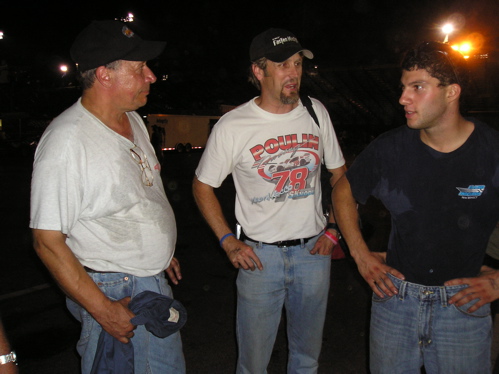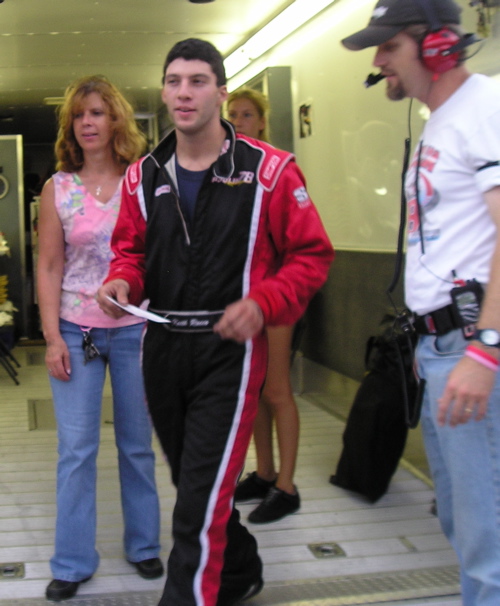 100 Lapper, tight car, strange tire wear!!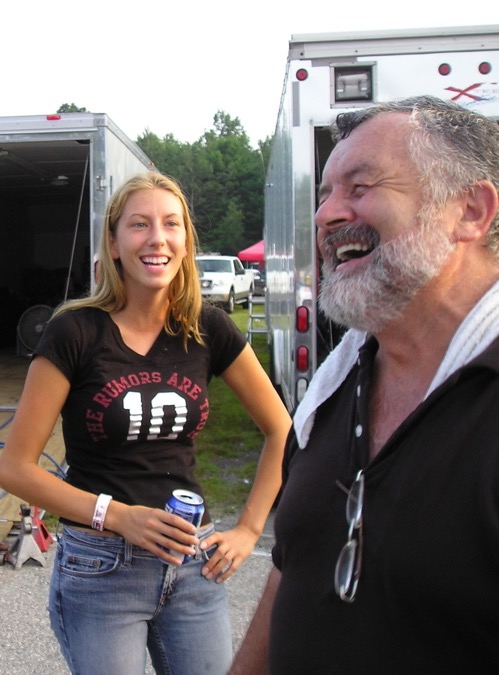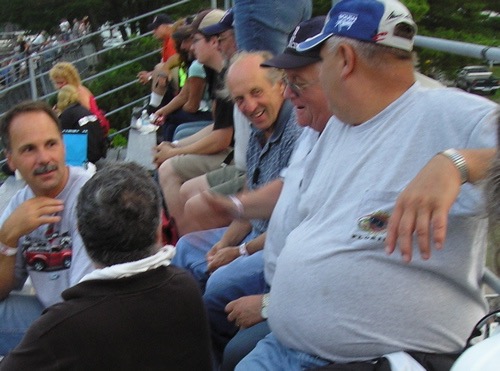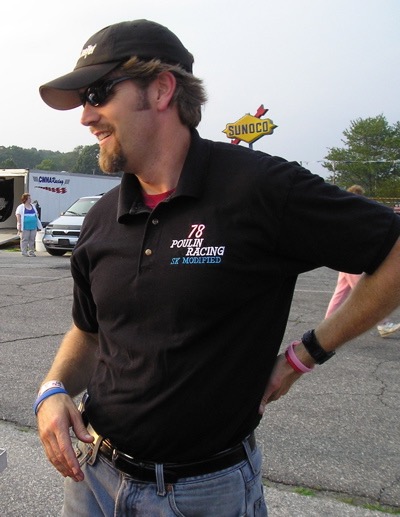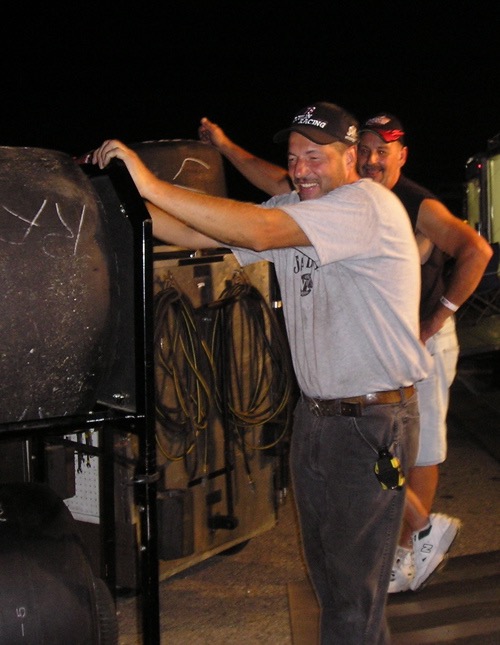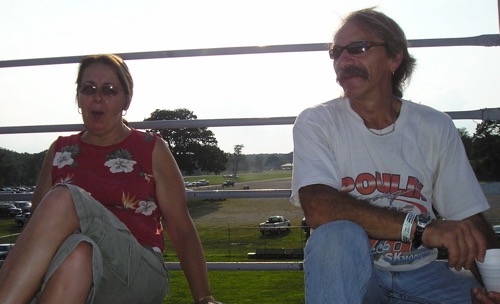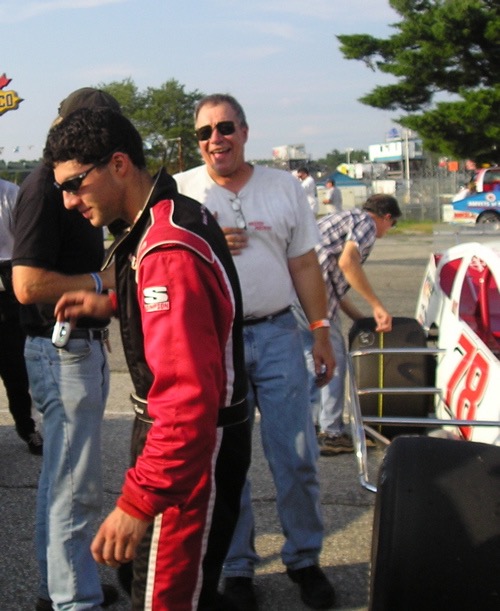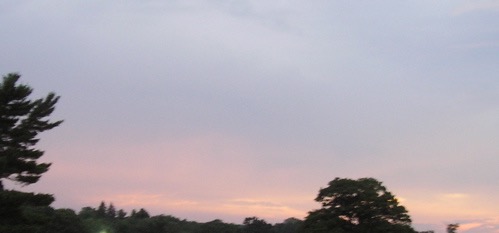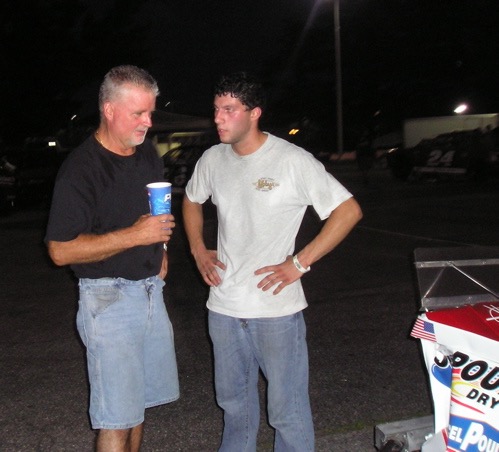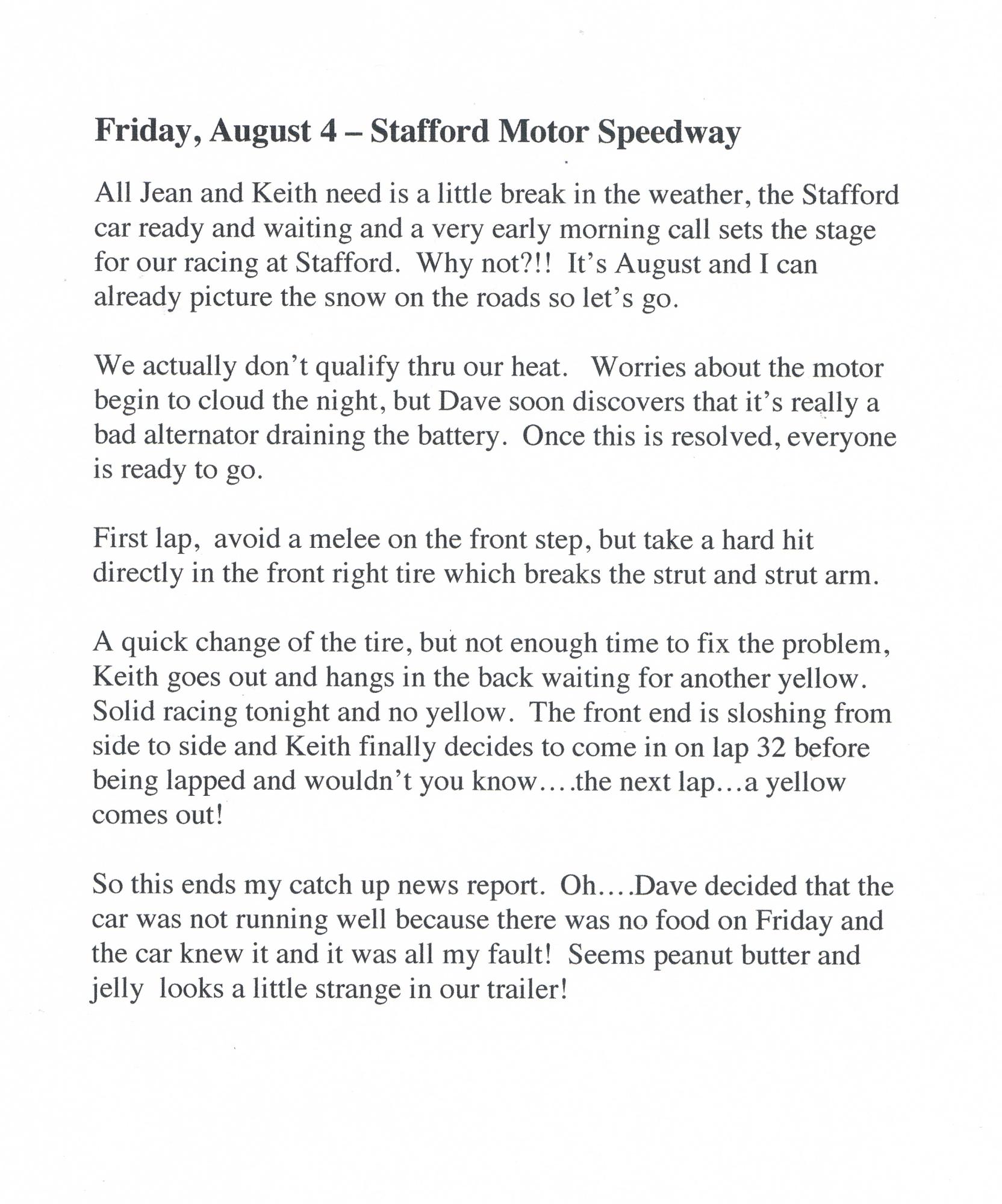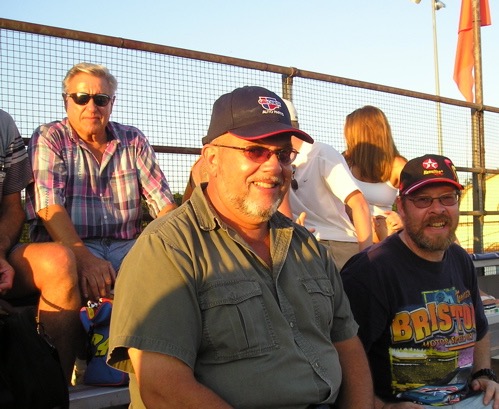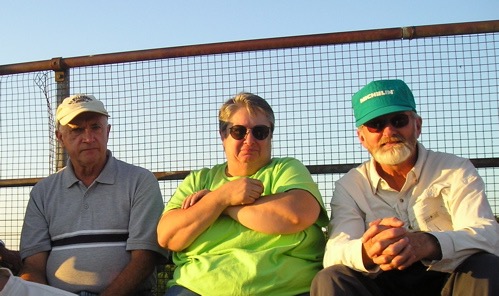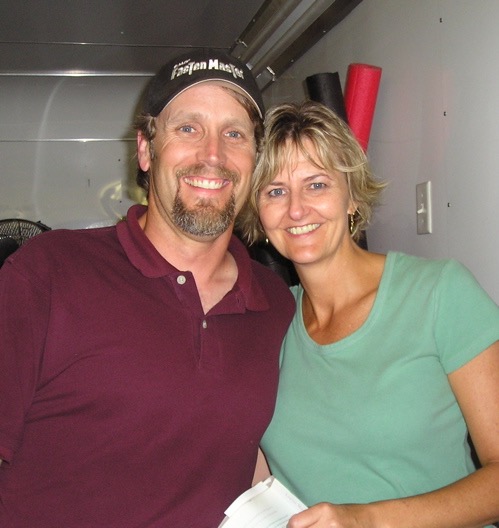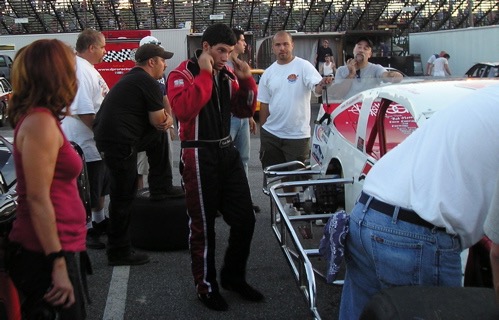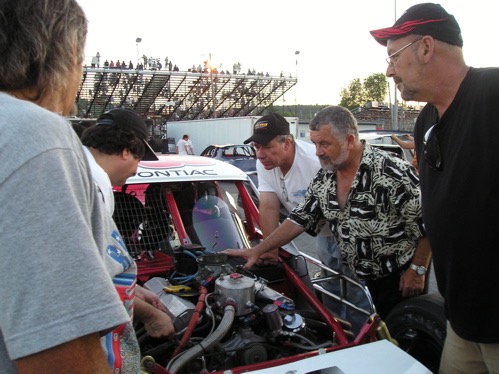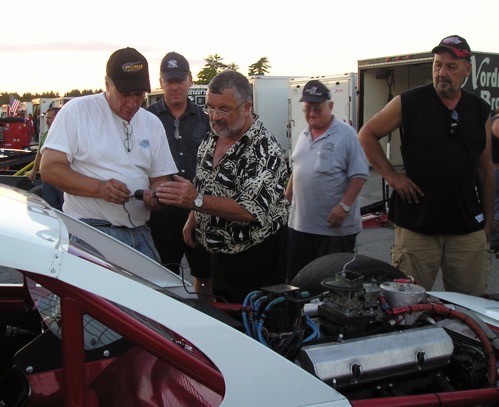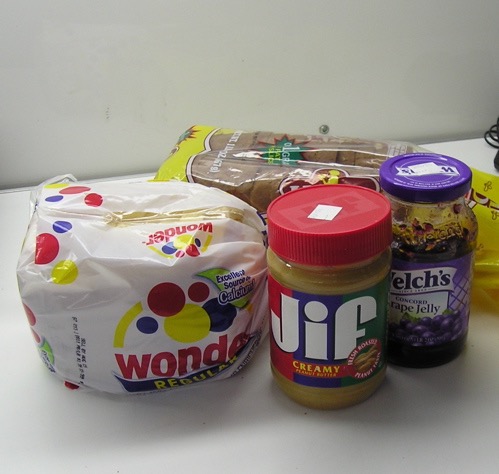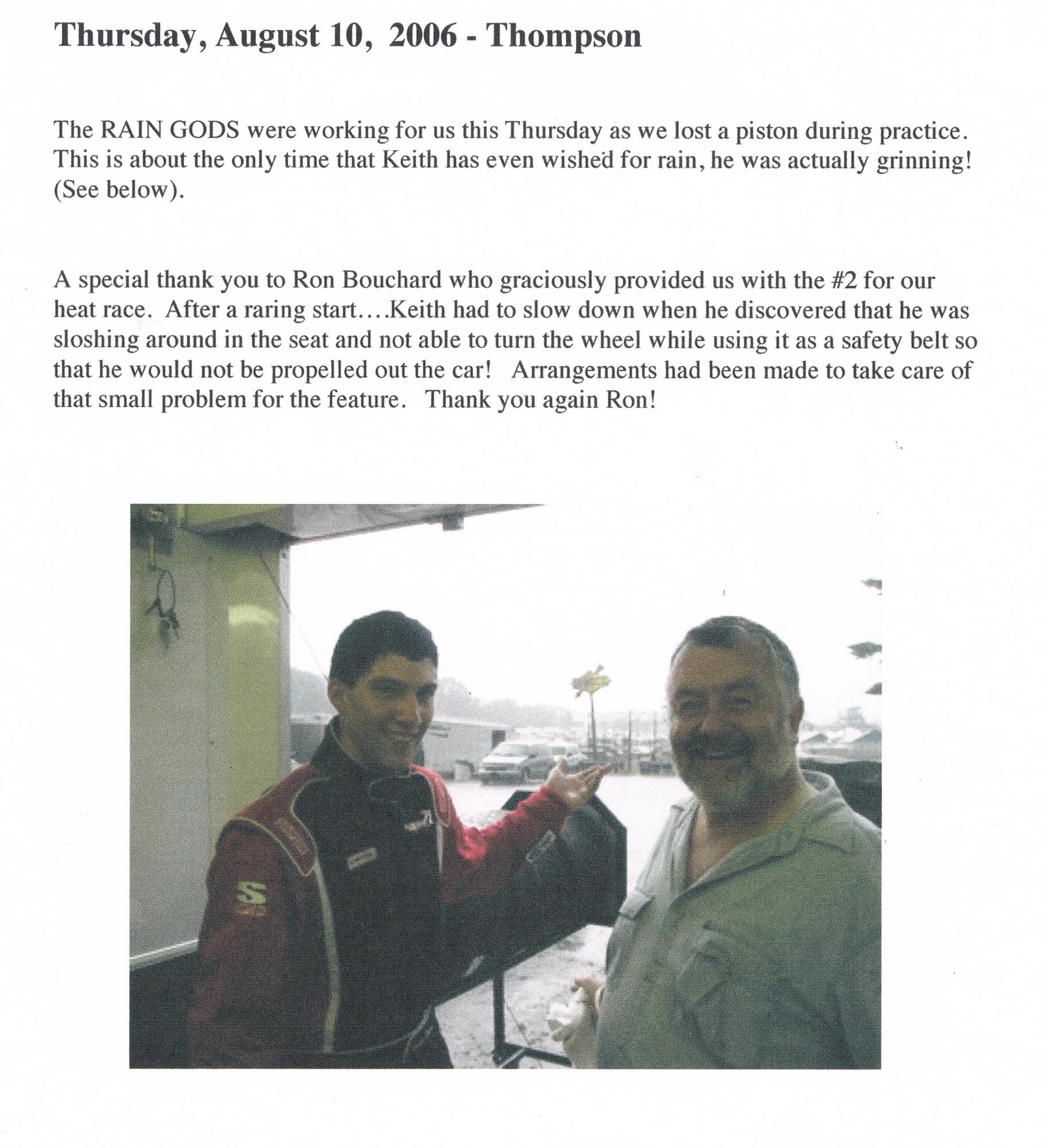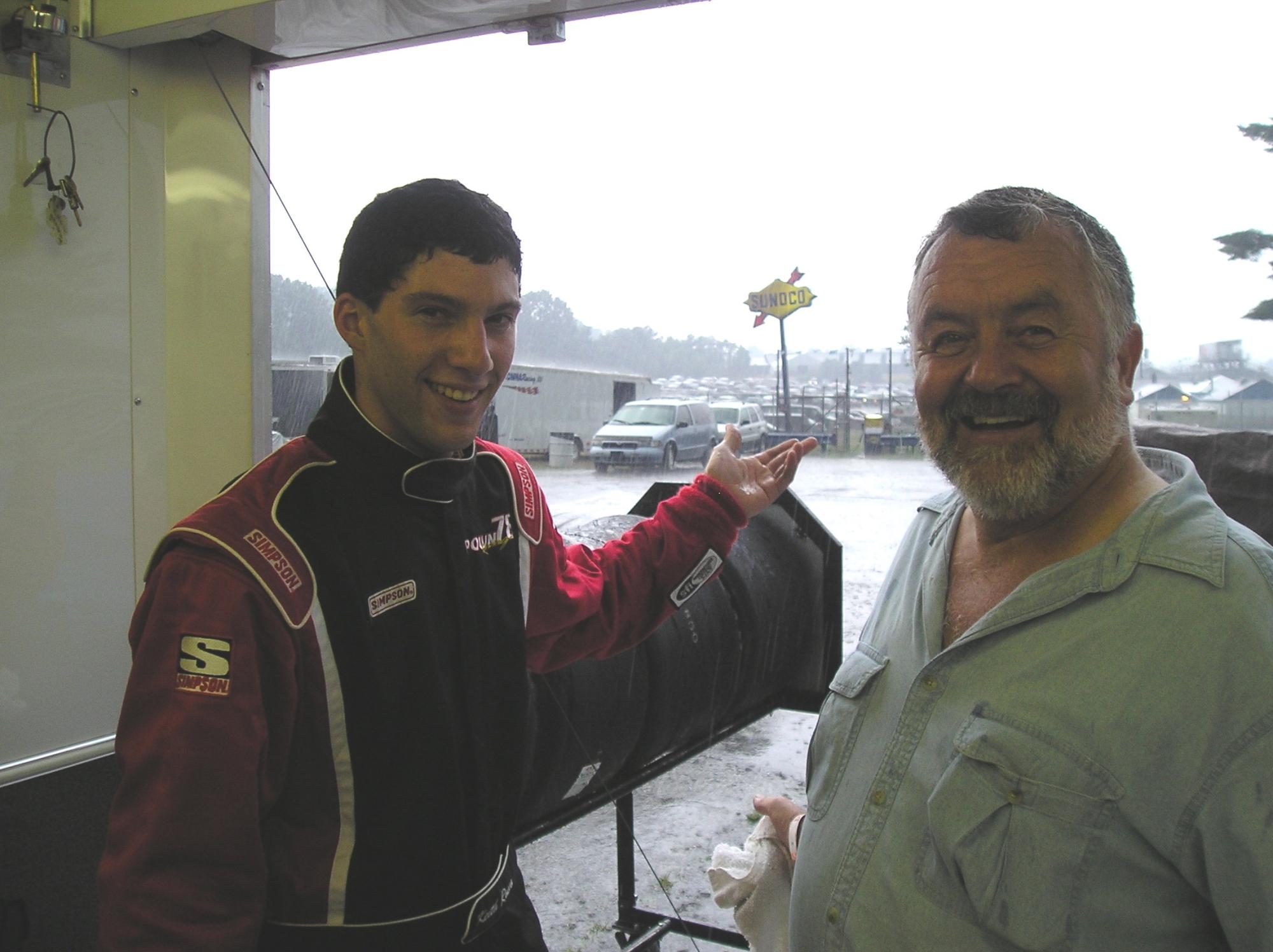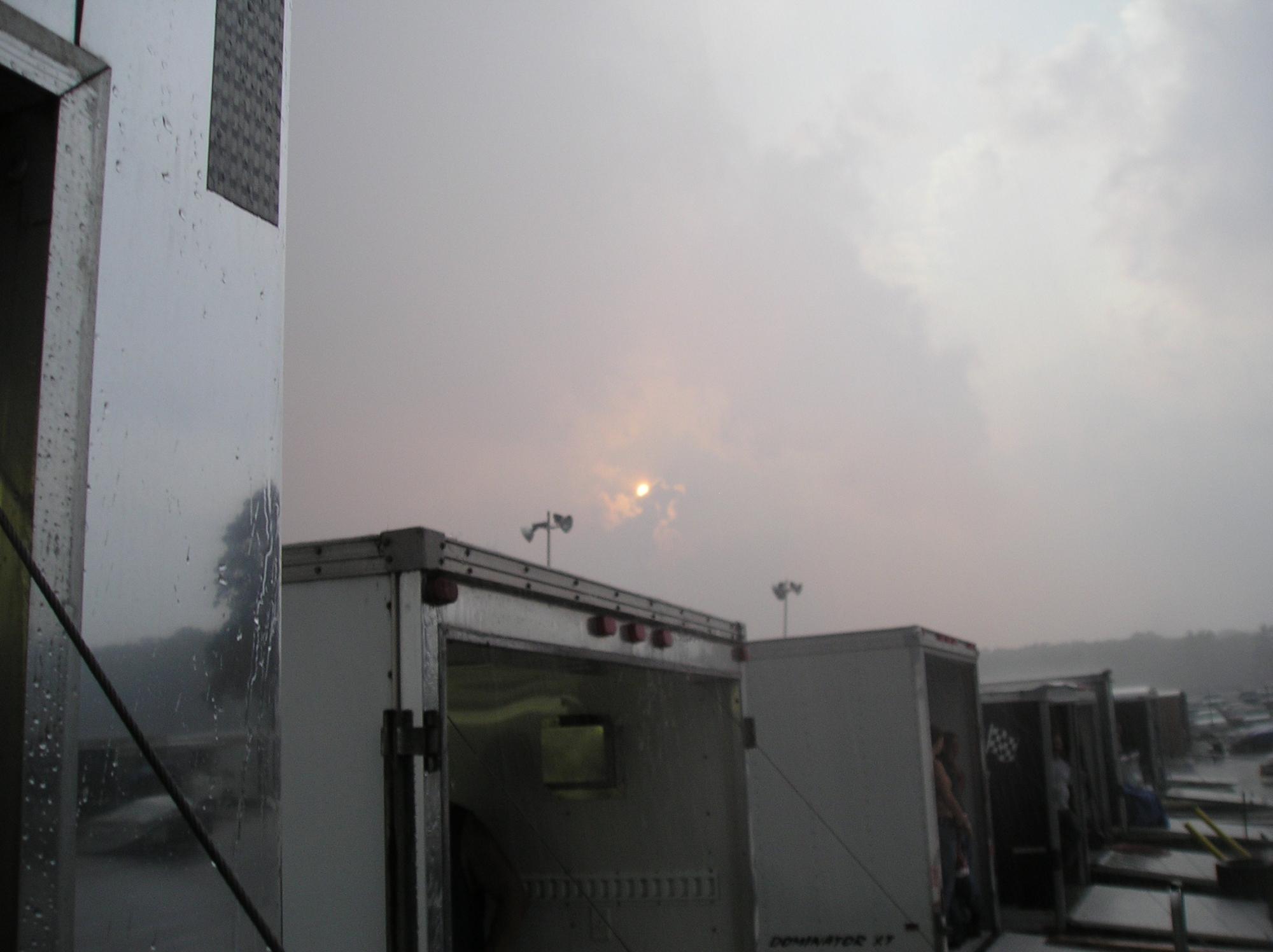 It was brewing all day long...so when the rains come it is time to relax and eat!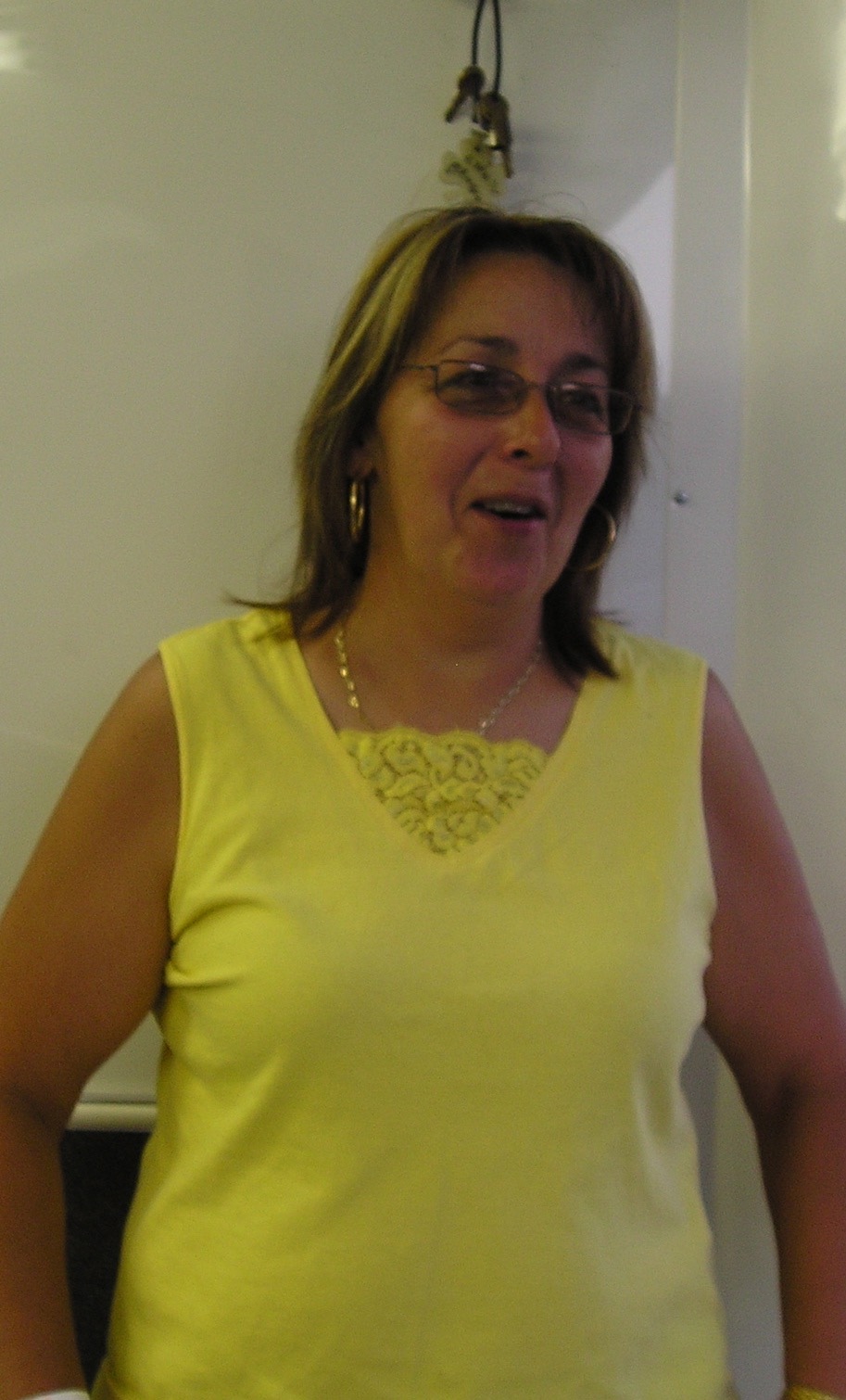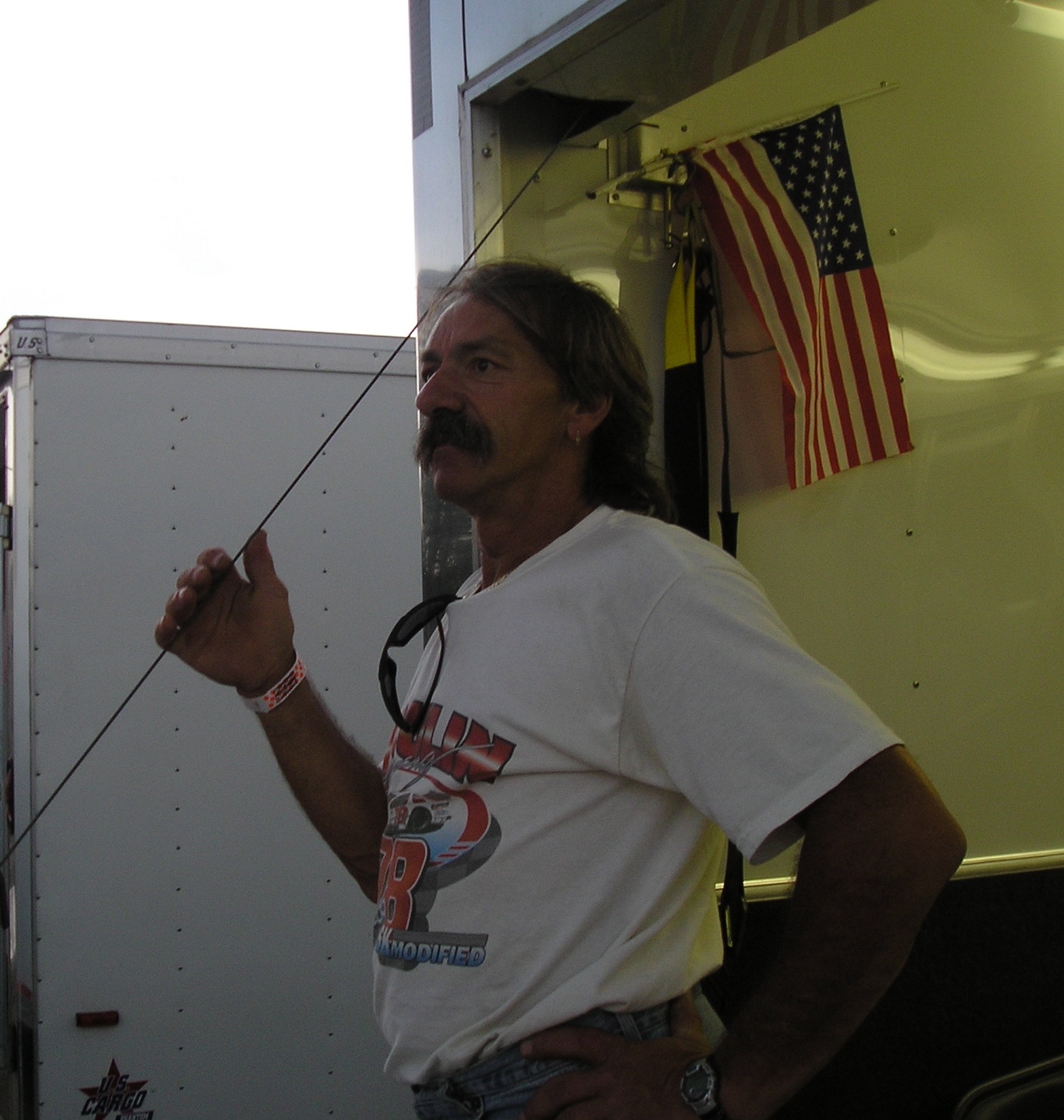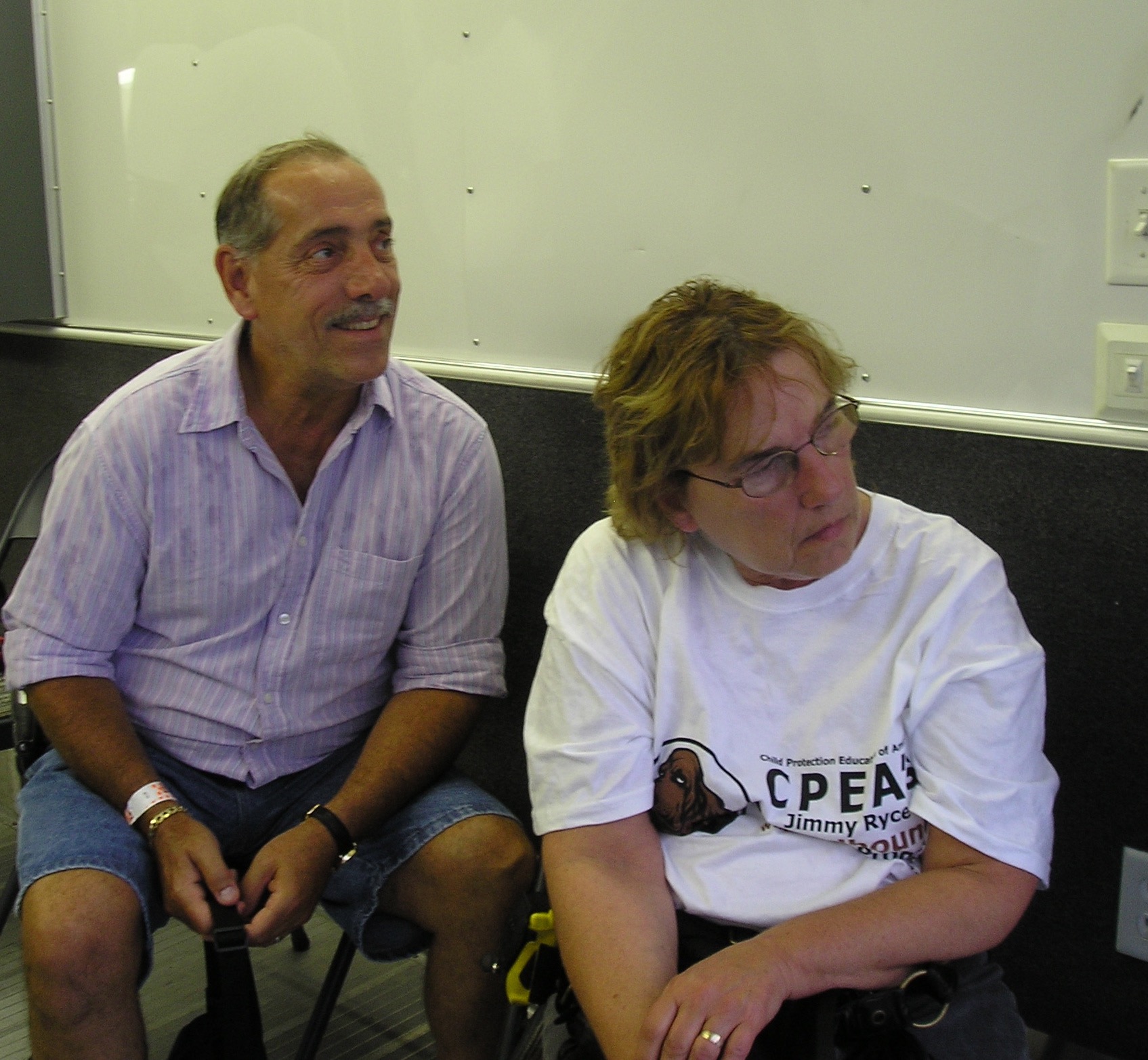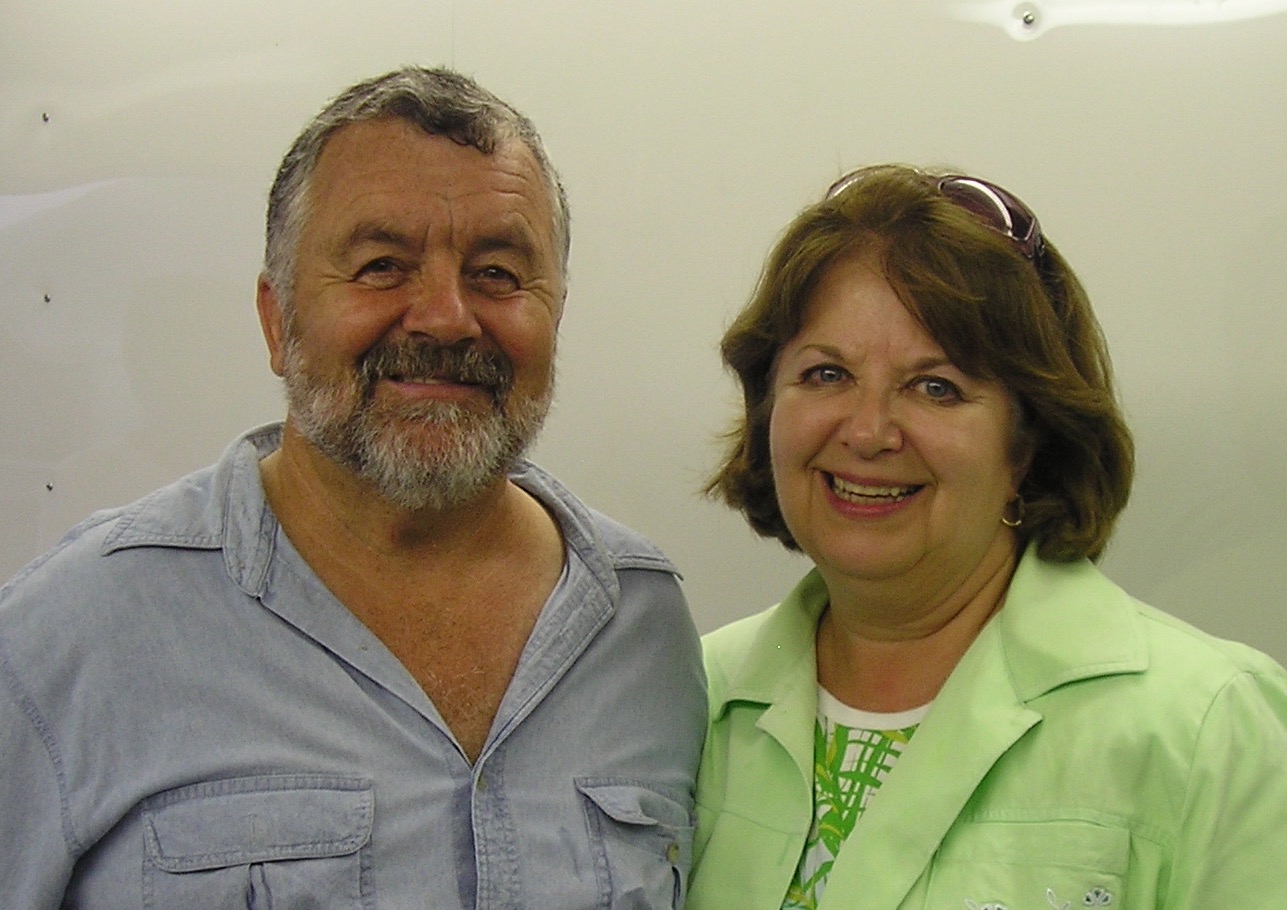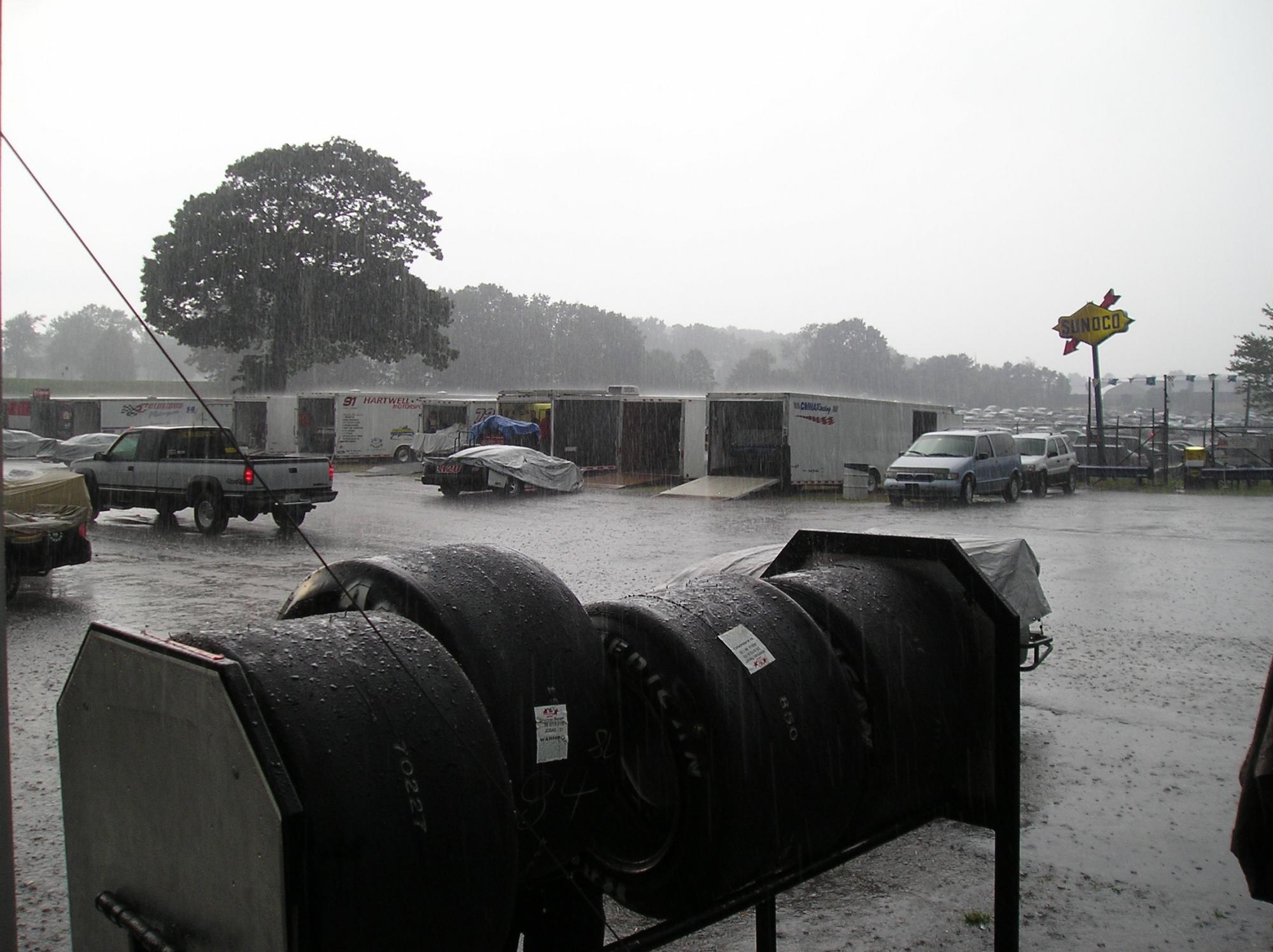 No photos for the next several weeks, either lost the disc or did not download....but, I will have some shots our trips later.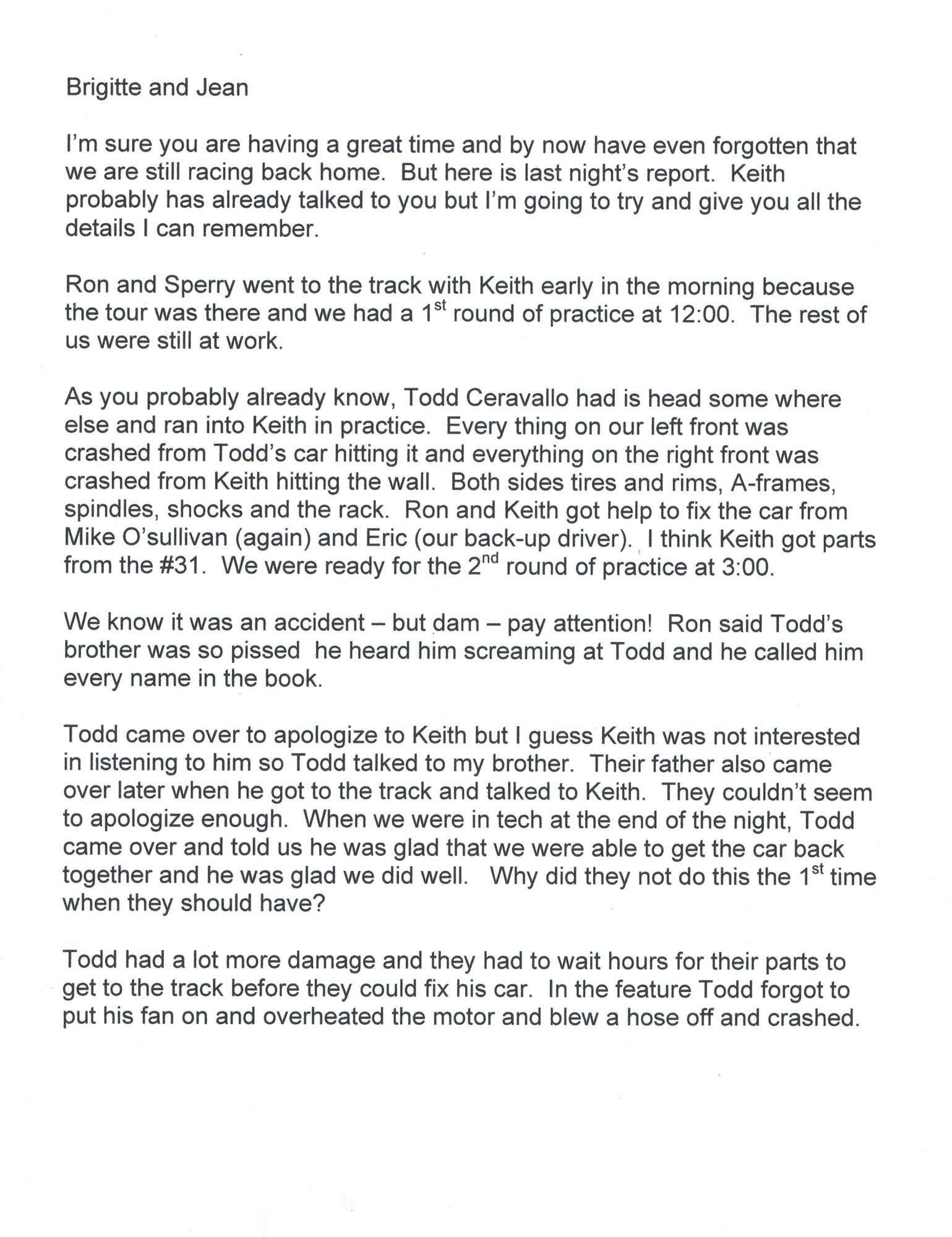 Sandra's notes....good reporting.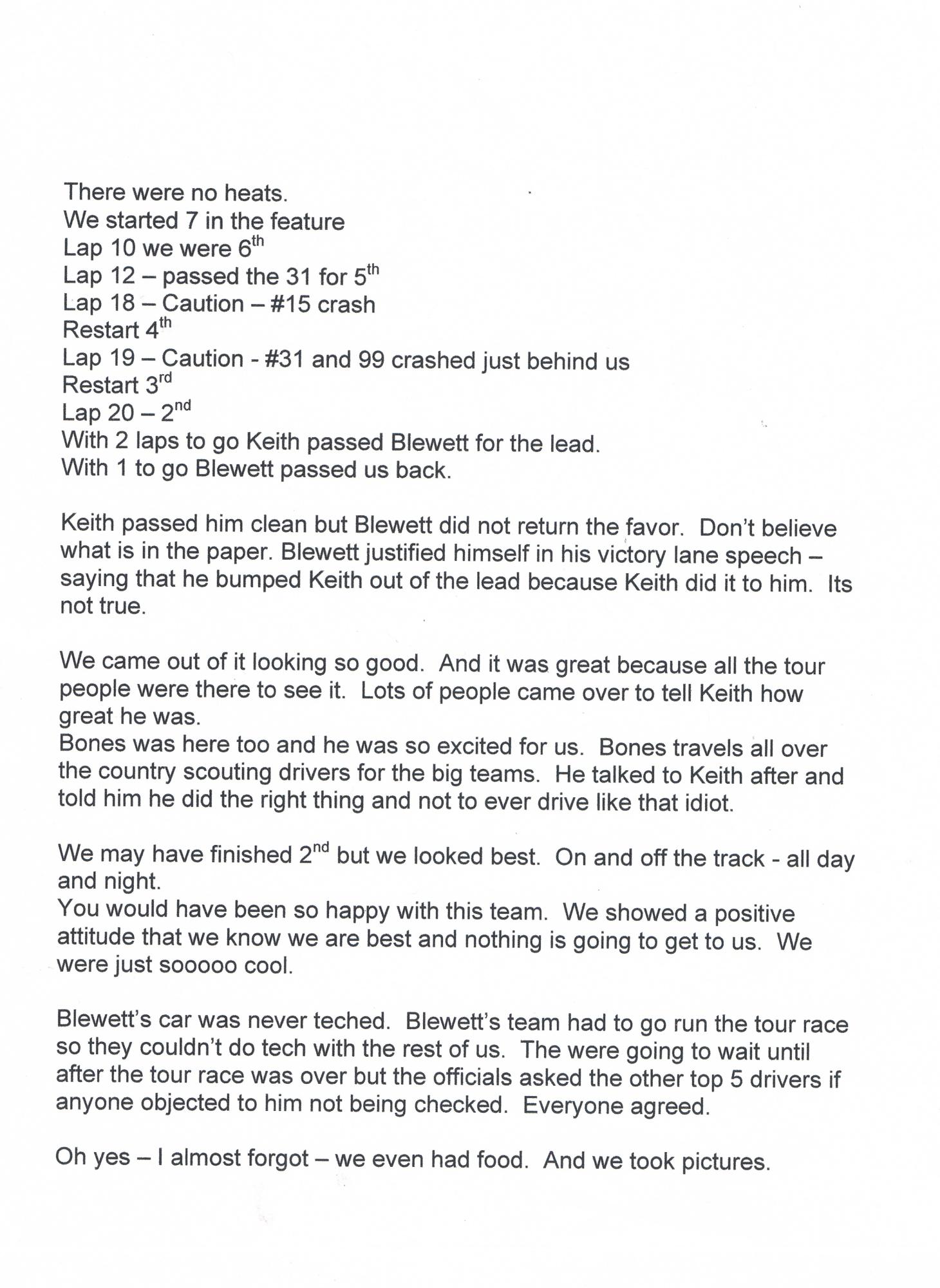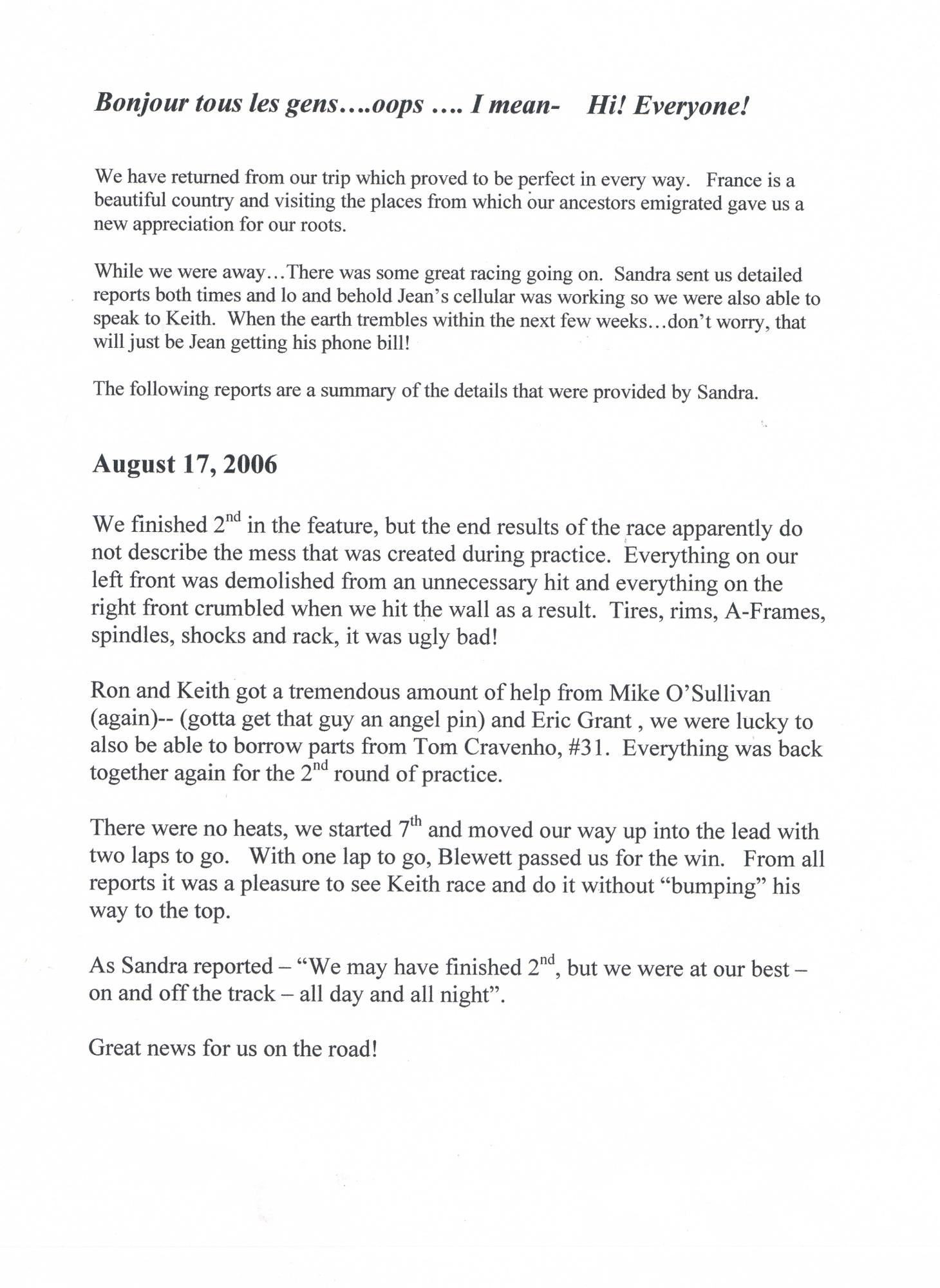 View from our room ... Hotel Duquesne..I chose this hotel for it's central location and this view, not disappointed!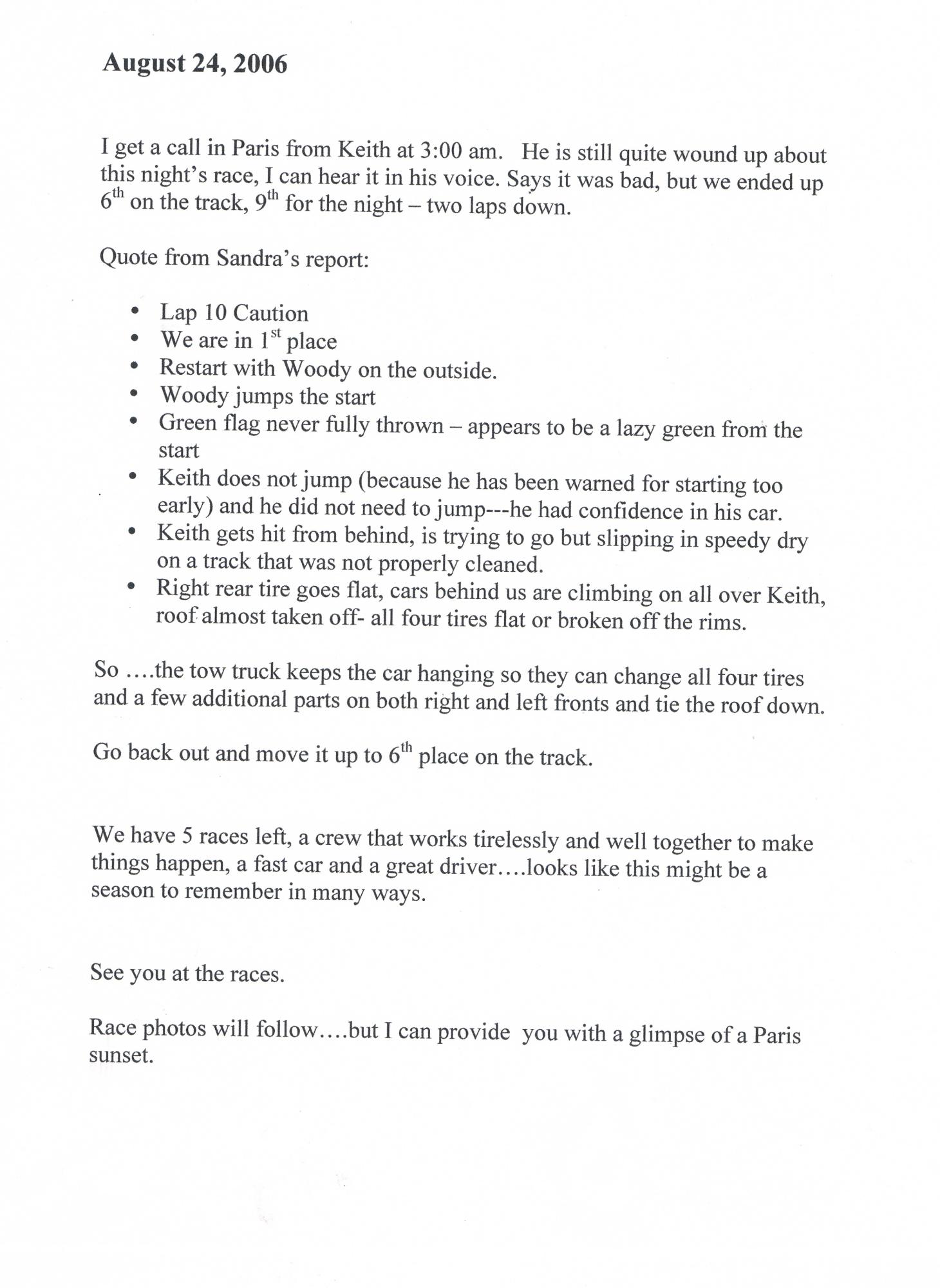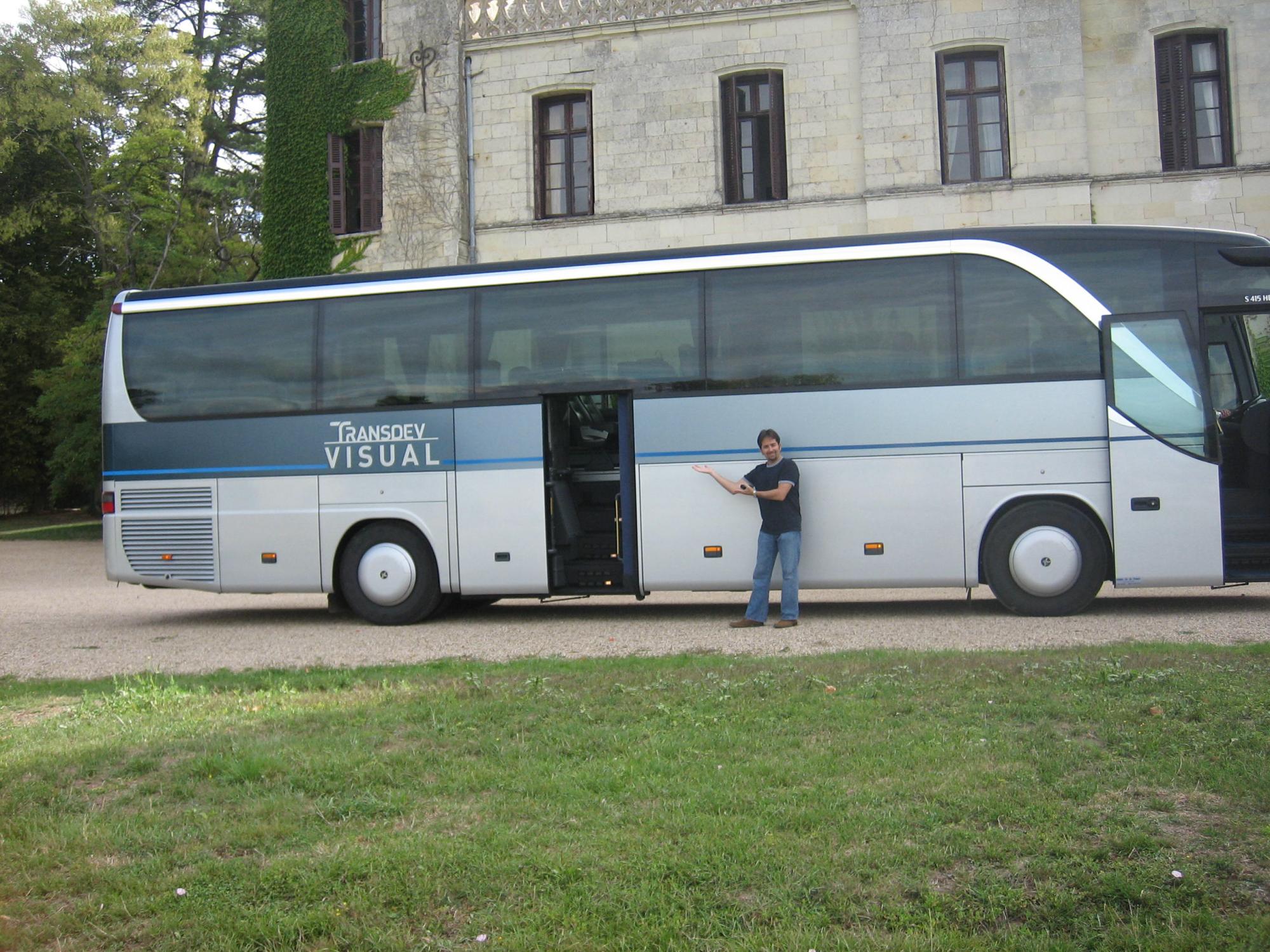 Our private bus, yes there was plenty of leg room!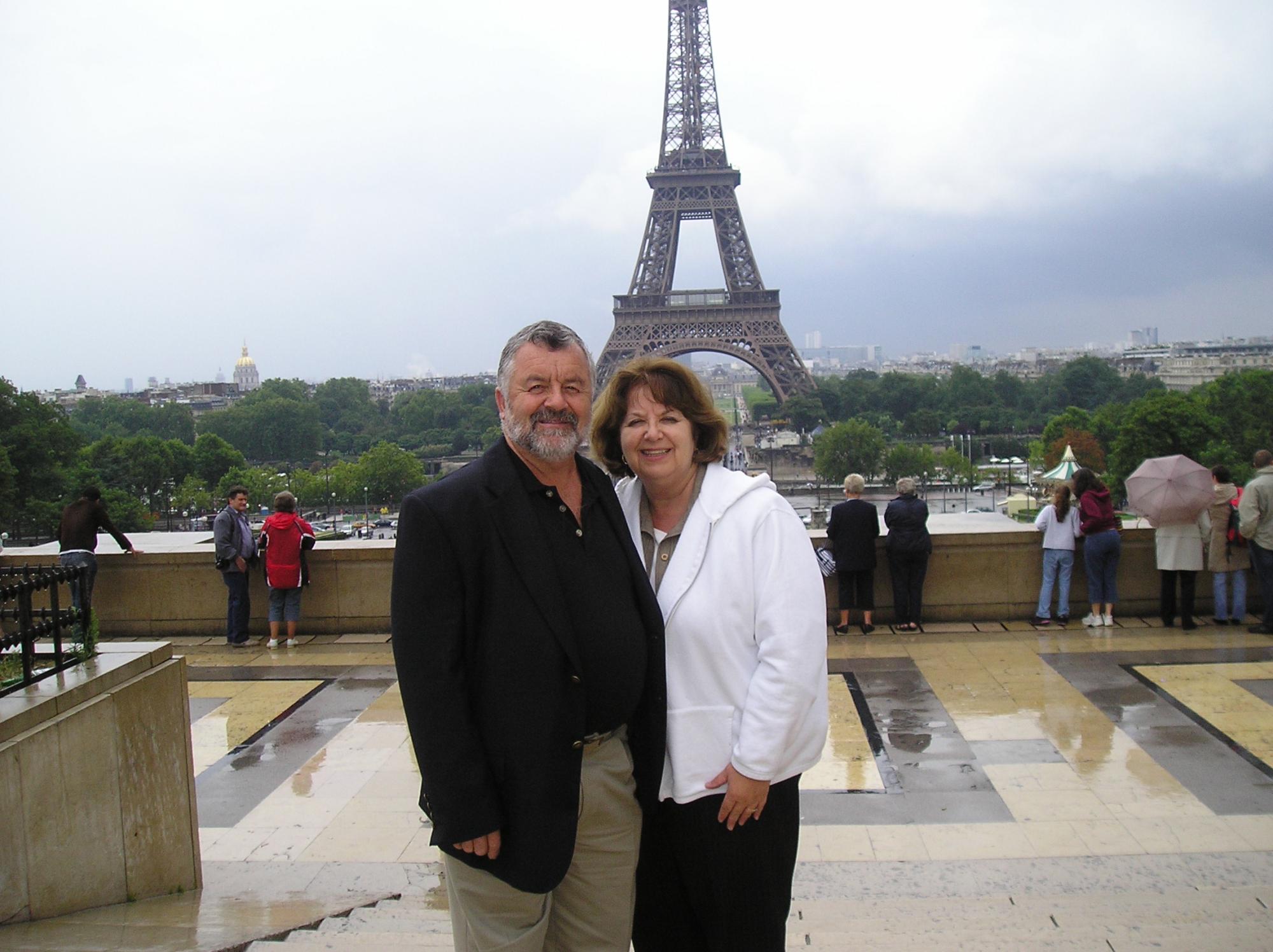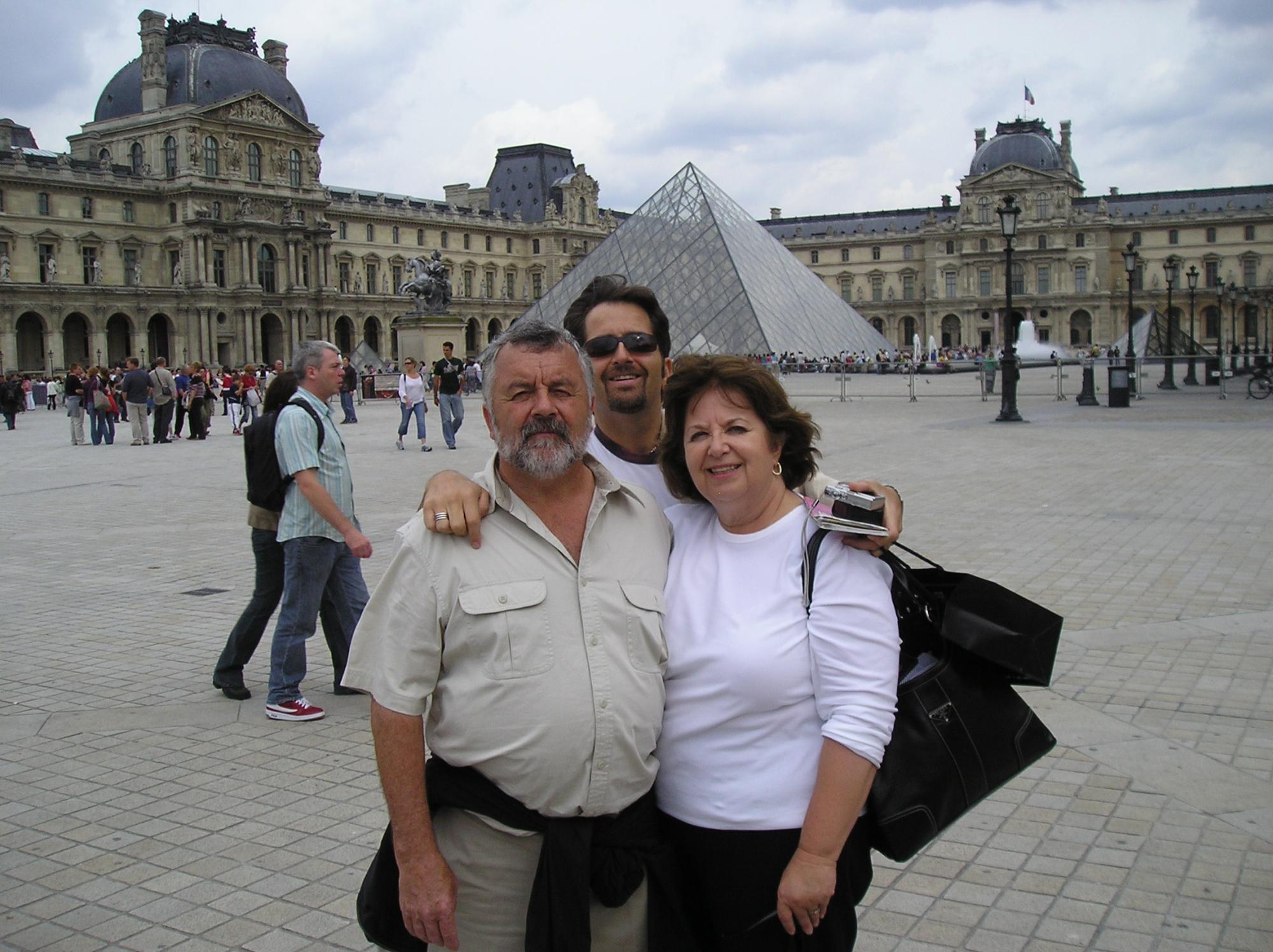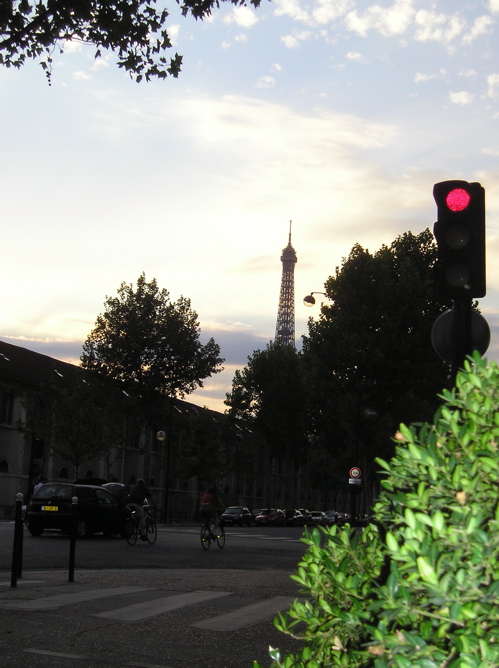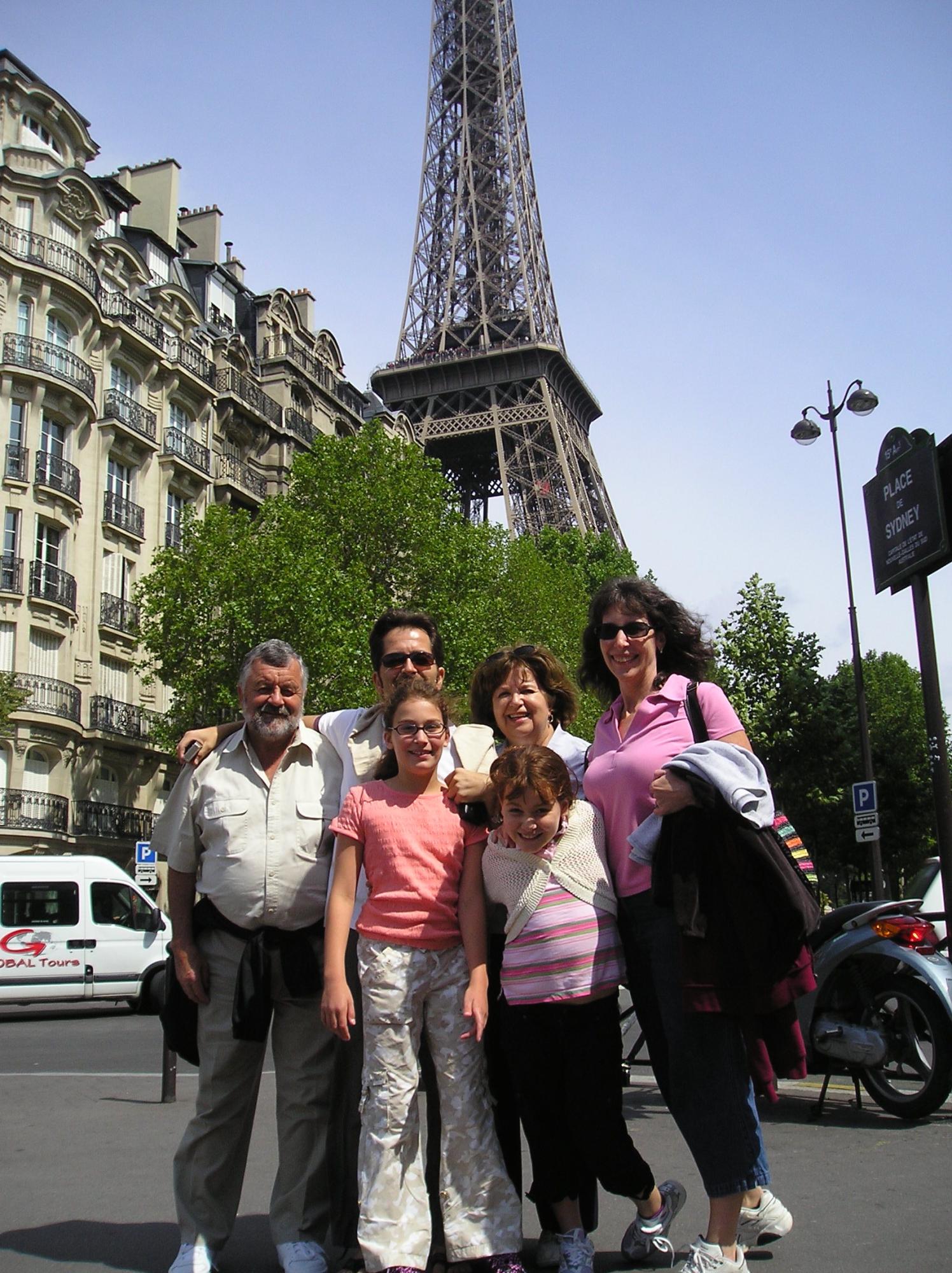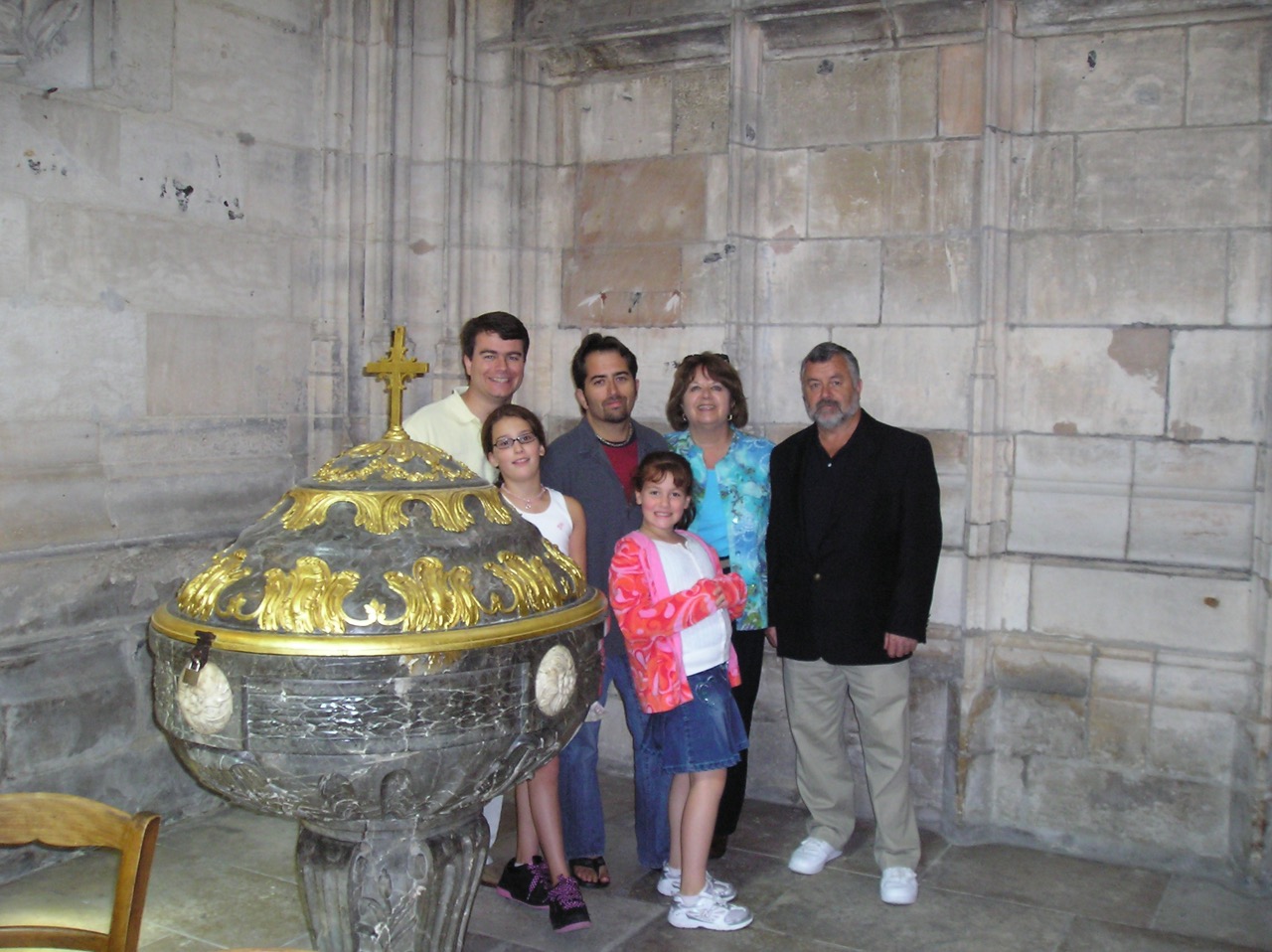 This is the Baptism Urn, in Rouen, in which Jean-Guy's great-great-great Grandfather was baptized and where he was married.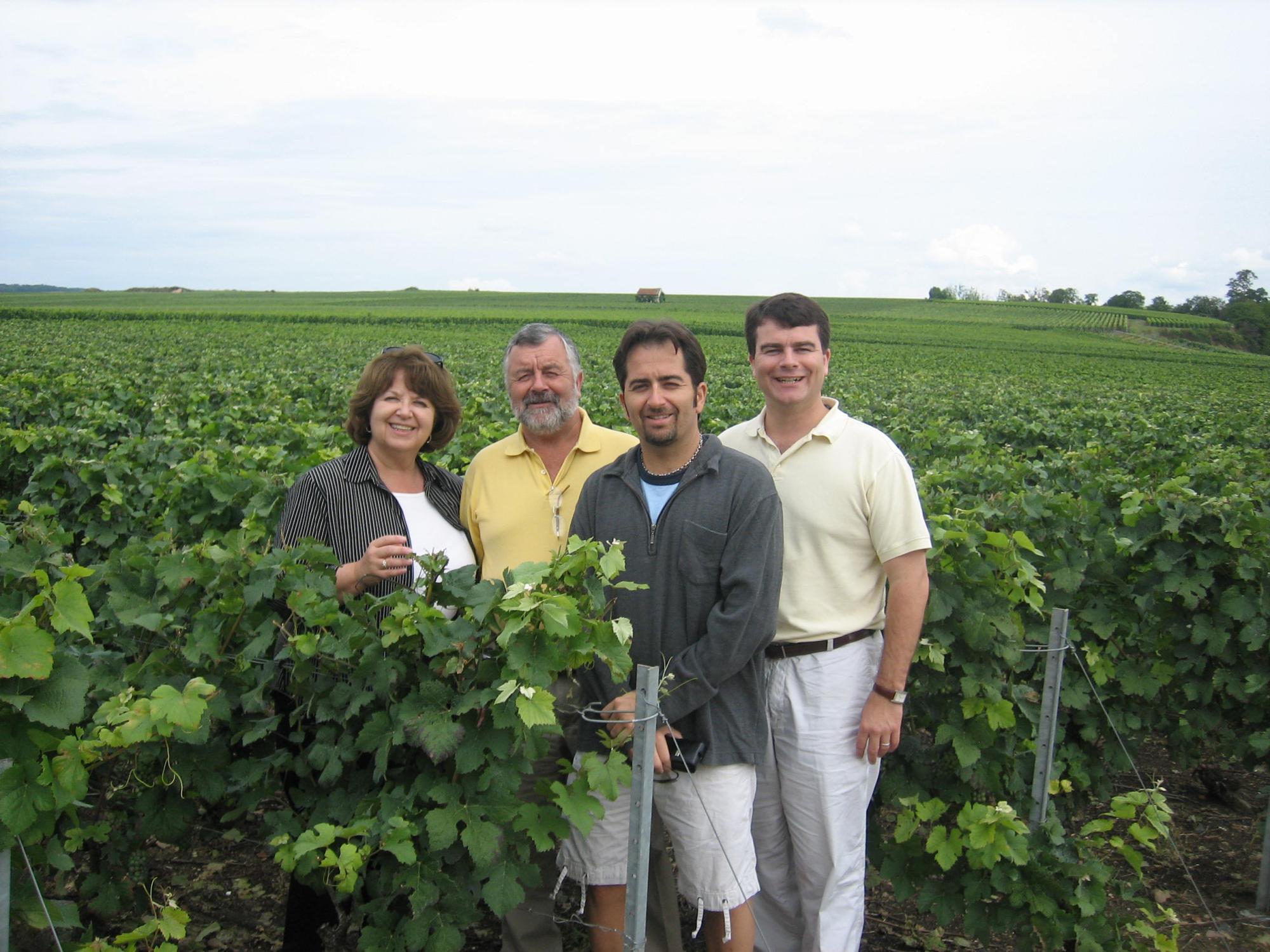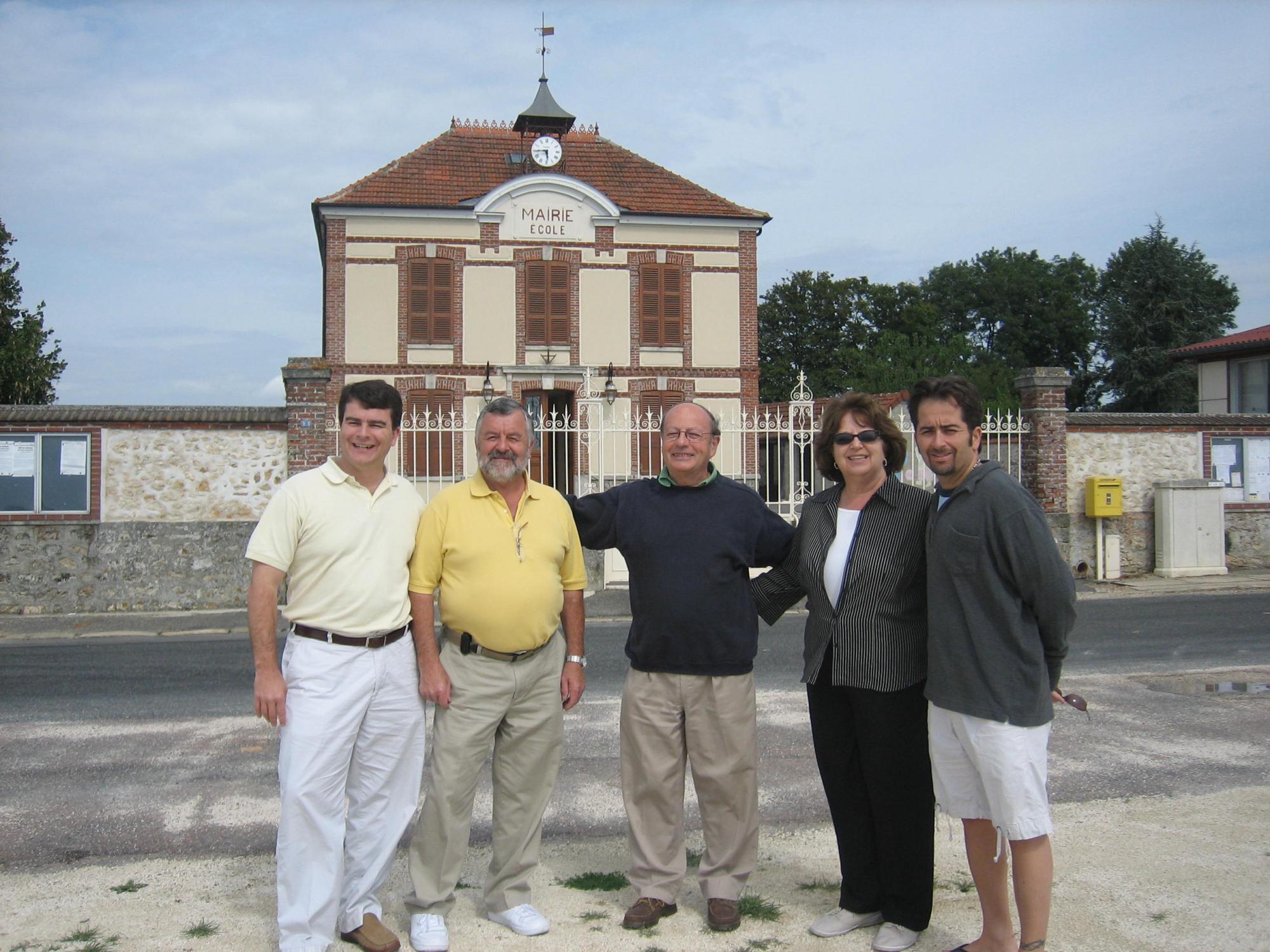 Spending the day with the Mayor of the city from which my ancestors came from, getting a sense of our history and I should have guessed I come from wine country!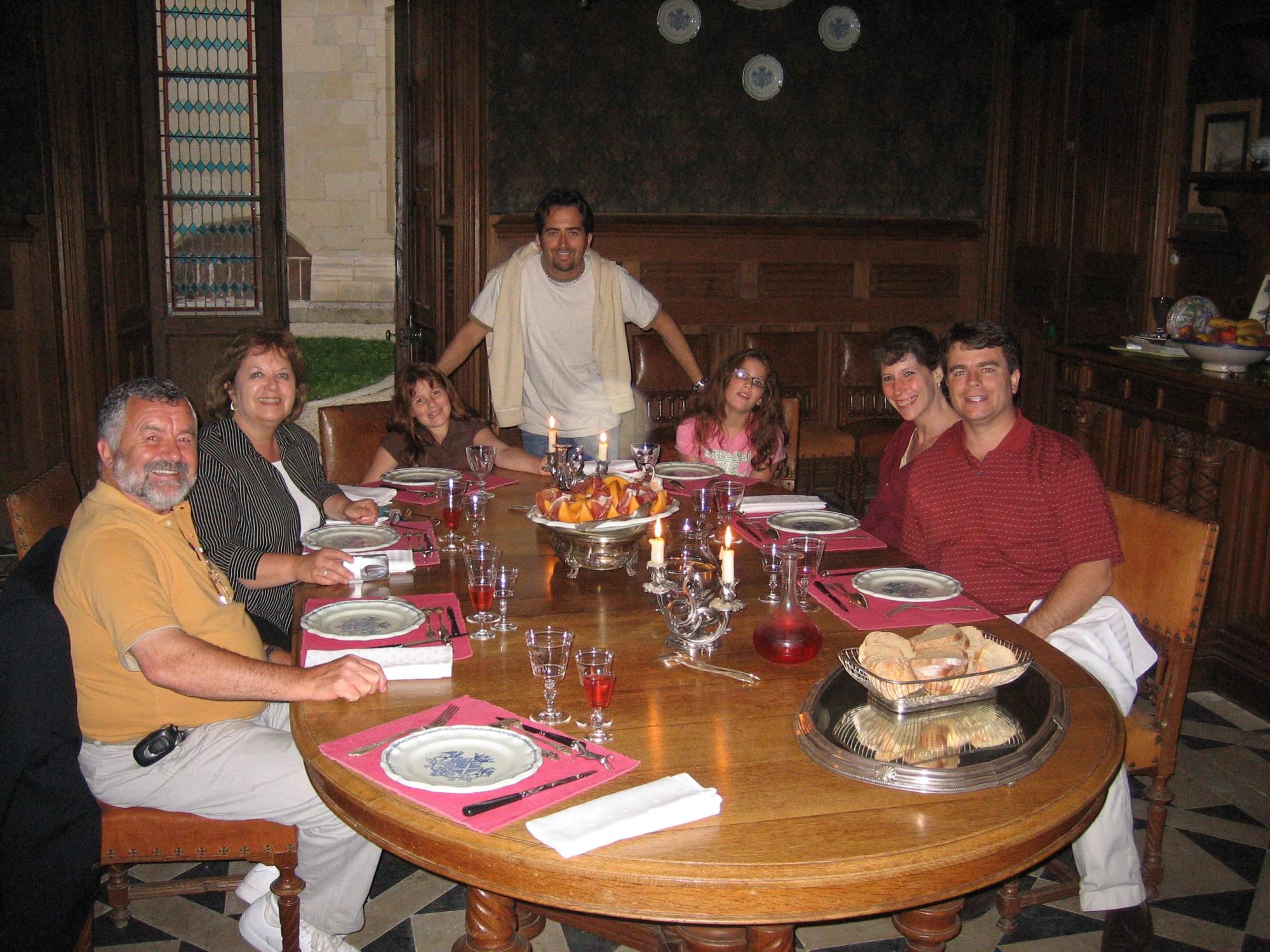 Just one of the beautiful meals we shared, precious time that lives in our memory forever, so very happy I got to share that with the three best men in my life!!!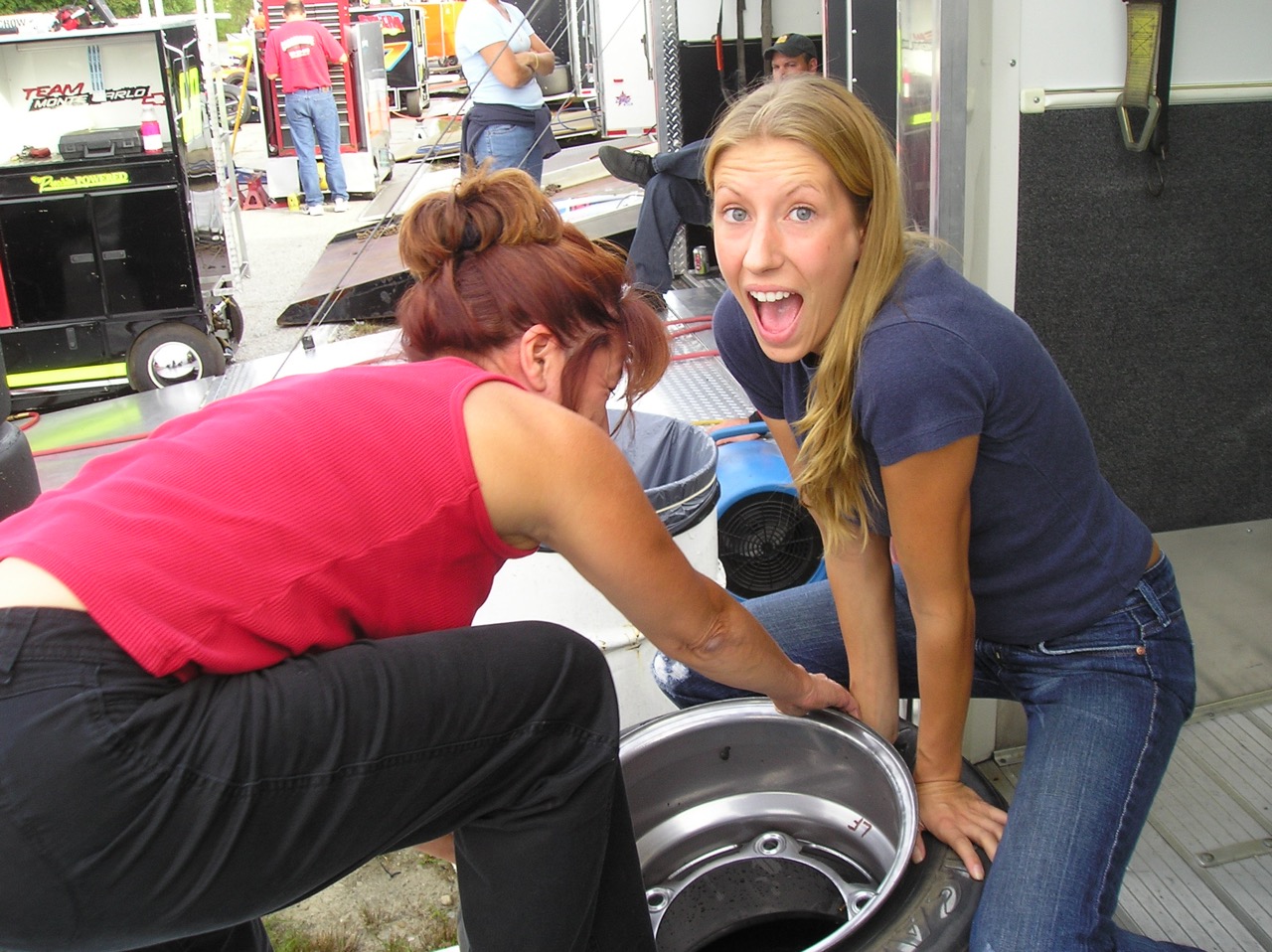 Ummm...looks like Sandra needs help. Anything they can do we can do too!!!
Fluids?! You thought we were leaking?!! One way to get to the front.
Our Florida Vistors!! Always nice to have you!
So, our stay at Thompson was coming to an end. The photos below are from the last few weeks including the World Series, the Fall Final at Stafford and Concord North Carolina.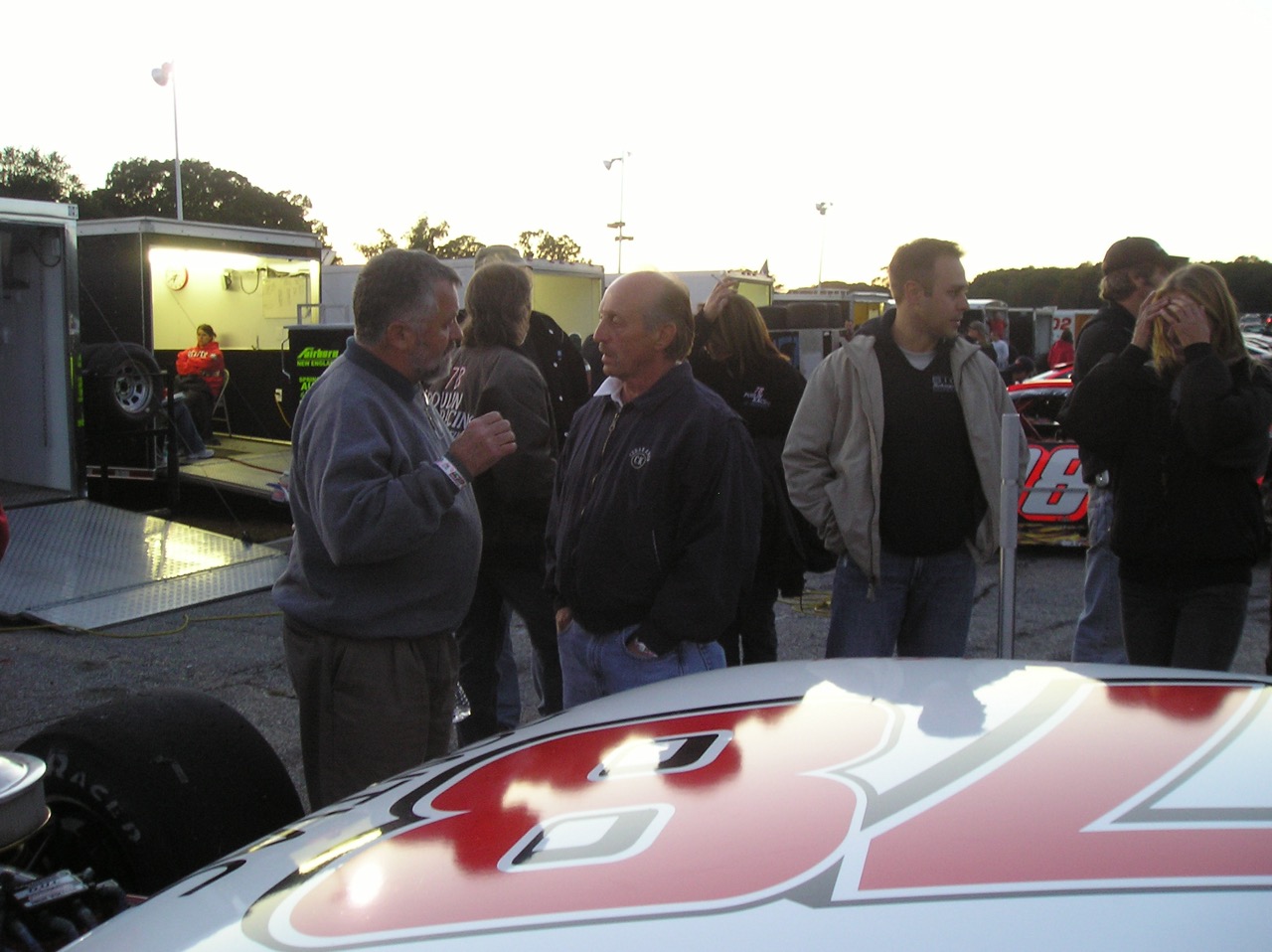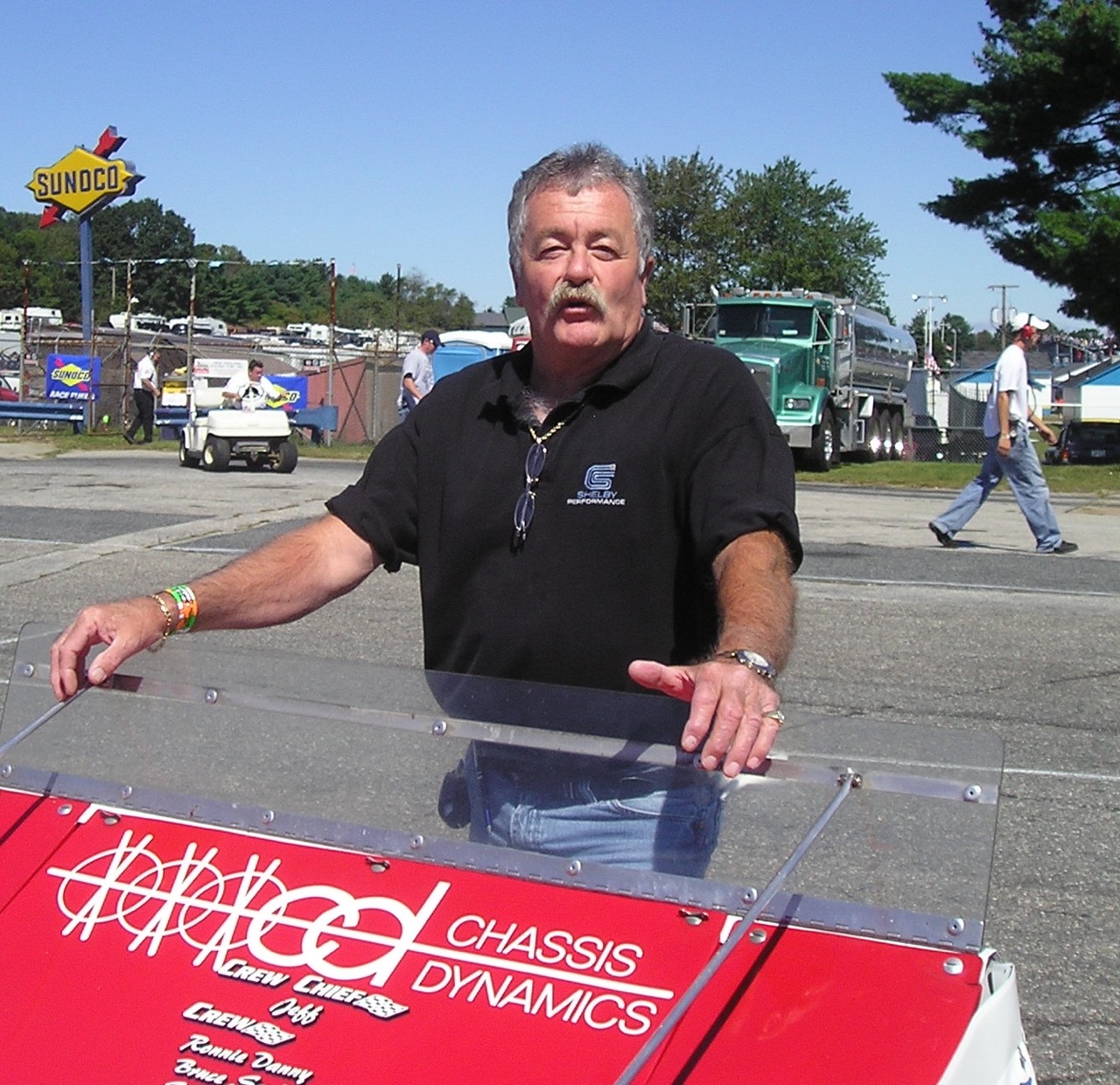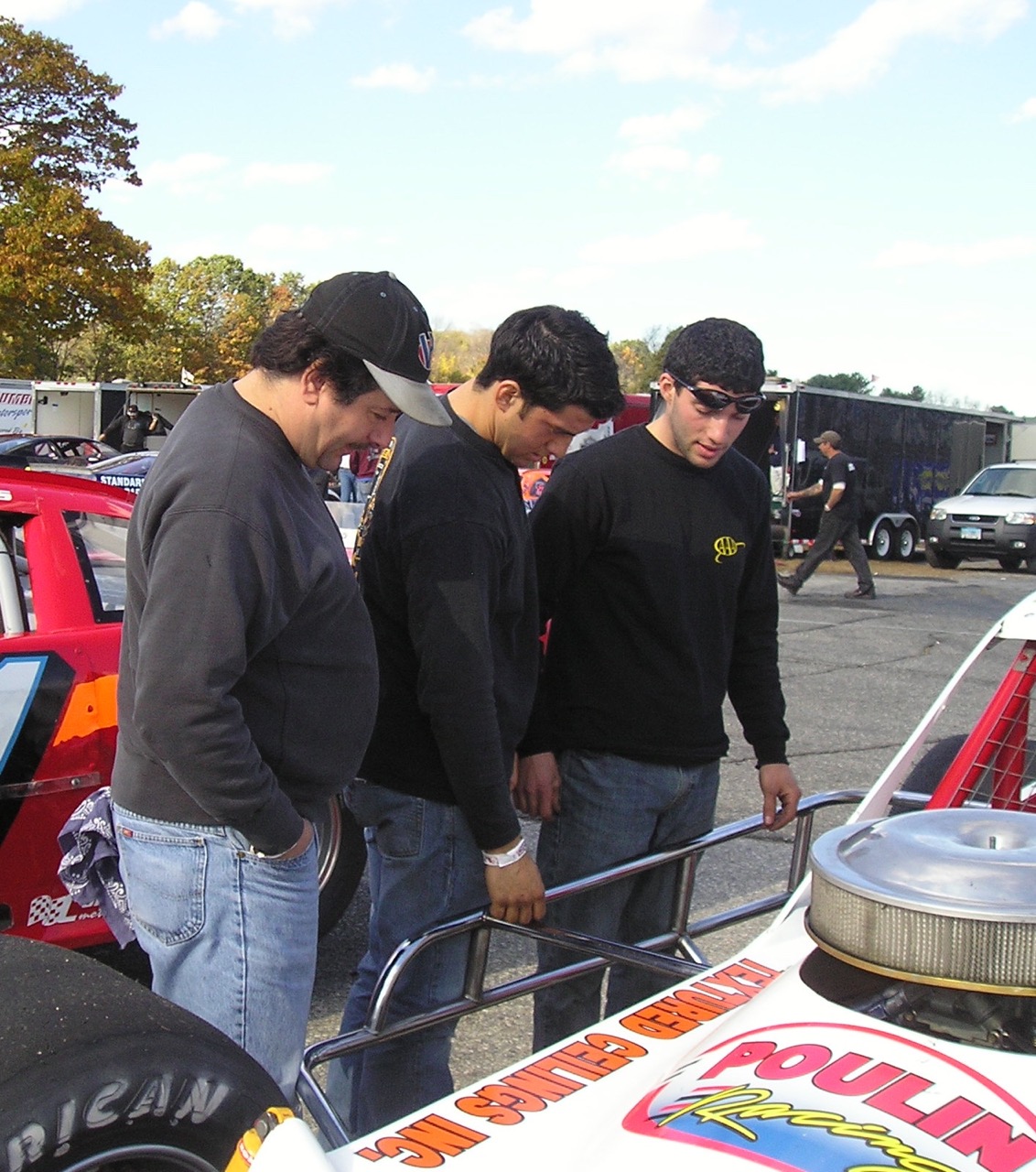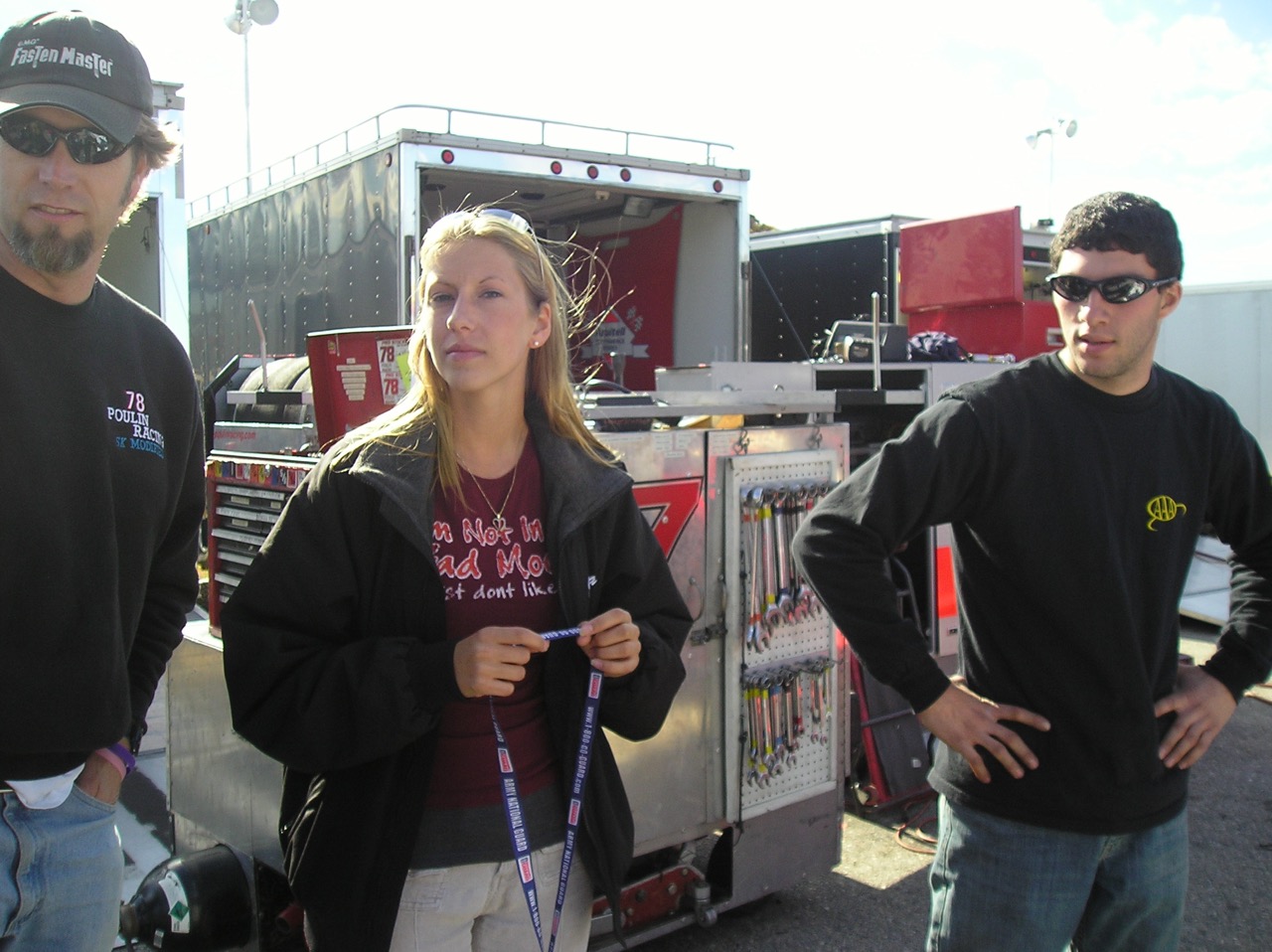 End of the season and the jackets and hoodies come out.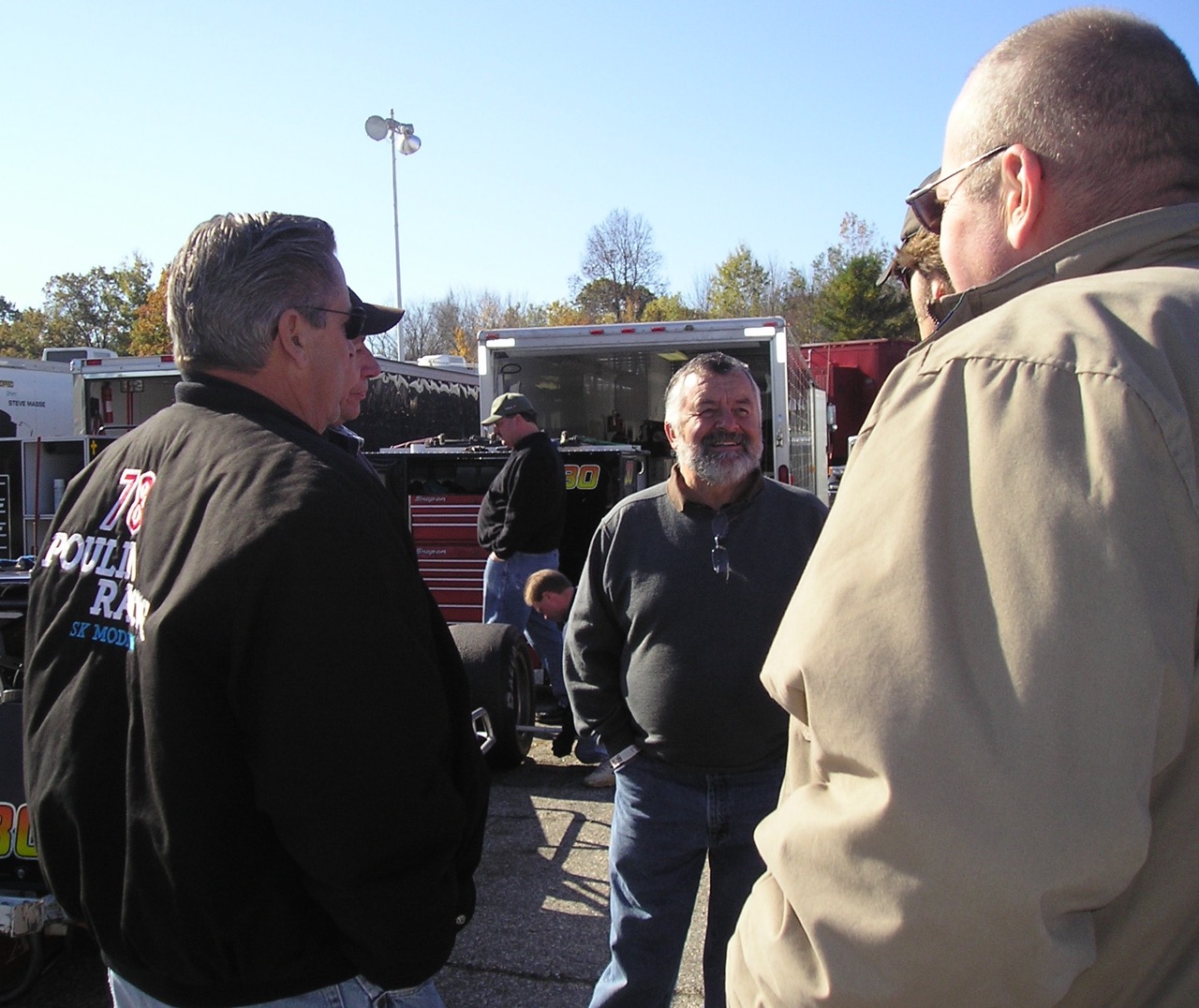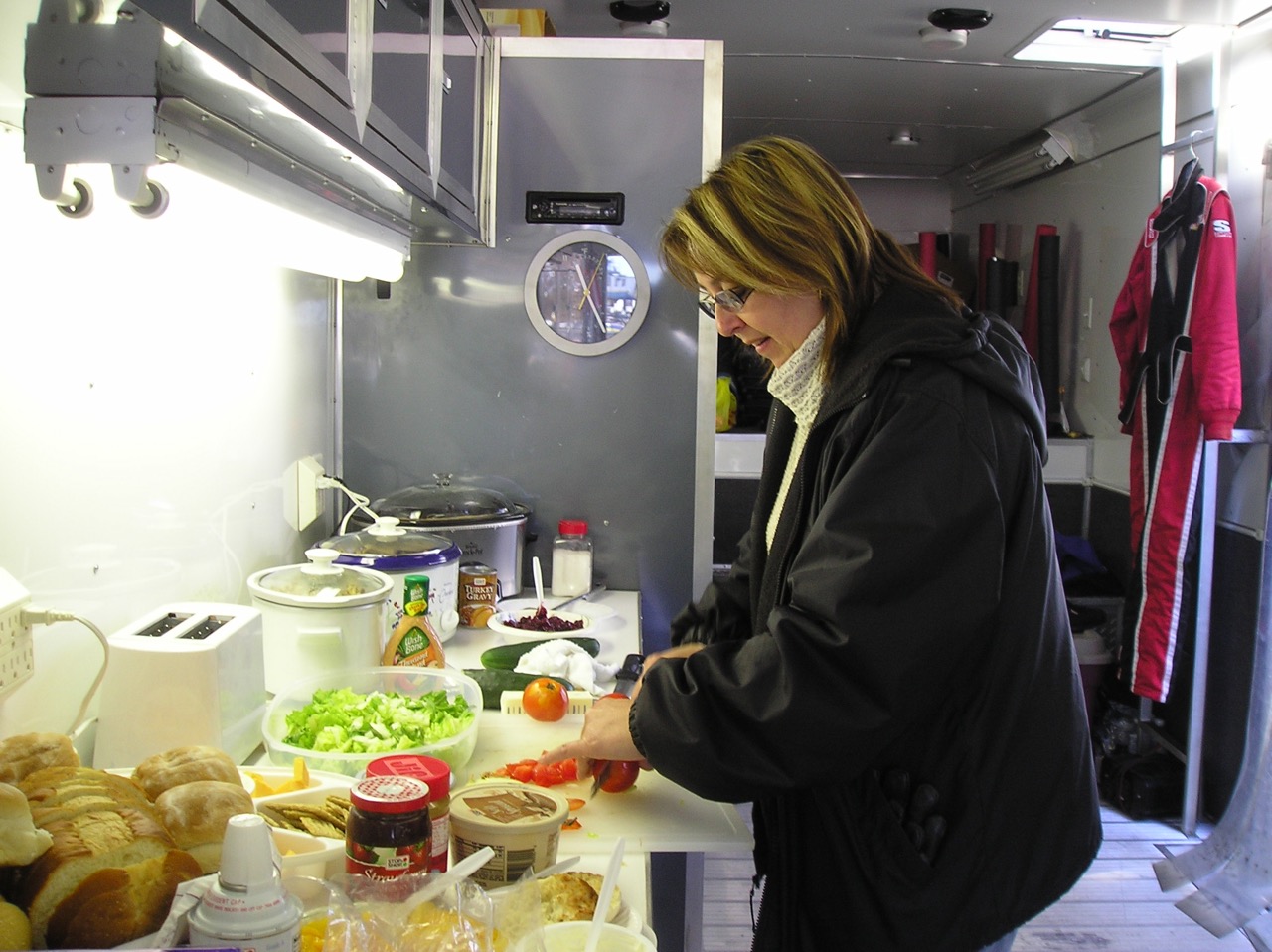 Can you guess who our engine builder is?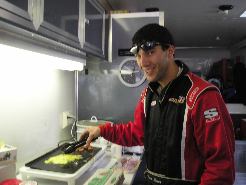 Always good food and good company, David even got his bacon and eggs!
Then it was on to the Fall Final at Stafford where it was even colder, but the real cold followed us to Concord, North Carolina. Could not believe just how cold it was!!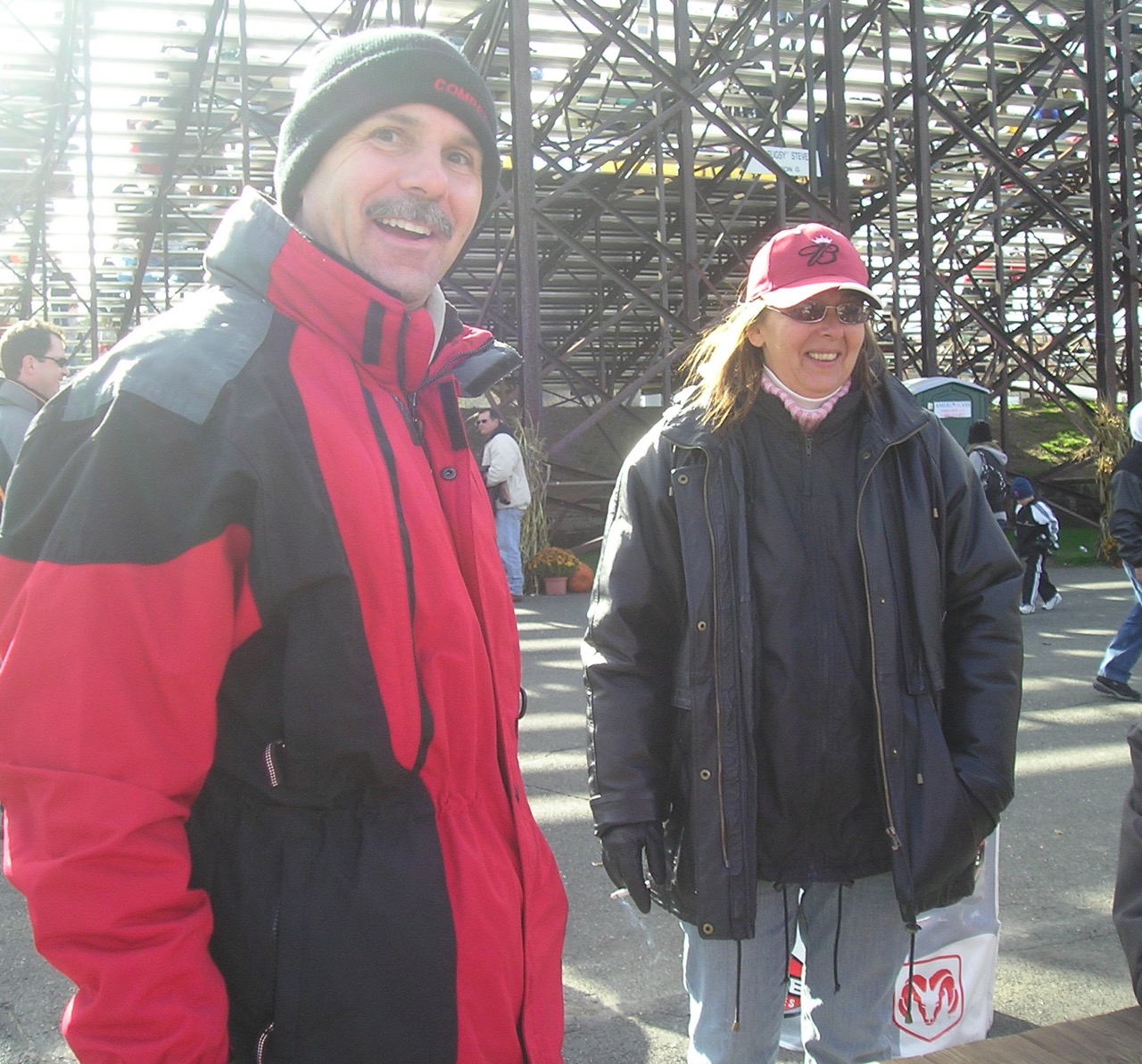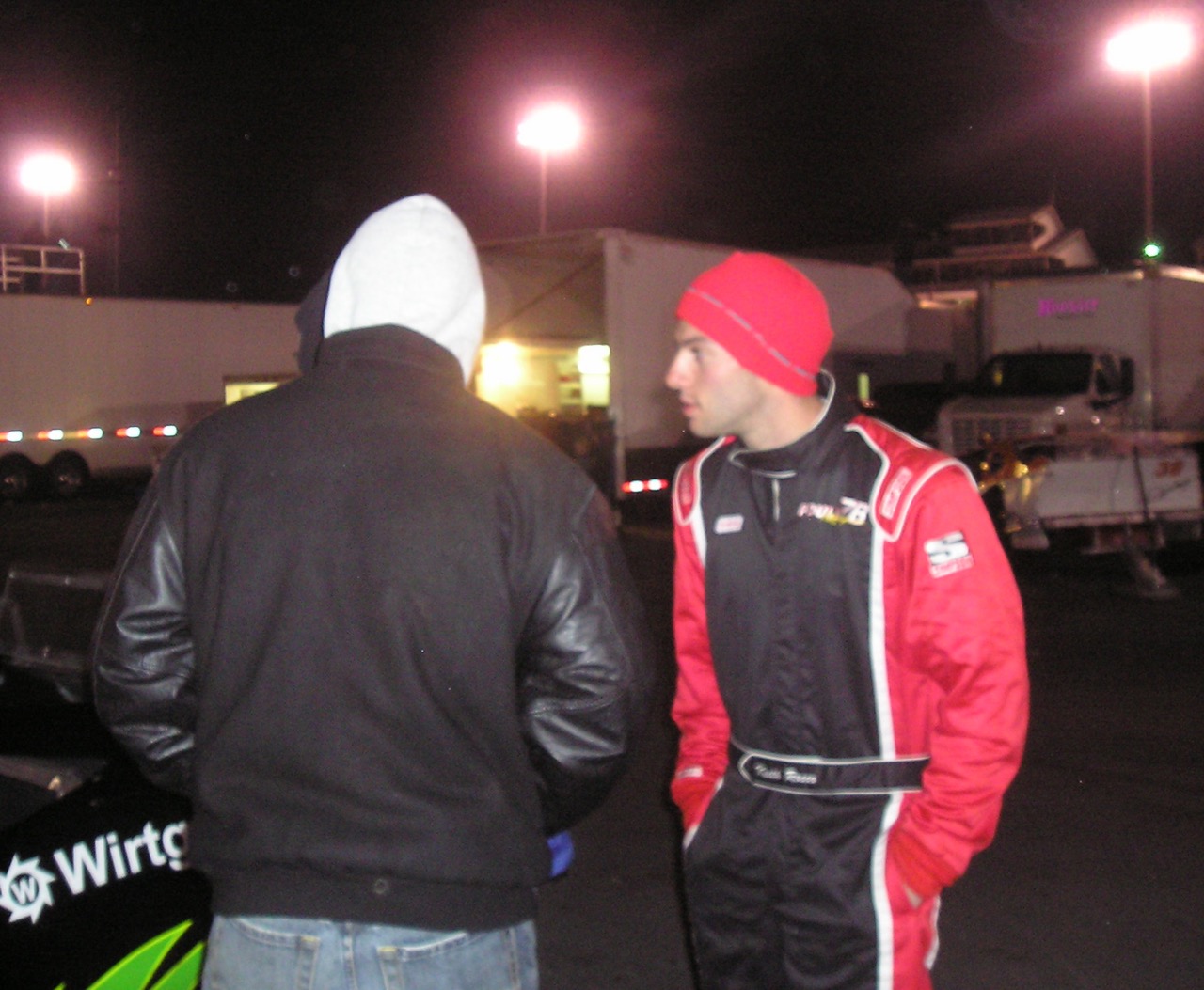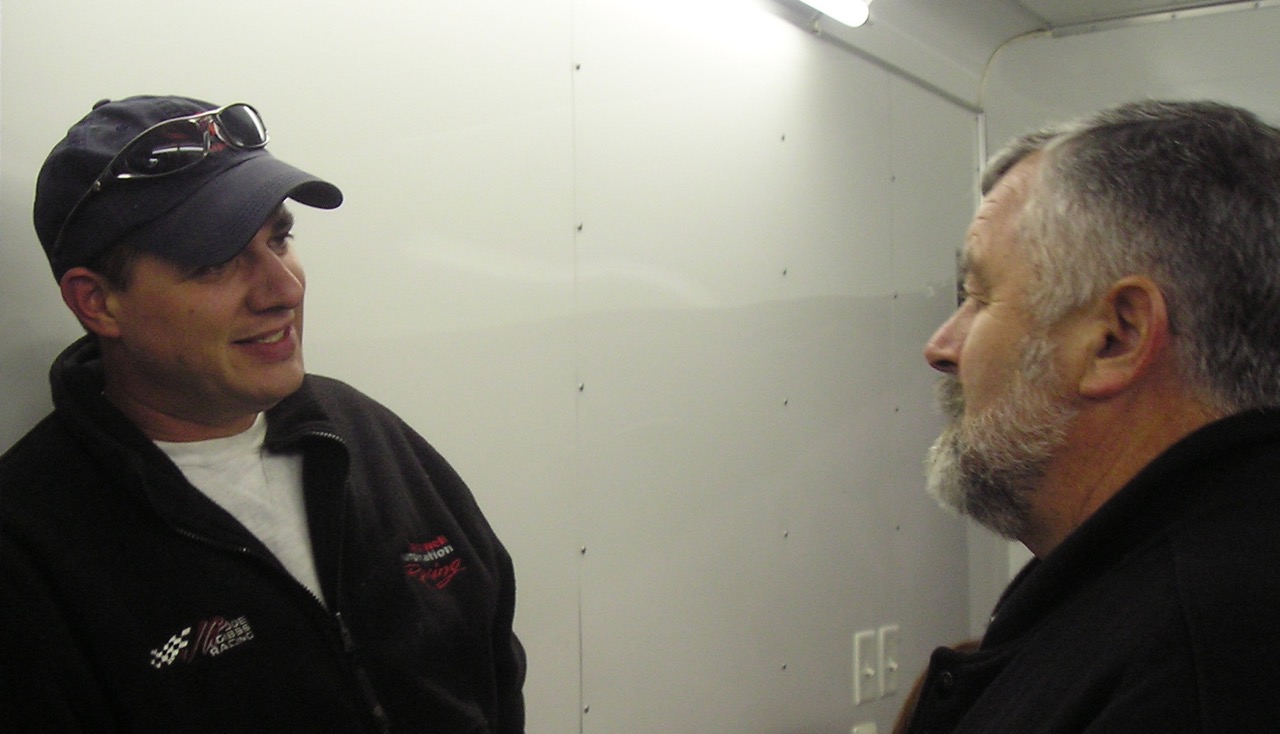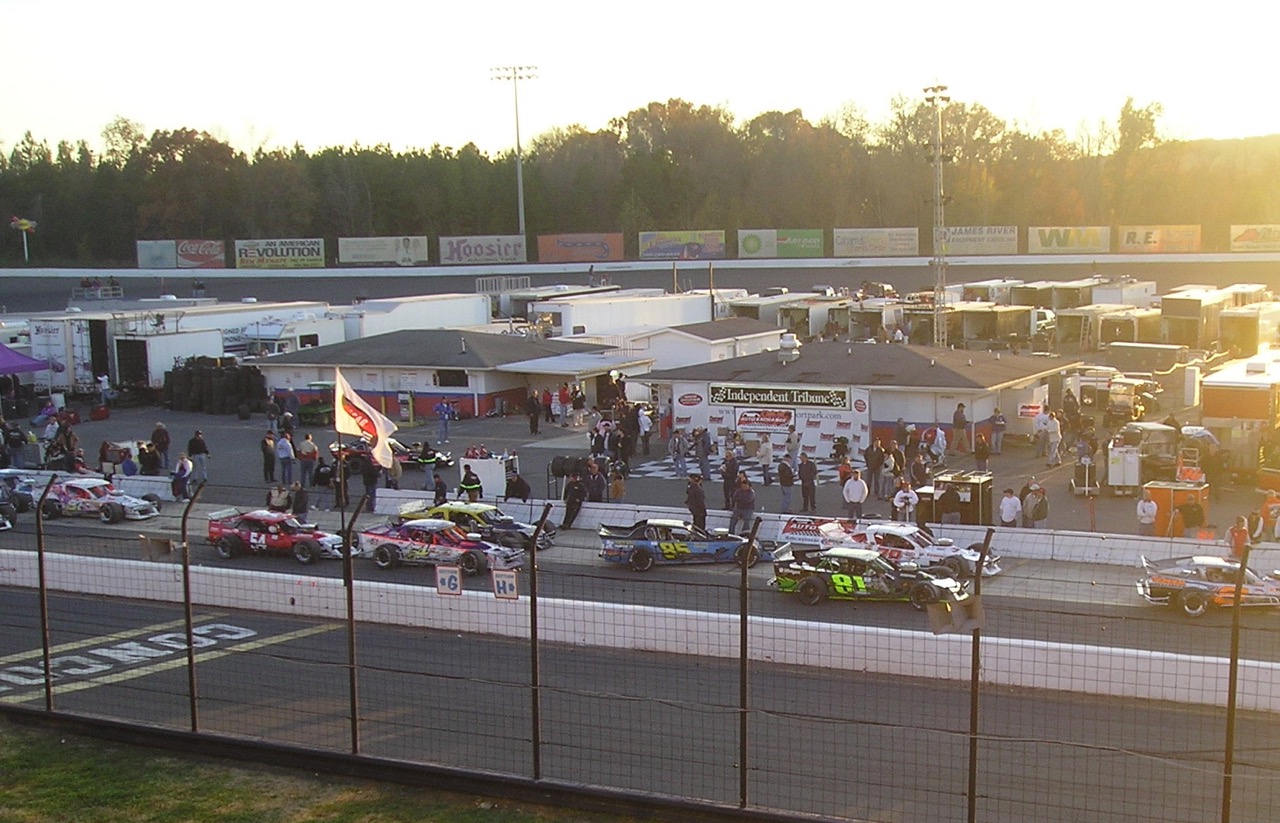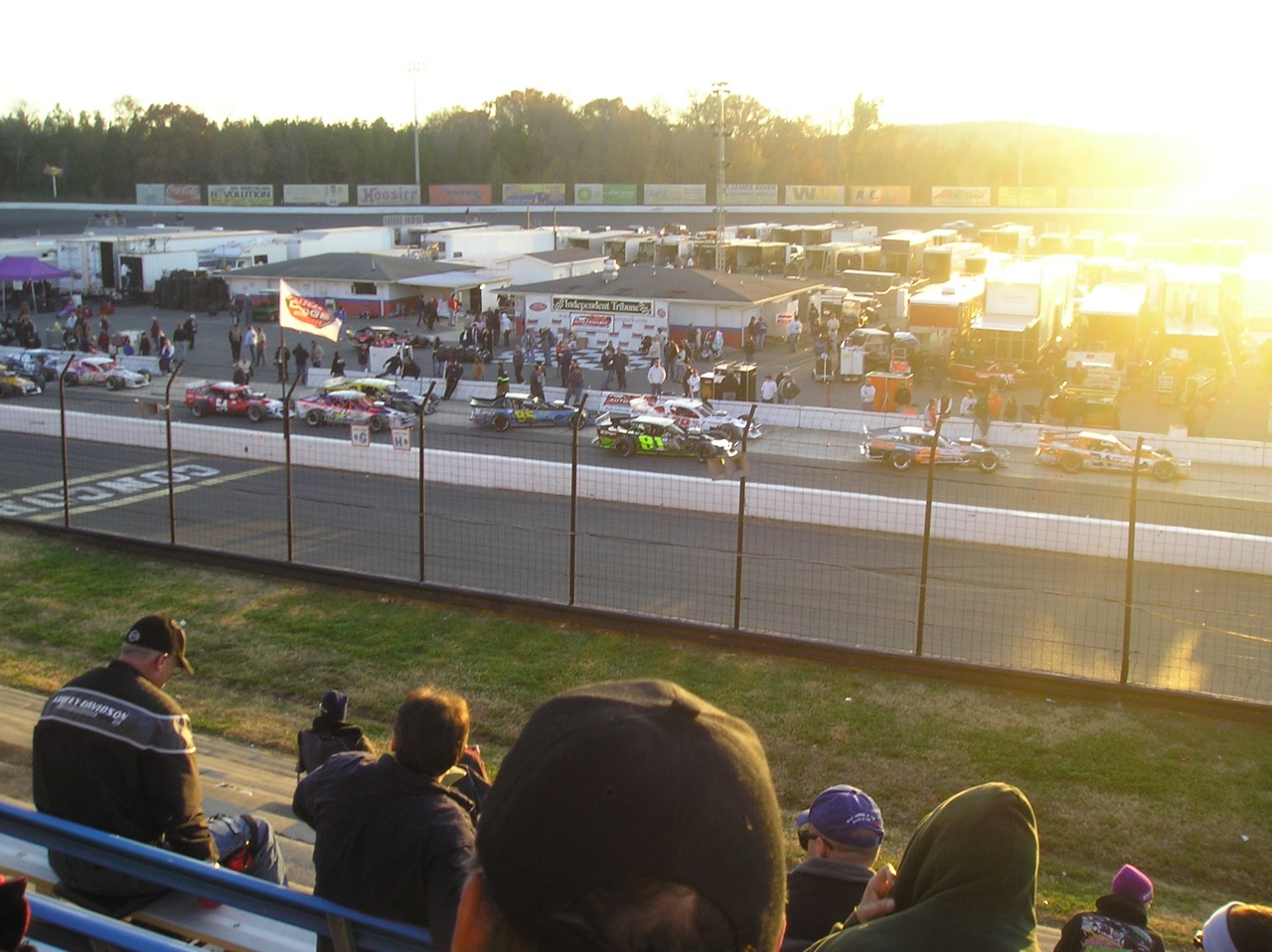 Oh yeah...Balmy North Carolina!
North Carolina sunset under cold, wintery sky!
Took some doing...but we got the Team Photo.
10 years later, some thoughts.
I remember being happy to see the season end, knowing we would be returning to Stafford. Although, I loved this track, the Thursday night racing was not good for me. This season, and exposure to a different track was a good experience for Keith and quickly established him as "not the new kid", but, "one of the guys to beat"
On a personal note, we also traveled to Florida in late October, to hold our precious new granddaughter, Maria Gabriela on the very day she was born.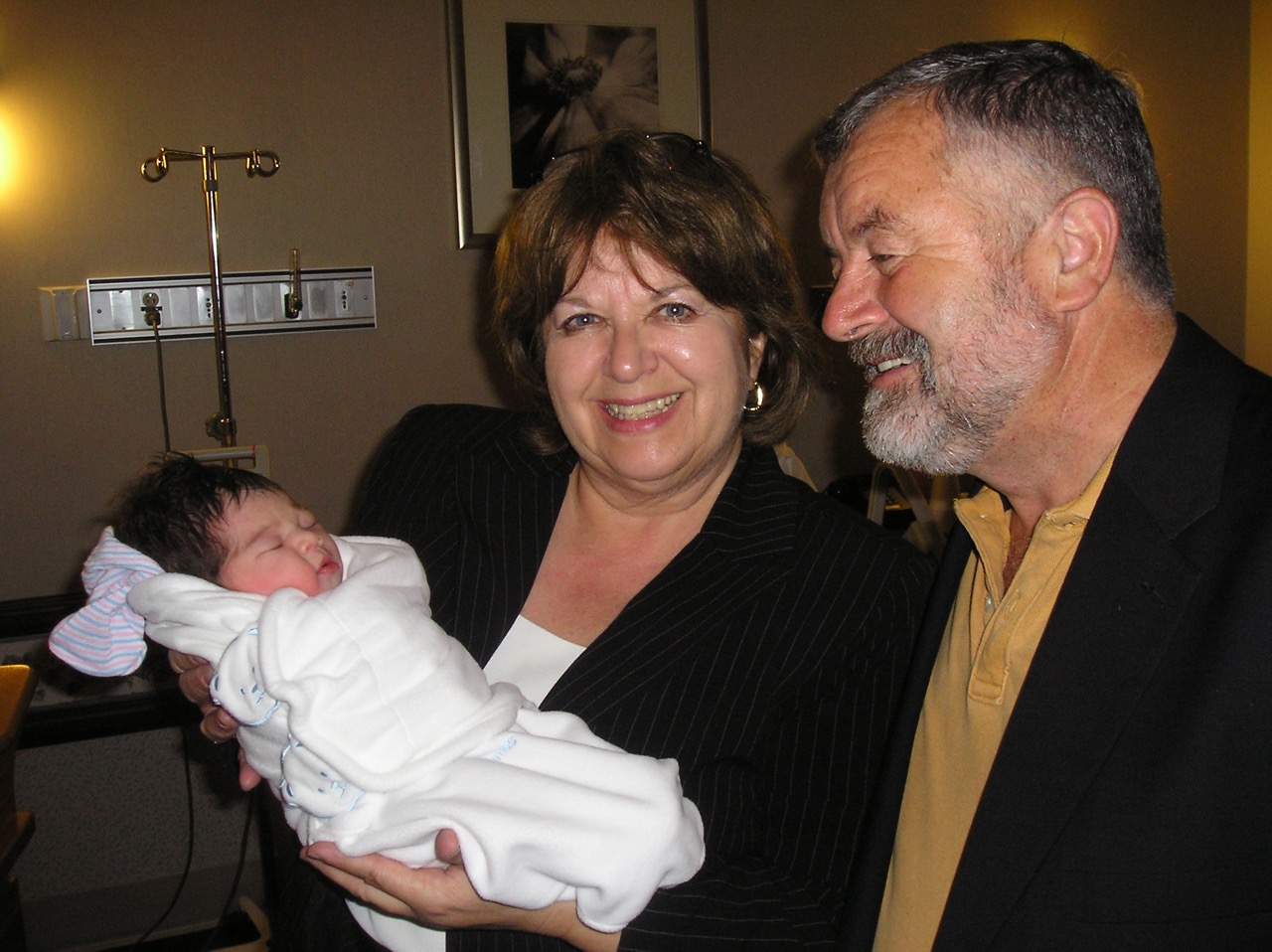 More precious and beautiful every day!!