On Friday, September 11, 2010, Ryan Preece won the feature at Stafford with our motor. So would begin a five year association with this young man who was destined and determined to realize his dream of racing NASCAR down south.
But let's start at the real beginning. Word got out that Ted would no longer be using our Pettit powered motor and Mr. Pettit (recognize the ongoing thread in our racing life), contacted Jean and told him about a Chassis Dynamic R & D Car in need of some horsepower. This car was being driven by Ryan Preece, for a team owned by Kelly Iverson and Bob Hitchcock.
So if you know where Ted parked and where the Iverson/Hitchcock Team parked, (at the complete opposite side of an L-Shaped pit area), it will not be hard for you to understand that we did not know these three people. We knew that the Iverson/Hitchcock Team sponsored Woody Pitkat, but that was the extent of our familiarity. So unbeknowst to me, Mr. Pettit steered Jean over and made some introductions.
On the way home that night, Jean told me all about this in his usual quiet way, but the bell was quietly ringing. The following Friday, he pointed out the car to me on the track and I was not immediately impressed. It certainly did look like an R & D car, I could not get over that non matching hood piece. But in the following week it was decided that we would let them try our motor out, something we rarely do.
At the end of the night of September 11, I was impressed. Not only with the win, but with this driver's racing style, man, he could use the outside. We had been friends for many years with Mike Paquette and always raced CD Chassis and this car was on rails.
We traveled down to the North/South Shootout, in North Carolina, and that's where I was introduced to both Kelly and Bob. There were a few awkward moments there as I needed to extend an olive branch to both Woody Pitkat and Jimmy Fuller for the engine issue that had been raised several years back. Kelly and Bob are great people and the weekend ended well, with Ryan coming in 2nd (to Keith Rocco, want to talk about awkward) and the beginnings of a new team was slowly taking place.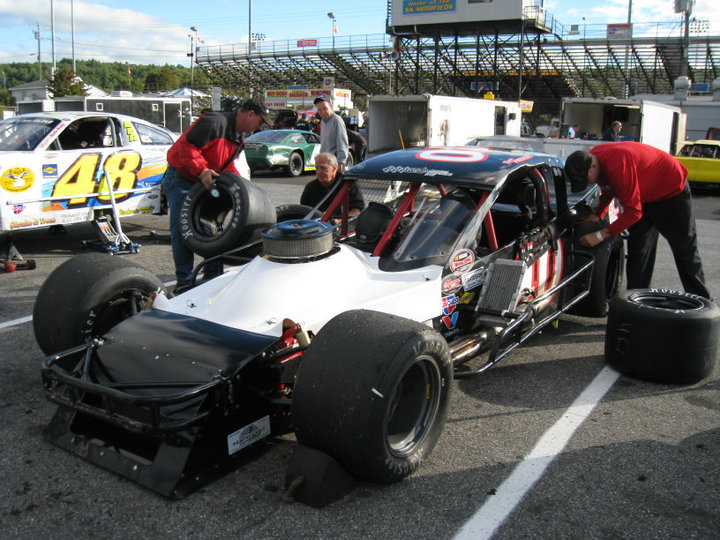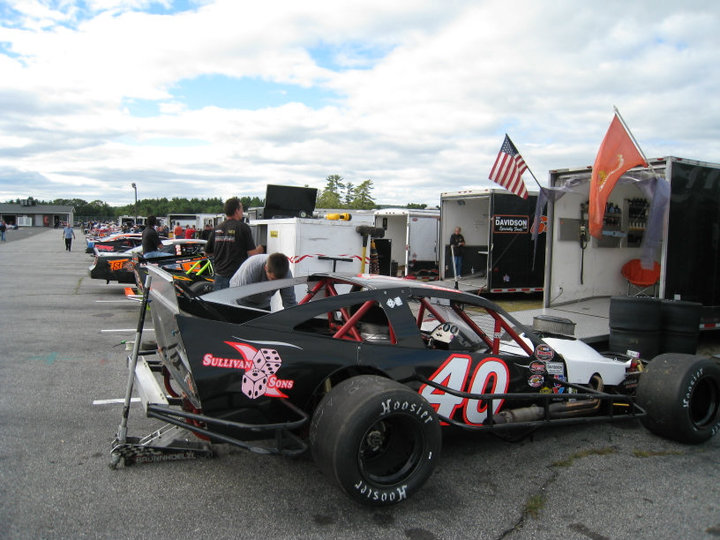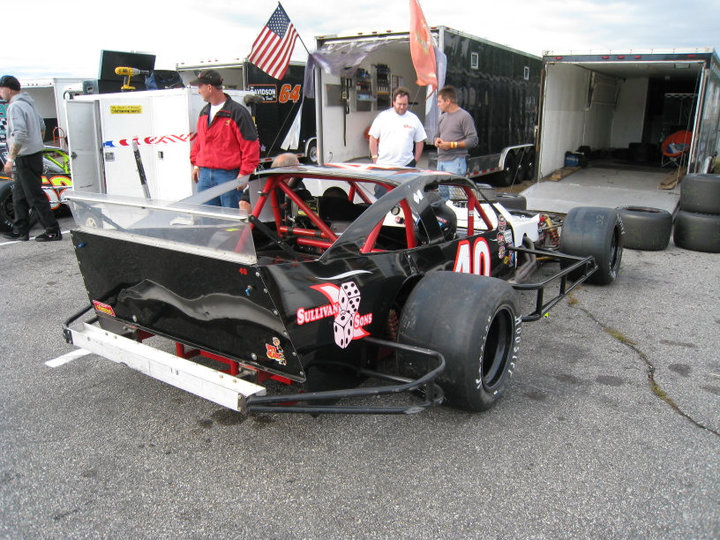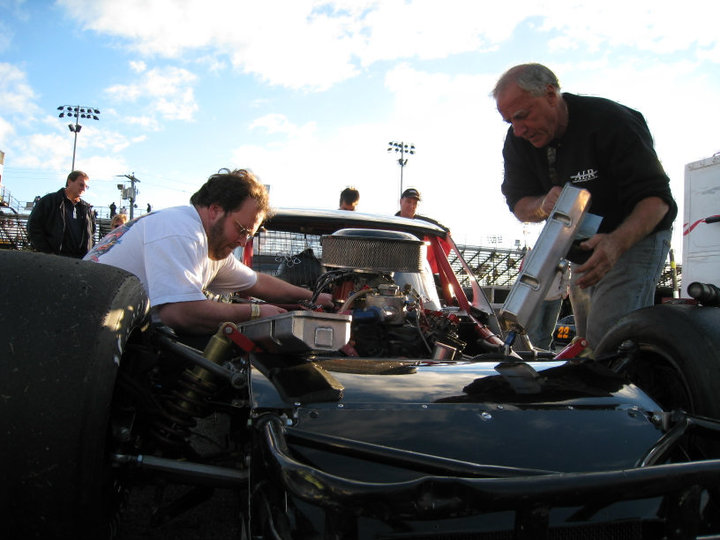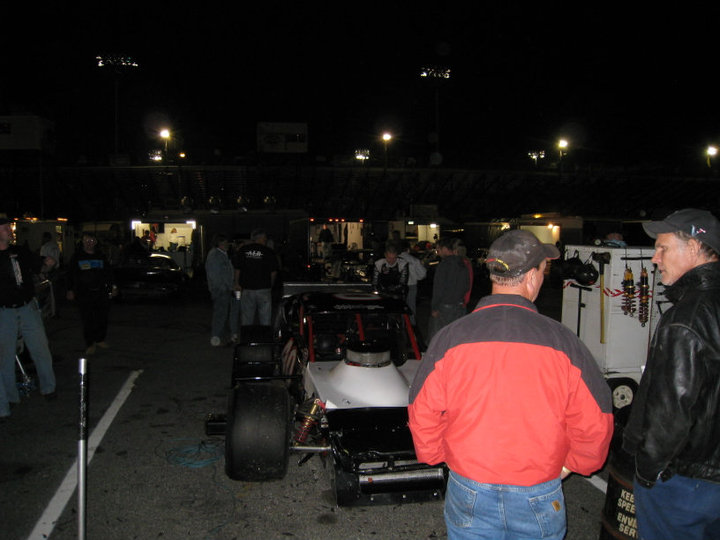 It sure did look like an R & D Car.
It is fair to say, that both Mikes, Pettit and Paquette contrived this.
Tear Down, such a sweet place to be on the first night out!
NOTE: All photos courtesy of Reid Bogie
Over the winter season, Jean traveled up to the Iverson/Hitchcock garage in Massachusetts several times. The motors were refreshed and it was determined that we would provide the motors, hauler and yes the food. Marc Sullivan and Sons came on board and provided much needed funds for tires for the year and a new friendship was born. Oh by the way, it was Jerry Macarski who clearly stated, no food no deal, so cooking it was.
We shared the Iverson/Hitchcock facility with the 99 car driven by Woody Pitkat. It is an extremely well equipped garage and we were invited to use whatever needed to make sure the car was prepared for racing each and every week. In the three seasons we spent there, this comittment never faltered. Bob Hitchcock maintained our motors on a weekly basis with great care. Jean and Jimmy Fuller, who was responsible for setting up the 99 car became not only good friends, but developed a true respect for each others experience during their many years of racing. Mike Paquette and Reid made the long trip up each Wednesday/Thursday night and spent long hours setting up the car.
There is not a better way to start the season at Stafford than to win the famous Spring Sizzler! And that is what we did. The photo below was given to us by Kelly in celebration of our first win. It is one that we treasure.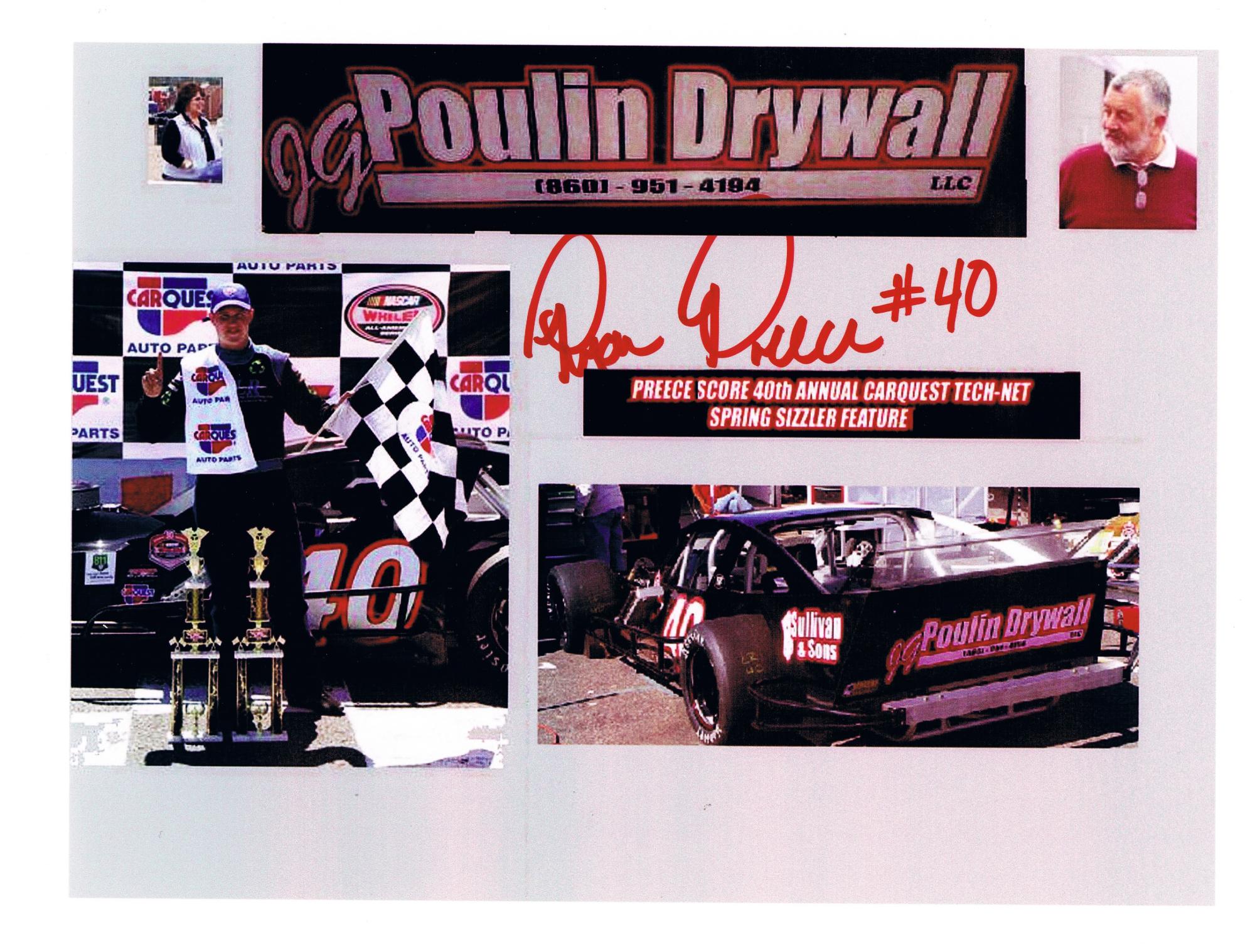 We would go on to win five races in this season. Along with those wins would come several 2nd and 3rd place finishes, a consistency that every team dreams about.

There are many ways to capture a season, the very best way is also a photo or two or many That is what Reid Bogie did for us and I am forever grateful. It was an exciting time.
May 2011 photos by Reid Bogie, capture some good times and good finishes.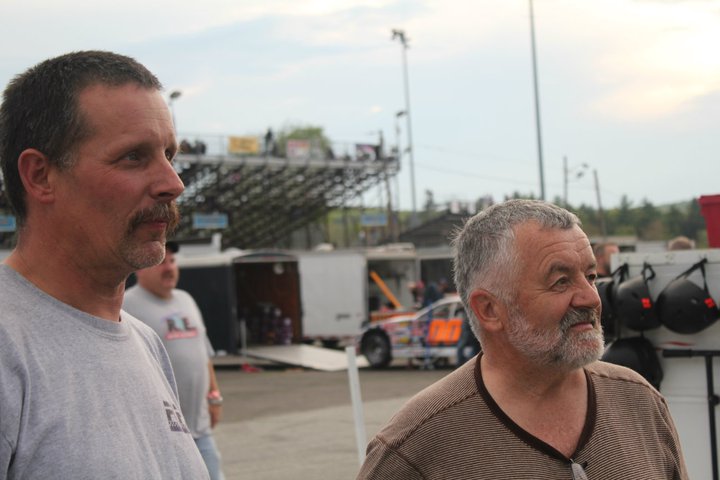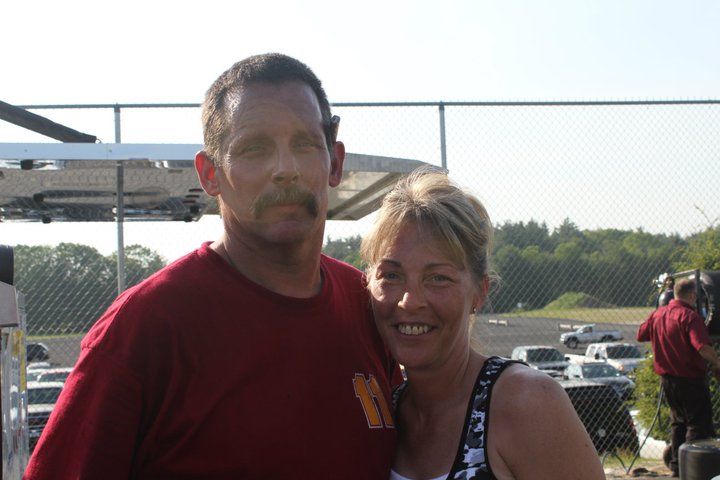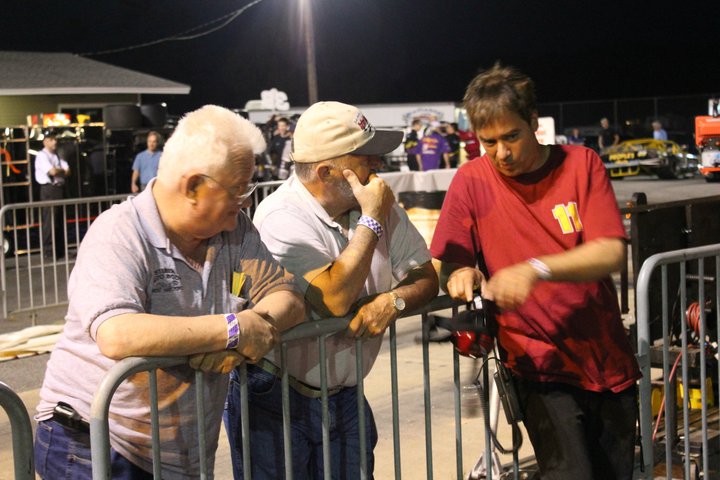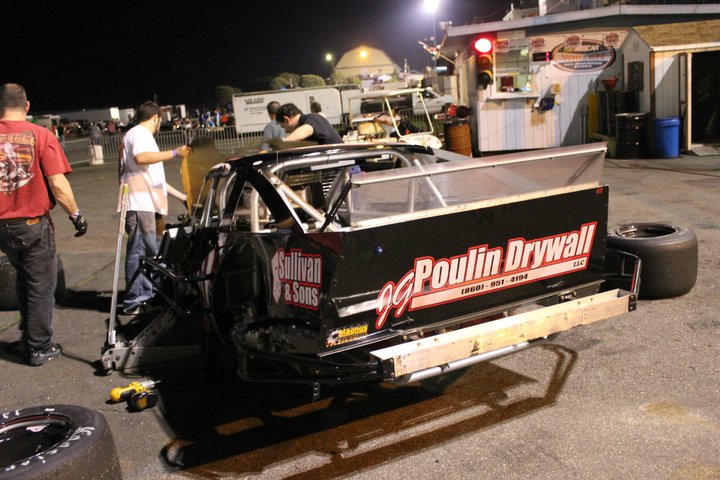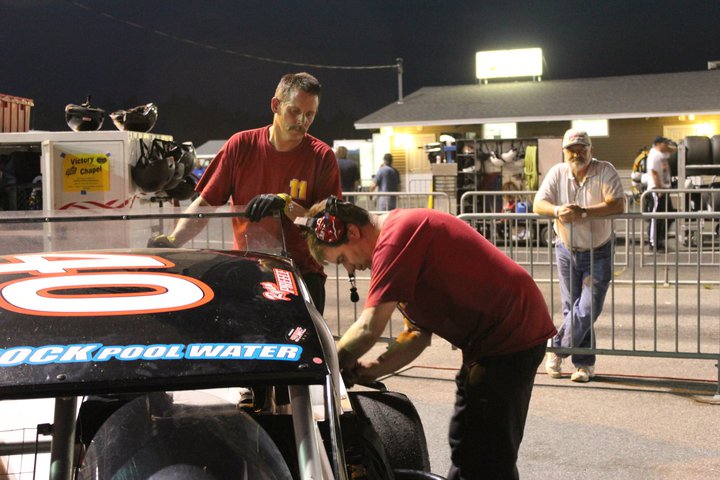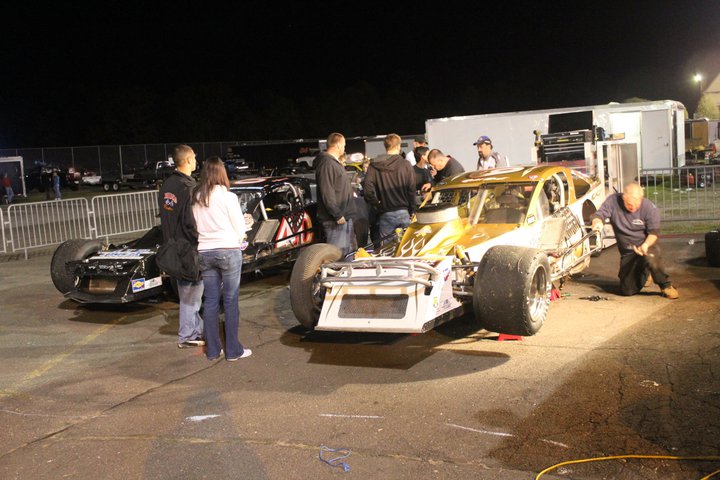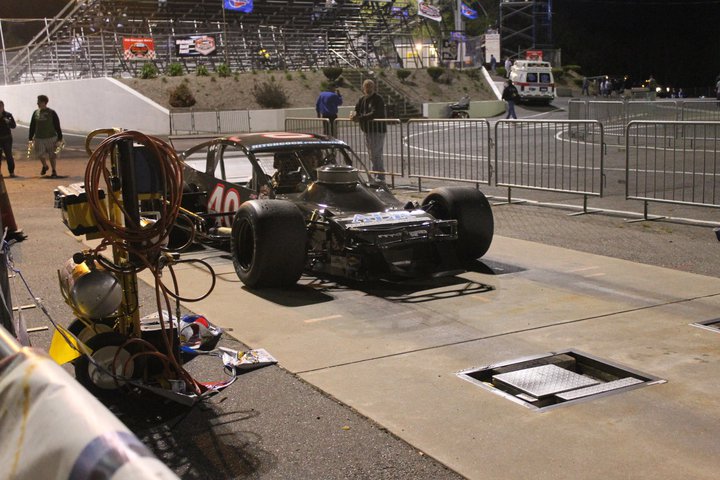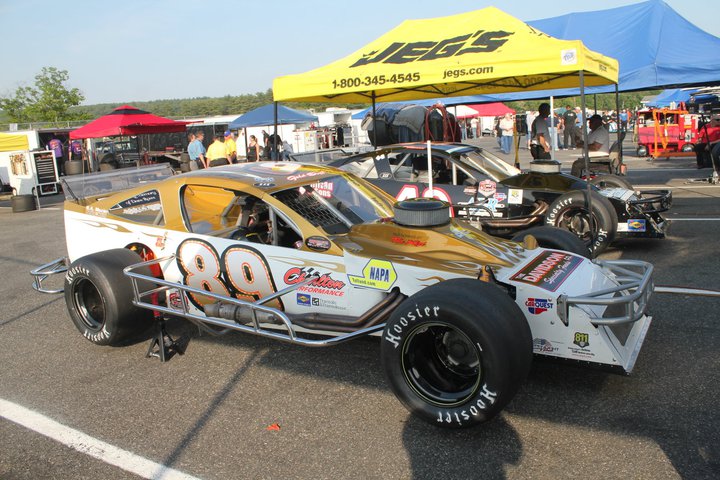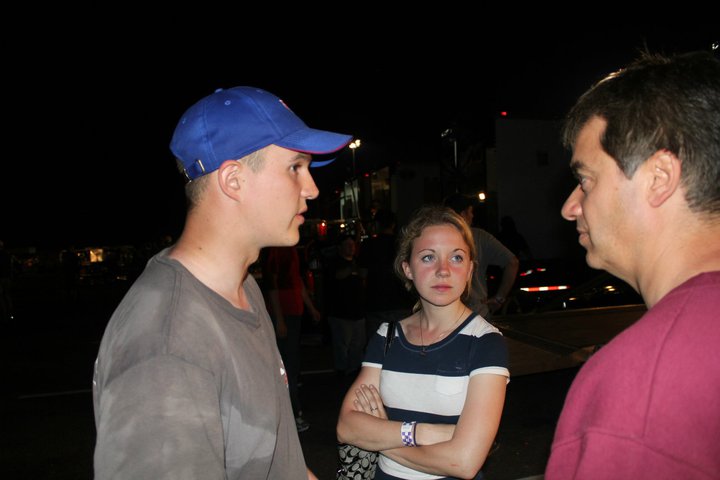 Bob and Kelly, great people, who have spent many years with winning entries in the SK Modified division.
Nothing made Kelly happier than seeing both the cars in tear down, as I have said before, a great place to be!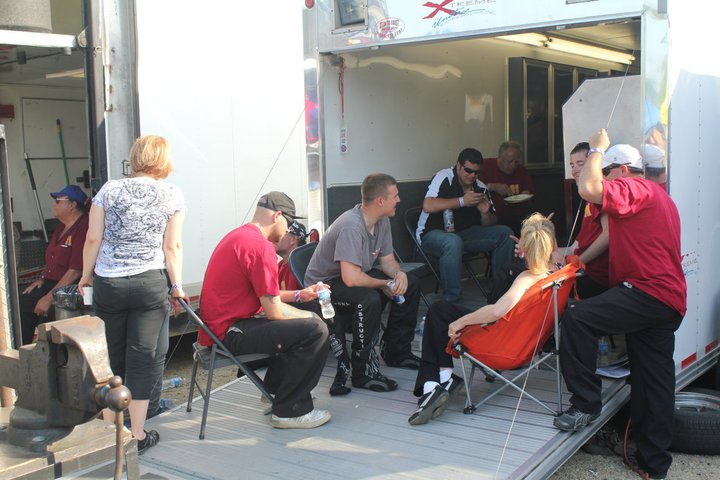 There was a fair amount of relaxing, swapping racing stories and sharing good food.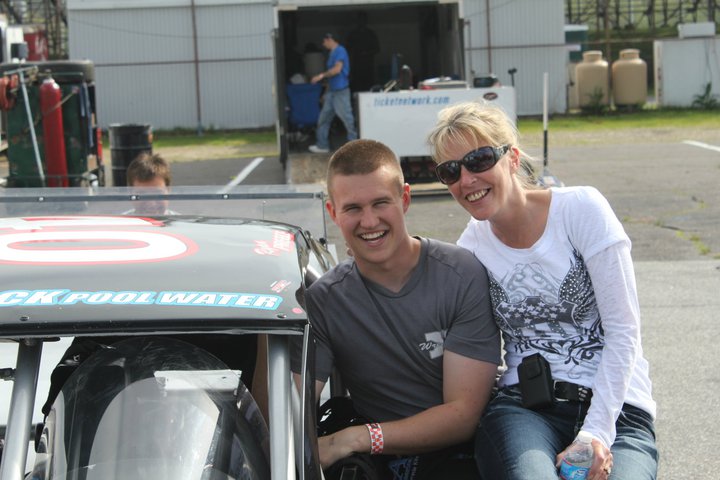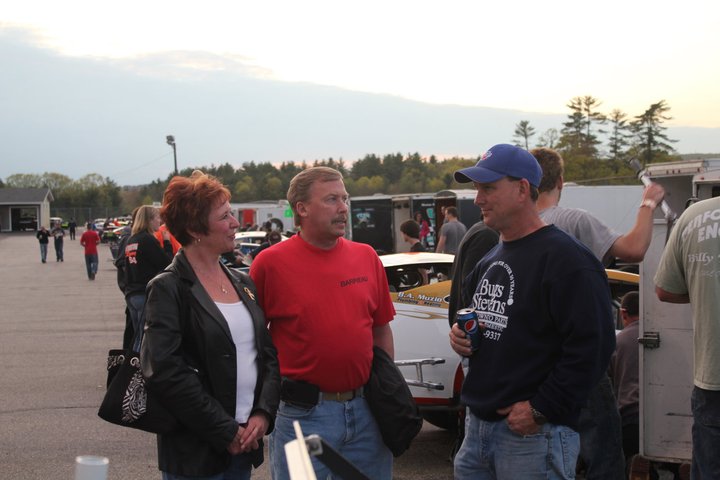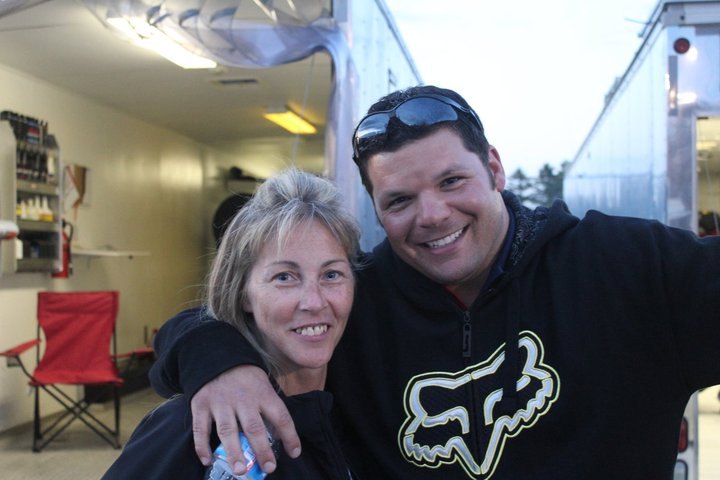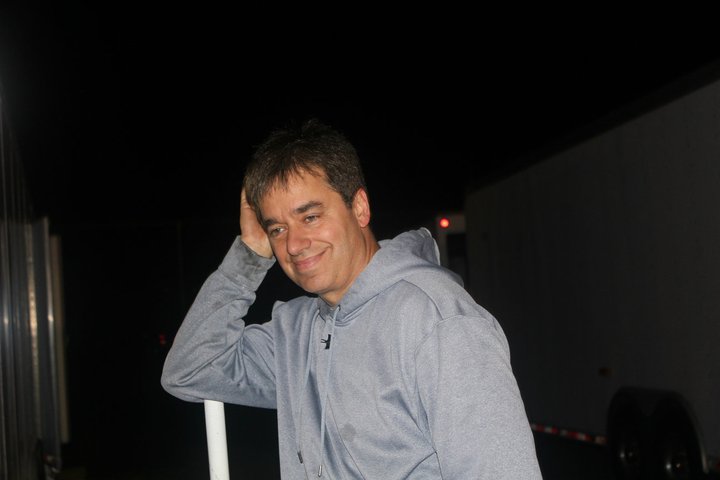 Mike Paquette at tear down on a good night!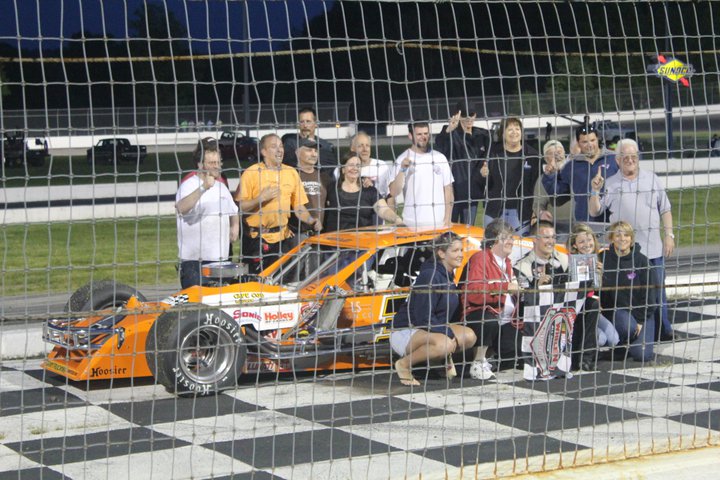 Ryan was also setting records for May at Thompson driving the 31 for Cathy and Al Moniz.
And a budding romance was blooming with Heather DesRochers, who was also racing SK Mods that year, --- All in the month of May!
The articles below are the reporting of Scott Running, and employee of Stafford Motor Speedway. Each and every Friday night, Scott takes meticulous notes for every division and describes, (without bias), the action as it happened on the track. He has been doing this for many years and does not get enough thanks for penning history. Some of the articles I am sharing have been shortened, so noted in the heading, but two I have used in full. When you read them, it is a little bit like being there live.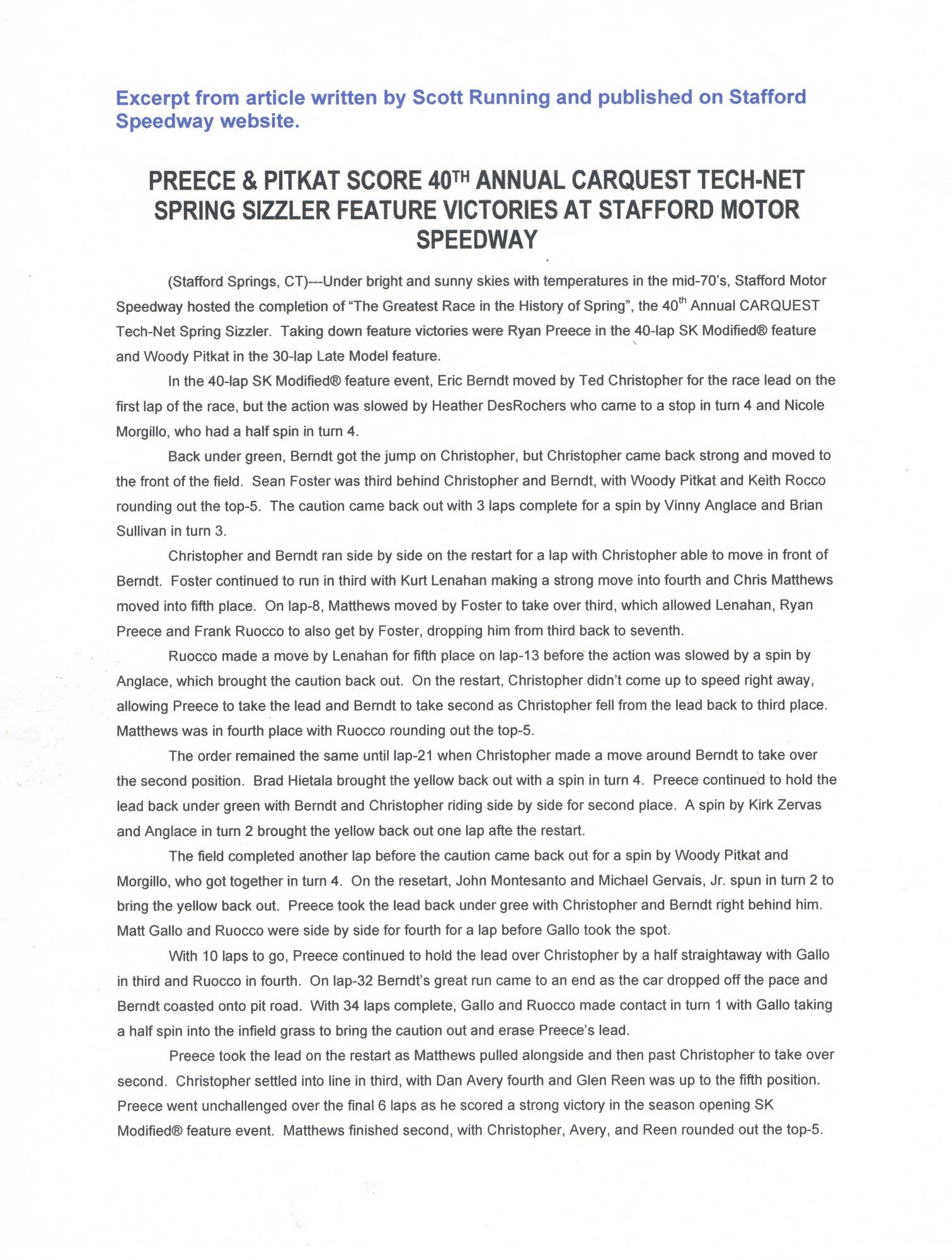 There were many people involved in making this a championship season. All photos below were taken by Reid Bogie.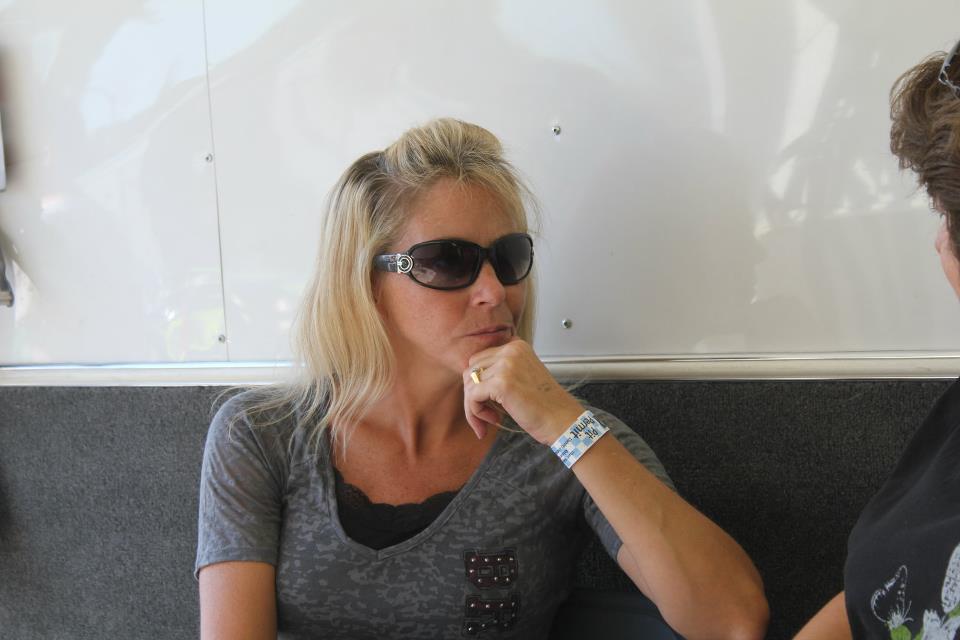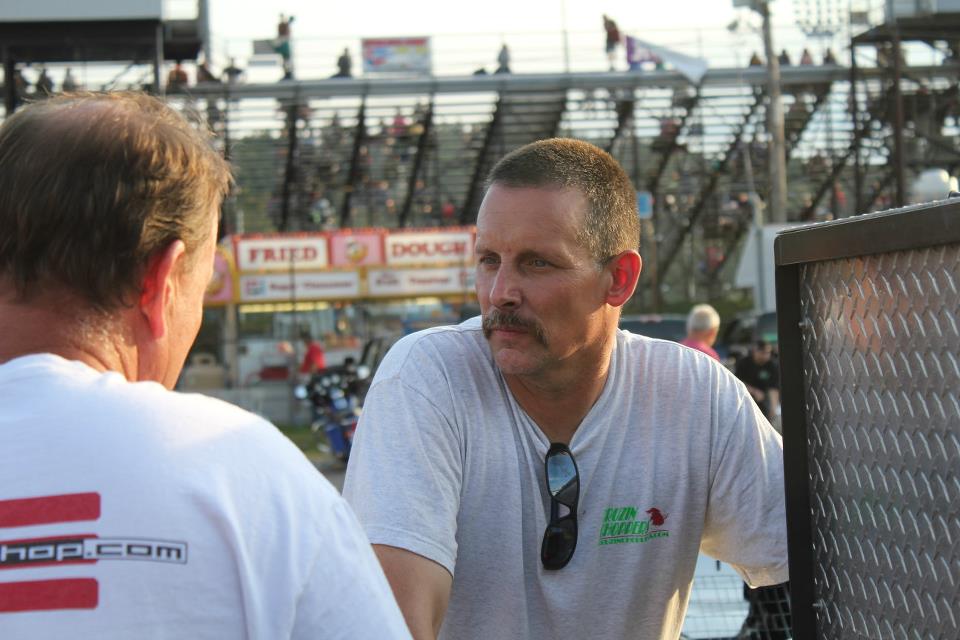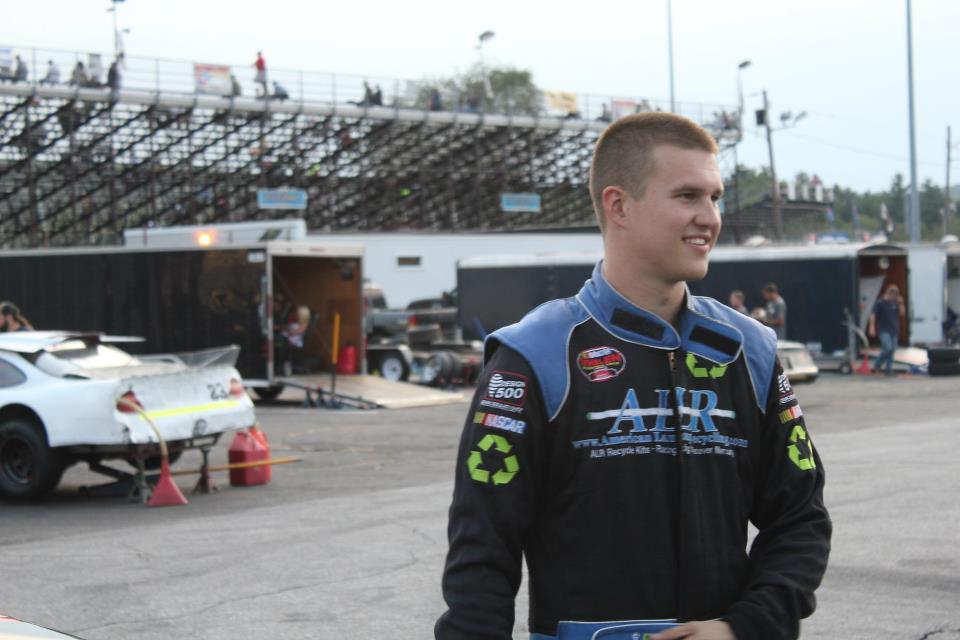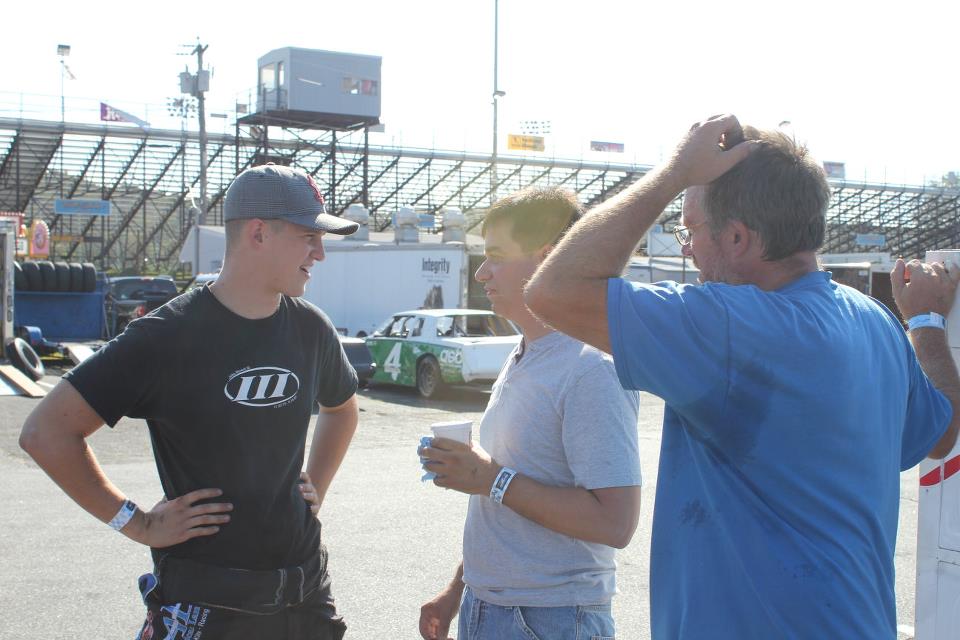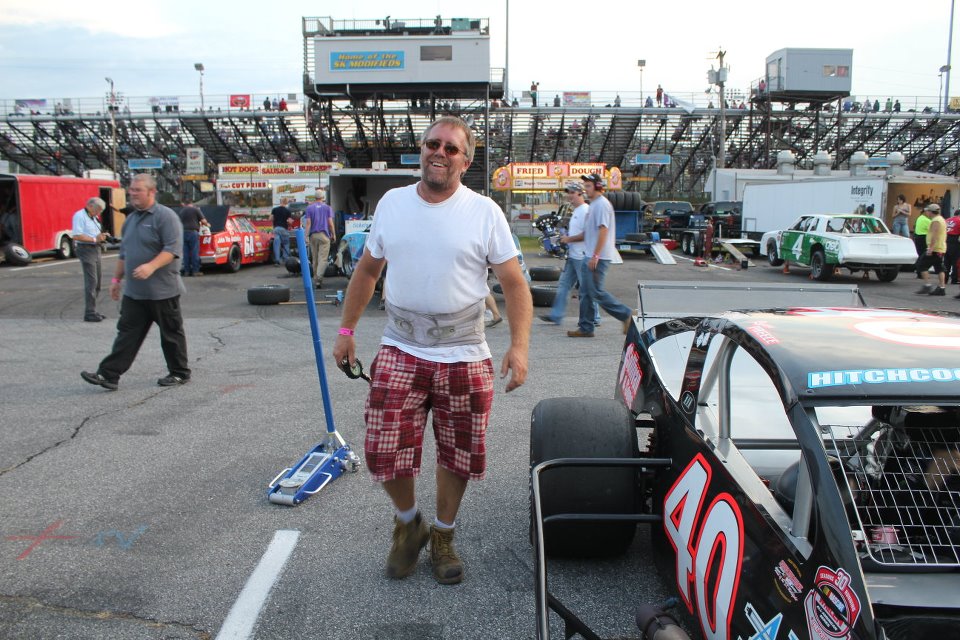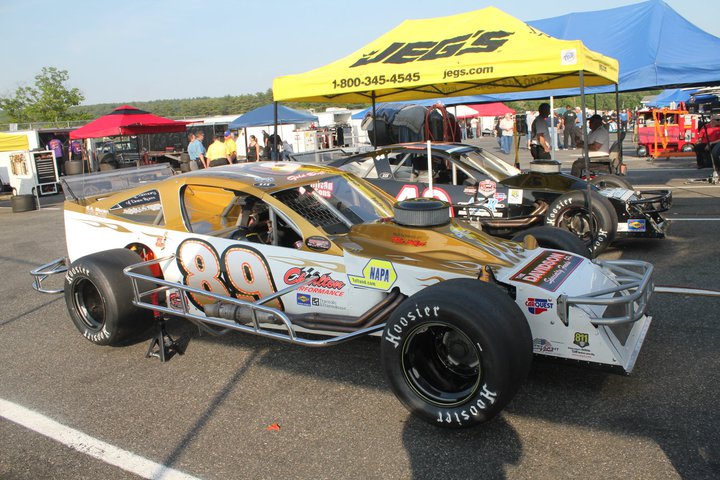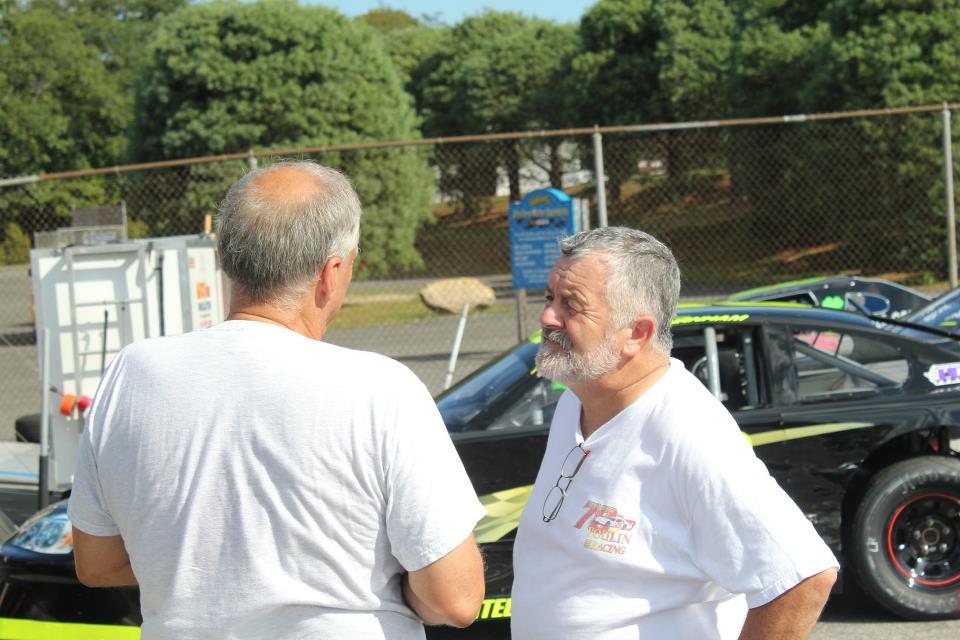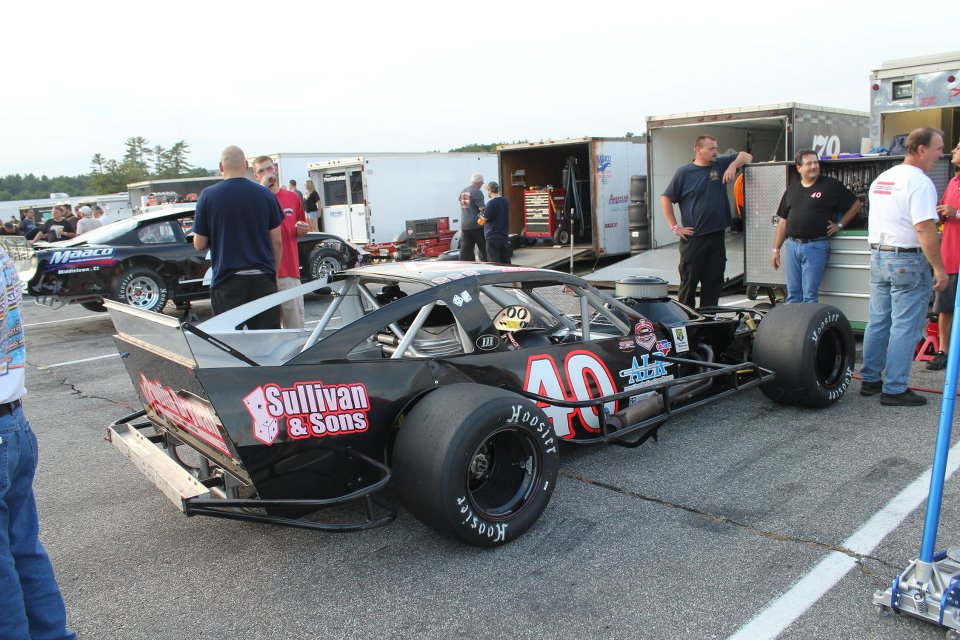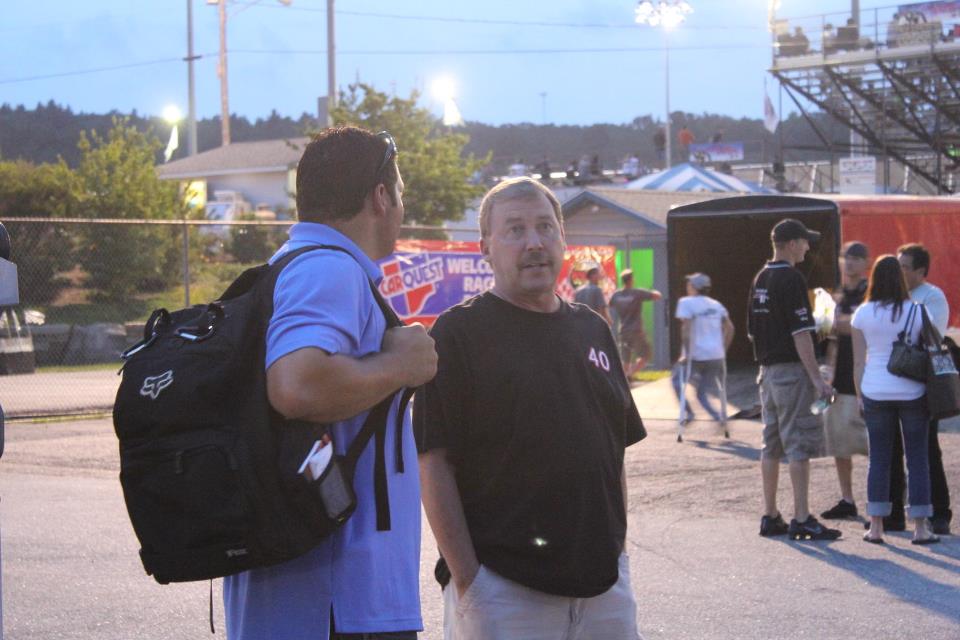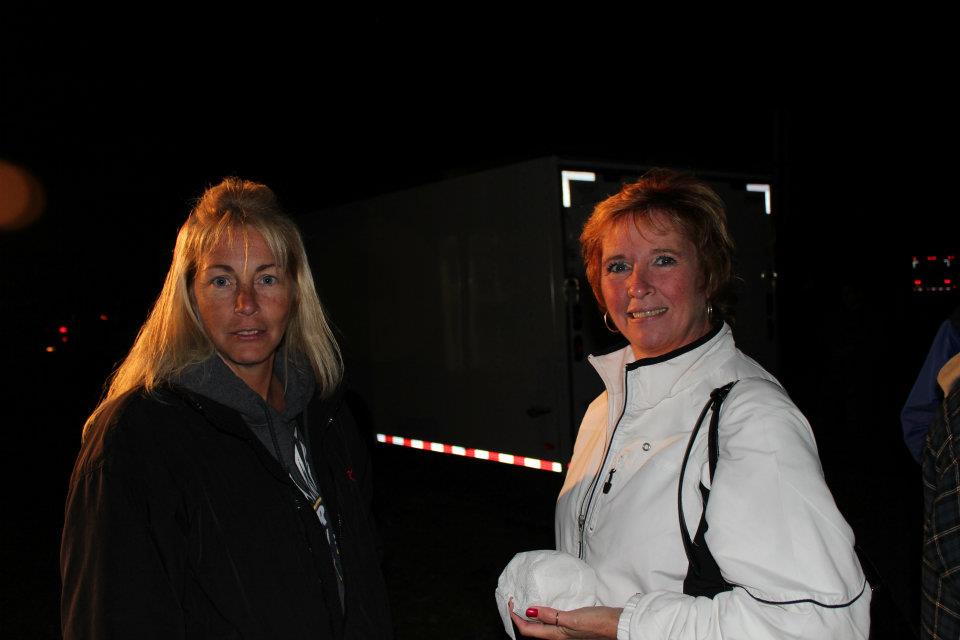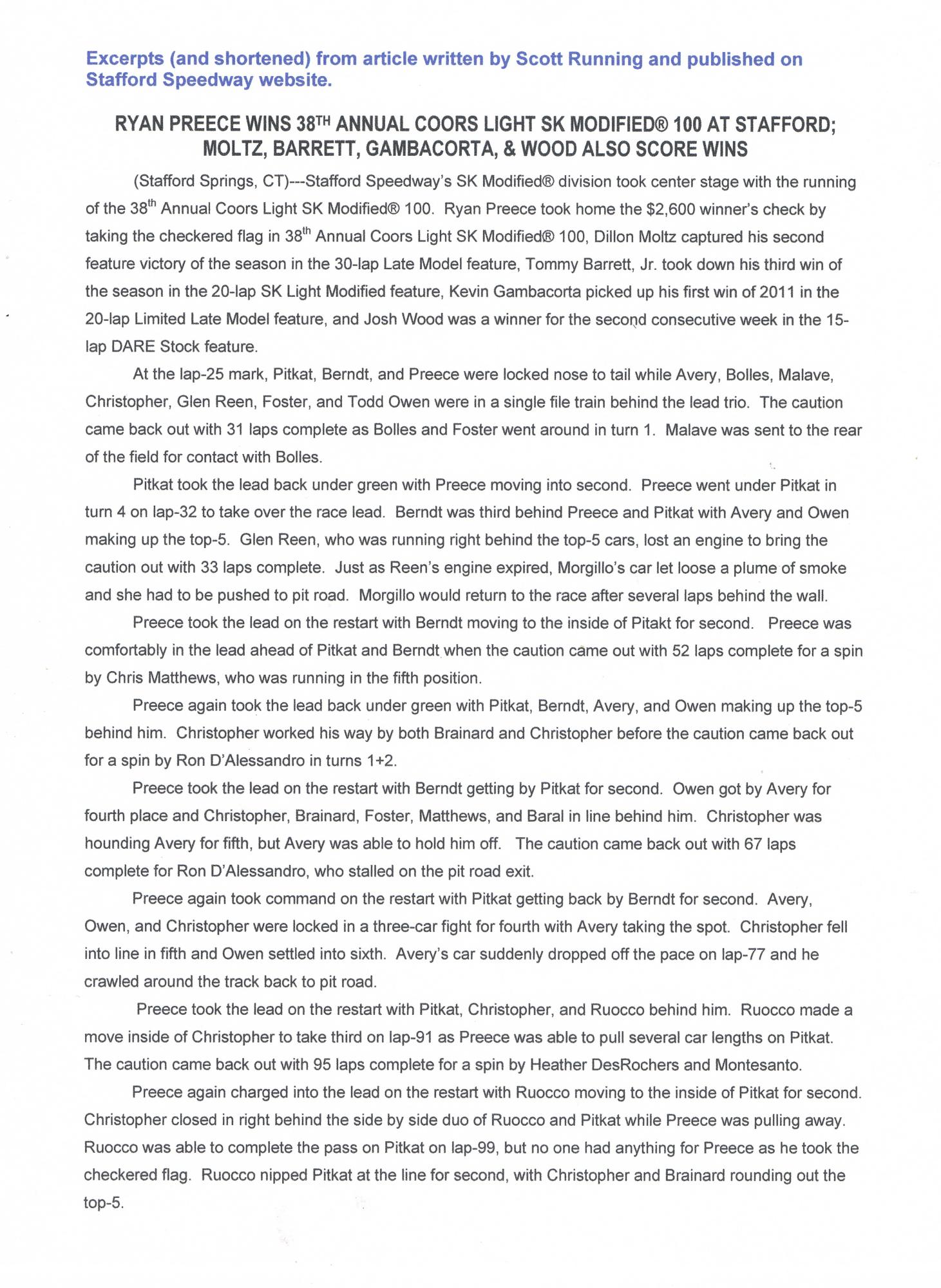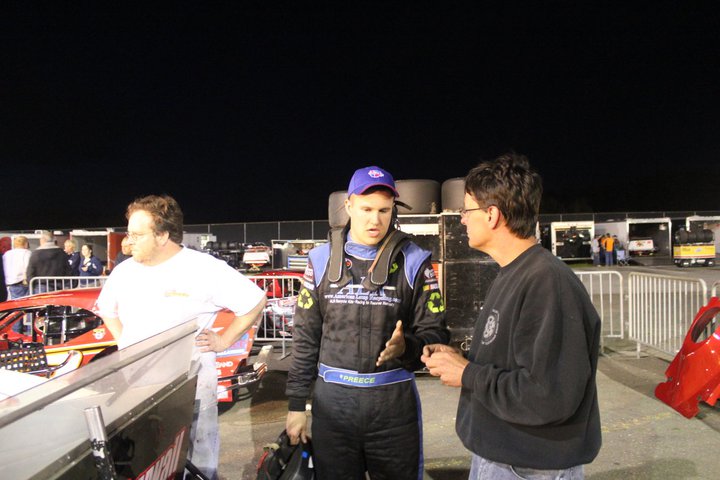 Throughout the 2011 Season, there would be some healthy competition not only with other competitors, but also with Woody Pitkat. Kelly and Bob were proud of the efforts and results from both Ryan and Woody.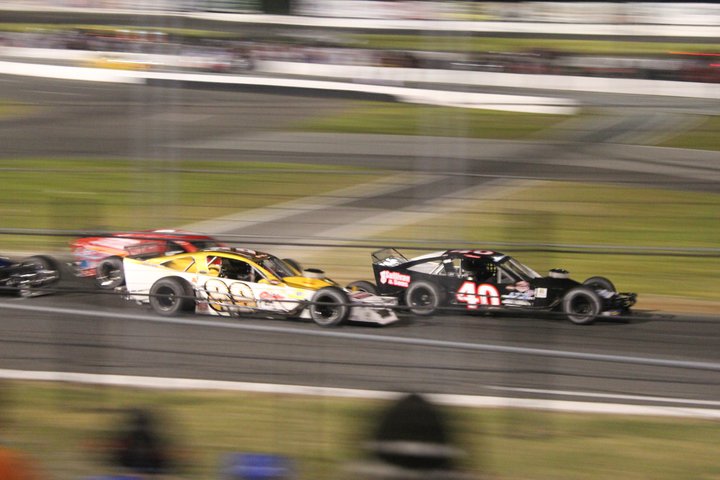 And there were som good times also.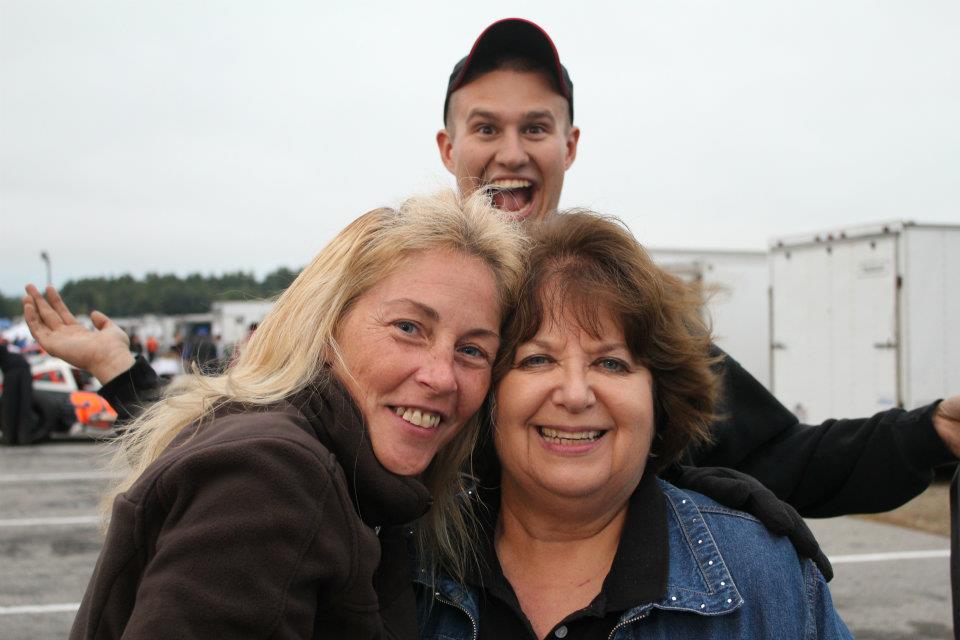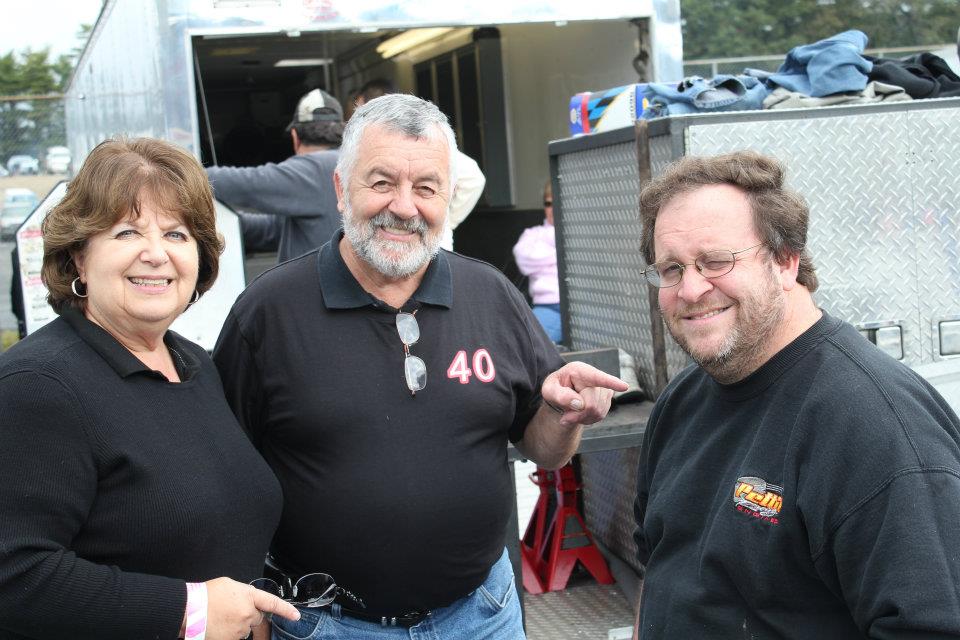 August 28, Coors Light SK Modified 100 - They competition between Woody and Ryan was fierce, but it was racing at it's best.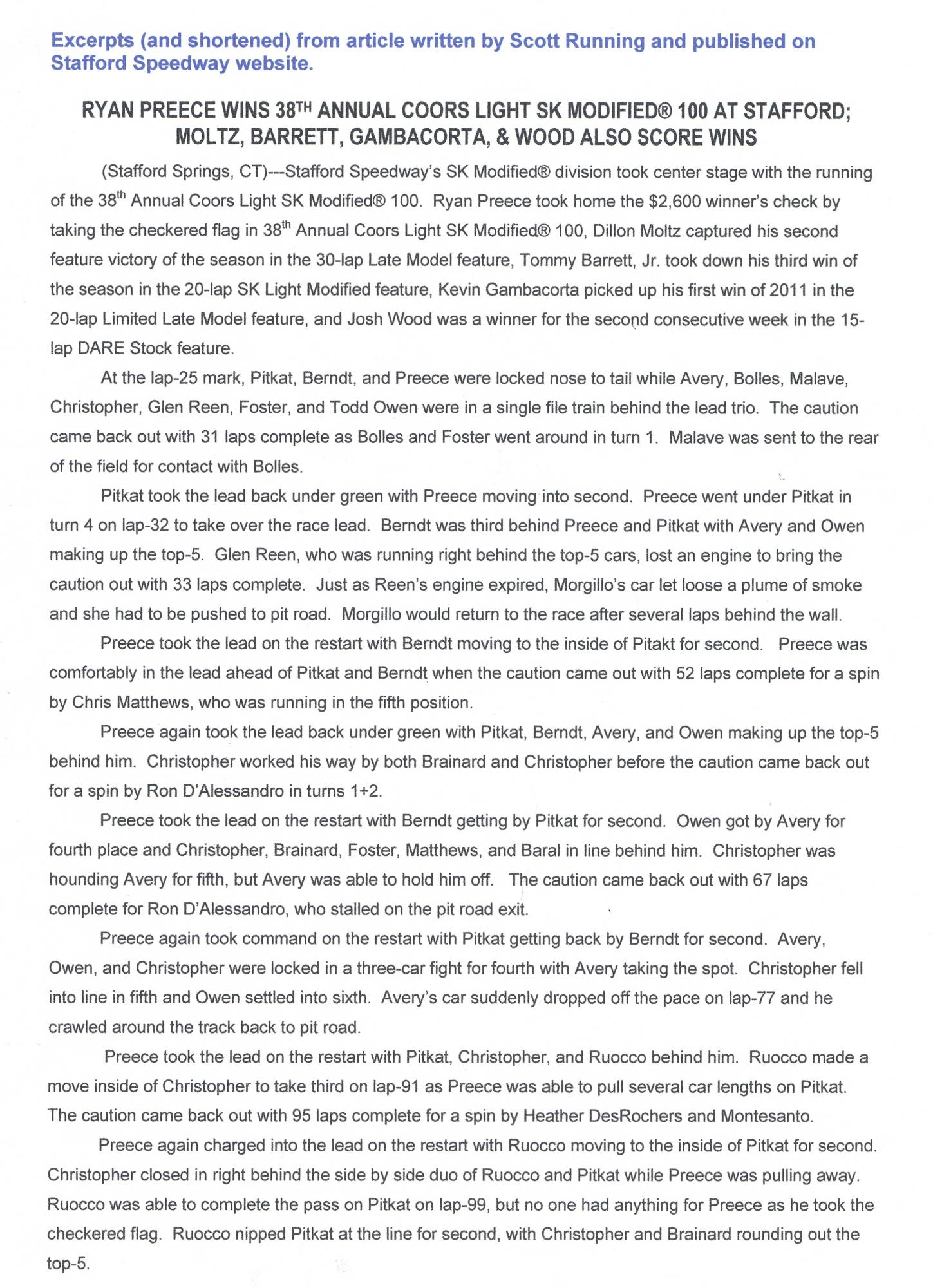 During that summer, Ryan was also busy winning at Thompson Motor Speedway.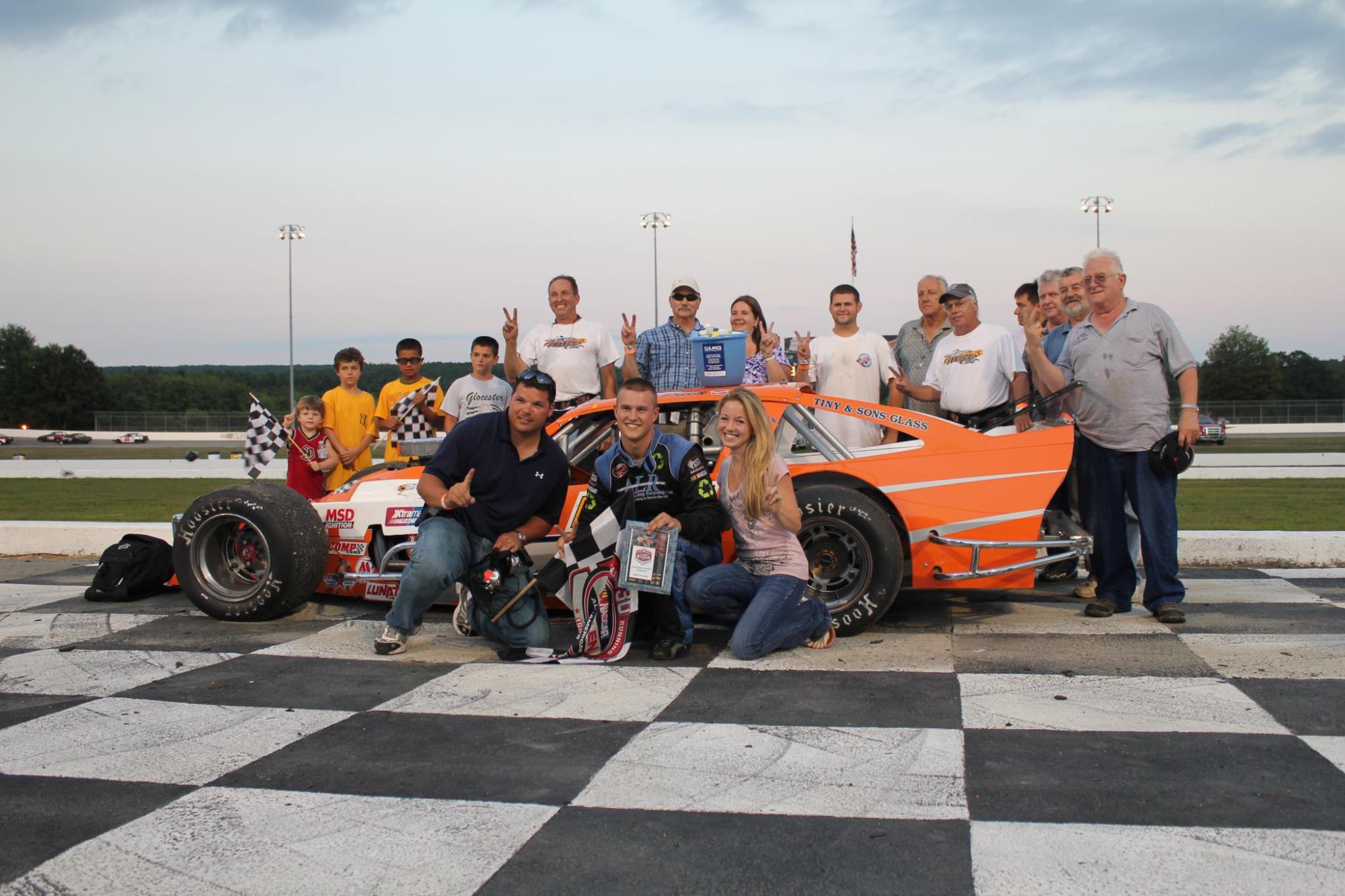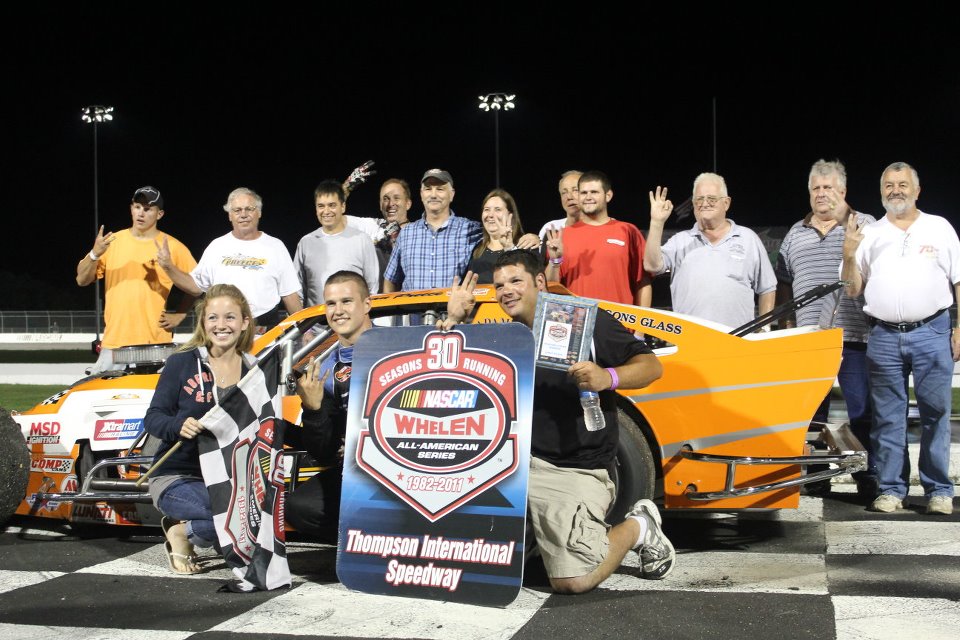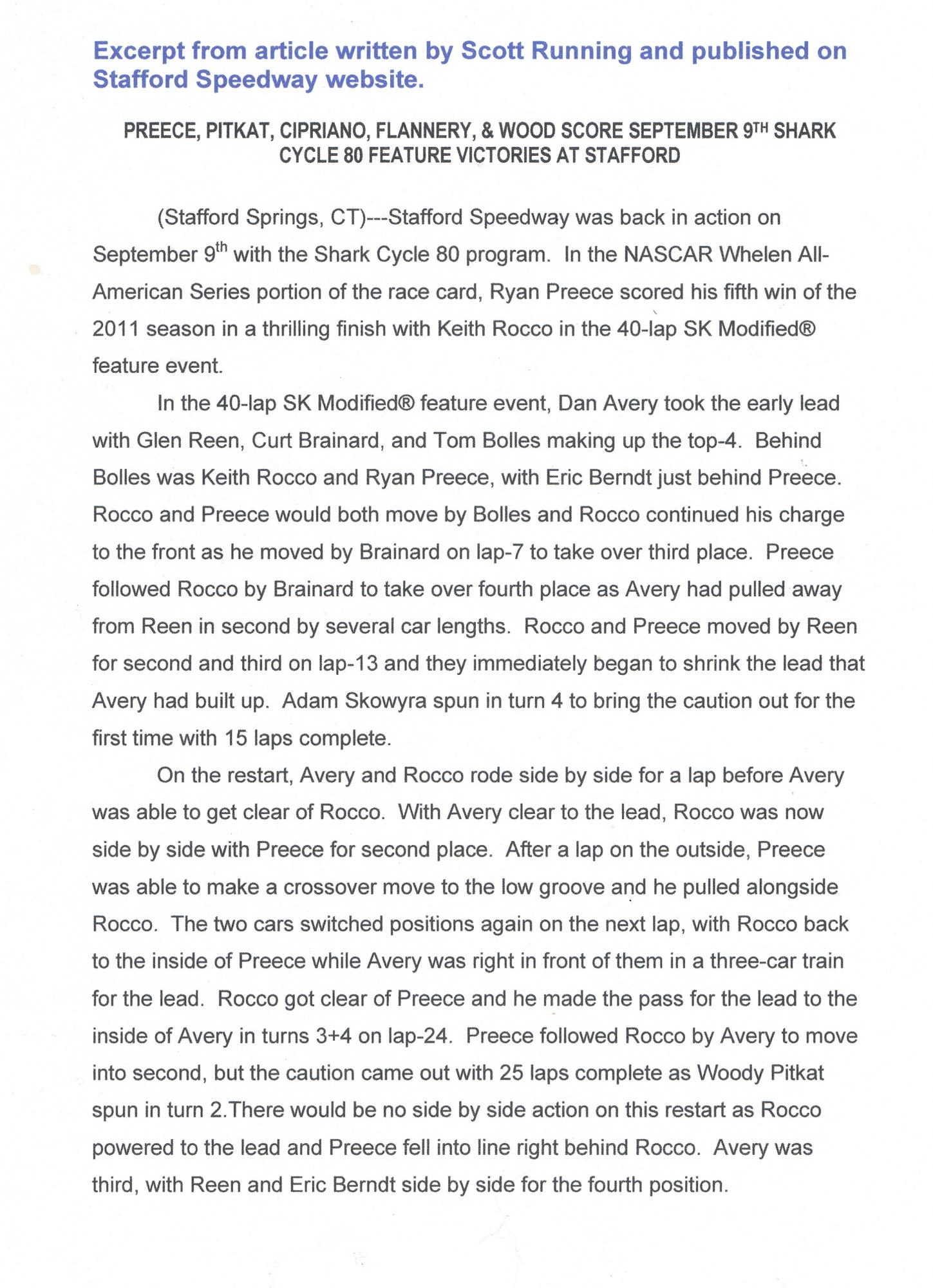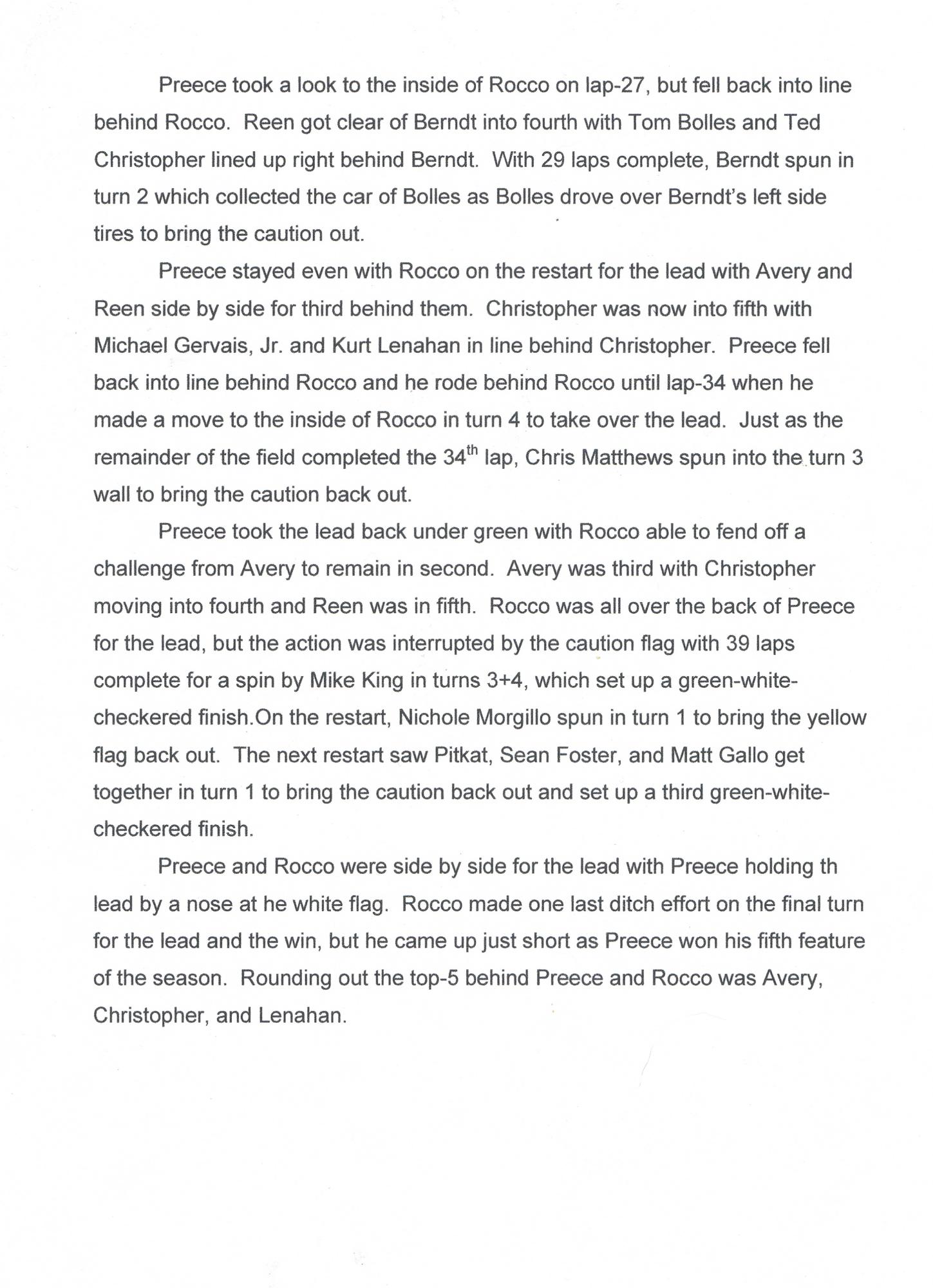 As the end of the season grew near, competition also got stiffer, but it could not always be called good racing. The September 9 race would prove that. There is a difference between wanting to win and wanting to defeat at any cost. Ryan prevailed!
It remains one of my favorite races, because in the end, it showed the difference between someone who will race every lap, show patience and wait for the right moment to pass, and not attempt to bumper dump the guy in front of him.
Anyone who has been involved with Kelly and Bob, know that they are not only committed to racing, but they are generous in every way, be it parts that are needed or time that needs to be spent making sure every car goes on the track ready to win. This season was no different. Kelly organized a photo shoot that hightlighted both teams, and it showed how proud she was.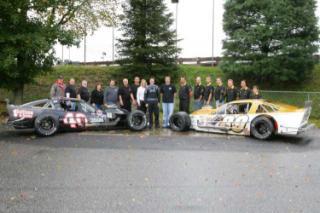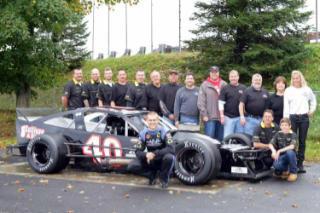 From the first race of this 2011 Season to the very last race, it was a winning season! We finished it by celebrating at the Championship Banquet and once again Kelly was not only generous in hosting everyone on the team but also very gracious.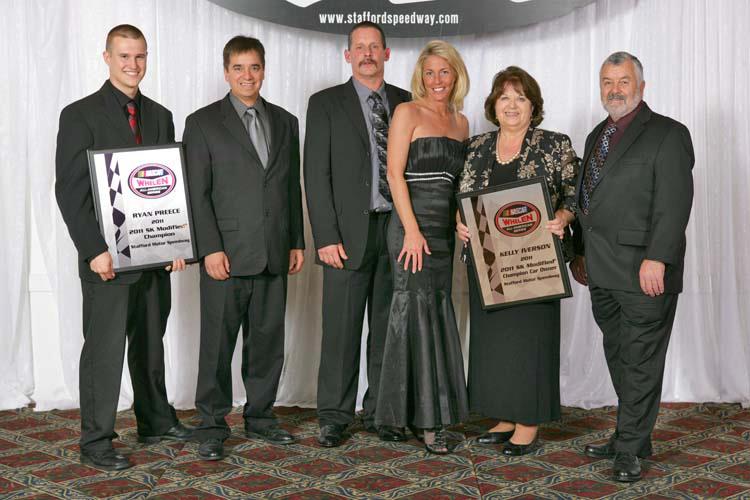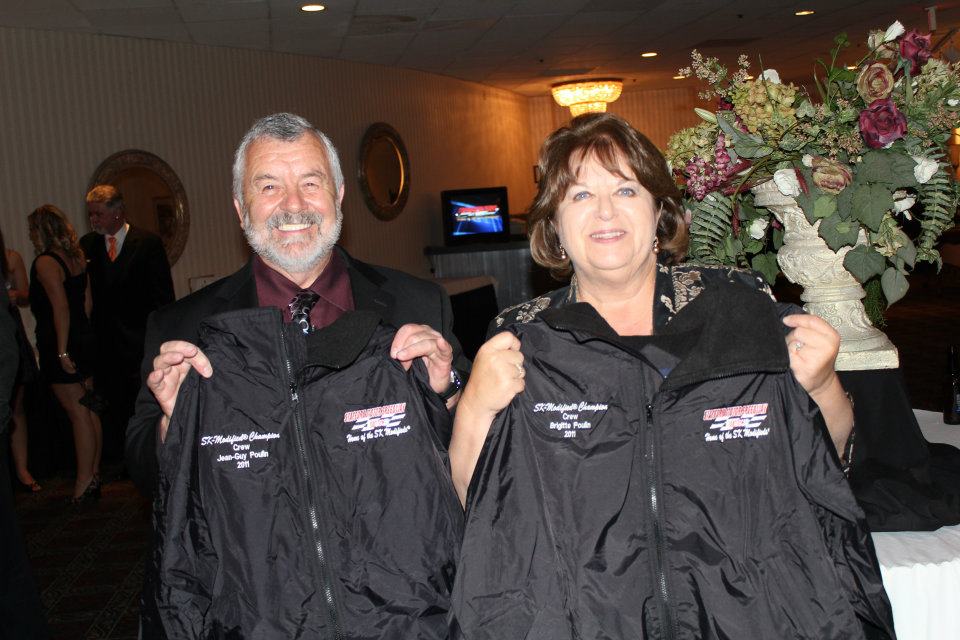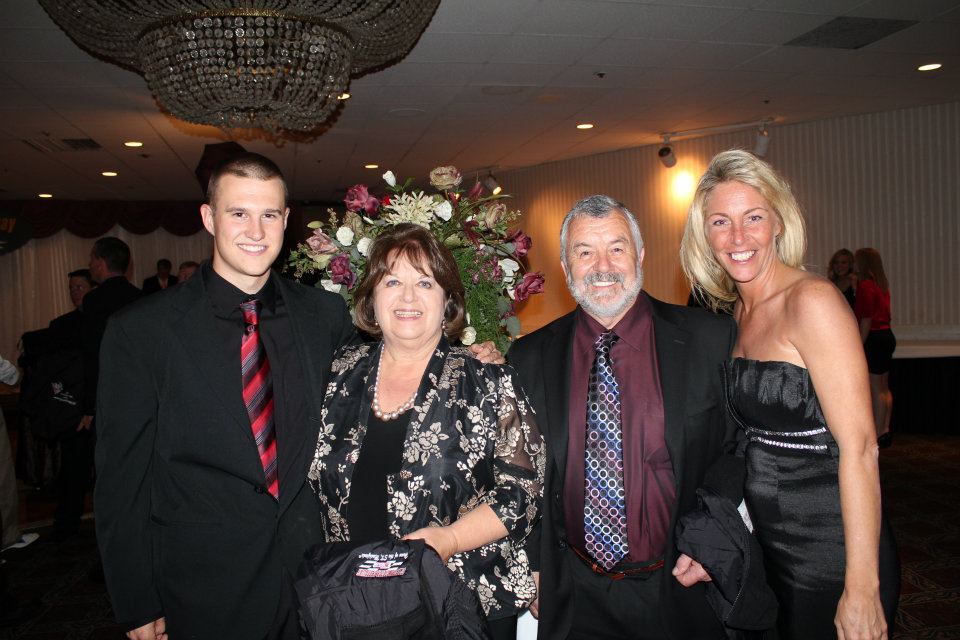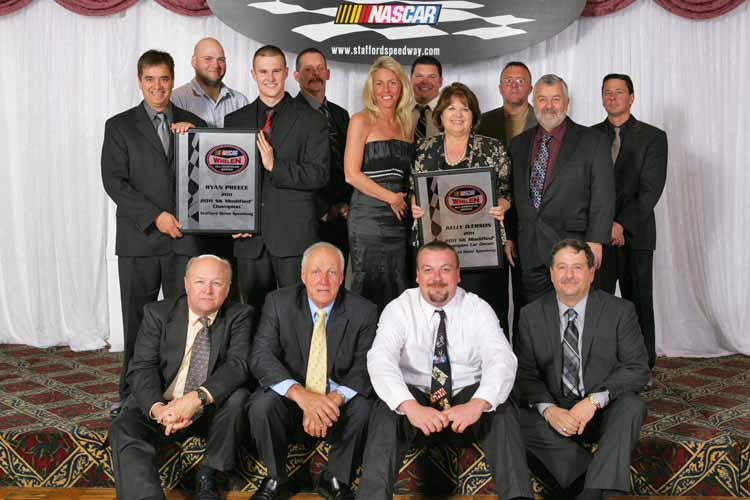 Jackets for everyone and this remains Jean's favorite, and he thanks Kelly every time I pull it out for the winter!
We can honestly say that we maintain a friendship with each and everyone in this photo! That is probably the best test of a Team and a Championship!!